Unveiling the 2023 NEW BTS "Proof" Funko Pops!
Get ready to elevate your fandom with something spectacular: the BTS "Proof" Funko Pops! (2023 release) are here to add a dash of flair to your collection. Meticulously designed to resonate with the acclaimed anthology album, these figures serve as a tangible extension of BTS's musical universe.
To get your hands on these Pop Vinyl Figures at their release, be sure to check out the links I've provided below – click to jump or scroll to continue reading!
BTS "Proof" Album Inspires Swanky New Funko Pop Lineup
Riding on the sonic waves of their anthology album "Proof," BTS takes their craft to the figurative level.
In a 2023 surprise drop, the iconic Funko line launches a set of BTS-themed Pops.
These figures might look like your run-of-the-mill collectibles, but they're drenched in the album's essence.
Each figure encapsulates a mood, a moment, a beat from "Proof."
You can see it in the tiny details—the way the colors play off one another, reminiscent of the album's diverse tracks, or the postures that echo a song's rhythm.
They're not just pieces of vinyl; they're three-dimensional sonnets dedicated to BTS's musical journey.
For ARMY members, it's a double whammy.
They get to immerse themselves in the "Proof" era through music and can now display their passion in Funko form.
It's BTS and art, dancing in unison!
Unveiling the new 2023 BTS Funko Pops List for this  release:
BTS: Jin "Proof" Funko Pop! Vinyl Figure
BTS: Suga "Proof" Funko Pop! Vinyl Figure
BTS: J-Hope "Proof" Funko Pop! Vinyl Figure
BTS: RM "Proof" Funko Pop! Vinyl Figure
BTS: Jimin "Proof" Funko Pop! Vinyl Figure
BTS: V "Proof" Funko Pop! Vinyl Figure
BTS: Jungkook "Proof" Funko Pop! Vinyl Figure
The BTS "Proof" Funko Pop! Vinyl Figures (2023 release) can be found for pre-order at the links below (click to jump!)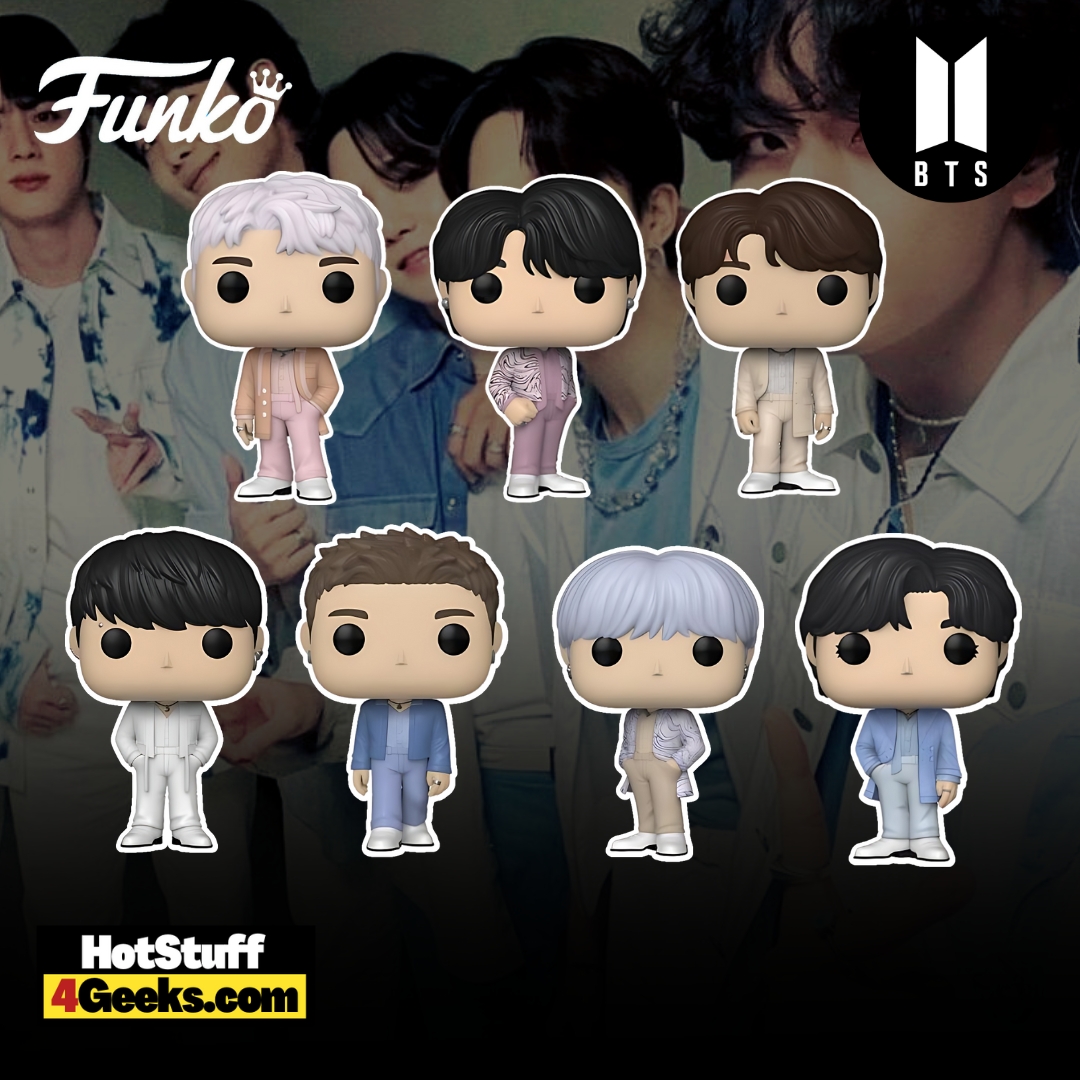 Decoding the Multi-Layered Odyssey of BTS's Anthology Album "Proof"
When BTS released "Proof" on June 10, 2022, the music world tilted just a smidgen on its axis.
This anthology album wasn't merely a collection of songs but a curated journey across the band's sonic universe.
Spread over three discs, including a mix of popular singles, band favorites, unreleased tracks, and five brand-new songs, "Proof" isn't just an album.
It's an experience, a statement, a musical and emotional richness manifesto.
Let's break it down: not many albums boast the audacity to incorporate a smattering of different timelines and musical styles.
We've got previously unreleased demos mingling freely with brand-new gems like "Yet to Come (The Most Beautiful Moment)" and "Run BTS."
This curatorial freedom makes "Proof" an unpredictable yet satisfying emotional rollercoaster that also serves as an intimate timeline of the group's evolution.
For newcomers, it's a well-rounded introduction, and for the ARMY—the band's passionate fan base—it's a nostalgic trip down memory lane sprinkled with unexpected surprises.
Selling over 2 million copies on the very first day and topping charts in 18 territories (we're talking Germany, Japan, South Korea, the United States, and even down under in Australia), "Proof" further cemented BTS's reign in the global music landscape.
But the numbers alone don't reveal the whole story.
The album isn't just commercially successful; it's critically acclaimed, earning certifications that range from gold to triple million. The global credentials speak volumes about the universal appeal of the anthology, transcending cultural and geographical boundaries.
On the musical front, "Proof" is an auditory banquet.
Alongside the band's chart-toppers are also introspective numbers like "For Youth" and "Quotation Mark," as well as the evocatively titled "애매한 사이" or "Young Love."
These tracks, whether old or new, are skillfully woven together to create an overarching narrative that encapsulates themes BTS has explored over the years: the exuberance and anguish of youth, the complex tapestry of love, and the never-ending quest for identity in a world that often urges us to be someone else.
You might ask, "Why release an anthology?" Anthologies are often considered career retrospectives, usually published towards the end of a band's career.
But knowing BTS, "Proof" is anything but a finale. Instead, it seems like a musical checkpoint—a pause to reflect, celebrate, and then move forward toward new, uncharted territories.
In an industry that's obsessed with always looking ahead to the next big thing, "Proof" invites us to pause and savor the journey so far.
So, is "Proof" groundbreaking? Absolutely.
It is unimpeachable evidence that BTS is not just a fleeting craze but a paradigm-shifting phenomenon, redefining what it means to be a global music icon in the 21st century.
Funko Pop! Rocks: BTS "Proof" Funko Pop! Vinyl Figures (2023 release)
Available at:
Starting now, you can receive 10% off in-stock items with my special link at Entertainment Earth!
 Enjoy!
As an Amazon Associate I earn from qualifying purchases
Want more stuff like this?
Get the best viral stories straight into your inbox!
Don't worry, we don't spam