2023 NEW Bugs Bunny as Fred Jones (Flocked) Funko Pop! Tee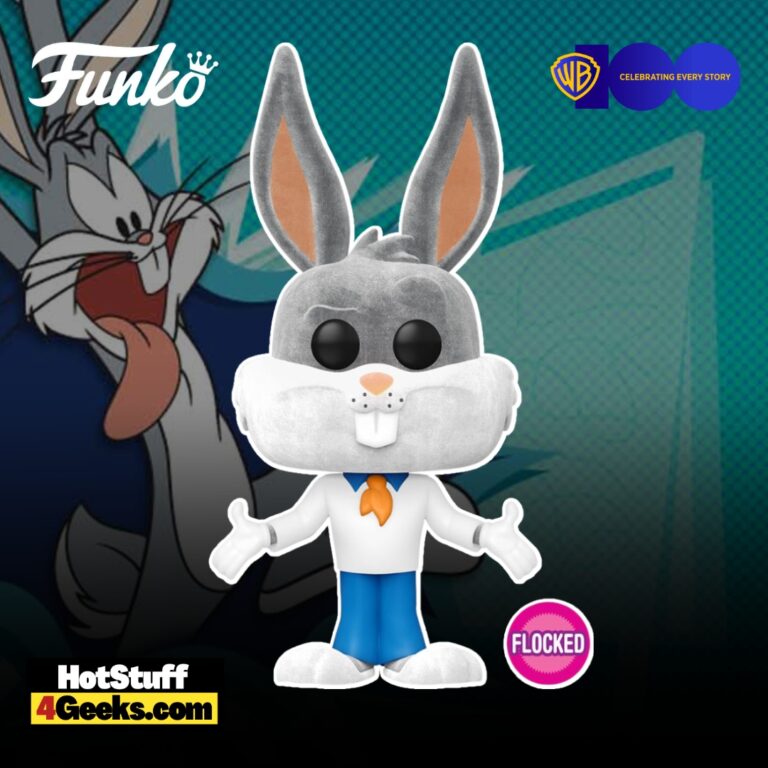 Celebrating a century of cinematic magic, the Funko Pop! Tee: Warner Bros. 100th Anniversary – Bugs Bunny as Fred Jones (Flocked) Funko Pop! Tee Vinyl Figure Bundle (2023 release) pays tribute to an iconic character that has captured hearts for generations. This edition brings together the allure of Bugs Bunny and the contemporary charm of Funko design, making it a must-have for both vintage enthusiasts and modern collectors.
To get your hands on this Pop Vinyl Figure, be sure to check out the links I've provided below – click to jump or scroll to continue reading!
You'd think turning 100 would mean slowing down, right? Not for Warner Bros., and most certainly not for the evergreen Bugs Bunny!
As part of their 100th-anniversary celebration, get ready to experience Bugs in a way that effortlessly marries nostalgia with modern pop artistry: the new Bugs Bunny Flocked Funko Pop! Tee bundle.
Imagine the charisma of Bugs, amplified by the tactile sensation of flocking, rendering him even more lifelike! Accompanied by a Tee that mirrors this charm, it's a nod to a century of laughter, wit, and those iconic carrot-chomping moments.
Over the years, Bugs has been more than just another cartoon hare.
He's grown, he's evolved, and he's become an emblem of pop culture resilience.
This new Funko release? It's a testament to that legacy.
Here's to Bugs Bunny, effortlessly hopping from the golden age of animation right into our contemporary hearts!
Bugs Bunny as Fred Jones (Flocked) Funko Pop! Tee is now available for pre-order at the links below (click to jump!) It's expected to be released in September 2023.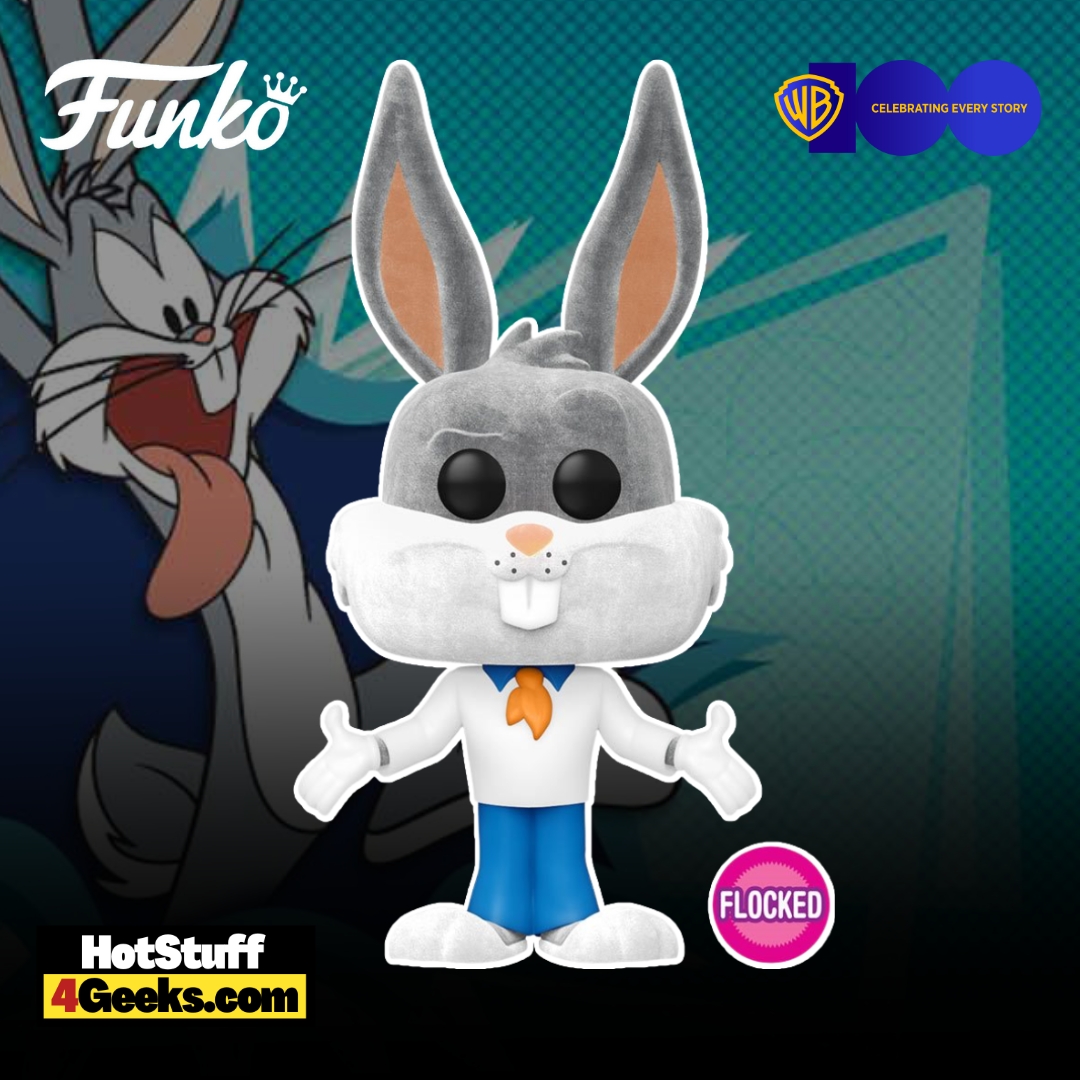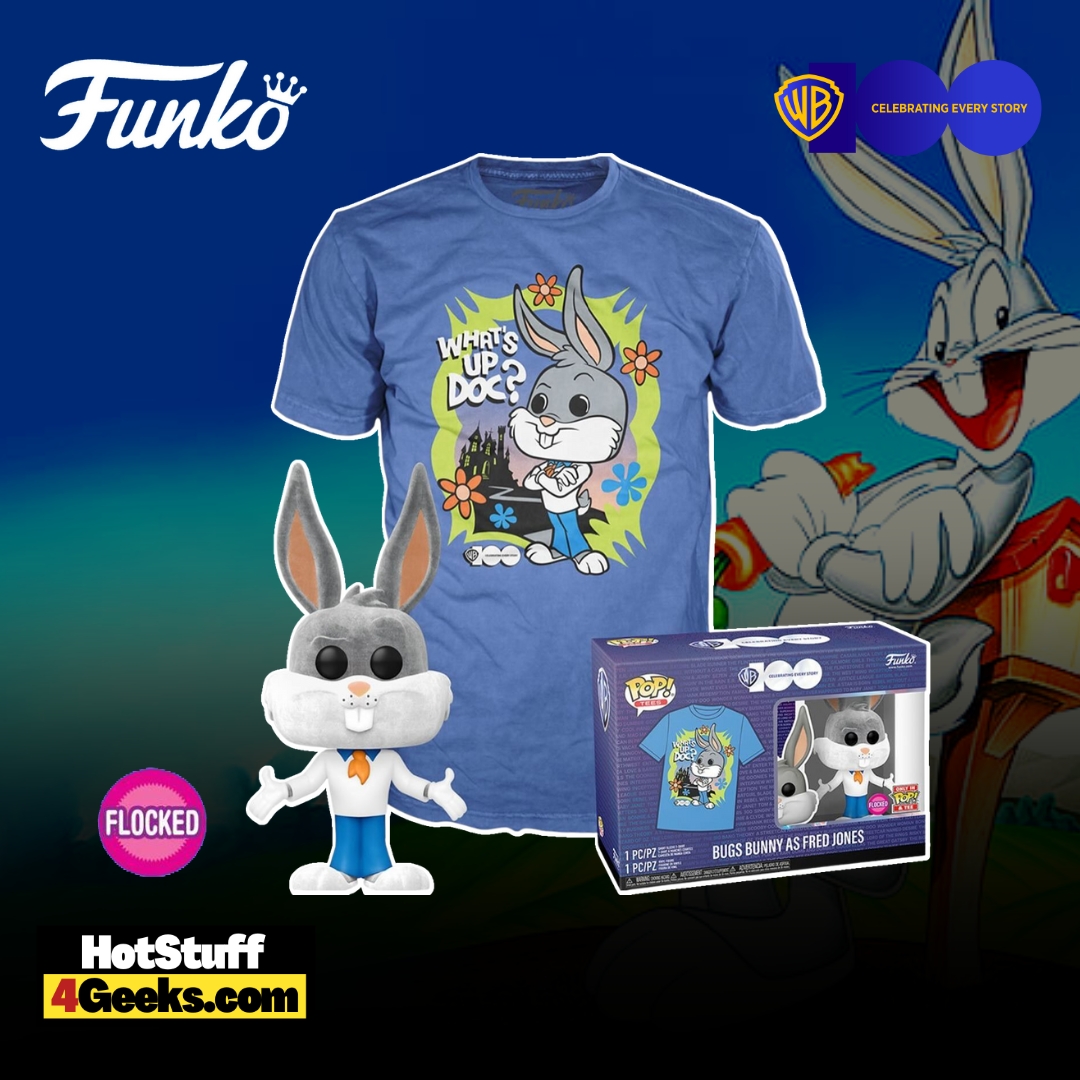 The Legend of a Lop-Eared Luminary: Bugs Bunny
Ever had one of those days when life is fast-forwarding, and all you crave is a soft, vintage hue of nostalgia to lean on? Well, that's what Bugs Bunny does to your soul.
A quick rewind and, boom, you're whisked away to the unadulterated joy of Saturday morning cartoons. For those in the know, Bugs isn't just another cartoon character; he's the quintessence of pop culture genius.
Spanning an era where characters came and went, Bugs Bunny, the suave rabbit with an undeniable Brooklyn charm, managed to etch his name into the annals of legendary status.
Seventy-five years and counting, and he's still running circles around his rivals.
Remember, Superman, might fly around Metropolis, but our furry friend has been hopping right into hearts across continents.
Now, isn't that something?
One might ponder, what is it about this gray and white hare that makes him irresistibly iconic?
The magic lies in his versatility. Most heroes flex their muscles and flash their superpowers.
But Bugs? He just uses that noggin of his.
Underneath those floppy ears lies a brain sharper than the sharpest tack in the box.
He's the mastermind you'd want plotting your escape route, the sidekick you'd wish for in a jam, and let's not forget, the sass master who'd always have a zinger up his sleeve… or fur.
And while many of our favorite toons have their moments of brilliance, Bugs stands apart.
He's an every-rabbit and yet no rabbit at all.
He's the wise-cracking buddy you'd want to grab a carrot juice with, yet also the genius who'd outsmart any adversary with sheer wit.
Speaking of adversaries, let's touch on that.
Our favorite rabbit doesn't throw punches; he throws shade.
But here's the twist – Bugs always punch up.
He's the ultimate anti-hero, forever in the crosshairs yet always turning the tables on those who dare challenge him.
And he does this without ever losing his cool.
Sure, he might wear a disguise or two (who could forget his flawless drag avatars?), but at his core, he challenges and reshapes our perceptions.
The cherry on top? Bugs Bunny does more than just entertain; he subtly breaks barriers.
His fearless forays into drag don't just make for hearty laughs but also resonate a powerful message.
Gender norms? Bugs laughs in the face of them, teaching generations that it's okay to be who you want and wear what you desire.
In a world swamped by mascots and cartoon characters striving to make their mark, Bugs reigns supreme.
He's not merely a face on a merchandise shelf; he's a voice, an attitude, a legend. A character that America not just loves but aspires to be.
To wrap this up, if you've ever felt the magic of animation, you've felt the touch of Bugs Bunny.
And if by some strange twist, you haven't, it's high time you dived into the world of Looney Tunes and met the legend himself.
Here's to Bugs, the evergreen, ever-amazing luminary of the animated world.
Check out more of Warner Brother's 100th Anniversary Funko Pops! HERE!
Funko Pop! Tee: Warner Bros. 100th Anniversary – Bugs Bunny as Fred Jones (Flocked) Funko Pop! Tee Vinyl Figure Bundle (2023 release)
Available at:
Starting now, you can receive 10% off in-stock items with my special link at Entertainment Earth!
 Enjoy!
As an Amazon Associate I earn from qualifying purchases
Want more stuff like this?
Get the best viral stories straight into your inbox!
Don't worry, we don't spam