2023 NEW Bumble 3 Liter Soda Figure w/ Flocked Bumble Chase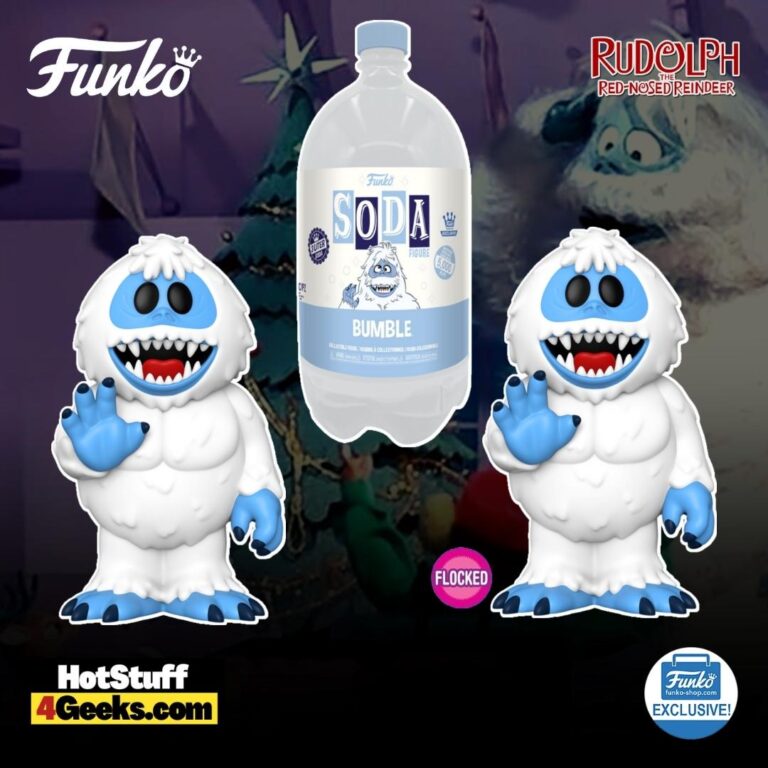 Here's something that's bound to add a dash of winter magic to your collection: the release of the new Funko Pop! Rudolph the Red-Nosed Reindeer – Bumble 3 Liter Soda Figure with Flocked Bumble Chase – Funko Shop Exclusive (2023 release)! This is Bumble, our misunderstood snow monster, now rescaled to a whopping 3 Liter size, offering an exclusive chance to add a touch of the North Pole to your collection,
To get your hands on this Pop Vinyl Figure at its release, be sure to check out the links I've provided below – click to jump or scroll to continue reading!
Introducing the 2023 Limited Edition: Funko Pop! Bumble 3-Liter Soda Figure – A North Pole Giant Joins Your Collection!
As we delve into the fantastical world of Funko Pop! figures, we're greeted by an exclusive new addition – a charming rendition of our favorite yeti from the 1964 classic, "Rudolph the Red-Nosed Reindeer."
Yes, it's Bumble, the once-feared 'Abominable Snow Monster,' transformed into a delightful, 3-liter soda figure.
With a limited run of just 10,000 pieces, this collectible is as unique as the character it represents!
This isn't your every day Bumble, though. This Funko Shop exclusive stands tall, ready to join you on your adventures or help you adorn your Christmas tree.
Remember how Bumble surprised us all by gently placing the star atop the tree?
This figure captures that memorable moment. Even better, you might be lucky to uncover the flocked chase version of Bumble, available at a 1 in 6 chance.
Revisiting the 1964 stop-motion classic, this Funko figure encapsulates Bumble's transformative journey from misunderstood monster to treasured ally.
Welcome Bumble into your collection and let him be a comforting presence, reminding you of the power of empathy, the importance of second chances, and the magic of Christmas.
This collectible isn't just a figure. It's a celebration of Bumble's heartfelt story.
Don't miss your chance to add this charming yeti to your collection, and in doing so, keep a piece of Christmas lore alive in your home.
The Funko Shop Exclusive Vinyl Soda 3 Liter Bumble can be found for purchase at the links below (click to jump!)
Bumble: The Misunderstood Monster of the North
An iconic character from the timeless classic "Rudolph the Red-Nosed Reindeer" is the Abominable Snowmonster of the North, affectionately dubbed 'Bumble' by our brave adventurer, Yukon Cornelius.
Don't let the term 'monster' fool you, though; as we journey through the icy terrain of this story, you'll discover a creature of complex emotions and unexpected character development.
Imagine a winter's day in the vast Arctic expanse.
Out of nowhere, a roar echoes, freezing every creature in its path. This roar belongs to Bumble, the misunderstood protagonist of our story.
When Bumble first graces our screens, we're led to believe he's the villain.
He appears to pose a threat to our beloved Rudolph, as well as his parents, Donner and Clarice.
Yet, as the narrative unravels, we uncover the truth about Bumble's 'ferocious' nature.
Driven to a frenzy by the sight of Rudolph's glowing nose and tormented by a relentless toothache – a lingering aftereffect of a wicked spell by the infamous Winter Warlock – Bumble's roars were cries for help more than a proclamation of danger.
Instead of the antagonist, we're initially introduced to, we find a character in distress, navigating his discomfort in the only way he knows how.
When Rudolph and his crew, including our brave dentist-to-be Hermey, encounter Bumble in his most vulnerable state, they don't flee.
Yukon Cornelius, our esteemed explorer, swoops in aid, not only saving the team from the perceived threat but also rescuing Bumble from his painful plight.
Through a suspenseful sequence, Hermey performs a tooth extraction that brings much-needed relief to Bumble.
In this transformational moment, the terrifying snow monster we feared becomes a gentle giant.
After a tumultuous tussle with Yukon Cornelius, Bumble is believed to have met a tragic end.
Yet, in an unexpected twist, Bumble and Yukon return, completely unscathed and ready to spread the Christmas cheer.
This moment redefines Bumble as he displays his newfound benevolence by adorning the Christmas tree with a golden star.
Once an object of fear and apprehension, the colossal beast transforms into an essential part of the festive celebration, exhibiting that even a 'monster' can possess a heart of gold.
Bumble's tale does not end there. He further embraces his gentle nature in the sequel, proving his loyalty and love for his friends.
He saves Yukon Cornelius from certain doom and even showcases his creativity in a delightful camouflage act.
Bumble's journey teaches us not to judge a book by its cover or, in this case, a snow monster by its roar.
His transformation from a misunderstood creature to a cherished friend is a heartening example of how empathy and understanding can bridge the gap between fear and friendship.
Through Bumble's story, we are reminded that even the seemingly scary can have a soft spot, and it's this lesson that makes Bumble a truly unforgettable character in the annals of Christmas lore.
Check for more Rudolph the Red-Nosed Reindeer Funko Pops HERE!
Funko Pop! Rudolph the Red-Nosed Reindeer – Bumble 3 Liter Soda Figure with Flocked Bumble Chase – Funko Shop Exclusive (2023 release)
Available at:
Starting now, you can receive 10% off in-stock items with my special link at Entertainment Earth!
 Enjoy!
As an Amazon Associate I earn from qualifying purchases
Want more stuff like this?
Get the best viral stories straight into your inbox!
Don't worry, we don't spam