2023 NEW Captain Planet Flying Funko Pop! Exclusive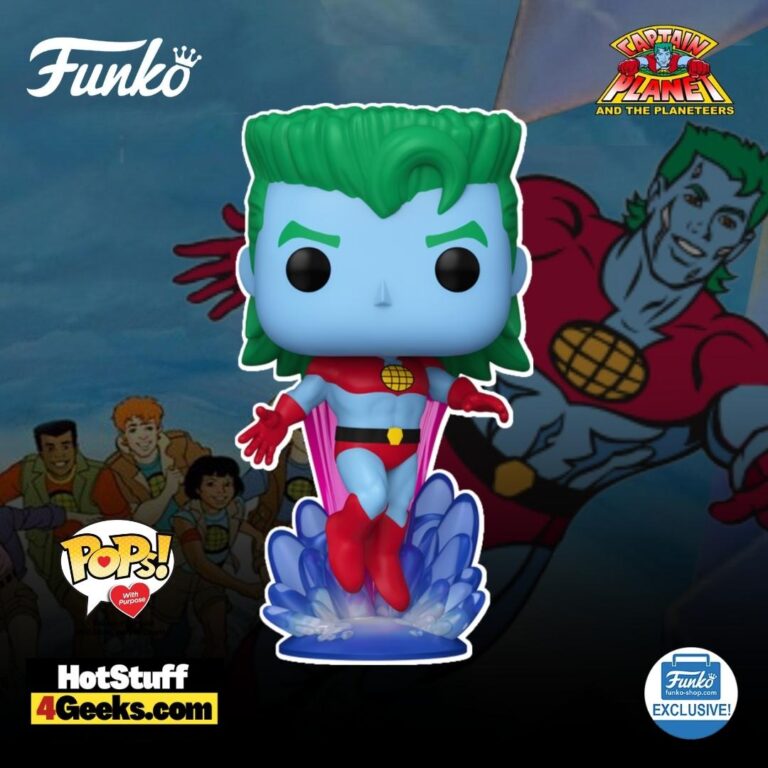 Soaring straight from the 90s cartoon nostalgia, the new Funko Pop! Animation: Captain Planet  – Captain Planet Flying Funko Pop! Vinyl Figure – Funko Shop Exclusive brings back everyone's favorite blue-skinned environmental hero in a playful, charming avatar. This stylized collectible captures the essence of Captain Planet's character with impeccable attention to detail.
To get your hands on this Pop Vinyl Figure at its launch, be sure to check out the links I've provided below – click to jump or scroll to continue reading!
A Cherished Nostalgia in Vinyl: The Flying Captain Planet Funko Pop! Figure
Imbued with an air of powerful determination, this airborne version of Captain Planet is mid-flight, echoing his animated efforts to safeguard our environment from the clutch of pollution.
He sports his classic red ensemble and the signature blue mullet, capturing his unique fashion sense, far removed from the traditional superhero garb.
The figure, beautifully rendered in vinyl, celebrates the superhero who constantly reminded us of our role in preserving our world.
Every detail, from his flying stance to his confident grin, reminds us of the Captain's fearless spirit.
The Funko Pop! Captain Planet is more than a collectible—a delightful tribute to our favorite eco-champion.
The Funko Shop Exclusive Captain Planet Flying Funko Pop! can be found at the links below (click to jump!)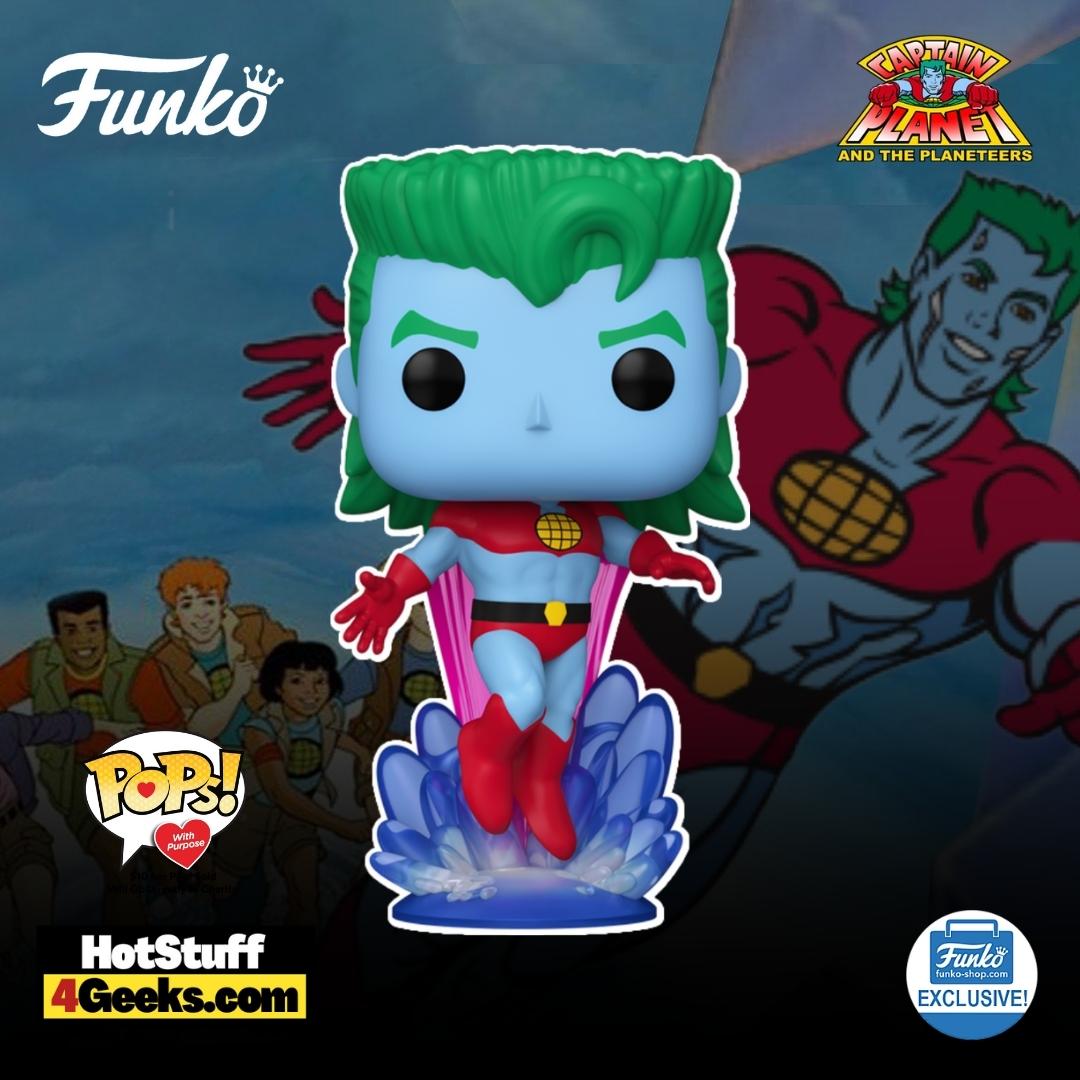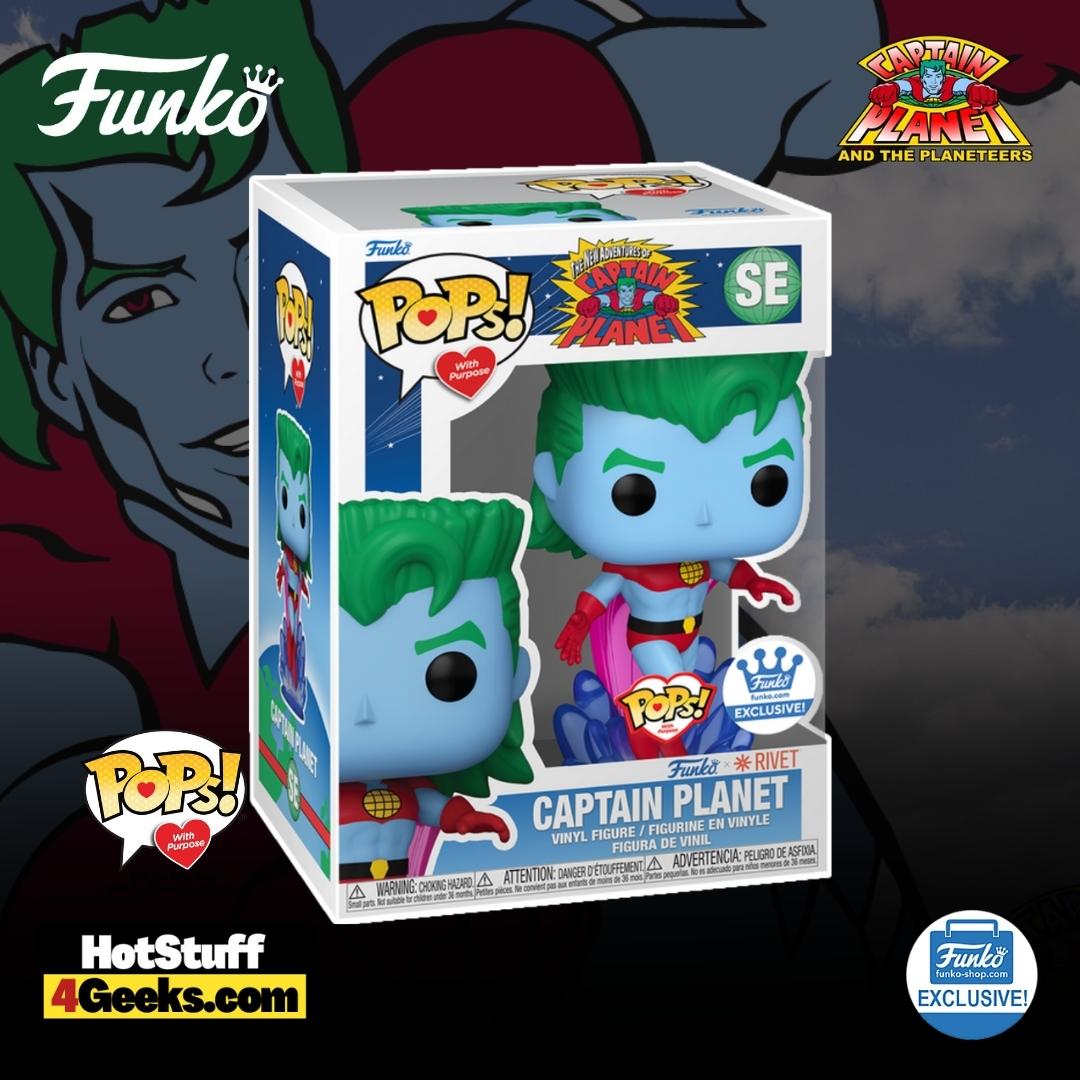 The Blue Beacon of Environmentalism: Unraveling Captain Planet
In the cavalcade of superheroes that adorned our television screens throughout the 90s, one stands out with his blue skin, green mullet, and a heart filled with eco-consciousness.
I'm talking, of course, about Captain Planet. Amid the nostalgia for the 90s, there's no escaping the environmental superhero and his band of diverse Planeteers.
Brought to life by the powers of five rings, each held by a representative from different continents and embodying the elements of Earth, Fire, Wind, Water, and Heart.
Captain Planet symbolized unity against the growing menace of environmental degradation.
An embodiment of the planet's protective spirit, he declared his arrival with the iconic proclamation, "By your powers combined, I am Captain Planet!"
A flash from the past, you might say? A lazy retread of eco-consciousness, perhaps?
But consider this. The superhero genre has evolved, favoring brooding, tormented heroes steeped in melancholy.
Yet here was Captain Planet, cheerfully braving the polluted world with his dazzling smile, more reminiscent of a beachside lifeguard than a hardened vigilante.
Sure, the criticism hurled at Captain Planet doesn't fall on deaf ears.
He was the champion against pollution, but ironically, pollution was his kryptonite.
Like a paradox wrapped in an enigma, it's hard to ignore this glaring inconsistency.
Yet, there's something innately human about this flaw, a vulnerability that makes him more relatable.
Then there's his signature catchphrase, "The power is yours," which, to some, might reek of delegation.
But let's rethink this. Isn't the essence of environmental preservation in our hands?
His catchphrase was an empowering call to action, a nudge towards personal responsibility in our fight for a cleaner world.
Captain Planet was neither the most powerful nor the most popular superhero, but he was undoubtedly one of the most unique.
His enemies were unusual, from a weather-controlling mad scientist to a low-level drug dealer, all embodiments of environmental destruction in their quirky ways.
Despite the odds, he battled these foes for over 100 episodes.
In the modern age, where discussions around climate change have taken center stage, Captain Planet's return couldn't be more timely.
For many of us, Captain Planet was our first encounter with environmentalism, bundled up as a superhero cartoon.
Far from being a distraction, the return of this blue crusader is a reminder that the battle against pollution needs to be fought not just in our backyards but also in our living rooms and, indeed, our childhood memories.
So, let's welcome back the nostalgic era of the 90s and, with it, Captain Planet, the environmental knight in shining (or should I say 'glowing') armor.
Because remember, "The power is yours!"
Funko Pop! Animation: Captain Planet  – Captain Planet Flying Funko Pop! Vinyl Figure – Funko Shop Exclusive
Available at:
Starting now, you can receive 10% off in-stock items with my special link at Entertainment Earth!
 Enjoy!
As an Amazon Associate I earn from qualifying purchases
Want more stuff like this?
Get the best viral stories straight into your inbox!
Don't worry, we don't spam