2023 NEW Civil War Build A Scene: Captain America Funko Pop!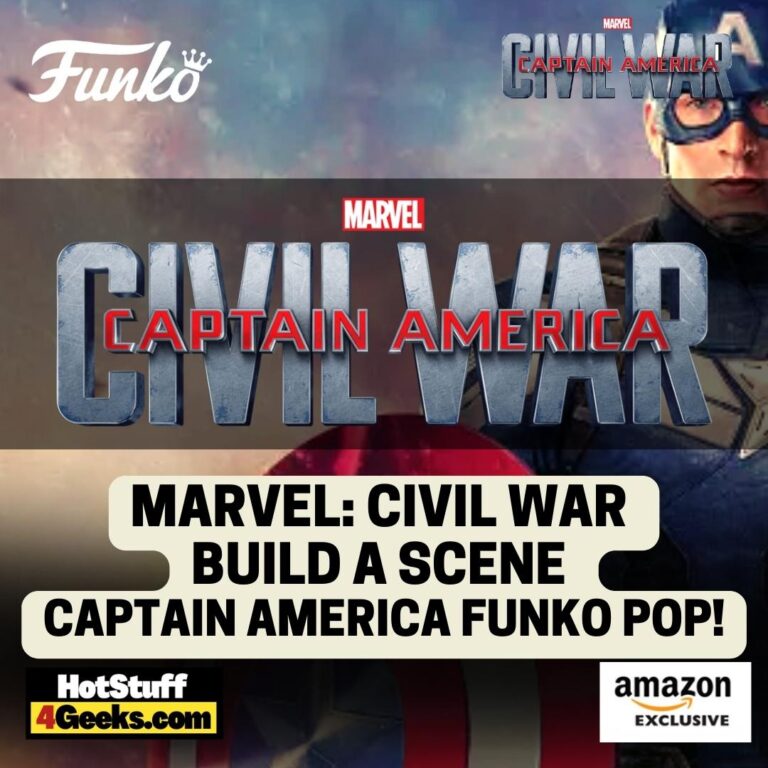 Not official until confirmed.
Are you ready to invite the Sentinel of Liberty into your home? The new Funko Pop! Marvel: Civil War Build A Scene – Captain America Funko Pop! Vinyl Figure – Amazon Exclusive (Figure 12 of 12) brings the spirit of our star-spangled hero right to your doorstep.
To get your hands on this Pop Vinyl Figure at its release, be sure to check out the links I've provided below – click to jump or scroll to continue reading!
Embrace the Hero Within: The Captain America Funko Pop! Marvel: Civil War Figure
Raise your shields, Marvel fans! The wait is over.
The final piece of the much-anticipated Marvel: Civil War Build A Scene collection has arrived, and it's none other than our star-spangled hero – Captain America.
In the annals of superhero lore, Captain America stands apart.
This Funko Pop! vinyl figure captures the essence of Steve Rogers – his unwavering commitment to justice, his fierce independence, and the iconic vibranium shield.
A symbol of the true essence of heroism, this figure radiates the spirit of the Captain we all adore.
But the fun doesn't stop there.
This Captain America figure is part of a spectacular 12-piece set designed to recreate the epic Captain America: Civil War battle scene.
Each piece in the collection is primed for a solo display, or it can be integrated with others for a collective showcase.
Release your creativity and experiment by interchanging characters.
Build an authentic Civil War clash or, better yet, stage your very own Marvel narrative. And with each Pop! securely attached to its base, staging your Marvel Universe becomes child's play.
With Captain America completing the set, your Civil War collection is now ready for display.
Assemble your team of heroes and step into the enthralling world of Marvel right in the comfort of your home.
The Amazon Exclusive Civil War Captain America (12th Figure) Funko Pop! is now available for pre-order at the links below (click to jump!)
The Steadfast Compass: Decoding Captain America's Moral Stand in Civil War
In the narrative labyrinth of the Marvel Cinematic Universe, one film that stands as a monument of ethical conflict is Captain America: Civil War.
The film transforms the glitzy canvas of superhero spectacle into a profound philosophical battlefield, with Steve Rogers – Captain America, at the helm of one faction.
Let's explain why Captain America's stance in Civil War truly epitomizes his character.
Steve Rogers, beneath his super-soldier physique, is a man who values freedom and individual judgment over external regulation.
His upbringing on the streets of Brooklyn and his struggles left him with a strong sense of self-reliance, a trait that manifests repeatedly in his superhero persona.
In Civil War, the introduction of the Sokovia Accords presented a significant difficulty for the Avengers.
While Tony Stark advocates for oversight and regulation, Rogers rejects this proposal, arguing that freedom and autonomy are paramount.
This isn't a spur-of-the-moment choice. It's a decision rooted in his experience with corruption, first seen when he exposed the dark underbelly of S.H.I.E.L.D.
Though Rogers' refusal to sign the Accords may seem obstinate or even naive, it's a testament to his unwavering moral compass.
He operates from a place of deep conviction, believing that in a world constantly under threat, the forces of good cannot always wait for bureaucratic green lights.
A telling moment in Civil War is when T'Challa, the Black Panther, who initially aligns with Tony, shifts his allegiance.
This change occurs when T'Challa realizes that revenge and justice are not synonymous, a lesson he learns through observing Rogers' actions.
Rogers' stance demonstrates a commitment to a broader vision of justice, surpassing personal vendettas and political maneuvering.
However, Rogers' moral stance doesn't come without a cost.
The schism between him and Tony creates a significant rift within the Avengers. It's an emotional struggle as much as a physical one, further illustrating the profound depths of his convictions.
Perhaps the most potent validation of Rogers' stance occurs after the devastating Snap.
The utter collapse of world governments reinforces the precariousness of relying on such entities for lifesaving decisions.
Rogers' insistence on autonomy rings ominously prophetic in this tragic tableau, underscoring the necessity of swift, unencumbered action in the face of evil.
In conclusion, Captain America's stance in Civil War is a powerful testament to his character's core values: independence, loyalty, and dedication to justice.
It's a compelling exploration of the moral quandaries that even superheroes must grapple with, proving that the realm of the extraordinary is never too far removed from the human condition.
Through Rogers, we learn that a steadfast moral compass can be our greatest weapon, even in a universe of gods and monsters.
Check out more Captain America: Civil War Build A Scene Funko Pops! HERE!
Funko Pop! Marvel: Civil War Build A Scene – Captain America Funko Pop! Vinyl Figure – Amazon Exclusive (Figure 12 of 12)
Available at (soon):
Starting now, you can receive 10% off in-stock items with my special link at Entertainment Earth!
 Enjoy!
As an Amazon Associate I earn from qualifying purchases
Want more stuff like this?
Get the best viral stories straight into your inbox!
Don't worry, we don't spam