2023 NEW Civil War Build A Scene – Falcon Funko Pop!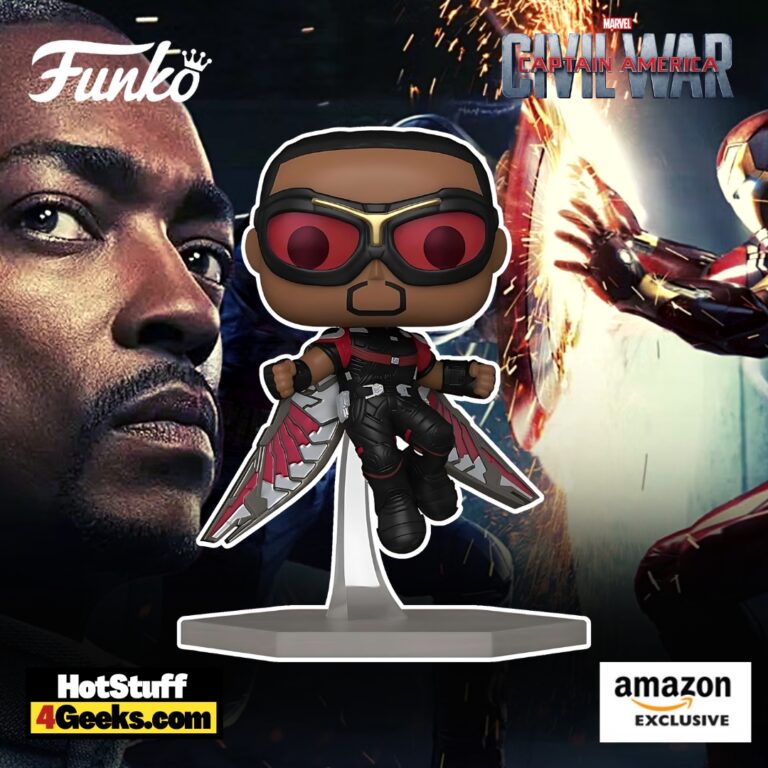 Have you ever wanted to bring home the thrill and excitement of the Marvel universe? Well, there's a delightful way to do it: The new Funko Pop! Marvel: Civil War Build A Scene – Falcon Funko Pop! Vinyl Figure – Amazon Exclusive (Figure 10 of 12). This isn't your run-of-the-mill action figure; this is Sam Wilson, our fearless Falcon, in an adorable, stylized Pop! form.
A Miniature Marvel – Civil War: The Falcon Funko Pop! Vinyl Figure
This remarkable piece, exclusively available on Amazon, forms part of a larger assembly – the Civil War Build A Scene series.
The entire collection features 12 separate figures, each beautifully designed with fantastic attention to detail.
The joy of this series lies in its versatility; you can either assemble the complete battle scene or curate a unique display based on your favorite characters.
The Falcon figure itself embodies the character's essence from the "Captain America: Civil War" film.
From his iconic flight suit to the compact version of Redwing, the design intricately captures Falcon's unique persona.
Moreover, the figure is fixed to its base, making it easy to display and less prone to toppling over.
It's an opportunity to have a piece of Marvel's cinematic magic right on your shelf.
The Falcon Funko Pop! Vinyl Figure isn't just an addition to your collection but a miniature testament to Sam Wilson's heroism in "Civil War."
It's a small way to appreciate a big character.
The Amazon Exclusive Civil War Falcon (10th Figure) Funko Pop! is coming soon and can be found at the links below at its release (click to jump!)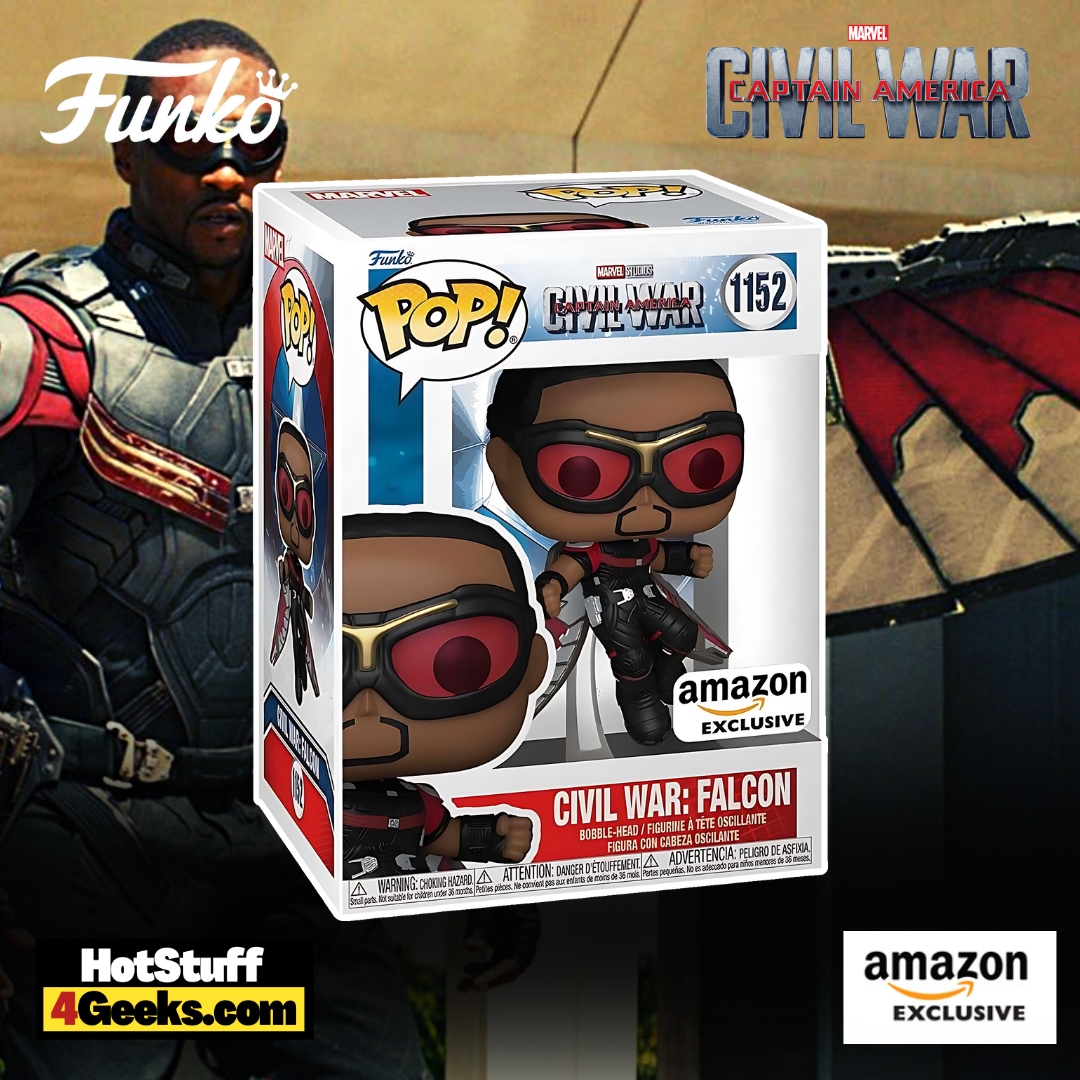 Sam Wilson: A Falcon Soars in "Captain America: Civil War"
Welcome to the world of superheroes, where the ordinary becomes extraordinary.
We're focusing on a special character, a brave soul who managed to carve his path into the superhero elite.
Meet Sam Wilson, known to many as Falcon, a pivotal player in the unforgettable film "Captain America: Civil War."
In the complex landscape of shifting allegiances and moral quandaries that is "Civil War," Sam Wilson's character shines brightly.
An ex-pararescue airman, Wilson emerges as a crucial member of the Avengers and a trustworthy confidant of Steve Rogers, a.k.a. Captain America.
His exceptional combat skills and military experience bring a whole new dynamic to the Avengers team.
But it's not just his agility and precision that make him stand out.
His strong moral compass and loyalty to his friends form the backbone of his character, setting him apart even in the crowded field of superheroes.
Throughout "Civil War," Sam Wilson consistently proves he's not just a sidekick. He's instrumental in many key moments, showcasing his prowess as a soldier and a tactician.
His EXO-7 Falcon jet pack allows him to perform extraordinary maneuvers, swooping and diving with an ease that leaves audiences in awe.
And let's not forget Redwing, his handy robotic drone, loaded with features that augment his reconnaissance and combat capabilities.
Yet, Wilson's most memorable contribution in "Civil War" is not his physical prowess or gadgets but his moral stance.
He mirrors the uncompromising ethical stand of Captain America, displaying an impressive ability to discern right from wrong amidst a whirlwind of competing interests.
Wilson's refusal to sign the Sokovia Accords, even in the face of potential penalties, speaks volumes about his character. His unwavering loyalty to his friends, especially during the divisive Avengers Civil War, illustrates his inherent goodness.
But Wilson is not immune to the costs of war.
His part in the unfortunate accident that almost cost James Rhodes his life weighs heavily on him.
Wilson displays a remarkable maturity level and empathy, is deeply remorseful, and offers a sincere apology. His moral integrity shines through even in this challenging moment.
'Civil War' is a critical chapter in Wilson's story.
It not only demonstrates his strengths and weaknesses but also sets the stage for his ascension.
Post the Thanos debacle and the heartbreaking retirement of Steve Rogers, the mantle of Captain America is passed on to Sam Wilson.
This torch passing signifies a recognition of Wilson's values, skills, and unwavering loyalty – traits that are inextricably tied to the iconic shield he now wields.
In conclusion, Sam Wilson's portrayal in "Captain America: Civil War" beautifully captures the essence of his character – a warrior with a conscience.
He is a reminder that true heroes are not only characterized by their physical abilities but also by their moral courage and the quality of their character.
Remember, even in a world filled with gods and monsters, and a Falcon can still command the sky.
Check out more Captain America: Civil War Build A Scene Funko Pops! HERE!
Funko Pop! Marvel: Civil War Build A Scene – Falcon Funko Pop! Vinyl Figure – Amazon Exclusive (Figure 10 of 12)
Available at:
Starting now, you can receive 10% off in-stock items with my special link at Entertainment Earth!
 Enjoy!
As an Amazon Associate I earn from qualifying purchases
Want more stuff like this?
Get the best viral stories straight into your inbox!
Don't worry, we don't spam