2023 NEW Civil War Build A Scene – Spider-Man Funko Pop!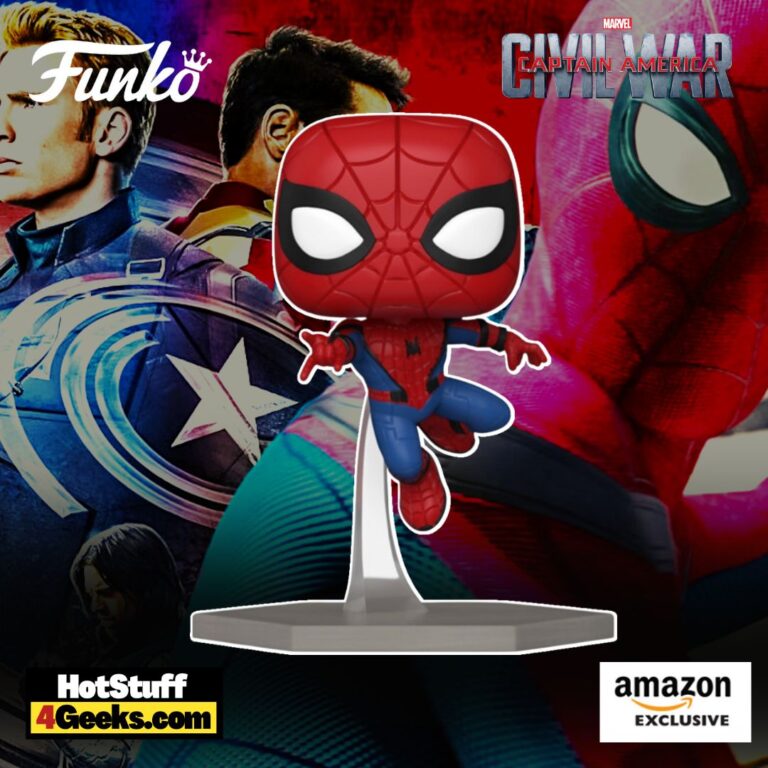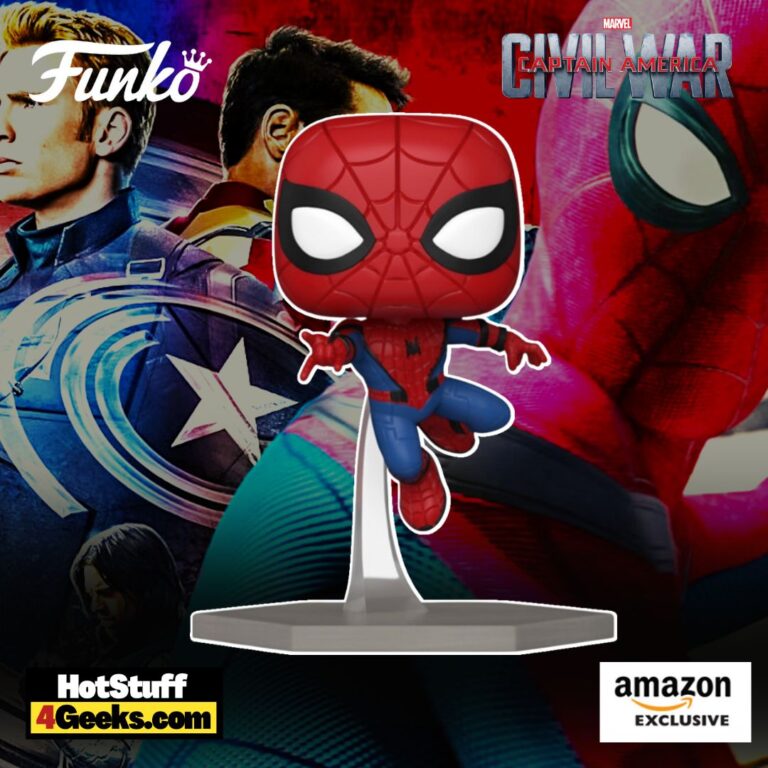 Hey there, Marvel enthusiasts! So, you think you've seen it all? Wait till you get a glimpse of the ultra-cool Funko Pop! Marvel: Civil War Build A Scene – Spider-Man Funko Pop! Vinyl Figure – Amazon Exclusive, based on our webhead's first unforgettable appearance in Marvel's Civil War!
The pop figure can be found at the links below at its release – click to jump or scroll to continue reading!
This isn't just any Funko Pop, oh no! It's a genuine Amazon exclusive, encapsulating the moment that Spidey swung into the superhero divide with stylish flair.
The detail on this tiny tribute is nothing short of magnificent, reflecting the energy and personality of our beloved wall-crawler, as seen in the Civil War epic.
Imagine mini-Spidey, with his fresh, high-tech suit designed by none other than Tony Stark, frozen in an action-packed pose that screams, "Spider-Man, reporting for duty!"
The coolest part? This Funko is part of a 'build a scene' collection – giving you the power to recreate that captivating Civil War dynamic right on your desk.
In a nutshell, if you're a Spider-Man or MCU fan, this Funko Pop is a fun little slice of Marvel history that'll jazz up any collection.
So, what are you waiting for? Let the friendly neighborhood Spider-Man swing into your life today!
The Amazon Exclusive Civil War Spider-Man Funko Pop!  is coming soon and can be found at the links below at its release (click to jump!)
Remember when our friendly neighborhood Spider-Man swung into the Marvel Cinematic Universe during the Captain America: Civil War epic face-off?
Let's rewind and revisit the unforgettable entrance of our favorite webhead, played to perfection by Tom Holland.
Spider-Man's appearance in Civil War wasn't just a simple cameo—it was a grand MCU debut!
The young Peter Parker was plucked from his regular life in Queens by none other than Tony Stark, who needed a secret weapon in his fight against Cap and his anti-Sokovia Accords team.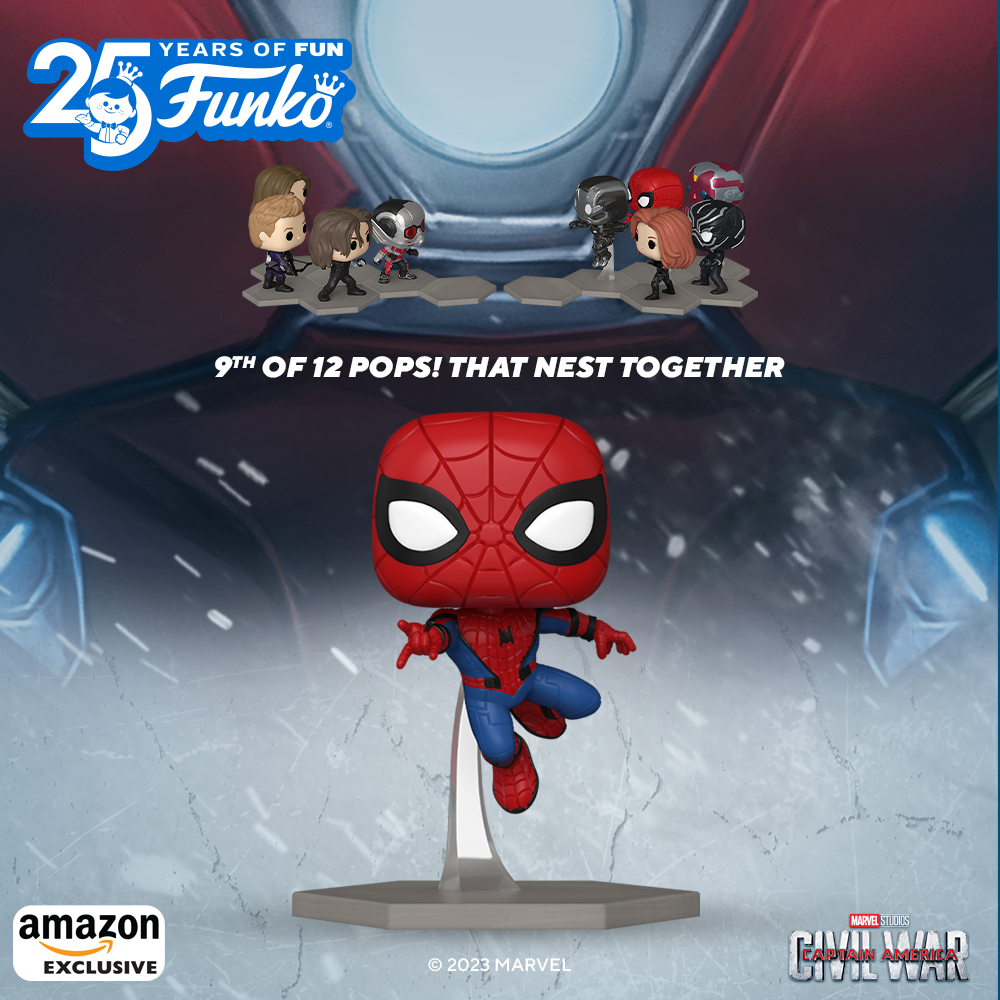 Who better than an under-the-radar teen superhero with a knack for quips and a love for high-tech gadgetry?
Civil War also cleverly planted seeds for future storylines, subtly paving the way for future villains without stealing the show.
The devil truly is in the details, and eagle-eyed fans might have spotted the unexpected setup for one of Spidey's future foes.
Remember Crossbones' intense gauntlets?
You'd be forgiven for being so engrossed in the action that you missed the connection, but here's a nugget of info: those babies are key to setting up the formidable Shocker in Spider-Man: Homecoming.
Spider-Man's entrance into Civil War was beautifully done, blending the light-hearted charm we associate with Peter Parker and the gravitas of the surrounding conflict.
As he swung into the fray, he brought a fresh wave of energy, humor, and fun—just what we needed in the intense atmosphere of the brewing superhero civil war.
Fast forward to today, and Spider-Man's journey in the MCU has evolved, presenting us with unique storylines and fresh threats.
While we might not see Shocker again soon, who knows what the future holds in this wild multiverse? As Spidey himself would say, "With great power comes great responsibility."
So, let's stay tuned, trust the MCU to continue delivering the goods, and look forward to the next thrilling chapter in Spider-Man's journey.
Check out more Captain America: Civil War Build A Scene Funko Pops! here.
Funko Pop! Marvel: Civil War Build A Scene – Spider-Man Funko Pop! Vinyl Figure – Amazon Exclusive
Available at:
Starting now, you can receive 10% off in-stock items with my special link at Entertainment Earth!
 Enjoy!
As an Amazon Associate I earn from qualifying purchases
Want more stuff like this?
Get the best viral stories straight into your inbox!
Don't worry, we don't spam