2023 NEW Clone Wars: Darth Maul vs. Pre Vizsla 2-Pack Funko Pops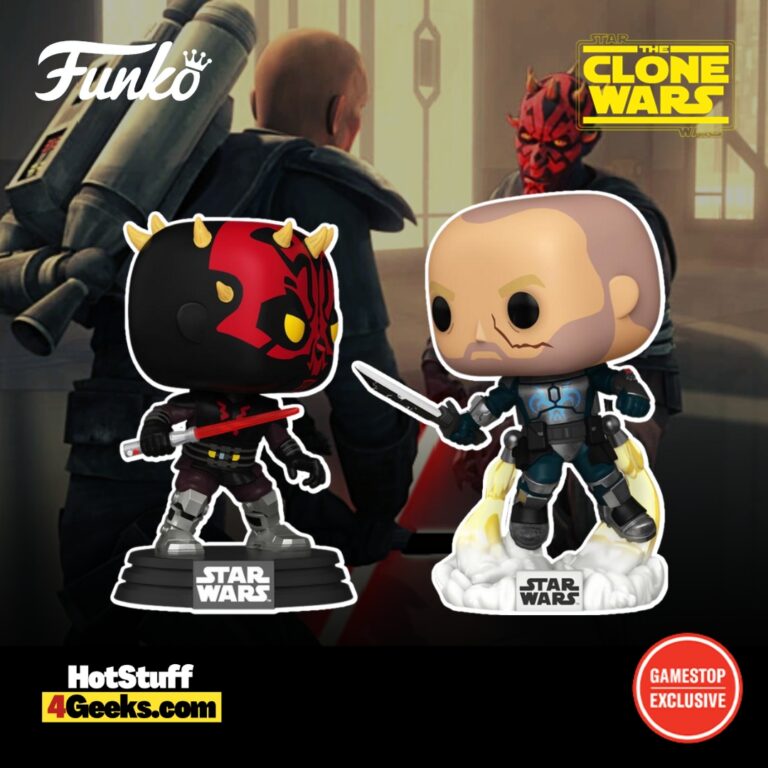 Get ready to relive one of the most gripping confrontations in Star Wars history with a new collectible that's sure to dazzle. The new  Funko POP! Star Wars: Clone Wars: Darth Maul vs. Pre Vizsla 2-Pack Funko Pop! Vinyl Figures – GameStop Exclusive captures the essence of this unforgettable duel, making it a must-have for any die-hard fan.
To get your hands on this Pop Vinyl Figure, be sure to check out the links I've provided below – click to jump or scroll to continue reading!
The GameStop Exclusive That Rekindles an Epic Clash: Darth Maul vs. Pre-Vizsla Funko 2-Pack
When you think about monumental showdowns in the Star Wars universe, the Darth Maul vs. Pre-Vizsla duel in The Clone Wars has to be one of the first to spring to mind.
Talk about a cosmic convergence of badassery! These two aren't just fighting for bragging rights; they're wrestling for the soul of an entire planet—Mandalore itself.
It's the Sith Lord with his crimson lightsaber against the Death Watch leader wielding the Darksaber, an artifact steeped in Mandalorian lore.
Guess what? GameStop has found a way to encapsulate all that intensity into a pocket-sized package with their exclusive Darth Maul vs. Pre Vizsla 2-Pack Funko Pop! Vinyl Figure.
This isn't a substitute for the high-octane animated duel; it's a tribute to a fight that had us all at the edge of our seats.
Flamethrowers, jetpacks, and lightsabers—oh, the fan service!
This Funko duo doesn't just sit on your shelf; it screams a complex tale of ambition, betrayal, and savage skill.
It's the kind of exclusive that reminds you why you fell in love with The Clone Wars in the first place.
You won't want to miss this epic 2-pack drop!
The GameStop Exclusive Darth Maul vs. Pre Vizsla 2-Pack Funko Pops! are now available for pre-order at the links below (click to jump!)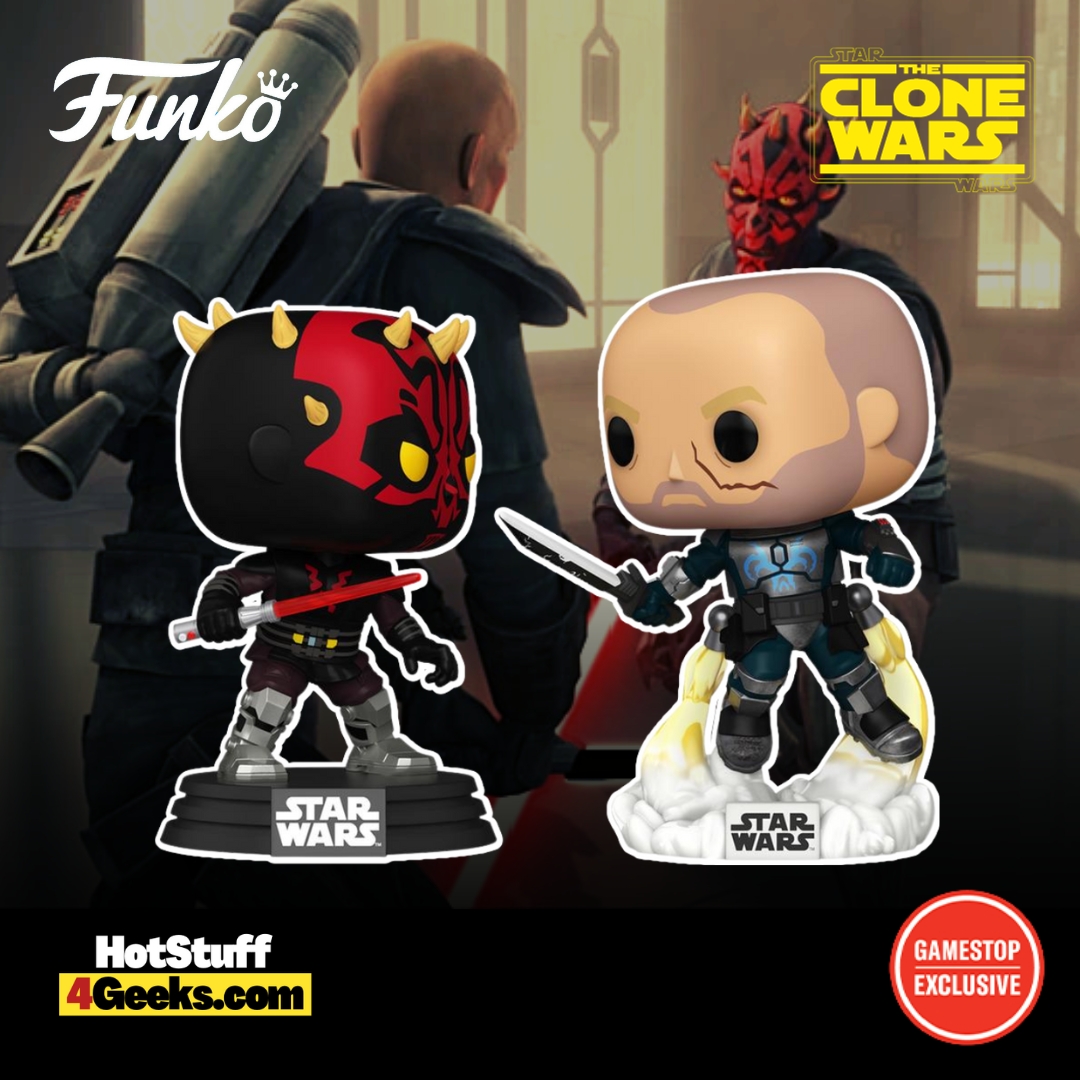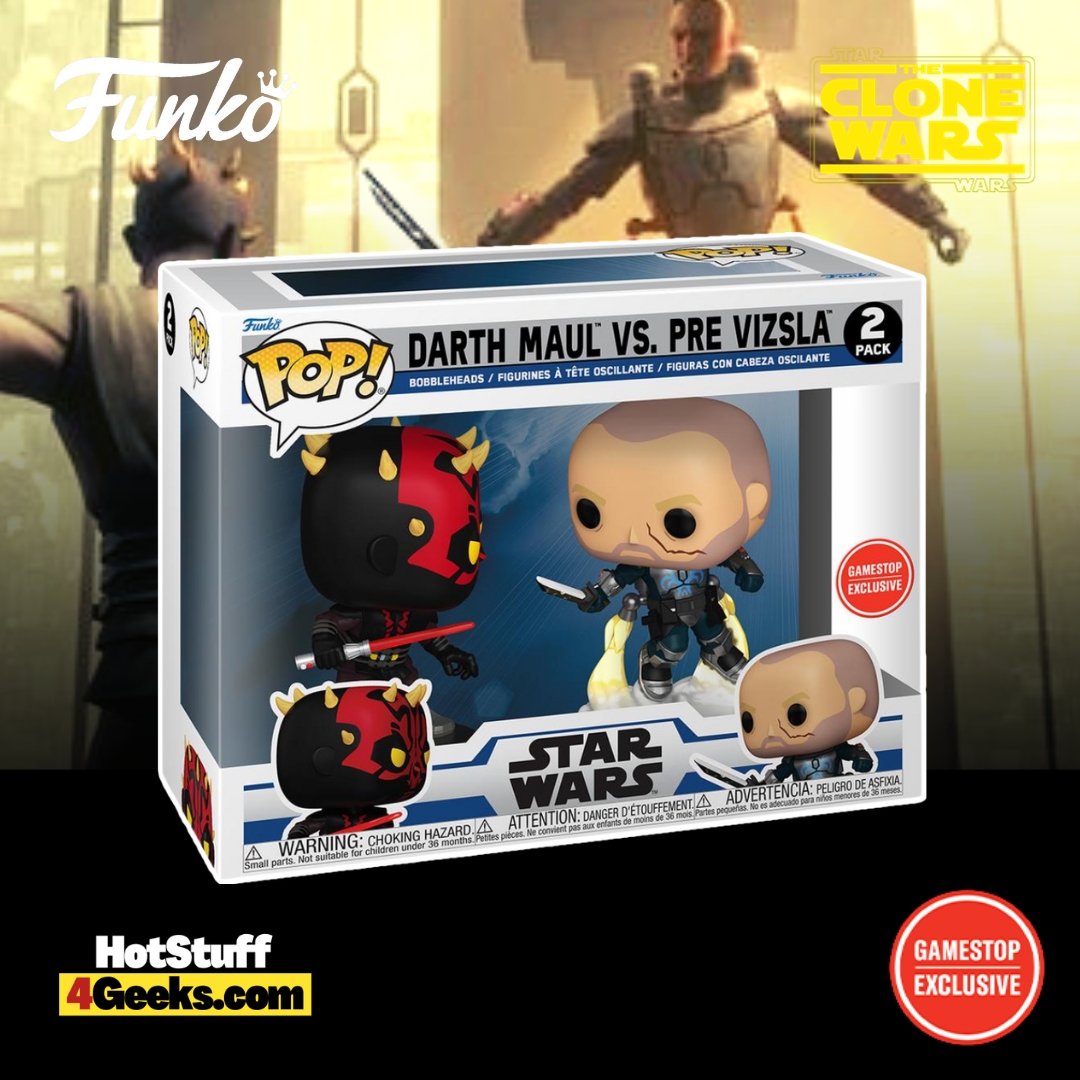 The Intricacies of Power and Skill: The Darth Maul vs. Pre-Vizsla Showdown in The Clone Wars
Star Wars: The Clone Wars does an extraordinary job of augmenting the universe we know and love.
Among the kaleidoscope of episodes, none exemplify this more than "Shades of Reason," where two formidable forces of nature—Darth Maul and Pre Vizsla—clash in a riveting duel.
This is not just another skirmish between the Sith and the Jedi. It's a symphony of fighting styles, a tour-de-force that pushes the boundaries of animated storytelling.
Let's get into the nuts and bolts. Darth Maul, a Sith Lord of immeasurable power, is no stranger to combat.
In contrast, Pre Vizsla, leader of the rogue Mandalorian faction known as Death Watch, is a military tactician.
When they lock sabers, it's not merely an altercation; it's a cataclysmic collision of philosophies, cultures, and egos.
Vizsla brandishes the Darksaber, a weapon entangled with the lineage and history of Mandalore.
Darth Maul opts for a single red lightsaber blade, a fraction of his usual weapon but no less deadly.
What raises the stakes in this duel is the backdrop—Mandalore, a planet as tumultuous and complex as the combatants vying for its control.
Maul and Vizsla initially join forces to overthrow the pacifist government, but treachery is the game's name in this galaxy far, far away.
Vizsla betrays Maul, but Maul, ever the strategist, invokes an ancient Mandalorian law to challenge his captor to a duel.
The winner takes not just the throne but the very soul of a civilization.
But here's the kicker: Vizsla is no pushover.
Far from it.
The man's a Swiss Army knife of war, with a trick up every sleeve of his armor—flamethrowers, blasters, even a jetpack.
As they engage, he cycles through his arsenal, trying to outmaneuver and overwhelm his Sith opponent.
Maul, however, remains a stoic wall, countering and adapting to each new trick, the epitome of Sith's tenacity and focus.
In the end, it's a brutal, decisive finish. Maul manages to disarm Vizsla, literally and figuratively, seizing the Darksaber and claiming the throne of Mandalore.
The duel serves as a defining moment not just for these characters but for the universe at large.
It marks the crescendo of Darth Maul's tumultuous journey for power and revenge, just as it underlines Pre Vizsla's tragic end and his vision for his people.
This duel resonates on multiple levels—thrilling, gut-wrenching, and complex.
It defies the traditional molds of good vs. evil, opening up new arenas of gray morality and consequences.
It's no wonder fans and critics celebrate it as a pinnacle moment in the Star Wars narrative.
In essence, it encapsulates what makes Star Wars not just a franchise but a compelling saga of struggle, power, and the inherent complexity of the two.
Starting now, you can receive 10% off in-stock items with my special link at Entertainment Earth!
 Enjoy!
As an Amazon Associate I earn from qualifying purchases
Want more stuff like this?
Get the best viral stories straight into your inbox!
Don't worry, we don't spam