2023 NEW Cocaine Bear Funko Pops! Inspired by The Film
The Funko Pop! Movies: Cocaine Bear Funko Pop! Vinyl Figure is an exclusive figure inspired by the crazy true story of a bear that ate from a bag of cocaine dropped from an airplane in 1985. This gruesome but fascinating figure is sure to be a hit with collectors, and it's a great way to own a piece of this bizarre story.
The pop figure is releasing today at 9.00 AM PT, and it will available for pre-order at the links below – click to jump or scroll to continue reading!
Attention all collectors and fans of the "Cocaine Bear" movie! Get ready to add a new item to your collection – the Cocaine Bear Funko Pops! Inspired by the horror-comedy film, set to release this Friday.
The Pops! are the perfect addition to any horror or pop culture collection. With its unique design, this figure is sure to stand out on our display shelf.
The common release depicts the bear in a menacing pose, with blood splatter and scratches all over its body, and the dismembered foot is a gruesome yet fitting accessory that adds to the horror of the scene.
The bear from Exclusive to Funko Shop seems to have found an unusual snack!
Cocaine Bear with Leg Bloody Pop! Vinyl Figure
The new Cocaine Bear Funko Pops! can be found for pre-order at the links below (click to jump!)
The Pop! Figures are not just cool and creepy collectibles.  It also represents the strange and bizarre true story that inspired the movie.
As many of you may know, the Cocaine Bear movie is based on the real-life story of a black bear in Georgia that ingested a large amount of cocaine dropped by a drug smuggler in the 1980s.
The bear eventually died of an apparent overdose, and its remains were found with several open packages of cocaine scattered around it.
For those same fans who can't wait until the movie release, these Vinyl Figures are an exciting way to experience some of the mystique and drama behind the white-furred criminal for themselves.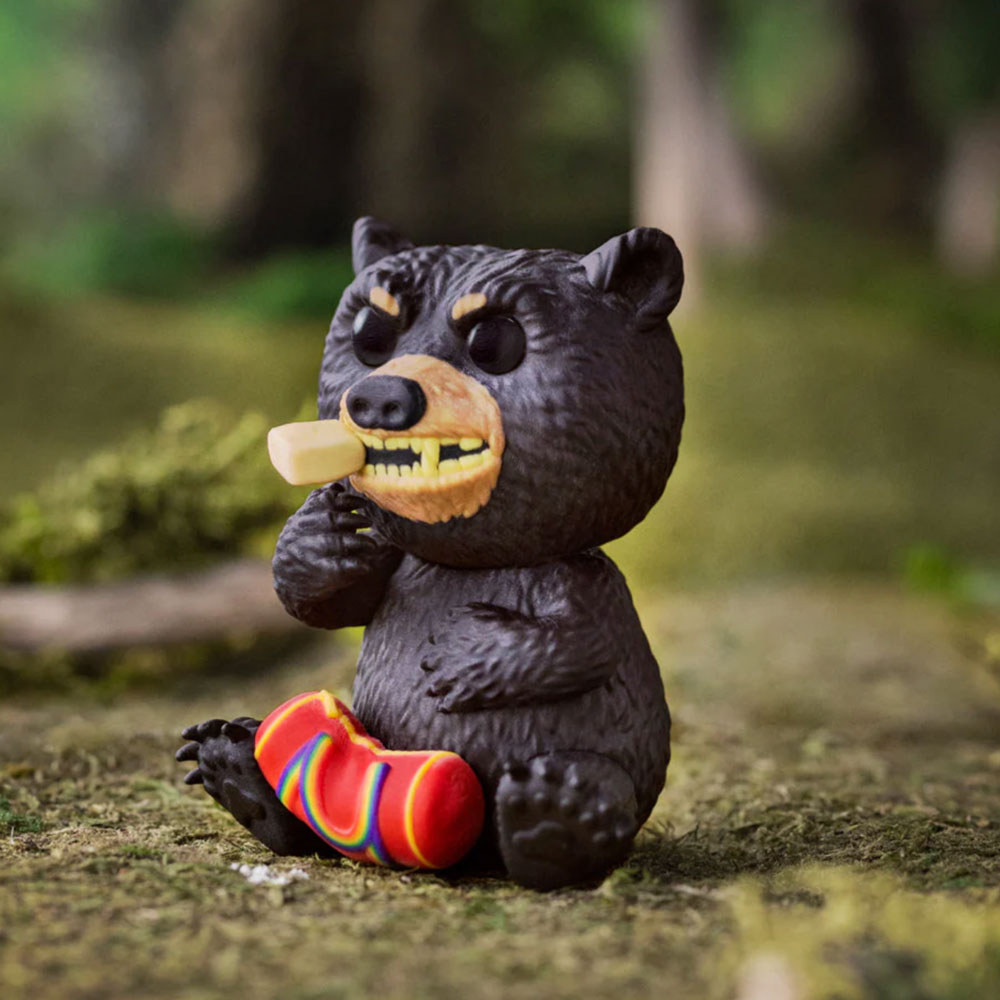 The upcoming movie Cocaine Bear is a thrilling horror-comedy that promises to be an exciting addition to the genre.
However, what makes this movie unique is that it is based on a true story that is stranger than fiction.
In the 1980s, a former police officer and convicted drug smuggler named Andrew Thornton dropped a shipment of cocaine into the forest with the intention of returning to collect it later.
Sadly, Thornton never made it back, as he was found dead with 77 pounds of cocaine strapped to his waist.
However, that was not the end of this bizarre story.
Investigators found an empty duffel bag believed to have contained cocaine alongside the remains of a black bear in the Blue Ridge Mountains in Georgia.
It turned out that the bear had ingested some of the cocaine and died of an overdose.
The rest of the cocaine had been ripped open and scattered across the hillside.
While the story of the Cocaine Bear is fascinating in itself, it has now inspired a movie that promises to be an equally wild ride.
Directed by Elizabeth Banks, the movie stars Keri Russell and Ray Liotta and follows the story of a black bear on a rampage while high on cocaine.
The movie takes some creative liberties with the true story, but it's clear that the real events are just as wild as the fictional retelling.
Moreover, the fact that visitors can see a stuffed bear that is claimed to be the original Cocaine Bear at a retail store in Lexington, Kentucky, adds an intriguing dimension to the story.
Overall, Cocaine Bear is a movie that promises to be both thrilling and entertaining, with an unusual plotline that is based on real events.
Whether you're a fan of horror comedies or simply interested in strange tales from history, this movie is definitely worth watching.
Get ready to experience a story that is as bizarre as it is captivating.
Funko Pop! Movies: Cocaine Bear Funko Pop! Vinyl Figures
Available at:
Starting now, you can receive 10% off in-stock items with my special link at Entertainment Earth!
 Enjoy!
As an Amazon Associate I earn from qualifying purchases
Want more stuff like this?
Get the best viral stories straight into your inbox!
Don't worry, we don't spam