2023 NEW Cocaine Bear with Bag Funko Pop! (Funko Exclusive)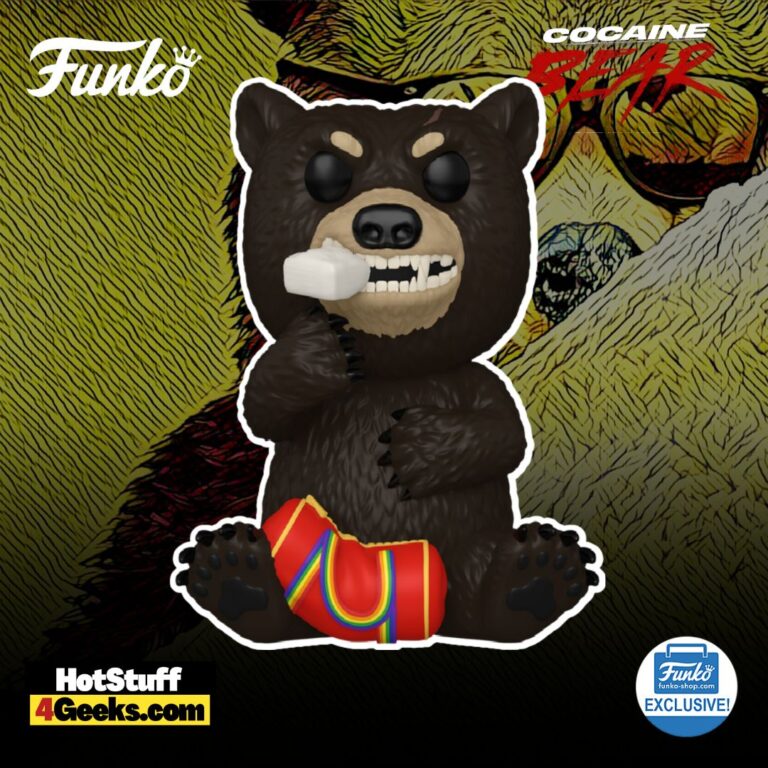 Hey collectors, here's something you don't want to miss – the new Funko Pop! Movies: Cocaine Bear with Bag Funko Pop! Vinyl Figure – Funko Shop Exclusive. It's not your typical figurine. This one truly packs a punch!
The Pop! is releasing today at 9.30 AM PT. To get your hands on this Figure at its launch, be sure to check out the links I've provided below – click to jump or scroll to continue reading!
Look closely, and you'll see a bear who has stumbled upon an unexpected snack. But don't let those innocent eyes fool you.
This little guy is just biding his time, ready to leap into action and cause some cinematic chaos.
With his bag of "goodies" in tow, he's on the prowl for his next big meal.
This adorable menace perfectly encapsulates the untamed, chaotic spirit of its movie counterpart.
Be it those wide, surprised eyes or the detailing on the bag, every feature brings this rogue bear to life.
In essence, this Funko Pop! Bear with Bag brings a mini dose of wild, untamed fun to your Cocaine Bear collection.
A delightful yet cheeky tribute to the film's unconventional hero, it promises to be the talk of your display shelf.
Remember, though, while he may seem docile on the outside, this bear is ready for his next caper. Don't say we didn't warn you!
The Funko Shop Exclusive Cocaine Bear with Bag Funko Pop! can be found at the links below (click to jump!)
Prepare for a roller coaster ride of hilarity, suspense, and the utterly unexpected, because today, we're diving into the cinematic frenzy known as "Cocaine Bear."
Directed by Elizabeth Banks, "Cocaine Bear" is an uproarious black comedy that has hit the screens with a roar.
The premise? Just as it sounds: a bear gets high on cocaine and embarks on a woodland rampage.
It's hard to believe, but this movie is loosely grounded in real events from the mid-80s, making the ensuing madness even more delicious.
The film refuses to take itself seriously, delighting viewers with a simple yet endlessly entertaining concept.
Remember "Snakes on a Plane"? The comparison is inevitable; ' Cocaine Bear' carries the same no-nonsense spirit.
The ensemble cast is diverse and engaging, featuring noteworthy performances from Matthew Rhys, Alden Ehrenreich, and O'Shea Jackson Jr., to name a few.
Each character's story intertwines with the manic journey of our coked-up bear, adding layers of complexity and intrigue to the narrative.
An unexpected star of "Cocaine Bear" is the creature herself.
Thanks to the skillful work of Weta FX and the performance of stuntman Allan Henry, the bear is brought to life in a surprisingly high-tech fashion for such a hilarious film.
The balance of realism and exaggeration gives the bear's antics an edge of hilarity and fear.
Despite its wild premise and comedic tone, "Cocaine Bear" doesn't shy away from graphic violence.
The gore isn't merely confined to bear attacks – human folly leads to a fair share of cringe-worthy injuries too.
Yet, strangely enough, you might find yourself rooting for our furry protagonist. It's a testament to the movie's ingenious and ludicrous charm.
Sure, "Cocaine Bear" might not be destined for Oscar glory, but it doesn't aim to be.
It knows its place and embraces it with an unapologetic gusto bound to unite audiences in collective laughter.
This madcap joyride will undoubtedly leave a lasting impression and may very well become a cult classic.
So if you're game for an outrageous, unforgettable cinematic experience, "Cocaine Bear" is definitely one to watch.
And who knows? Perhaps it will even "save cinema." That's a claim for you!
Funko Pop! Movies: Cocaine Bear with Bag Funko Pop! Vinyl Figure – Funko Shop Exclusive
Available at:
Starting now, you can receive 10% off in-stock items with my special link at Entertainment Earth!
 Enjoy!
As an Amazon Associate I earn from qualifying purchases
Want more stuff like this?
Get the best viral stories straight into your inbox!
Don't worry, we don't spam