2023 NEW Corpse Bride: Emily (Black Light) Funko Pop! Tee Bundle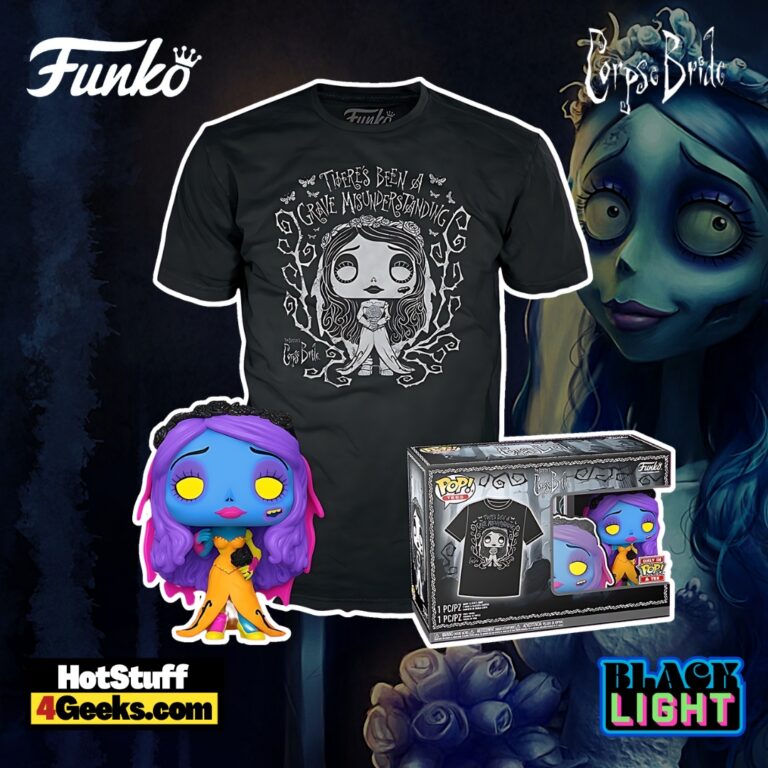 Calling all Tim Burton and Corpse Bride fans! The latest Funko Pop! Tee: Corpse Bride – Emily (Black Light) Funko Pop! and Tee Bundle is here, and this time, our favorite spectral bride, Emily, takes center stage. This Black Light bundle perfectly encapsulates Emily's vibrancy, creating a tangible representation of her festive spirit from the much-loved film Corpse Bride.
UPDATE:  Now available for pre-order! To get your hands on this Pop and Tee Bundle, be sure to check out the links I've provided below – click to jump or scroll to continue reading!
Capturing Emily's Enigmatic Aura: The New Corpse Bride Funko Pop! Tee Bundle
This bundle is a must-have, featuring Emily in her full spectral glory, glowing under the black light.
The intricate design captures her charisma, bringing her sassy, sweet, and a bit awkward personality to life, or should we say afterlife.
It's a joy to see Emily's lively character portrayed so elegantly, her melancholy yet exuberant persona woven into every stitch and sculpted detail.
But the thrill doesn't stop with the Funko Pop! figure.
The accompanying tee shirt is a spectacular addition, allowing you to wear your love for Emily's character on your sleeve, quite literally.
This bundle is an homage to Emily's enchanting character, celebrating her undying spirit in a vibrant, collectible form.
The Black Light Corpse Bride Emily Funko POP! And Tee bundle can be found for purchase at the links below (click to jump!)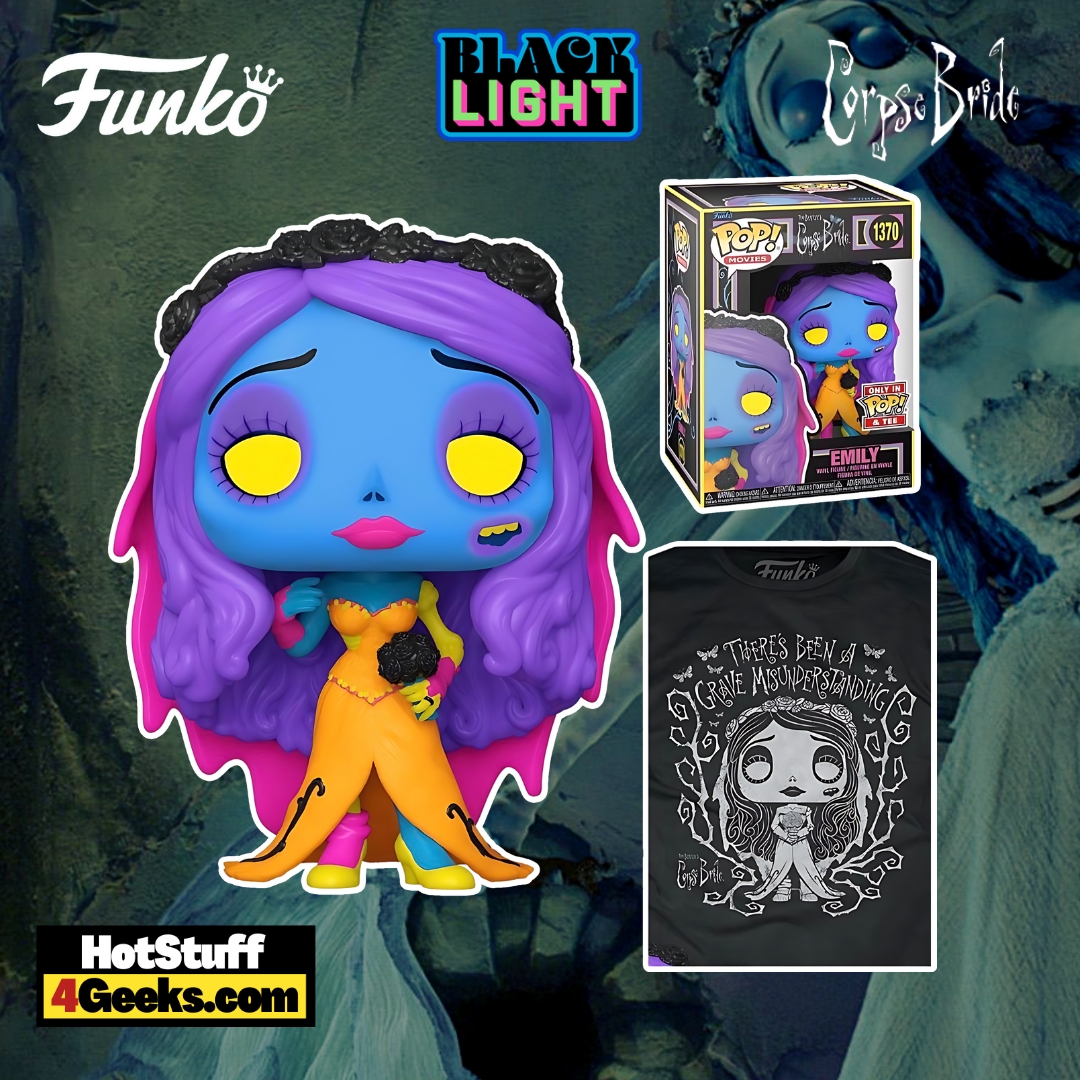 The Enchanting Liveliness of Emily: A Deep Dive into Corpse Bride
When we plunge into the rich, darkly humorous, and tender universe of Tim Burton's 2005 masterpiece, Corpse Bride, one character that stands out in a spectral array of enchanting figures is Emily, the Corpse Bride herself.
Poetic, passionate, and profoundly thoughtful, Emily's tale is as heartrending as it is captivating. Here's a closer look at what makes her such a remarkable character.
Emily's vibrant persona blooms from the very moment she is introduced.
The land of the dead may be her dwelling, but ironically, Emily shines with a life that radiates through her skeletal form.
She's sassy and witty, moving with a carefree grace that echoes the joyous dance of life. The moonlight waltzes upon her, illuminating her story, dreams, and undying love for Victor.
Yet, Emily isn't just about spirited merriment and lively antics.
This endearing character exhibits a depth of thoughtfulness that goes beyond the skin (or lack thereof).
Emily's compassionate heart beats in sync with Victor's, resonating a shared rhythm of understanding and care.
When she gifts Victor his long-lost childhood pet, Scraps, it's not just a moment of her thoughtfulness but a testament to her profound love that's woven into small, meaningful gestures.
Emily's profound compassion doesn't stop at gestures; it's interwoven in her selflessness.
She is willing to put Victor's happiness before her own, choosing to free him rather than tethering him to her world forever.
The poignant words she utters, "I love you, Victor, but you are not mine," highlight the depth of her selfless love.
She steps back, understanding that love doesn't mean possession but letting go for the sake of the other's happiness.
This emotional maturity paints Emily as a lively, humorous character and a beacon of sacrificial love.
Her lively spirit is further enhanced by her ability to connect with Victor on a deeper, artistic level.
Both share a love for music, a bond that manifests in a heartrending, beautifully crafted piano duet.
Emily's sorrow and yearning are poured into her musical notes, creating an intimate space where their hearts connect.
Despite her liveliness and the connection she shares with Victor, the story does not culminate with Emily and Victor together. Yet, this only magnifies the beauty of Emily's character.
She embodies unrequited love, symbolizing the courage it takes to love selflessly, even when the ending isn't the fairy tale one might have hoped for.
In Corpse Bride, Emily stands out not just as a whimsical character in a macabre setting but as a symbol of festive spirit, thoughtful love, and selfless sacrifice.
As she dances in the moonlight, her spectral form brimming with life, Emily teaches us that love is not about possession but the courage to set free, demonstrating that the essence of life can thrive even in the land of the dead.
Funko Pop! Tee: Corpse Bride – Emily (Black Light) Funko Pop! and Tee Bundle
Available at:
Starting now, you can receive 10% off in-stock items with my special link at Entertainment Earth!
 Enjoy!
As an Amazon Associate I earn from qualifying purchases
Want more stuff like this?
Get the best viral stories straight into your inbox!
Don't worry, we don't spam