2023 NEW Daredevil in Yellow Suit Funko Pop! Exclusive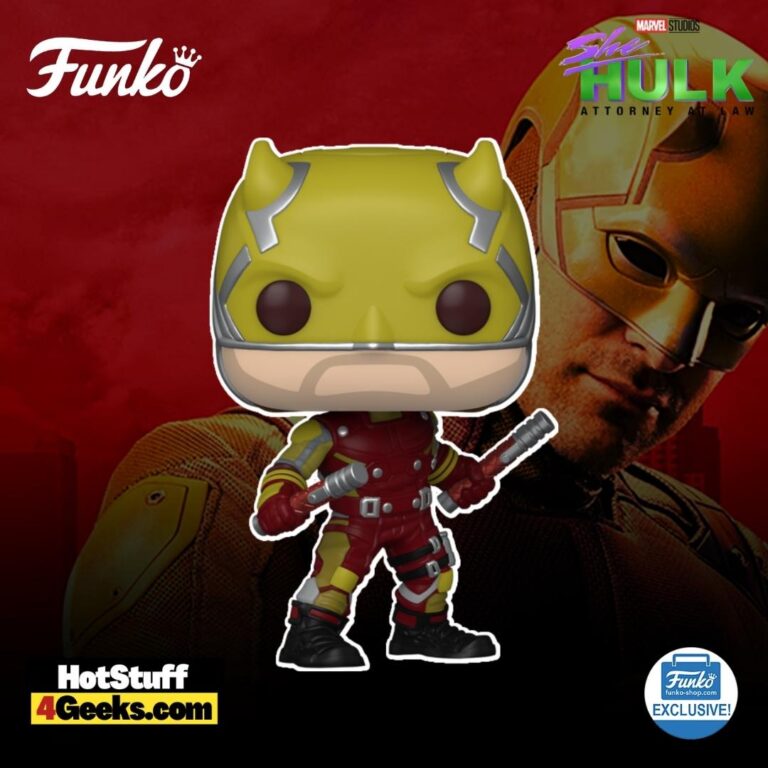 Marvel enthusiasts gather 'round. Have you heard the news? A new Funko Pop! Vinyl Figure is here to pique your interest, and it's none other than the new Funko Pop! Marvel Studios' She-Hulk Attorney at Law: Daredevil in Yellow-Red Suit Funko Pop! Vinyl Figure – Funko Shop Exclusive (2023 release). This isn't your typical collectible; it's a dazzling recreation of Daredevil's iconic look.
To get your hands on this Pop Vinyl Figure at its release, be sure to check out the links I've provided below – click to jump or scroll to continue reading!
Courtroom to Crime-fighting: Daredevil's Iconic Yellow-Red Suit Comes to Funko Pop!
In the ever-expanding universe of Funko Pop! collectibles, their latest unveiling has everyone talking.
Say hello to the newest marvel – the Funko Pop! Daredevil in the striking Yellow-Red suit is a Funko Shop Exclusive out of the popular 'She-Hulk Attorney at Law' series.
This isn't your everyday vinyl figure. The Pop! Daredevil captures the quintessence of Matt Murdock's duality – lawyer by day, vigilante by night.
This showstopper, dressed in Daredevil's earliest fighting attire, adds a vivid splash of colors, making it a standout addition to any collection.
The yellow and red suit is an homage to Daredevil's comic origins, a nod to the past, blending perfectly with the contemporary storytelling of the She-Hulk series.
Funko has brilliantly encapsulated this unique aspect of Daredevil's character, paying tribute to his layered history.
What sets this exclusive figure apart is the intricate detailing, notably the color scheme.
The contrast of yellow and red encapsulates the gritty streets of Hell's Kitchen, reminiscent of neon signs and glowing city lights.
It visually represents Daredevil's commitment to justice within and outside the courtroom.
Elevate your Marvel collection with this one-of-a-kind Pop! Daredevil. It's not just about having a new figure; it's about celebrating the vigilante's spirit in a tangible form.
From his iconic suit to his readiness for action, this Funko Pop! speaks to the heart of every Daredevil fan.
The Funko Shop Exclusive Daredevil in Yellow Suit Funko Pop! inspired by his character from She-Hulk Attorney at Law TV series can be found for purchase at the links below (click to jump!)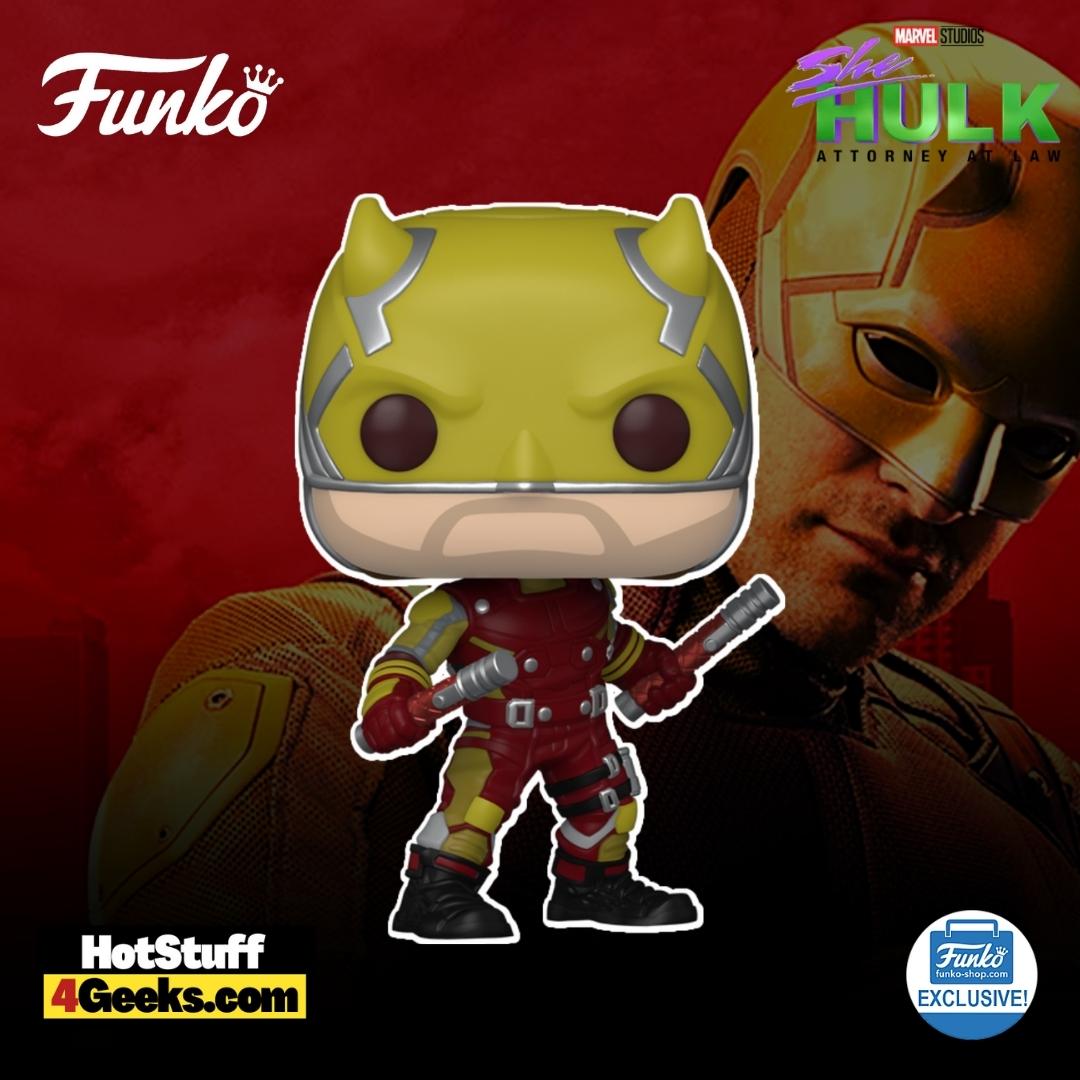 When Justice Meets Law: The Thrilling Intersection of Daredevil and She-Hulk
If there's one thing with fans buzzing louder than a swarm of bees, it's the recent launch of the "She-Hulk Attorney at Law" series.
And what's the golden ticket that has given this already captivating series an extra adrenaline kick?
The incorporation of our beloved vigilante, Daredevil, into the high-stakes world of legal battles.
Daredevil, known to his friends as Matt Murdock, isn't just another superhero thrown in for good measure.
The brilliance of this combination lies in the shared background of Murdock and Jennifer Walters (She-Hulk).
The law is their playground, the courtroom their battlefield.
Yet, their paths to justice couldn't be more different.
Murdock moonlights as Daredevil, acting outside the law, while Walters, the formidable She-Hulk, operates within it, using her legal prowess to tip the scales in favor of truth.
The addition of Daredevil doesn't just throw sparks into the mix; it results in a roaring fire, giving this unique series a special appeal. And boy, does it deliver.
Daredevil's dynamic character amplifies the intensity and suspense in each episode.
Whether it's his street-level justice contrasting against She-Hulk's by-the-book legal approach or how his raw emotions play off her incredible, calculated mindset, their interactions make for a riveting spectacle.
When you think of Daredevil in this series, think of the ace up the sleeve, the unexpected twist in the plot, and the ingredient that makes an already tasty dish simply irresistible.
His unorthodox methods, straddling the thin line between legal and illegal, provide a compelling juxtaposition to She-Hulk's unwavering commitment to the law.
It's fascinating to watch how the creators weave Daredevil's story into She-Hulk's narrative.
One moment he's delivering street justice in Hell's Kitchen.
The next, he's in a sharply tailored suit, battling it out in the courtroom with Jennifer Walters.
His presence compels viewers to question their notions of right and wrong, justice and law, challenging us to examine our own moral compasses.
In the "She-Hulk Attorney at Law" series, Daredevil isn't just an exciting addition; he's a game-changer, stirring the pot and keeping us hooked.
His involvement enriches the narrative, adding layers of complexity to an already deep story.
Through Daredevil, we are reminded that the pursuit of justice is seldom a straight line.
It's a winding path filled with hard decisions, moral dilemmas, and heart-stopping moments, as personified by our vigilante lawyer.
This show manages to entertain and spark conversation about the complexities of law and justice.
Funko Pop! Marvel Studios' She-Hulk Attorney at Law: Daredevil in Yellow-Red Suit Funko Pop! Vinyl Figure – Funko Shop Exclusive (2023 release)
Available at:
Starting now, you can receive 10% off in-stock items with my special link at Entertainment Earth!
 Enjoy!
As an Amazon Associate I earn from qualifying purchases
Want more stuff like this?
Get the best viral stories straight into your inbox!
Don't worry, we don't spam