2023 NEW DC: Blue Beetle Funko Pops! and Sodas. The DC's Shining Star
Comic book buffs, here's a thrilling nugget for you! It's time to clear some space on your shelves for the latest Funko Pop! Movies: D.C. – Blue Beetle Funko Pops! and Sodas (2023), spotlighting the one and only Blue Beetle! Inspired by the cinematic portrayal of Jaime Reyes, they've made an extraordinary leap from the silver screen to your living room.
To get your hands on these Pop Vinyl Figures, be sure to check out the links I've provided below – click to jump or scroll to continue reading!
The Blue Beetle's vibrant presence is captured brilliantly across these figures.
The rich azure hue, distinctive armor design, and of course, those formidable wings – all echo the cinematic rendition we've grown to love. The energy and spirit of the movie's Blue Beetle pulsate through each figure.
But there's more than meets the eye here. This series isn't just about immortalizing the Blue Beetle's eye-catching armor.
It's about encapsulating the essence of Jaime Reyes himself. Behind the armor, there's a relatable teenager grappling with extraordinary circumstances.
These figures pay tribute to that struggle and the hero that emerges from it.
This collection of 2023 Funko Pop! Vinyl Figures provides a superb tribute to the heroics and heart of the cinematic Blue Beetle.
It's a spectacular reminder of Jaime's transformation from high-schooler to superhero, inviting you to bring a piece of that journey home.
Here's the list of the Blue Beetle Pops! and Soda Figures for this release:
Blue Beetle: Jaime Reyes Funko Pop! Vinyl Figure
Blue Beetle: Conrad Carapax Funko Pop! Vinyl Figure
Blue Beetle: Blue Beetle with Glow In The Dark (GITD) Chase Funko Pop! Vinyl Figure
Blue Beetle: Blue Beetle Glow-In-The-Dark (GITD) Funko Pop! Vinyl Figure – Target Exclusive
Blue Beetle: Blue Beetle Soda Vinyl Figure
Blue Beetle: Jaime Reyes Soda Vinyl Figure
Blue Beetle: Conrad Carapax Soda Vinyl Figure
D.C. – Blue Beetle Funko Pop! and Soda Vinyl Figures (2023) are coming soon. There's no release date yet, but stay tuned because I'll update more information in the long run.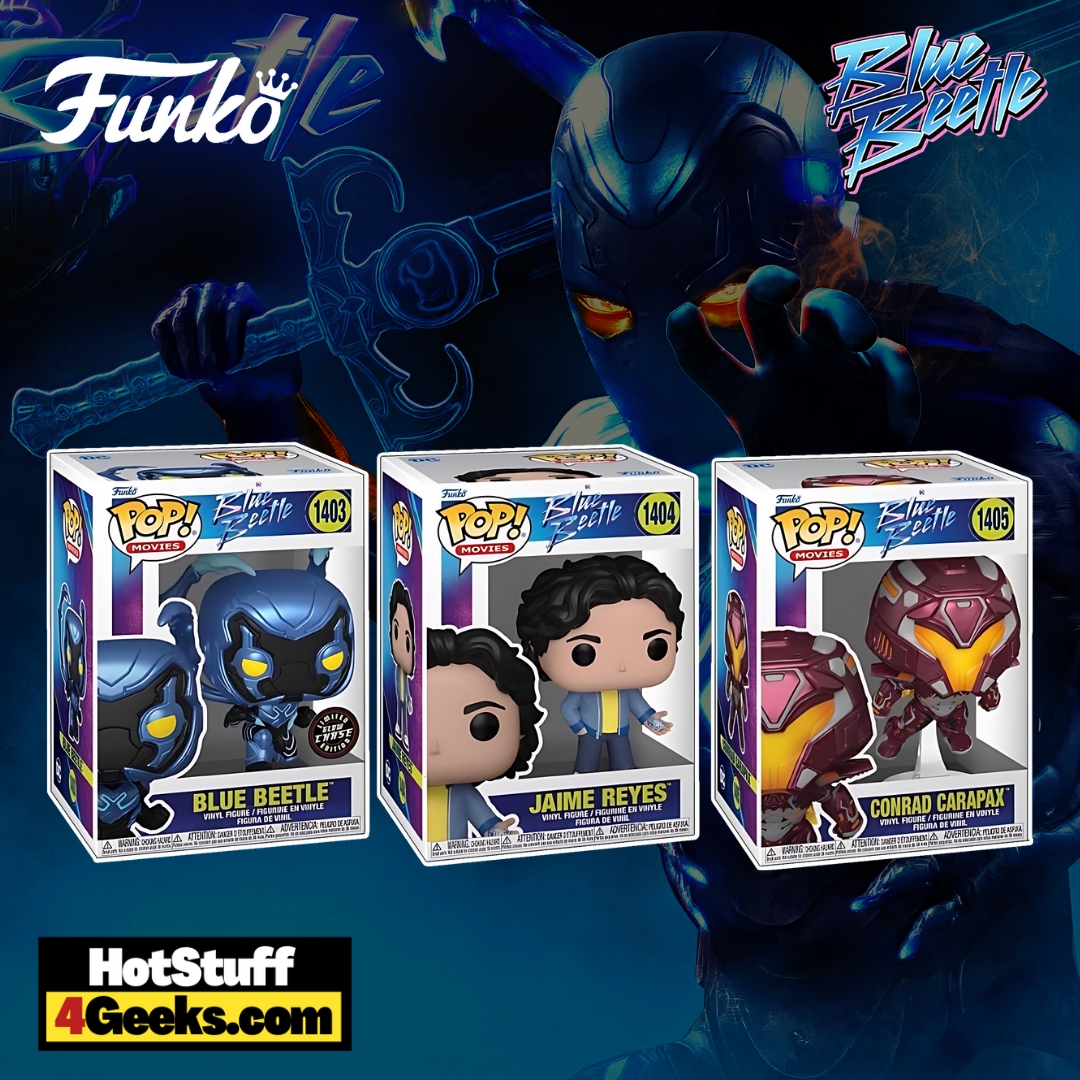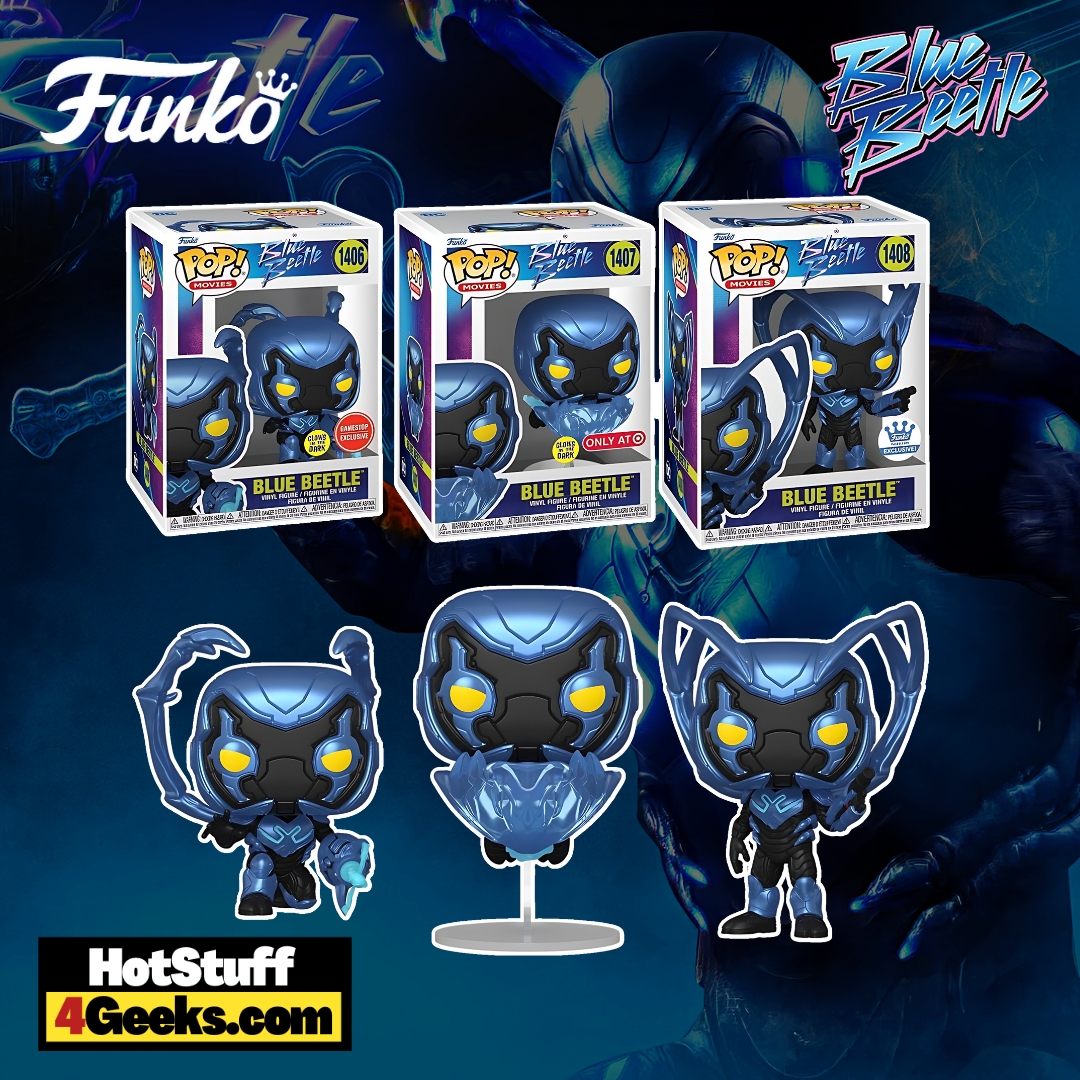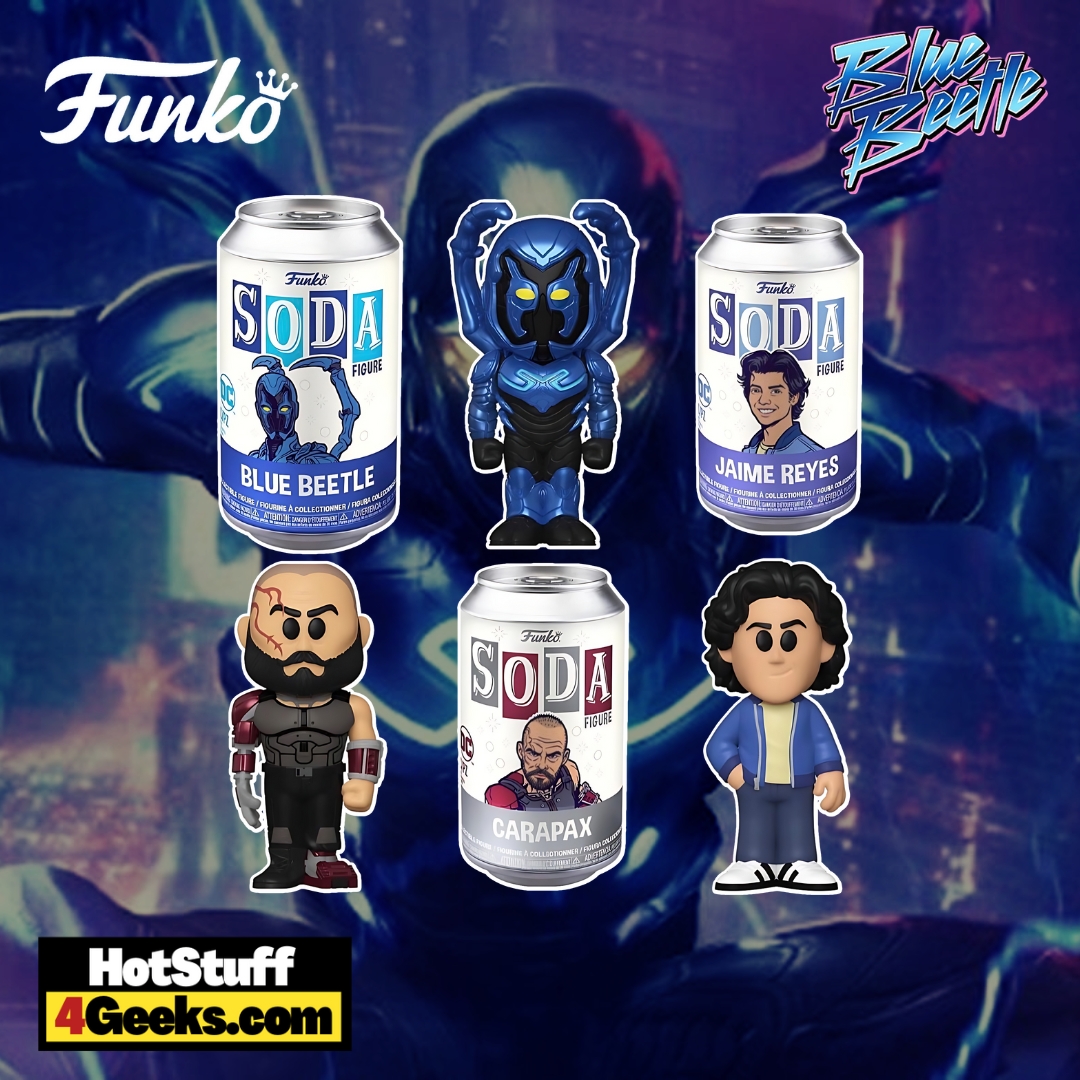 Just when you thought the superhero genre was maxed out, D.C. Comics swoops in with a breath of fresh air.
So, grab some popcorn and slide into your favorite seat because it's time to welcome a game-changer.
It's time to turn our attention to the underdog who's been waiting in the wings, ready to steal the spotlight – The Blue Beetle.
"But wait," you say, "Blue Beetle, really?" Yes, indeed.
Blue Beetle may not share the marquee status of the Dark Knight or the Man of Steel, but trust me.
He's about to shake up the superhero scene in a big way.
So, who is Blue Beetle? To answer that, we must journey to El Paso, Texas, and meet our unlikely hero, Jaime Reyes.
Jaime is your average teenager – school, friends, family – the usual.
But his life takes a sharp turn when he stumbles upon an ancient alien artifact known as the Scarab.
This Scarab isn't just any old relic; it's a gateway to incredible powers and a destiny Jaime never asked for.
The Scarab bonds with Jaime, transforming him into the Blue Beetle, a superhero blessed with a suit of armor that boasts a mind of its own. Talk about a wardrobe upgrade!
He gains the ability to create weapons, fly, and even teleport. And as if dealing with the trials and tribulations of high school wasn't enough, Jaime now has to grapple with his newfound powers and the responsibility that comes with them.
Now, every superhero tale needs a good villain, and for Blue Beetle, it's Victoria Kord and her minions who will stop at nothing to get their hands on the Scarab.
This sets the stage for high-octane confrontations and a lot of drama while maintaining a strong focus on Jaime's close-knit Latino family and the vibrant community around him.
The role of Blue Beetle is brought to life by Xolo Maridueña, marking a significant milestone as the first Latino actor to lead a major superhero film.
Alongside him, the supporting cast includes industry veterans such as Susan Sarandon and George Lopez, offering a unique blend of dramatic depth and comic relief.
The man at the helm is none other than Angel Manuel Soto, acclaimed for his work on Charm City Kings. Collaborating with him is the talented writer Gareth Dunnet-Alcocer, and Pawel Pogorzelski, who's renowned for his stunning cinematography in Midsommar.
This powerhouse team will surely deliver a visual spectacle that stands out in the superhero genre.
The Blue Beetle is set to release worldwide on August 16, 2023, with the U.S. and U.K. joining the party on August 18, 2023.
So, clear your calendars and get ready for a wild ride.
Blue Beetle is more than just a superhero flick; it's a fresh take on a genre we all love.
It's a story about family, identity, and courage, set against the backdrop of a world where the ordinary meets the extraordinary.
So, sit tight because when Blue Beetle arrives, it's going to be an adventure you won't forget.
And I, for one, can't wait to see Jaime Reyes take flight as the Blue Beetle and set a new course for superhero cinema.
Starting now, you can receive 10% off in-stock items with my special link at Entertainment Earth!
 Enjoy!
As an Amazon Associate I earn from qualifying purchases
Want more stuff like this?
Get the best viral stories straight into your inbox!
Don't worry, we don't spam