2023 NEW Demon Slayer: Rengoku with Chase Funko Pop! Pin
The new Funko Pop! Pop Pin Demon Slayer: Rengoku with Chase Funko Pop! Pin -Walmart Exclusive is the perfect accessory for any fan of the popular anime series. With its bold designs and intense colors, this Chase Funko Pop! Pin will make you look like one of the elite Demon Slayers from the series.
The pop pin is now available for pre-order at the links below – click to jump or scroll to continue reading!
In the world of "Demon Slayer: Kimetsu no Yaiba," one character stands out for his unwavering determination, his indomitable spirit, and his fiery passion for protecting humanity.
His name is Kyojuro Rengoku, the Flame Hashira, and he has quickly become a fan favorite among anime lovers worldwide.
Fans of the show can now passionately support Rengoku even in everyday life with this fantastic new Demon Slayer Funko Pop! Pin featuring the one and only Kyojuro Rengoku.
Just clip him on your sweater, hat, or elsewhere, and show off his fighting spirit and spunky attitude to everyone you meet. Ready to take on any demon that stands in your way?
Well, get ready because Rengoku will have your back every step of the way with this Funko Pop! Pin!
The Walmart Exclusive Rengoku with Chase Funko Pop! Pin is now available for pre-order at the links below (click to jump!)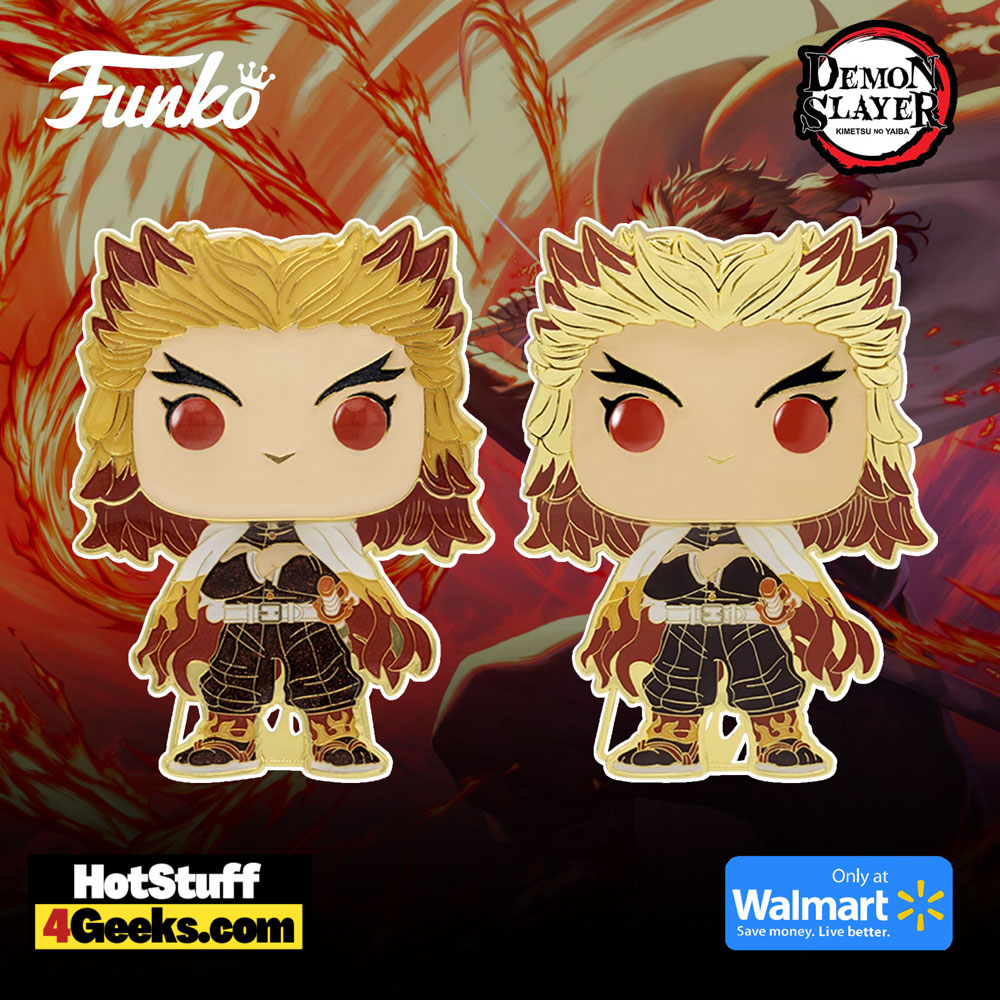 Demon Slayer: Kimetsu no Yaiba has become a global phenomenon thanks to its engaging storyline, breathtaking visuals, and unforgettable characters.
One of the most beloved characters is Kyojuro Rengoku, the Flame Hashira with an upright and highly bright personality.
Kyojuro Rengoku is a character who stands out from the rest of the Hashira with his fiery hair and personality.
He is a person who upholds his family's traditions, fulfills his promises, proves himself to his father, makes his brother proud, and has an unwavering sense of justice.
Kyojuro's father, Shinjuro Rengoku, was the Flame Hashira for a long time before Kyojuro took over.
For generations, the Flame Hashira always came from the Rengoku lineage.
The first head of the Rengoku family learned the Sun Breathing technique from the first demon slayer, Yoriichi Tsugikuni.
Then it adapted it into the current Flame Breathing that would be passed down from generation to generation.
As the eldest son of the current Rengoku family, it falls upon Kyojuro to carry on their traditions.
Kyojuro's mother, Ruka Rengoku, instilled in her sons the value and way of life that it is the responsibility of the strong to protect those who can't protect themselves.
On her deathbed, Ruka reminded Kyojuro to uphold that noble principle.
Kyojuro promised his mother that he would do everything in his power to help as many people as he could.
That promise to his mother is the one thing that keeps the fire burning in his heart, no matter how complex the situation might be.
Despite what his father said, Kyojuro was determined to train and work hard so that he could prove his own worth as a swordsman.
During a Hashira meeting that his father didn't attend, Kyojuro decided to talk to Ubuyashiki and the other Hashira and asked to be appointed as the new Flame Hashira, replacing his father, who is currently incapable of fulfilling his duty.
Becoming the new Flame Hashira is his way of proving to his father that he has become a capable swordsman.
Kyojuro's younger brother, Senjuro, was not blessed with his incredible physique, but Kyojuro never belittled his brother and always motivated him instead.
Kyojuro strongly believed that hard work won't never let anybody down.
Since their mother passed away, Kyojuro took it upon himself to be the best role model for his brother.
He does his best at everything because he wants to be an excellent example for Senjuro and make him proud.
Being a Hashira is one of the best ways to do that.
Thanks to the principle instilled in Kyojuro by his late mother since he was little, he grows up to be someone who has an exceptional sense of justice.
He would always prioritize saving the civilians first over defeating the enemy, which is exactly what he did during the Mugen Train arc.
Moreover, Kyojuro was never trapped in the notion that every demon is terrible and, therefore, must be killed.
He was the kind of man who judged others based on what they did, not what they were.
As an Amazon Associate I earn from qualifying purchases
Funko Pop! Pop Pin Demon Slayer: Rengoku with Chase Funko Pop! Pin -Walmart Exclusive
Available at:
Want more stuff like this?
Get the best viral stories straight into your inbox!
Don't worry, we don't spam