2023 NEW Demon Slayer: Yushiro Funko Pop! Exclusive
Unveiling a special piece for the fans of Demon Slayer – the new Funko Pop! Animation: Demon Slayer – Yushiro Funko Pop! Vinyl Figure – Funko Shop Exclusive (2023 release)! This isn't just any release but an exclusive offering from the Funko Shop. Designed with attention to detail, the Yushiro figure embodies the nuanced character from the popular anime series.
UPDATE: Yushiro drops today at 9:30 AM PT! To get your hands on this Pop Vinyl Figure at its release, be sure to check out the links I've provided below – click to jump or scroll to continue reading!
Revealing the Exclusive Yushiro Funko Pop!: A Novel Addition to Your Demon Slayer Collection
"Demon Slayer" fans will be thrilled to learn about the latest addition to the Funko Pop! Animation collection: an exclusive Yushiro figure!
If you've followed Yushiro's multifaceted journey, from his battles with demons to his devotion to Tamayo, you know that his character is rich in depth and complexity.
This exclusive Pop! Yushiro is no ordinary figure. It embodies the character's unique attributes, from his silver-greyish hair to his mysterious air.
The release comes at a time when the Kamado siblings, Tanjiro and Nezuko, continue their revenge quest in "Demon Slayer," making it a timely addition to the fans' collections.
Capturing the enigma and multifaceted nature of Yushiro, this Funko Shop Exclusive vinyl figure will surely become a cherished item for "Demon Slayer" enthusiasts.
It's not just about aesthetics; it reflects a character that has resonated with so many. Don't miss the chance to bring home a piece of Yushiro's story!
The Funko Shop Exclusive Yushiro Funko Pop! can be found for purchase at the links below (click to jump!)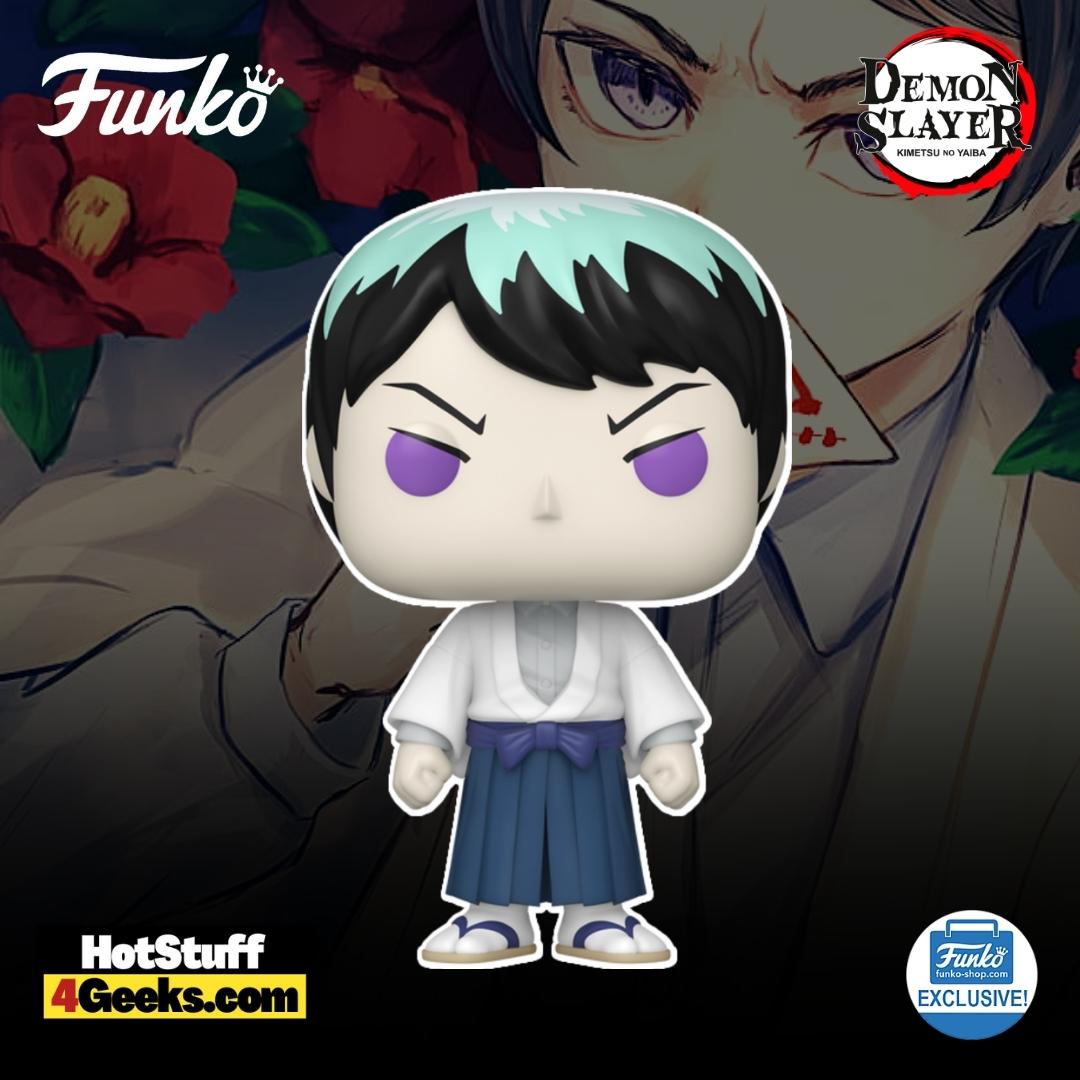 Unveiling the Mysteries of Yushiro: A Demon with Many Layers
Yushiro, the intriguing character from the widely acclaimed anime series "Demon Slayer," has depths many fans might have missed at first glance.
Let's dive into the complexities that make this demon character so fascinating.
In the ever-vibrant world of demons, swordsmen, and epic battles, Yushiro stands out with his silver-greyish hair.
Despite his initially harsh demeanor, he proves to be more than meets the eye.
Not only does he transform from an outsider to someone who forms genuine connections with humans, but he also harbors some surprising abilities.
The duality of Yushiro's nature has mesmerized viewers.
He may seem harsh and distant, but there's a softness within him, a complexity that has kept fans on their toes.
One might say his personality has as many twists as the show itself!
Among his most astonishing capabilities is his power to control demons.
Through a simple blindfold, he can assert dominance over both the body and mind of other demons.
Imagine the ability to use another demon to fight for you, as he did when Nakime and Muzan clashed!
Yushiro's relationship with others is equally complex.
At first, he regarded Nezuko with disdain but later grew to appreciate her courage, calling her "beautiful."
His devotion to Tamayo, while initially ambiguous, is later revealed to be a profound love in the manga.
One of Yushiro's most touching aspects is his transformation into an internationally renowned painter after surviving the final battle with Muzan.
Always painting the same unknown woman in his pieces, he uses art to channel his feelings and memories.
His background as the first human converted by Tamayo brings another unique facet to his character. Unlike other demons, Yushiro's transformation was an act of compassion, giving him a second chance at life.
Yushiro's tactical mind can be chilling at times, too. Consider his cold calculation when he was willing to sacrifice Nezuko and Tanjiro to escape danger.
Yet, he's not without his own sensitivities, as demonstrated when Tanjiro's generalization about demons offended him.
One of the most exciting revelations about Yushiro is his ability to turn both himself and others invisible.
This development showed Yushiro as a character who continually evolves, adapting new powers as his existence progresses.
In conclusion, Yushiro of "Demon Slayer" is more than a mere side character; he's a complex figure with hidden layers, special abilities, and an evolution that parallels the epic tale itself.
His transformation from a human to a demon and from an outsider to a connected individual mirrors the broader themes of "Demon Slayer."
If you thought you knew Yushiro, think again – his story may hold even more surprises.
Funko Pop! Animation: Demon Slayer – Yushiro Funko Pop! Vinyl Figure – Funko Shop Exclusive (2023 release)
Available at:
Starting now, you can receive 10% off in-stock items with my special link at Entertainment Earth!
 Enjoy!
As an Amazon Associate I earn from qualifying purchases
Want more stuff like this?
Get the best viral stories straight into your inbox!
Don't worry, we don't spam