2023 NEW Diablo IV Funko Pops! New Year, New Evils!
Devoted Diablo IV fans, get ready! In a compelling fusion of gaming and pop culture, the release of the new Funko Pop! Games: Diablo IV Funko Pops! (2023 release) is set to sprinkle some fantastical charm into our collections. Exuding vibrant creativity, each character captures the game's haunting allure, transporting us directly into the heart of Sanctuary.
Funkoween 2023! To get your hands on this Pop Vinyl Figure at its release, be sure to check out the links I've provided below – click to jump or scroll to continue reading!
Riding the Storm: The Arrival of Diablo IV Funko Pops!
Immerse yourself in the dark, fantastical world of Diablo IV with the release of the newest lineup of Funko Pop! Games figures.
These captivating collectibles plunge you deeper into the game's epic lore, capturing the game's key characters in Funko's iconic style.
Featuring fan-favorite characters with details true to Diablo IV's grim aesthetics, they're like compact, tangible portals into Sanctuary.
Witness the stoic Barbarian, the enigmatic Sorceress, or the death-dealing Rogue in miniaturized glory.
The attention to detail in these Funko Pops faithfully mirrors the intricate design of the in-game avatars, adding an extra layer of delight for the fans.
Whether you're a hardcore Diablo gamer or an avid Funko collector, this collection offers a new way to celebrate your love for the iconic franchise.
Now, let the hunt for the Lords of Hell begin!
Druid Funko Pop! Vinyl Figure
Inarius Funko Pop! Vinyl Figure
Lilith Funko Pop! Vinyl Figure
Treasure Goblin Funko Pop! Vinyl Figure
Funko Pop! Games: Diablo IV Funko Pop! Vinyl Figures (2023 release) can be found for purchase at the links below (click to jump!)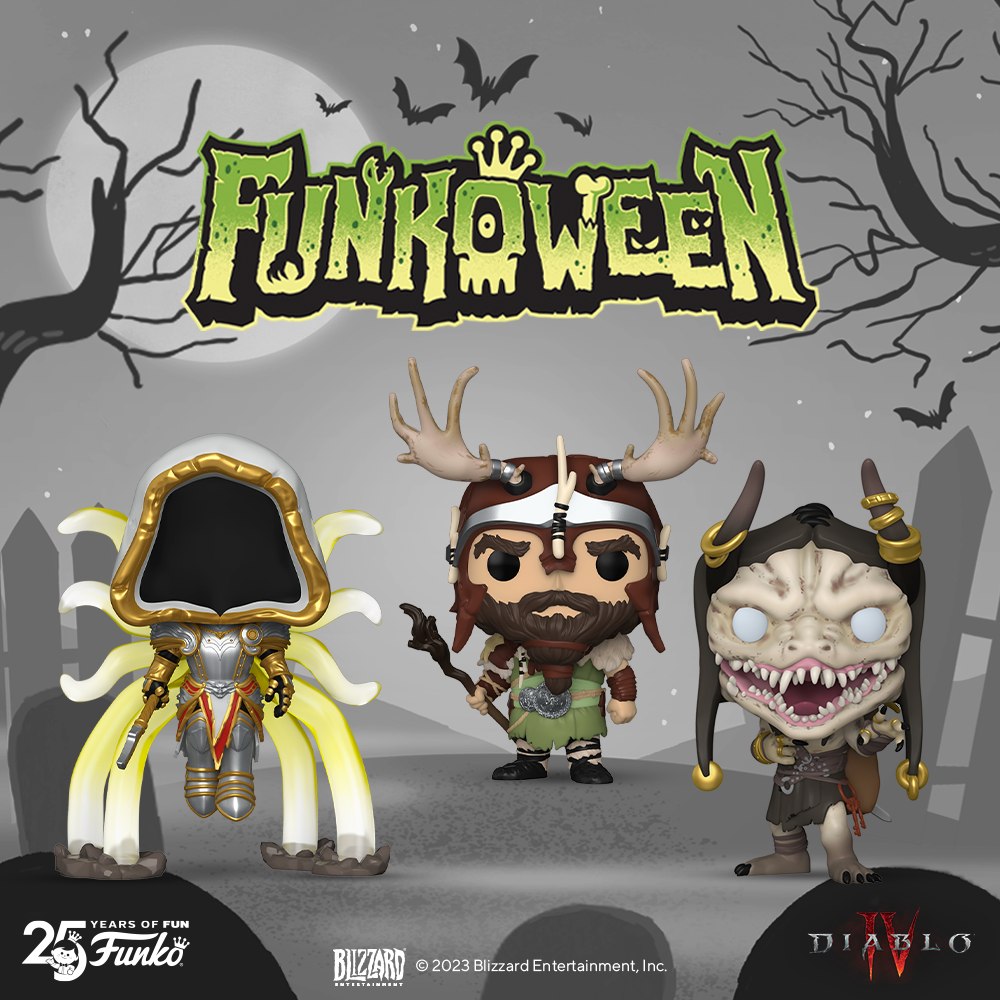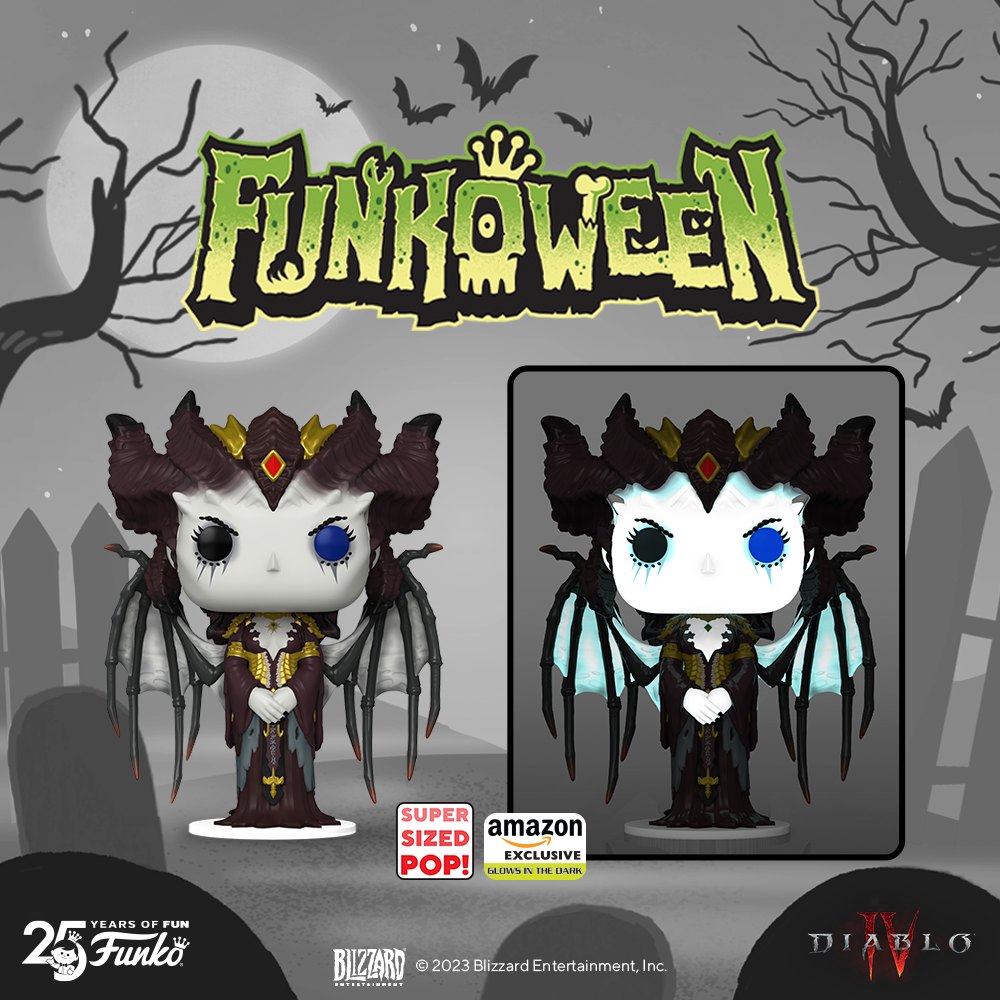 Sanctuary Beckons: Immersing in the Depths of Diablo IV
In the sprawling pantheon of gaming, few franchises can compete with the enduring appeal of Diablo.
After years of waiting and countless flickering rumors, Diablo IV has finally emerged from the realm of speculation and dashed into the gaming sphere.
Rising like a phoenix, this latest addition revitalizes the legacy of Sanctuary, an ardent beacon inviting players to delve into its captivating depths.
Striding through the charred plains and cryptic dungeons of Diablo 4 is an experience punctuated with a foreboding thrill.
The action RPG adventure shuffles up its battle dynamic, weaving in a slower, more meticulous style that may catch seasoned Diablo devotees off-guard.
Yet, the changes are far from abrupt; they weave into the game's DNA with a sense of purpose, imbuing every skirmish with weight and consequence.
Let's journey through the narrative realm. Storytelling, a defining feature of any RPG, makes a forceful return in Diablo 4.
Those who savored the rich, dark, lore-soaked tapestry of Diablo's previous entries will find solace in the narrative pulse of this new iteration.
The arch-villain, Lilith, carries an aura of intrigue, ensnaring players into the enigmatic twists and turns of the plot.
The time commitment for Diablo 4 may vary drastically depending on your gaming style.
With a core story that takes an average of 20.5 hours to complete, casual players can still find satisfaction.
On the other hand, hardcore adventurers looking for expansive side quests and deep dungeon-diving experiences might rack up over 300 hours of gameplay.
Now let's address the gilded elephant in the room – the cost.
Yes, Diablo 4 comes with a price tag befitting its legacy, with editions ranging from $69.99 to $99.99 across platforms.
However, the value derived from the game's engaging experience can outweigh the financial investment.
The players' chorus seems to echo the sentiment that Diablo 4 is an investment that's worth the plunge.
It builds on the successes of its predecessors while introducing elements that give the game a contemporary spin, expanding its horizons into MMO territory.
A word of caution, though: some have voiced concerns about the friction in the endgame and build crafting systems.
However, the majority affirmed that these could be remedied through post-launch support, given Blizzard's commitment to the game's live service model.
So, how does Diablo 4 measure up to Diablo 3? Well, it's no easy feat to outshine an established titan, but Diablo 4 manages to eclipse its predecessor.
While Diablo 3's gameplay was engaging and fast-paced, Diablo 4 introduced a more systematic approach, ensuring that each combat encounter requires more strategic planning.
Also, with an expanded array of gear choices and stats, Diablo 4 offers a more diverse and engaging loot hunt.
In conclusion, Diablo 4 is a compelling next step for the franchise that adeptly weaves past successes with fresh innovations.
As it stands, the fiery realm of Sanctuary continues to enthrall old devotees and newcomers alike in Diablo 4.
Whether you're a Diablo veteran or new to the genre, it's clear Diablo 4 offers an adventure worth embarking upon.
Starting now, you can receive 10% off in-stock items with my special link at Entertainment Earth!
 Enjoy!
As an Amazon Associate I earn from qualifying purchases
Want more stuff like this?
Get the best viral stories straight into your inbox!
Don't worry, we don't spam