2023 NEW Disney 100: Aristocats Flocked 3-Pack Funko Pops! Exclusive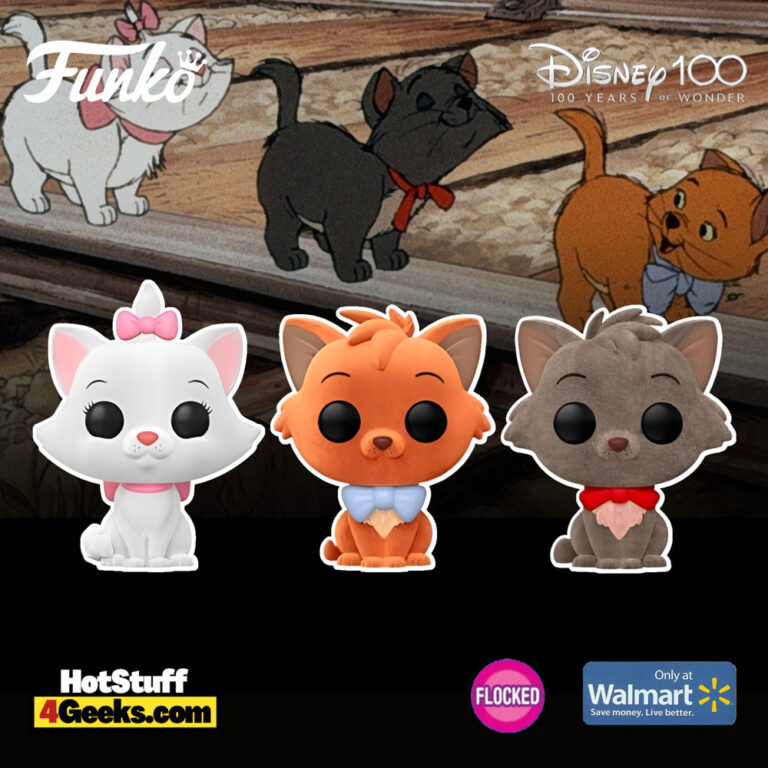 If you're looking for something totally wild and a little crazy, the new Funko Pop! Disney 100th Anniversary: Aristocats Flocked 3-Pack (Marie, Toulouse, and Berlioz) Funko Pop! Vinyl Figures – Walmart Exclusive (Funko Fair 2023) have arrived on the scene!
The pop figure is now available for pre-order at the links below – click to jump or scroll to continue reading!
The Disney animated classic, The Aristocats, has just gotten much funkier with the release of adorably tiny Funko Pops modeled after the beloved characters Marie, Toulouse, and Berlioz.
Now fans of the fluffy felines have a delightful way to show their love and appreciation for them by proudly displaying these miniature figures on their bookshelves or counters.
These three Funko Pops capture the brightness, mischief, and fun of everyone's favorite felines from the Disney classic.
Not to mention they look ready to cause all sorts of mayhem with that mischievous glint in their eyes – if they weren't so darn cute, you might want to keep an eye out.
A mini display of your favorite Aristocat characters will surely add some personality to any room!
Collect them all today and revel in bringing home a pocketful of purr-fect kitty fun!
The Walmart Exclusive Marie, Toulouse, and Berlioz Flocked 3-Pack Funko Pops! (Disney's 100 Years of Wonder) (Funko Fair 2023) is now available for pre-order at the links below (click to jump!)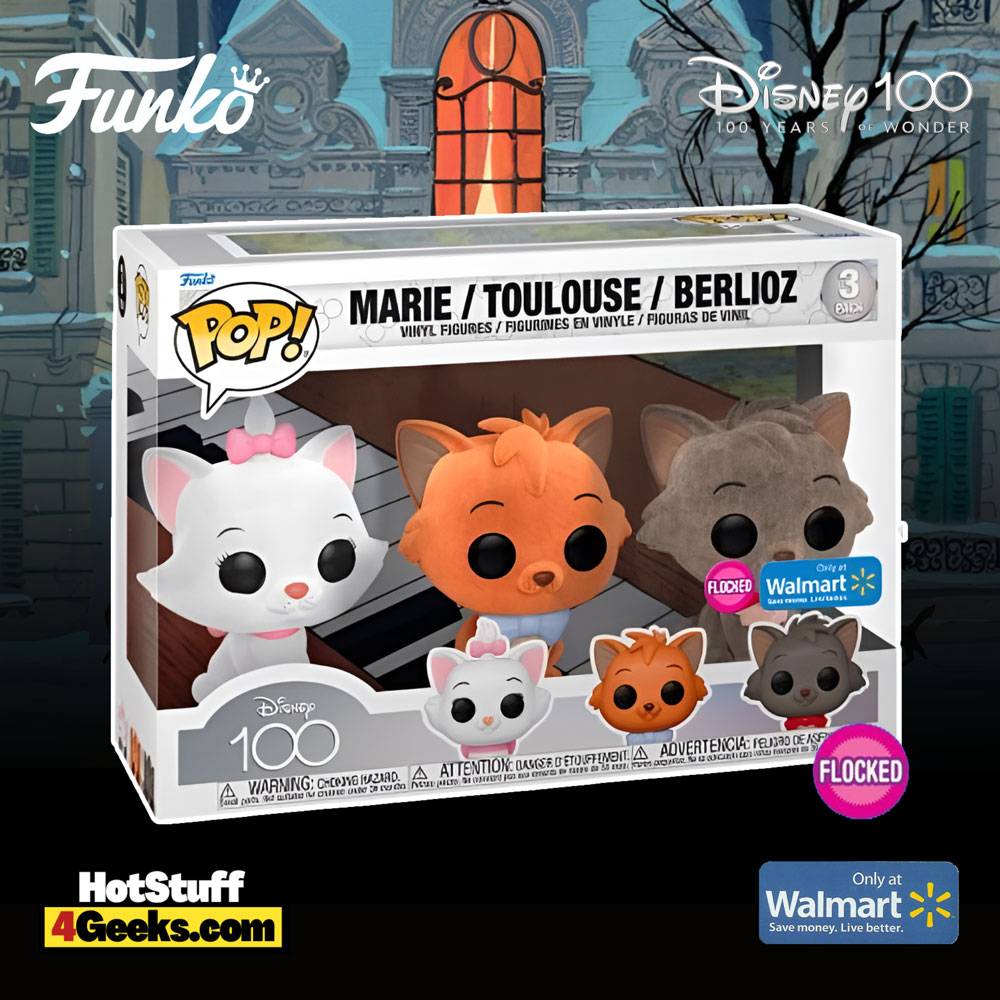 The Aristocats is a classic Disney movie, for sure.
Filled with adventure and catchy music, the movie follows pampered house cat named Duchess and her three kittens, Marie, Toulouse, and Berlioz,  as they attempt to find their way back home to Paris after being kidnapped and relocated to the countryside.
When their master Madame Adelaide Bonfamille passes away, she leaves them all in the care of her butler Edgar.
Edgar attempts to send them off to an animal shelter where they can fend for themselves; however, valiantly driven by friendship, courage, and adventure, the cats set off on a journey to find their way back home!
Along their journey, they find help from unique and mysterious friends – including two bumbling geese named Monsieur and Madame Cholet and an alley cat named O'Malley.
Marie, Toulouse, and Berlioz have the sweetest personalities and can bring joy to anyone who meets them.
Of the three, Marie is the primest and most proper; she behaves like a genuine lady cat.
Toulouse says he's an artist, but more often than not, he's getting in trouble for being too wild!
Berlioz is harmless, usually getting caught up in his own hijinks instead.
All three Aristocats are sure to bring love and laughter to any household – although they'll never admit it, they're all just as naughty as one another!
Look for more Disney 100 Years of Wonder Funko Pops! here.
Starting now, you can receive 10% off in-stock items with my special link at Entertainment Earth!
 Enjoy!
As an Amazon Associate I earn from qualifying purchases
Want more stuff like this?
Get the best viral stories straight into your inbox!
Don't worry, we don't spam