2023 NEW Disney 100: Mickey Mouse Club Funko Pop!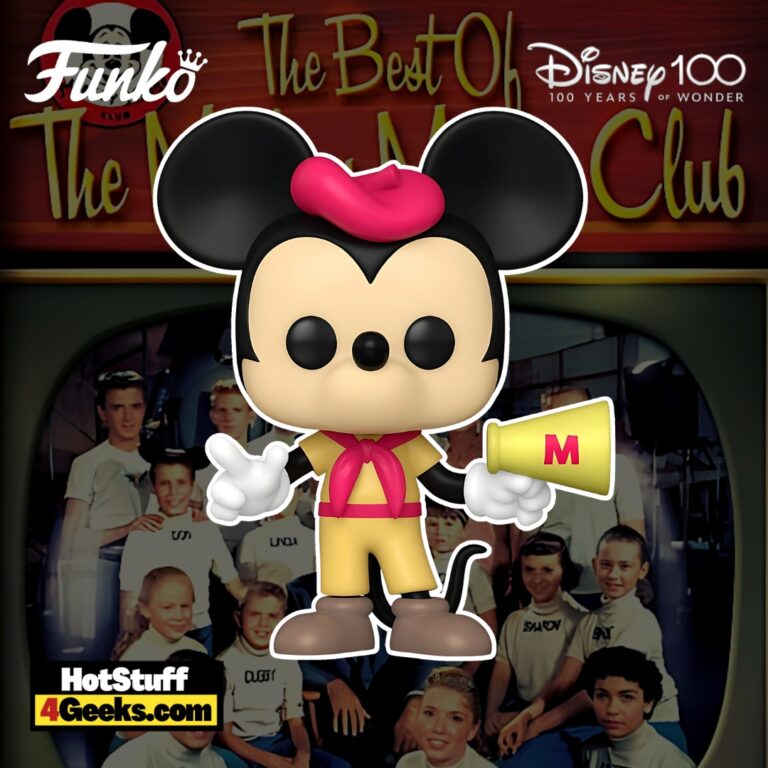 Behold the new charm on the block: the latest Funko Pop! Disney 100th Anniversary: Mickey Mouse Club Funko Pop! Vinyl Figure is a release that celebrates Disney's 100th Anniversary with panache. This Funko Pop! figure takes you back to the magic and whimsy of the beloved Mickey Mouse Club, a nostalgia-filled ride for fans and collectors alike.
To get your hands on this Pop Vinyl Figure at its launch, be sure to check out the links I've provided below – click to jump or scroll to continue reading!
The Spotlight's On: Disney's 100th Anniversary Mickey Mouse Club Funko Pop!
Step into a nostalgic journey with the newly released Mickey Mouse Club Funko Pop! Vinyl Figure.
This collectible is not merely a nod to Disney's 100th Anniversary but a testament to a character who has become a cornerstone of our collective childhood – Mickey Mouse.
The figure brings us an earnest and authentic depiction of Mickey Mouse, resonating with the charm and innocence that defined his character in the classic Mickey Mouse Club. His iconic Mouseketeer hat and friendly eyes are meticulously rendered, staying true to the traditional character we've come to love.
The seriousness of Mickey's face reflects the dedicated showman that he was in the Mickey Mouse Club.
His every feature, from the slightly furrowed brow to the determined eyes, is thoughtfully crafted, encapsulating Mickey's spirited, never-give-up attitude.
This 100th-anniversary tribute, in the form of the Mickey Mouse Club Funko Pop! Vinyl Figure is a way to relive the magic that Disney has spun over the decades. It's more than a collectible.
It's a symbol of an era, an icon of pop culture, and a reminder of the character who started it all.
The legacy lives on, one Funko Pop! at a time.
The new Mickey Mouse Club Funko Pop! (Disney's 100 Years of Wonder) can be found at the links below (click to jump!)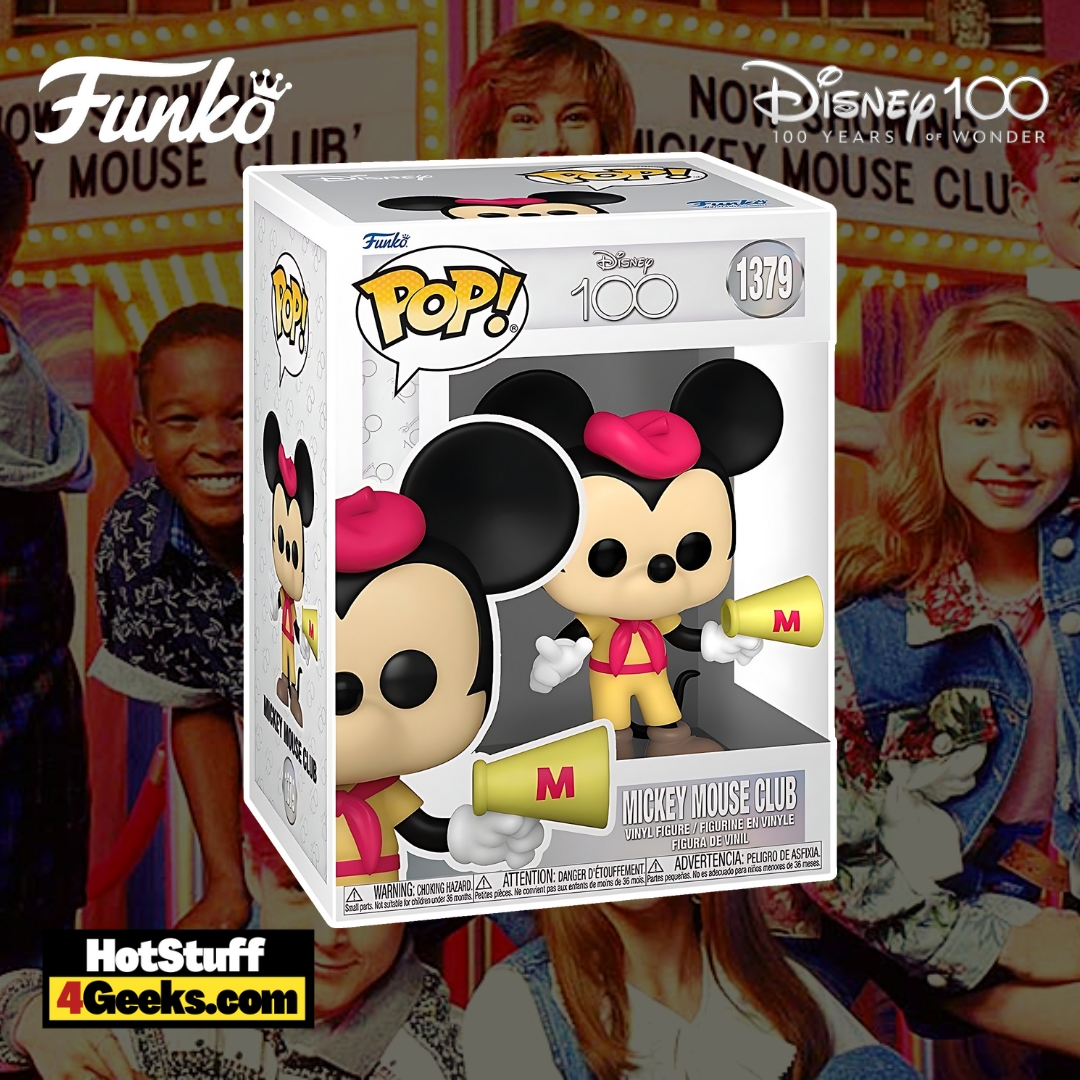 Mickey Mouse Club: An Enduring Legacy in Children's Television
Every once in a while, a television program emerges that significantly imprints our cultural consciousness and weaves itself into the very fabric of our shared nostalgia.
The Mickey Mouse Club is one such program, a classic that has stood the test of time, entrancing generations with its delightful blend of entertainment and education.
Debuting in 1955, this revolutionary children's television show on ABC swiftly carved a space for itself in the hearts of the audience, making the enchanting world of Disney a staple in households across America.
The Mickey Mouse Club had a delightful mix of skits, music, and guest appearances.
All brought to life by a talented ensemble of children, famously called 'Mouseketeers.'
Among the Mouseketeers were some names that would eventually become staples in American pop culture.
Figures such as Annette Funicello and Tommy Cole captivated audiences and were soon propelled to stardom.
Their charismatic performances and youthful appeal gave the show an exuberant, joyous character that would influence children's programming for years to come.
But the Mickey Mouse Club was much more than just its star-studded cast. Its unique format was instrumental in keeping audiences tuned in.
There was a dedicated theme for each day of the week, ensuring a fun, surprising, and engaging experience for viewers each day.
Serialized adventures, Disney cartoons, and even newsreels designed explicitly for kids gave the show an unmatched depth and variety.
However, like all great things, the original Mickey Mouse Club also saw an end in 1959.
But the legacy it had created was far from over.
The show found new life in syndication and reappeared in the '60s and the '70s, maintaining its popularity among young viewers and introducing new features to stay relevant and appealing.
In 1977, the Mickey Mouse Club returned once again with an updated version, having tweaked the themes of the day to suit the contemporary taste of the kids and also moving to color.
Despite its short two-year run, this iteration was noteworthy as it showcased the show's ability to evolve and adapt to the changing times.
It was during the advent of The Disney Channel in 1983 that the original Mickey Mouse Club episodes found a daily spot.
Later in 1989, a fresh version of the Mickey Mouse Club was launched.
Although the show now catered to an older demographic and the Mickey Mouse element was de-emphasized, it still carried the spirit of its original format, demonstrating its enduring influence in children's television.
By 1994, the show evolved once again into MMC, moving away from its Mickey Mouse references and targeting an older audience.
This constant reinvention and adaptability have made the Mickey Mouse Club a timeless gem in television history.
The Mickey Mouse Club's journey over the decades is a testament to its ability to adapt and resonate with each new generation.
It is a shining example of the timeless appeal of storytelling, creativity, and the magic of Disney.
This beloved show holds a special place in our collective memory, making us reminisce about the good old days of wholesome, innovative, and captivating children's television.
Starting now, you can receive 10% off in-stock items with my special link at Entertainment Earth!
 Enjoy!
As an Amazon Associate I earn from qualifying purchases
Want more stuff like this?
Get the best viral stories straight into your inbox!
Don't worry, we don't spam