2023 NEW Disney 100: Spider-Man (Facet) Funko Pop! Exclusive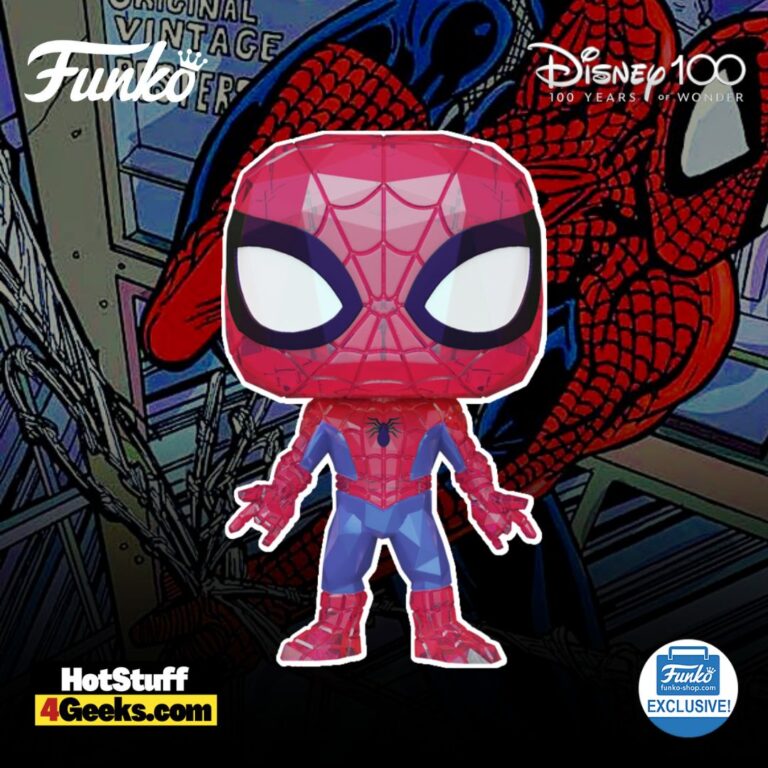 Isn't it amazing how a beloved character like Spider-Man continues to captivate us even a hundred years on? His timeless appeal finds a fresh expression in Disney's 100th Anniversary commemoration with a distinctive new Funko Pop! Disney 100th Anniversary: Spider-Man (Facet) Funko Pop! Vinyl Figure – Funko Shop Exclusive. This isn't just any action figure—it's our friendly neighborhood Spider-Man, sporting an intricately faceted new look.
The pop figure is releasing today at 9.30 AM PT, and it's available at the links below – click to jump or scroll to continue reading!
Look closer, and you'll find our web-slinger reimagined.
Dressed to impress, his suit embodies the perfect blend of tradition and innovation.
True to his character, Spider-Man's new avatar maintains the same bold spirit we've grown to love over the years, giving us yet another way to celebrate his enduring legacy.
This exclusive Funko Pop! figure is more than just a collector's item—it's a testament to Spider-Man's enduring appeal.
It reminds us that even as the years pass, our beloved webhead continues to swing into our hearts, just as he did when he first appeared on the pages of Amazing Fantasy #15.
So, why not strengthen your Marvel collection with this latest rendition of our favorite web-slinger?
The Funko Shop Exclusive (Facet) Spider-Man Funko Pop! (Disney's 100 Years of Wonder) can be found at the links below (click to jump!)
Look up in the sky! It's a bird. It's a plane, it's… Spider-Man?
Wait a sec, isn't that Superman's line?
Well, sure, but the legendary web slinger's also got his iconic imagery.
From comic book panels to the silver screen, Spider-Man has undoubtedly left an indelible imprint on the hearts of many.
Emerging from the pages of Amazing Fantasy #15, the story of Peter Parker resonated deeply with readers.
There was a teen who wasn't some rippling Adonis with an unshakeable moral compass.
No, he was your average Joe, a geeky, bullied kid with girl troubles who just so happened to get bitten by a radioactive spider.
His transformation into Spider-Man didn't magically solve all his problems.
On the contrary, it added a whole new layer of complexity to his life.
What's endearing about Peter is his humanity.
His mistakes and guilt-stricken moments are tangible reminders that even superheroes struggle with their choices.
It's in these moments that we see glimpses of our own reflections.
Marvel Comics struck gold with Spider-Man, as he brought about a revolution in the comic book world.
The concept of a flawed hero was born, breaking away from traditional superheroes' idealized and often distant figures.
He was us, just with a few extra powers and a colorful costume.
Through the ages, Spider-Man has become a symbol of resilience and courage.
His relatability makes him accessible, transcending the pages of comic books and landing him into diverse universes and platforms.
Spider-Man's legacy is omnipresent, from the electric thrills of the 80s TV movies to the present-day digital landscapes.
Ultimately, it's not the web-slinging or wall-crawling that defines Spider-Man.
It's his heart, his humanity, and the timeless lesson that we all know and love: "With great power, there must also come—great responsibility!"
Whether you're a lifelong fan or just discovering him, there's no denying the charm and appeal of our friendly neighborhood Spider-Man.
Look for more Disney 100 Years of Wonder Funko Pops! here.
Funko Pop! Disney 100th Anniversary: Spider-Man (Facet) Funko Pop! Vinyl Figure – Funko Shop Exclusive
Available at:
Starting now, you can receive 10% off in-stock items with my special link at Entertainment Earth!
 Enjoy!
As an Amazon Associate I earn from qualifying purchases
Want more stuff like this?
Get the best viral stories straight into your inbox!
Don't worry, we don't spam