2023 NEW Disney 100 Years: Chewbacca (Facet) Funko Pop!
Funko Pop! Disney's 100th Anniversary – Chewbacca (Facet) Funko Pop! Vinyl Figure – Funko Shop Exclusive (2023 exclusive)
Available  at:
An iconic Wookiee takes on a dazzling new form in a galaxy far, far away. Commemorating a century of magical moments, the latest Funko Pop! Disney's 100th Anniversary brings us the Chewbacca (Facet) Funko Pop! Vinyl Figure – a Funko Shop Exclusive, fusing the timeless allure of Star Wars with a dash of vinyl vivacity. This isn't your typical Chewbacca; it's a piece of interstellar history encapsulated in gleaming vinyl.
UPDATE: Chewbacca Facet drops today at 9:30 AM PT! To get your hands on this Pop Vinyl Figure at its release, be sure to check out the links I've provided below – click to jump or scroll to continue reading!
Celebrating a Wookiee Icon: Chewbacca Facet Funko Exclusive
Funko Pop! has always been at the forefront of encapsulating our favorite pop culture icons in those quirky vinyl avatars. The latest to join this impressive lineup? None other than the towering co-pilot of the Millennium Falcon, Chewbacca, released in honor of Disney's 100th Anniversary.
This exclusive 2023 rendition, aptly named 'Facet,' is a nod to the multifaceted character that Chewbacca embodies.
In the intergalactic realms of Star Wars, Chewbacca stood out – not just because of his imposing stature but his distinct personality. Living on the Millennium Falcon, maintaining it, and engaging in holographic games, his interests were as varied as his vocalizations.
While Chewbacca may seem brutish, often asserting his opinion with a fierce growl, there's an undeniable depth to him. His unwavering loyalty to Han Solo and his capability to stand up to challenges, like evading the Empire's relentless pursuit, make him irreplaceable in the series.
The 'Facet' Funko Pop! captures this enigma that is Chewbacca. It's not about having another cool item to add to a collection; it's about celebrating a character that, despite his gruff exterior and often incommunicable grunts, has resonated deeply with fans for generations.
Chewie's new vinyl avatar is a testament to his larger-than-life persona and the myriad experiences he's undergone in the Star Wars saga. The galaxy might be vast, but characters like Chewbacca ensure it never feels too alien.
The Funko Shop Exclusive Chewbacca (Facet) Funko Pop! can be found for order at the links below (click to jump!)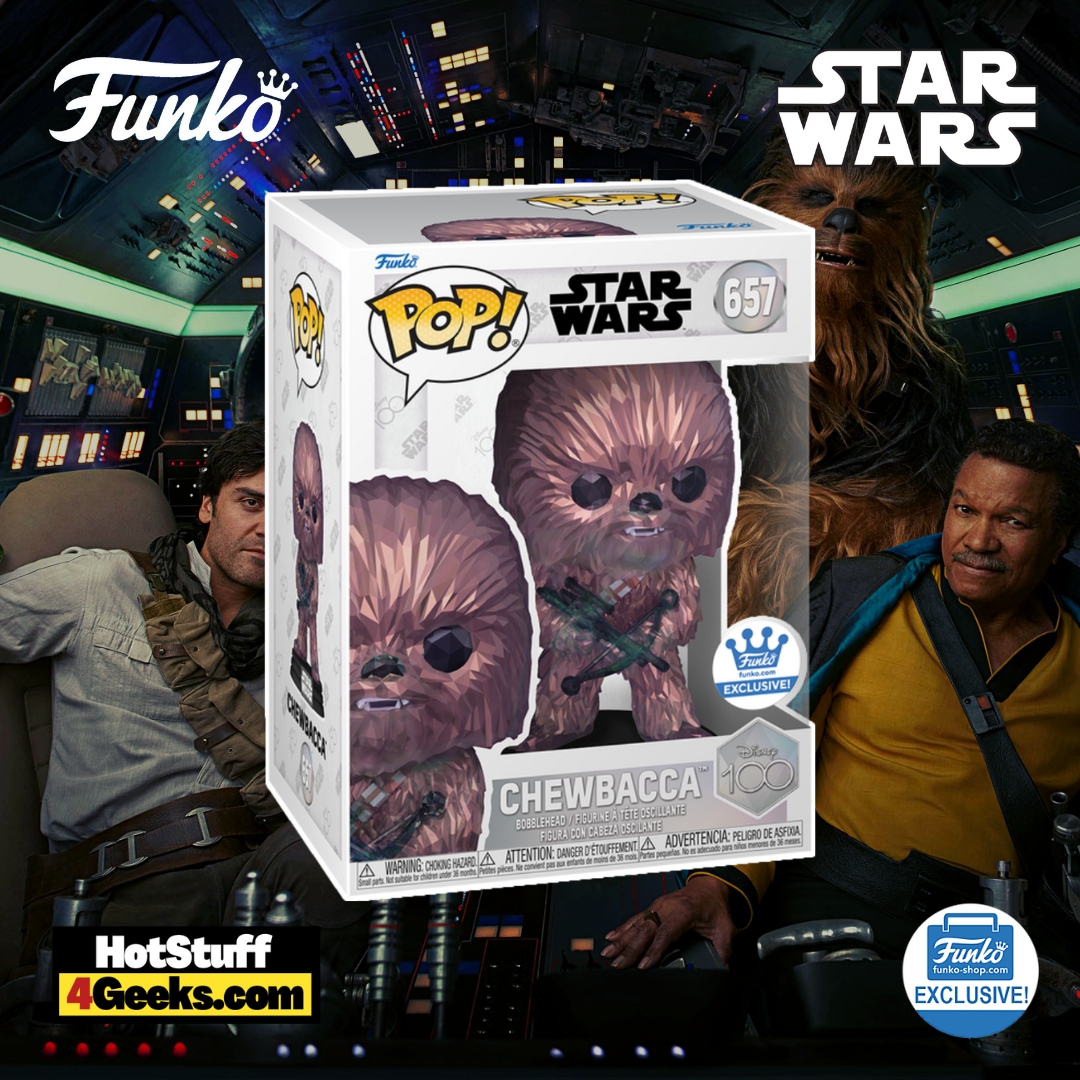 The Unsung Depths of Chewbacca's Medal in The Rise of Skywalker
In the vast and intricate Star Wars universe, the intricate tapestries of plot lines and character arcs intertwine to create a cosmic dance of good versus evil.
Among these layered elements, the subtle yet poignant scene involving Chewbacca and a Yavin victory medal in The Rise of Skywalker plays a particularly resonant note, offering a depth of emotion and complexity that some fans might have overlooked.
The scene unfolds with a captivating simplicity, masking its intricate emotional undercurrents. Many have interpreted this moment as a mere nod to fan service, but delving deeper into the lore, it's clear this medal bears a confluence of lost friendships and memories.
This wasn't just any medal; it was Han Solo's, imbued with the echo of a friendship that transcended the cosmos. It materialized as a somber remembrance after the demise of Leia, our beloved princess.
The journey to this emotionally charged moment begins with the perceived slight of Chewbacca during the award ceremony at the end of A New Hope.
This seemingly minor detail evolved into a popular meme, highlighting Chewbacca's lack of a medal. However, Star Wars lore clarifies this through Chewbacca #5 from Marvel Comics, showing that Chewie had indeed received a medal but gave it away, finding it clashing with his warrior vibe.
This brings us back to The Rise of Skywalker, where Chewie receives Han's medal from Maz Kanata post-Leia's death. It was not just a piece of metal but a symbol, a physical entity teeming with layers of poignant memories and unspoken bonds.
The fact that Leia held onto Han's medal tells the story of a woman clinging to the remnants of her departed husband, adding a melancholic tinge to an already emotional moment.
Chewbacca, a character known for his longevity, witnessed the comings and goings of his human companions. He was the loyal friend, the silent warrior, the one who outlived his fellow rebels.
His receiving of the medal is not just a moment of remembrance; it's a tableau of raw emotion and unshed tears, symbolizing the culmination of shared battles, losses, and victories.
This moment was not about the medal per se; it was about the faces, the memories, and the bonds associated with it.
The artistic rendition of this scene in The Rise of Skywalker might have been shrouded in subtlety, but it resonates with a profound echo.
It's a gentle weave of nostalgia and poignant storytelling, an emblem of love and loss in the galactic odyssey. It's not about rectifying the past; it's about cherishing the intertwined destinies and fractured histories.
Fans must see beyond the superficial layer of this moment to embrace the rich tapestry of emotions and relationships it represents.
The medal is more than a piece of fan service; it's a conduit of feelings, an object reverberating with the silent whispers of lost friends, a silent echo of the enduring fight against the darkness.
It encapsulates the enduring spirit of Star Wars, a beacon of hope and a vessel of untold stories, acting as a silent reminder of the enduring friendship between Han, Leia, and the mighty Wookiee, allowing Chewbacca to hold onto the fragments of a bygone era.
As an Amazon Associate I earn from qualifying purchases
Funko Pop! Disney's 100th Anniversary – Chewbacca (Facet) Funko Pop! Vinyl Figure – Funko Shop Exclusive (2023 exclusive)
Available  at:
Want more stuff like this?
Get the best viral stories straight into your inbox!
Don't worry, we don't spam