2023 NEW Disney 100 Years: R2-D2 Facet Funko Pop! Exclusive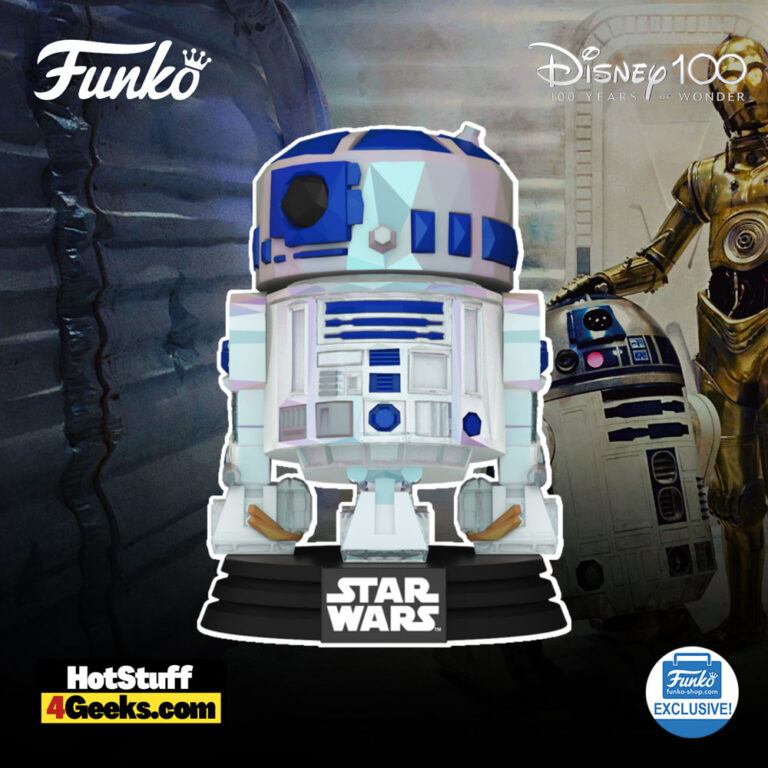 Are you looking to honor the most amazing fandom? Then this Funko Pop! Disney 100th Anniversary: R2-D2 Facet Funko Pop! Vinyl Figure – Funko Shop Exclusive is just what you need! As if having a faithful droid around wasn't enough, it's also celebrating Disney's 100th Anniversary with a shiny new bling look.
The pop figure is dropping today at 9:30 AM PT and can be found at the links below – click to jump or scroll to continue reading!
What better way to commemorate an out-of-this-world fandom than with this one-of-a-kind Funko Pop version of everyone's favorite Star Wars droid, R2-D2!
As if this beloved bot wasn't iconic enough already, Funko has given him a glitzy treatment for Disney's 100th Anniversary.
Just take one look, and you'll see that this exclusive Funko Pop is anything but standard – no ordinary robot here!
With its faceted design, our favorite droid will shine like a diamond while still keeping its signature blue & white color scheme we know and love – that's two good reasons in one go!
It goes beyond just looks though: everything from its color scheme to its buttons has been carefully recreated so we can commemorate and appreciate your love for Star Wars in style.
Capture this fan favorite in one of your Funko Pop! Star Wars collections and show off your love for all things Star Wars!
May the force be with you and your Funko Pop! R2-D2 on his journey across the stars!
The Funko Shop Exclusive R2-D2 Facet Funko Pop! (Disney's 100 Years of Wonder) can be found at the links below (click to jump!)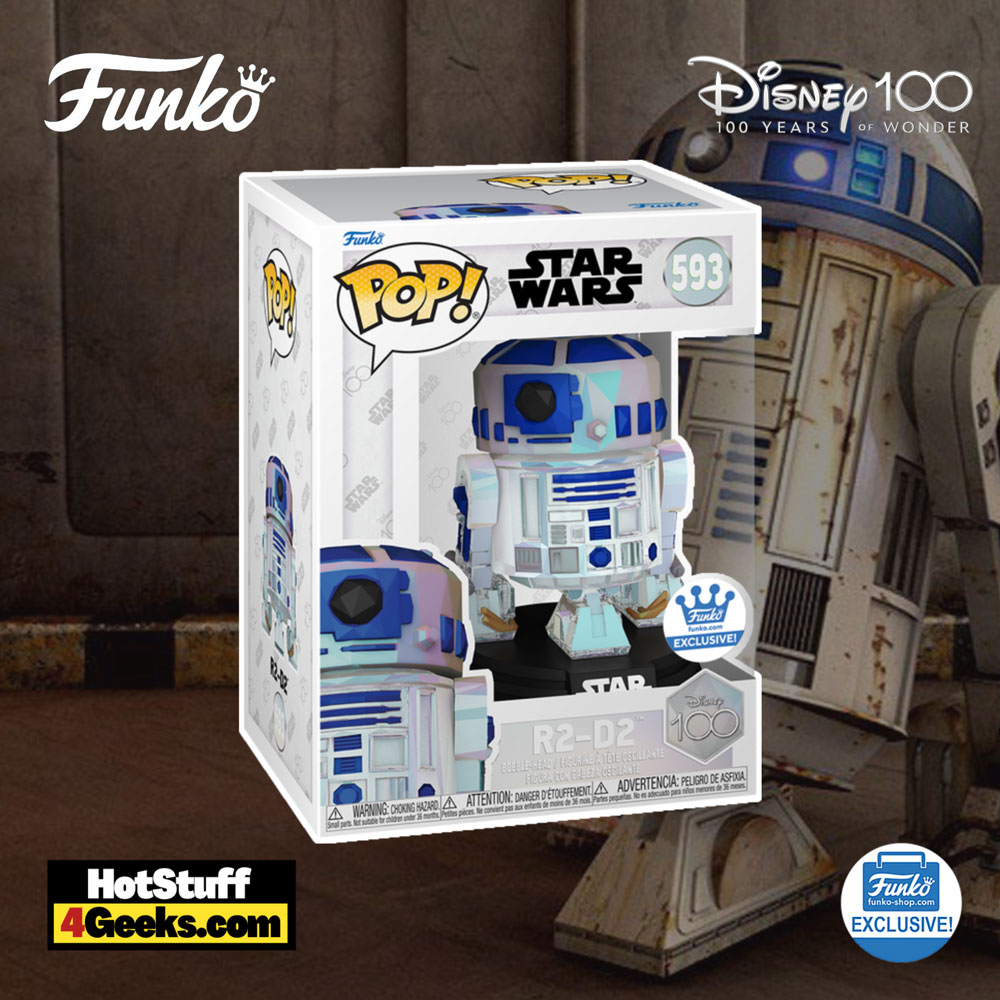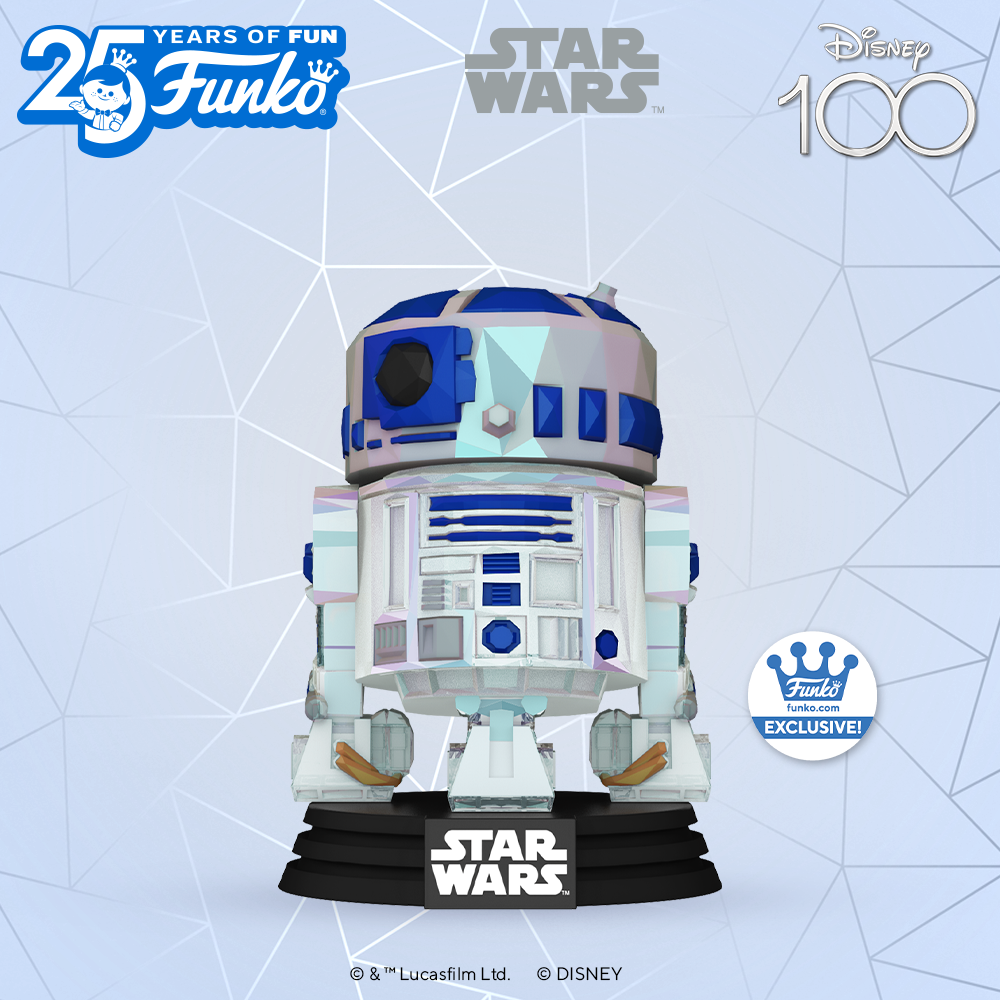 In a galaxy far, far away, a droid has captured the hearts of Star Wars fans everywhere.
He is the trusty sidekick of the Skywalker family and has played a crucial role in the galaxy's fate.
He is none other than the brave, reliable, and versatile astromech droid known as R2-D2.
R2-D2 first appeared in the original Star Wars film, A New Hope, and quickly became a fan favorite.
He is a small, compact droid with a cylindrical body and a dome-shaped head.
Despite his small size, R2-D2 packs a punch and is equipped with a wide array of tools and gadgets that make him indispensable in various situations.
Over the course of the Star Wars saga, R2-D2 has served Padmé Amidala, Anakin Skywalker, and Luke Skywalker, showing great bravery in rescuing his masters and their friends from many perils.
He is a skilled starship mechanic and fighter pilot's assistant, and he has saved the day on more than one occasion with his quick thinking and resourcefulness.
R2-D2's unlikely but enduring friendship with the fussy protocol droid C-3PO is another aspect of his character that fans adore.
While C-3PO is known for his prissy demeanor and penchant for worrying, R2-D2 is the opposite – he's the cool, collected, and unflappable friend who is always ready to lend a hand.
Even with C-3PO's frequent complaints about nearly every situation, R2-D2 remains steadfast in his loyalty and bails his buddy out of more than a few sticky spots throughout the films.
Together, they make an unlikely but effective team, and their banter and bickering have become a beloved part of the Star Wars franchise.
I don't know if it's the beeps and boops or just an indomitable force of will, but these companions have been there for each other through thick and thin – well, tin, at least!
But R2-D2 is more than just a cute and lovable droid – he is a hero in his own right.
He helped destroy the Death Star, saved Princess Leia, and played a pivotal role in defeating the Empire.
While even we tech-savvy folks don't always understand his binary beeps and boops, it often signals that he's got it all figured out – which, more often than not, leaves everyone else scratching their heads (or rather helmets) in amazement!
Look for more Disney 100 Years of Wonder Funko Pops! here.
Funko Pop! Disney 100th Anniversary: R2-D2 Facet Funko Pop! Vinyl Figure – Funko Shop Exclusive
Available at:
Starting now, you can receive 10% off in-stock items with my special link at Entertainment Earth!
 Enjoy!
As an Amazon Associate I earn from qualifying purchases
Want more stuff like this?
Get the best viral stories straight into your inbox!
Don't worry, we don't spam