2023 NEW Disney – Moana 4-Pack with Glow Te Fiti Funko Pop!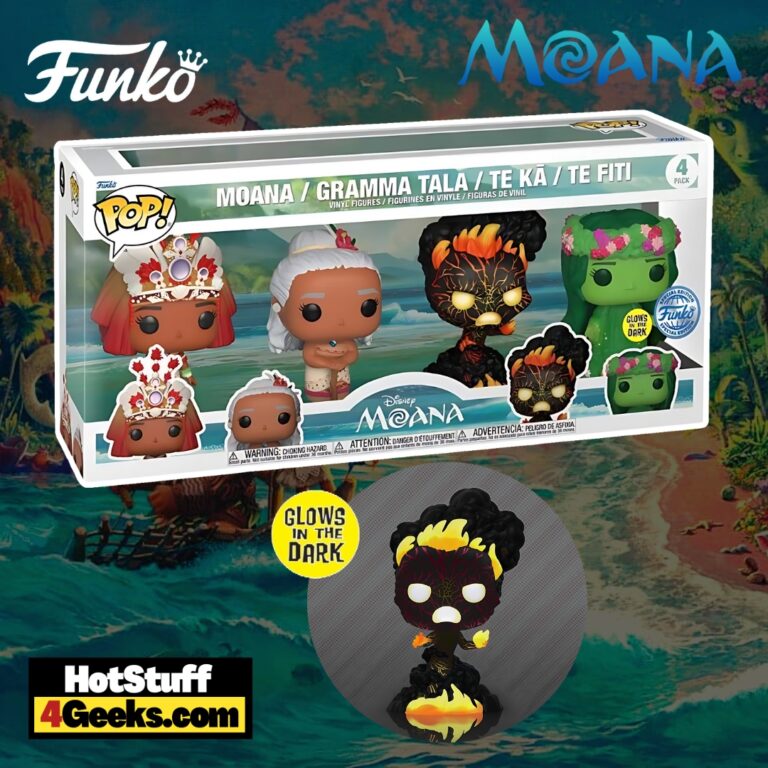 Fans of Disney's groundbreaking film "Moana" are in for a treat! The beloved franchise has expanded into the collectible space with the release of the new Funko Pop! Disney – Moana 4-Pack with Glow in the Dark (GITD) Te Fiti Funko Pop! Vinyl Figures – Exclusive. A brilliant homage to the unforgettable characters of this Polynesian odyssey.
Polynesian Charm: The Moana 4-Pack Funko Pop! Vinyl Figures
First, our heroic protagonist, Moana, is reimagined as a charming, detail-rich Funko Pop! Her strength and determination shine through in this delightful figure, perfectly encapsulating the character's spirit.
Next, we find Gramma Tala, the guiding light in Moana's journey. The intricacy of her Funko Pop! figure reflects her wisdom and the critical role she plays in Moana's voyage.
Te Ka, the fiery antagonist, gets her own Pop! figure too. Rendered in stunning detail, this figure impeccably captures the menacing essence of this character.
Finally, the pièce de résistance of the set: Te Fiti, the island goddess. This exclusive figure, resplendent in a glow-in-the-dark finish, is a sight to behold, mirroring the deity's ethereal beauty.
This Moana 4-Pack Funko Pop! set is an artistic expression of the film's depth, sure to enthrall every Disney collector and Moana enthusiast.
Here's the breakdown of the Pops included in this set:
Moana Funko Pop! Vinyl Figure
Gramma Tala Funko Pop! Vinyl Figure
Te Ka Funko Pop! Vinyl Figure
Te Fiti Glow in the Dark (GITD)  Funko Pop! Vinyl Figure
The new Moana 4-Pack Funko Pops! with Glow in the Dark (GITD) Te Fiti are coming soon. There's no release date yet, but stay tuned because I'll update more information in the long run.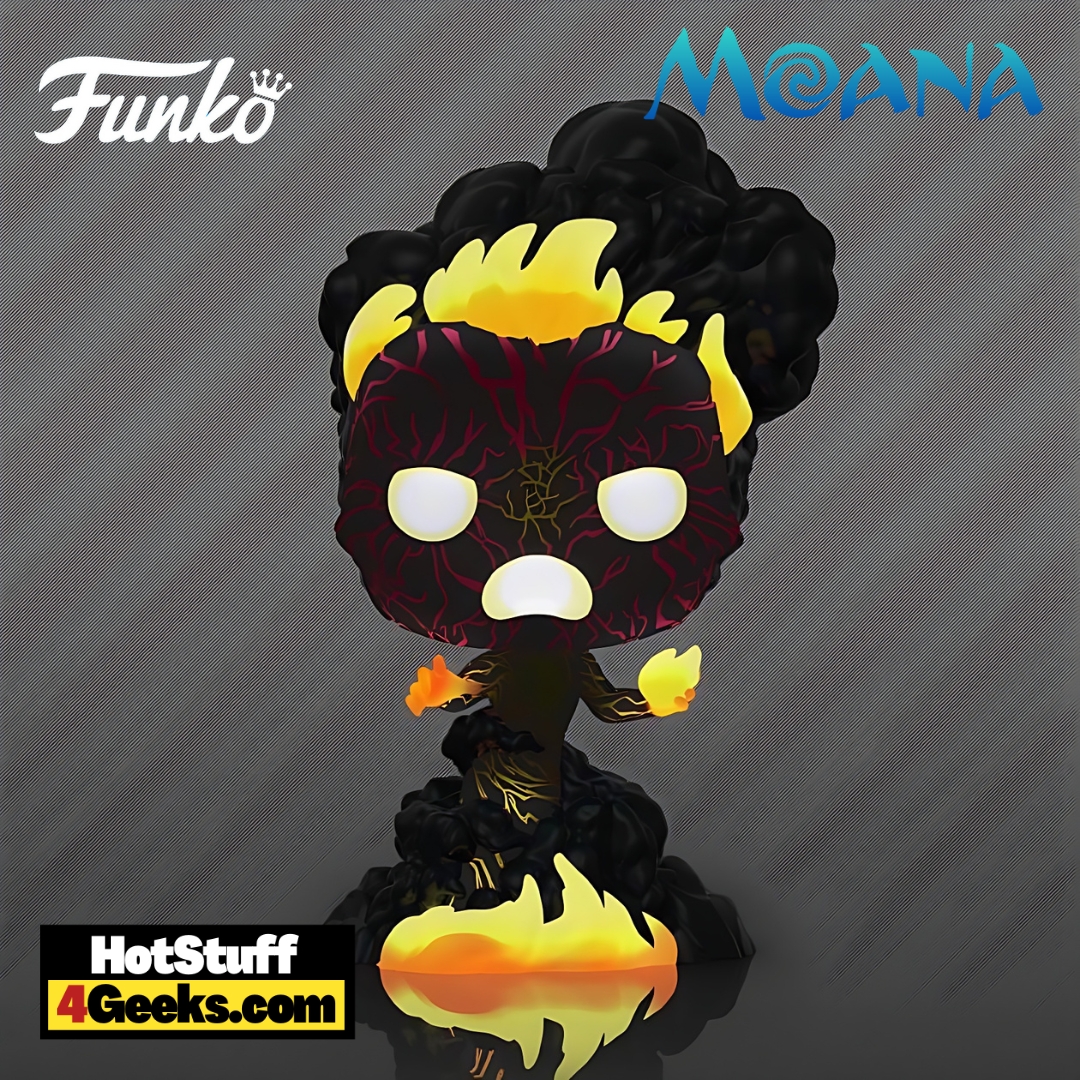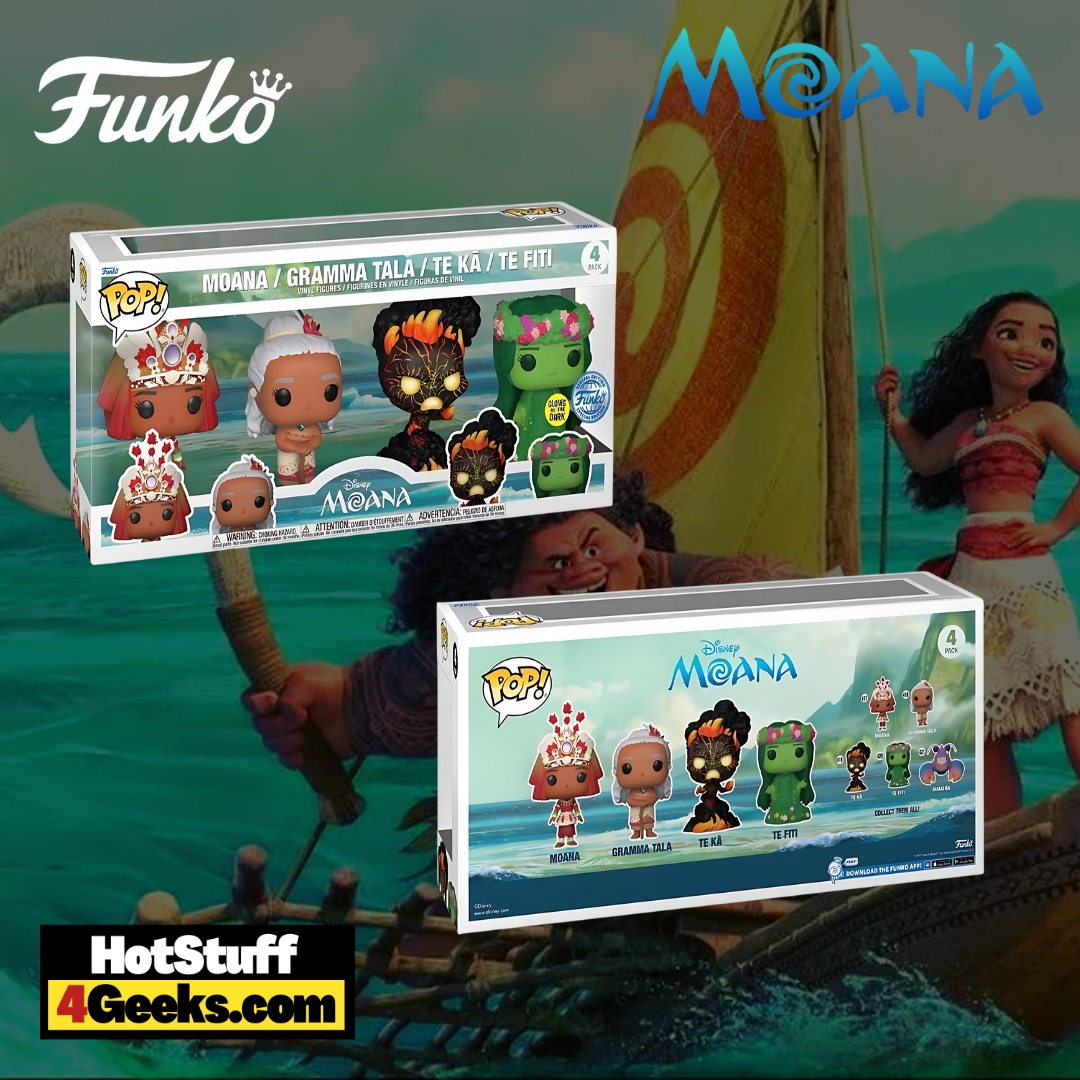 Moana: Charting New Waters in the Realm of Animation
Since its inception, Disney has been a beacon of creativity and ingenuity, delivering countless tales that inspire and enthrall global audiences. In 2016, they managed to chart new waters yet again with the release of "Moana," the 56th animated feature film in Disney's impressive repertoire.
Bringing the vibrant tapestry of Polynesian culture to the fore, "Moana" was a breath of fresh air in a cinematic landscape often dominated by traditional Western narratives.
Disney delivered a stunning portrayal of a young heroine, Moana, who dares to dream beyond the horizons of her island home, Motunui.
The film was groundbreaking in its representation of a princess who not only embarks on an epic journey but also does so without the crutch of a romantic subplot, shattering conventions of the Disney princess archetype.
Her strength and determination are powerful affirmations of self-reliance and perseverance, offering an empowering role model to audiences worldwide.
Moana's journey of self-discovery diverges significantly from other Disney classics.
Though it embraces familiar elements like a reluctant princess and humorous sidekicks, the narrative skillfully steers clear of the traditional 'happily ever after' finale.
Instead, Moana's triumphant return to Motunui signifies the commencement of her responsibilities as a leader and a voyager, ensuring the narrative stays true to its roots of community and duty.
One of the film's most commendable achievements lies in its meticulous representation of Polynesian culture.
The filmmakers embarked on an elaborate journey of cultural immersion, reaching out to local experts in the Pacific islands and forming the Oceanic Story Trust to ensure cultural accuracy.
The commitment to authenticity extended to the casting choices, with almost all actors of Polynesian heritage further enhancing the movie's cultural integrity.
"Moana" also made waves in the technical realm of animation.
This film presented Disney's veteran directors, Clements and Musker, an opportunity to dabble in complex computer animation, a novelty for their repertoire.
The challenging task of animating the vast and lively ocean was handled deftly with a new program called Splash, rendering the ocean as an expressive character rather than a static backdrop.
However, a Disney classic wouldn't be complete without a captivating soundtrack. In "Moana," the creators managed to hit all the right notes, thanks to the brilliant minds of Lin-Manuel Miranda, Opetaia Foa'i, and Mark Mancina.
The resulting melodies, steeped in the nuances of the Polynesian languages and culture, were a harmonious blend of storytelling and musical mastery that resonated with audiences worldwide.
In essence, "Moana" is more than just an animated film. It's a celebration of rich culture, a tribute to strong female characters, and an ode to self-discovery and the spirit of exploration.
This dazzling blend of stunning visuals, compelling narrative, and heartwarming music has undeniably solidified "Moana's" position as a groundbreaking Disney masterpiece.
Starting now, you can receive 10% off in-stock items with my special link at Entertainment Earth!
 Enjoy!
As an Amazon Associate I earn from qualifying purchases
Want more stuff like this?
Get the best viral stories straight into your inbox!
Don't worry, we don't spam