2023 NEW Wish Disney Movie's Spectacular Funko Pop Line-up
Funko Pop! Disney: Wish Movie Funko Pop! Vinyl Figure (2023 release)
Available at:
In a universe where wishes weave the tapestry of tales untold, the new Funko Pop! Disney: Wish Movie Funko Pops! (released today!) elegantly bring miniature marvels into our midst, whispering the enchanting narratives of Rosas Kingdom into the eager ears of collectors and moviegoers alike. These charming creations stand as tiny sentinels, guarding the soon-to-be-revealed secrets of a world where magic, might, and mystery entwine, ever so gently nudging our curiosities toward the unfolding cinematic spectacle.
To get your hands on these Pop Vinyl Figures, be sure to check out the links I've provided below – click to jump or scroll to continue reading!
From Rosas Kingdom to Your Living Room: "Wish" Funko Pops!
November is fast approaching, and with it, Disney's "Wish" cinematic world will unveil its mysteries. Audiences eagerly await Asha's pursuit, portrayed by the talented Ariana DeBose, to shield the Rosas Kingdom from King Magnifico, embodied by Chris Pine, and his wish-granting prowess.
Amid this building anticipation, there's a treat for every enthusiast: an array of Funko Pops inspired by this narrative. Asha with Star Funko Pop! Buddy Vinyl Figure captures the protagonist's spirit, while Dahlia's intricate design mirrors the story's allure.
The King Magnifico Funko Pop! evokes the might and magic of Rosas' ruler. Not to be overlooked is Queen Anaya, a blend of grace and power.
As you set them on your shelf, they're not just figurines but a piece of the enchanting tale that awaits. A glimpse of a world not yet fully explored but deeply loved.
Unveiling the Disney's Wish Funko Pops List for this release:
Asha with Star Funko Pop! Buddy Vinyl Figure
Dahlia Funko Pop! Vinyl Figure
King Magnifico Funko Pop! Vinyl Figure
Queen Anaya Funko Pop! Vinyl Figure
The Wish Disney Funko Pop! Vinyl Figures are now available for pre-order at the links below (click to jump!)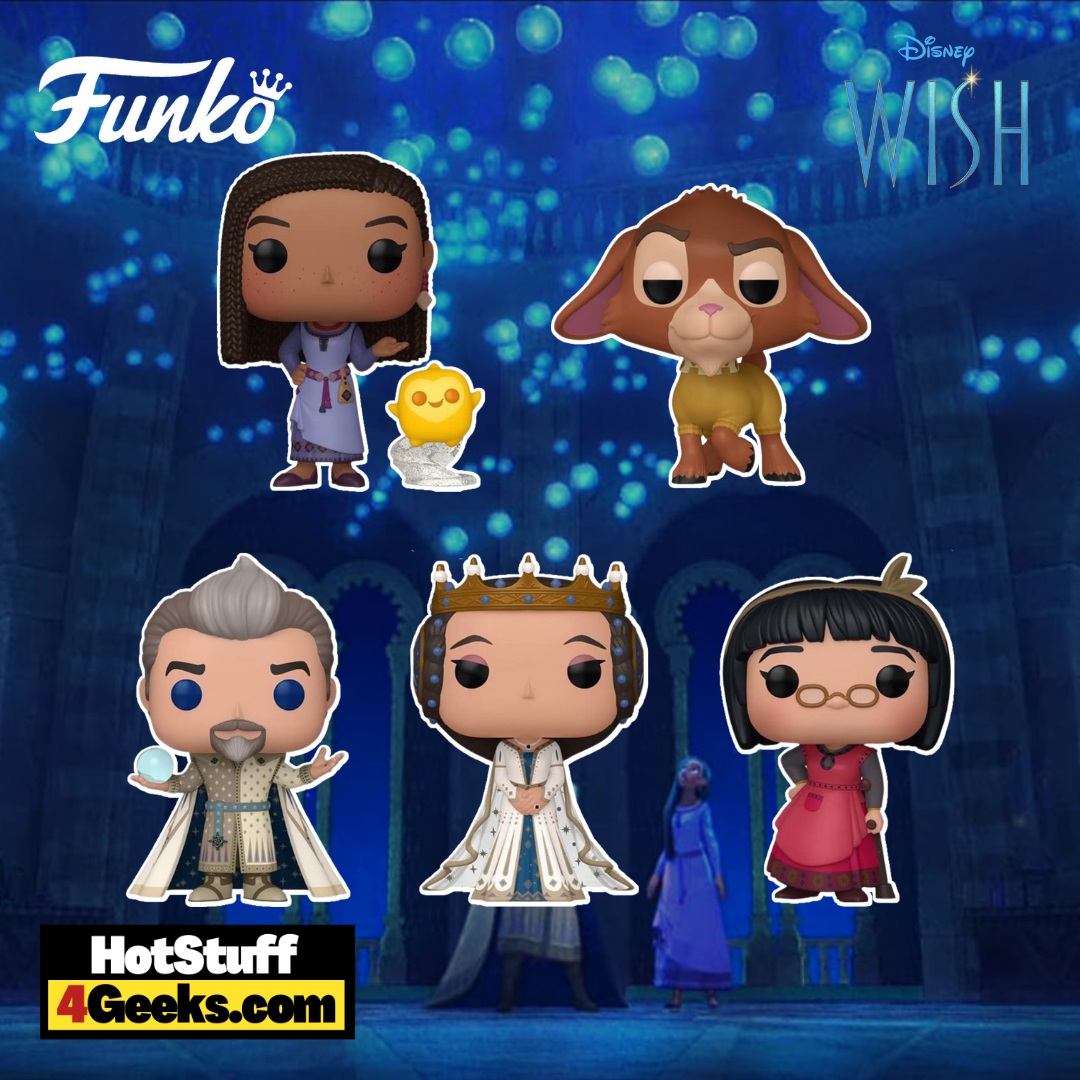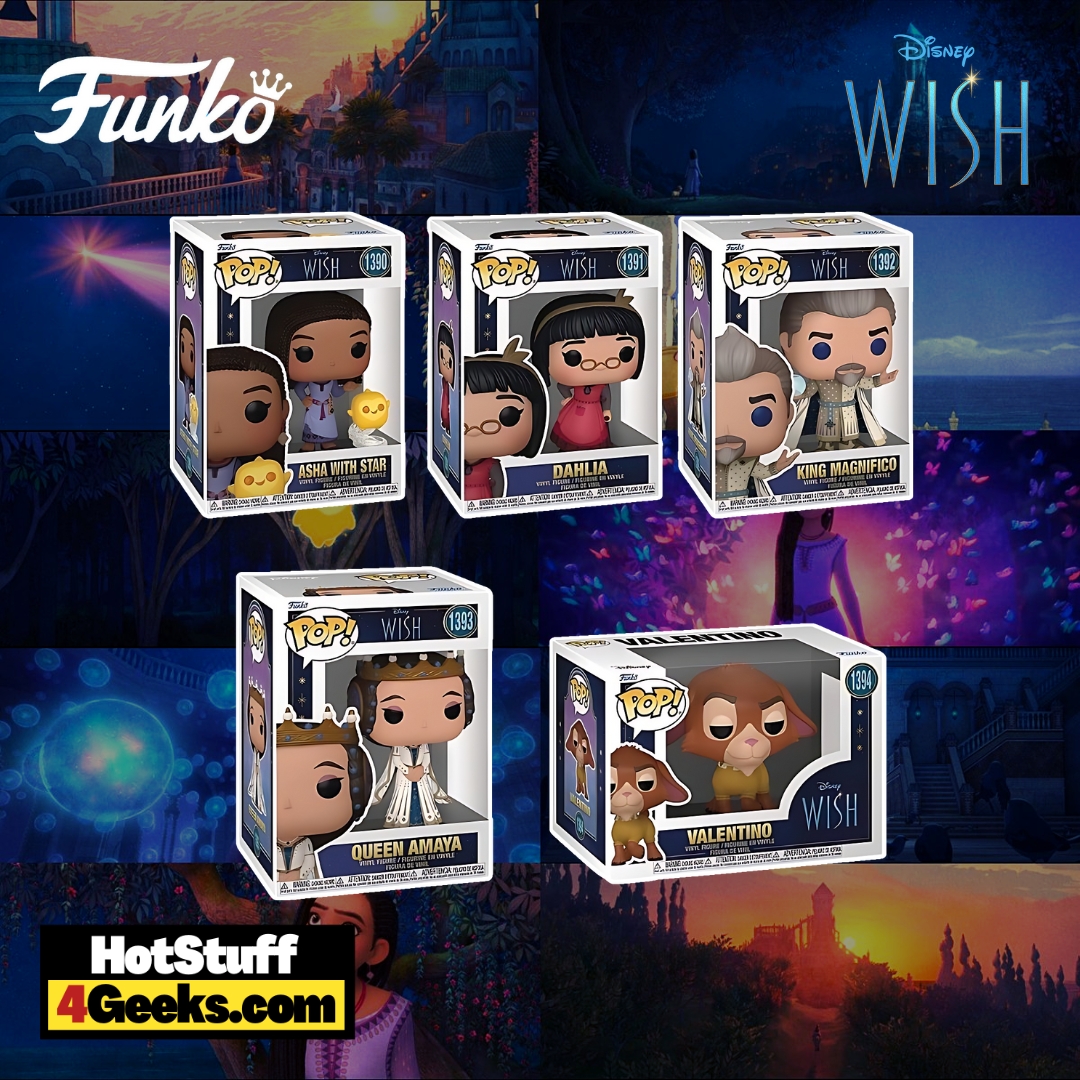 Wishing Upon a Century: Disney's Latest Gem "Wish"
Disney, the household name synonymous with enchanting animations and mesmerizing tales, will soon grace us with another magical adventure.
Celebrating their 100th anniversary in style, they're unveiling "Wish." And with the buzz surrounding it, this isn't just another film—it's history in the making.
The plot centers around Asha, a 17-year-old with an indomitable spirit. This young leader isn't just making any ordinary wish; she's reaching for the cosmos, quite literally!
A cosmic being, aptly named Star, answers her call in the most unexpected way. With Star's boundless energy (and perhaps a touch of chaos), these two embark on a journey to face an adversary that's nothing short of, well, magnificent.
Enter King Magnifico. While his regal name suggests grandeur, his intentions might not be all that noble. This compelling blend of classic Disney with a dash of cosmic wonder is shaping up to be the toast of the year.
Two directors, whose works have undoubtedly played on our screens and lingered in our hearts, are steering this ship. Chris Buck, the creative genius behind classics like "Frozen," collaborates with Fawn Veerasunthorn of "Zootopia" fame.
These cinematic maestros are orchestrating what's expected to be a visual and emotional spectacle. Produced by Peter Del Vecho and Juan Pablo Reyes, the film is undoubtedly in capable hands.
But what's a captivating story without a stellar cast to breathe life into it? Alan Tudyk lends his voice to Valentino, while Ariana DeBose infuses energy into our protagonist, Asha. And for those who've always yearned for a bit of royal flair, Chris Pine voices King Magnifico.
Trailers, teasers, and snippets have surfaced, painting a promising picture (though not literally) of a world beautifully blended with 2D and 3D animation.
It is a nostalgic nod to Disney's illustrious past and a futuristic vision. It's like the film is dancing between eras, intertwining the age-old magic of Disney with groundbreaking animation techniques of the modern age.
Slated to release on November 24, 2023, this film isn't just riding on the streaming wave. Cinemas, with their expansive screens and all-encompassing sound systems, will play host to "Wish."
The magic of watching a Disney classic on the big screen—popcorn in hand, surrounded by fellow enthusiasts—is an experience that simply can't be replicated.
In essence, "Wish" isn't just a film. It's a love letter to fans who've journeyed with Disney through the decades, a nod to the starry-eyed dreamers, and a testament to the magic that's been spun for a century.
With just a whisper of anticipation in the air, the wait begins for the next big spell from the house of Disney.
As an Amazon Associate I earn from qualifying purchases
Funko Pop! Disney: Wish Movie Funko Pop! Vinyl Figure (2023 release)
Available at:
Want more stuff like this?
Get the best viral stories straight into your inbox!
Don't worry, we don't spam