2023 NEW Donald Duck Trick or Treat Glow Funko Pop! and Tee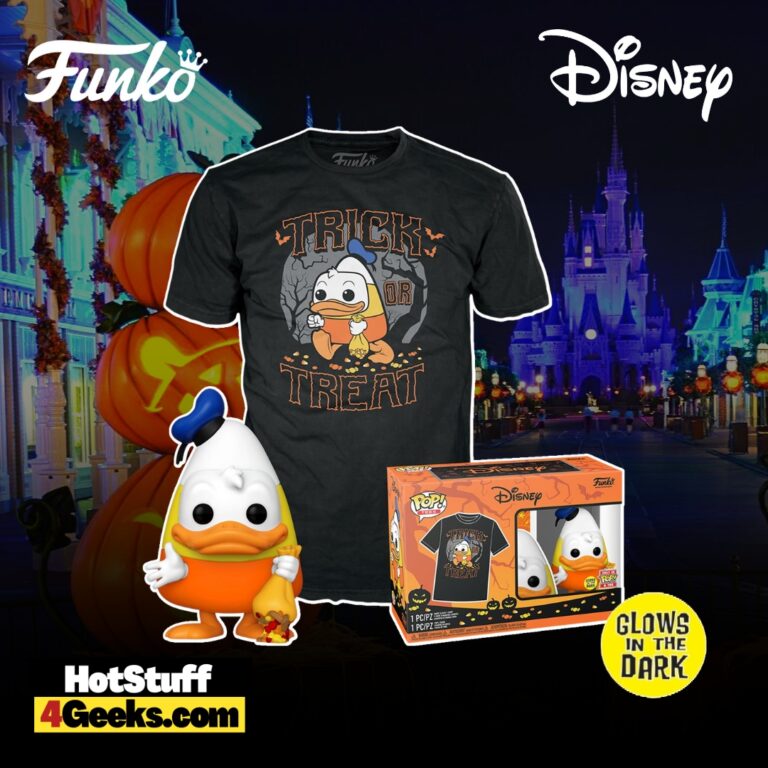 Get ready to sweeten up your Halloween with an extra touch of enchantment this year! Funko Pop! has unveiled an irresistible treat for all Donald Duck enthusiasts – the new Funko Pop! Disney: Donald Duck Trick or Treat Glow-in-the-Dark Funko Pop! and Tee Bundle. This charming figure presents our favorite duck dressed as an adorable piece of candy corn, embodying the spirit of Halloween.
To get your hands on this Pop Bundle, be sure to check out the links I've provided below – click to jump or scroll to continue reading!
Donald Duck's Spooky Spectacle: The New Funko Pop! Glow-in-the-Dark Bundle
No character could pull off the candy corn attire with as much flair as Donald Duck, highlighting his impressive ability to make even a Halloween mishap seem endearing.
Even with his treat bag burst open, Donald remains undeterred and is more than ready to go trick-or-treating.
This resilience and positivity – a trademark of our beloved Donald – is what sets him apart.
This Funko Pop! release, paired with a custom tee, pays homage to Donald's unique charm, evergreen spirit, and unmatched zest for life.
Celebrate Halloween with the duck who never fails to spread joy, and let Donald's radiant positivity illuminate your festivities.
The Donald Duck Trick or Treat Glow-in-the-Dark Funko Pop! and Tee Bundle is now available for pre-order at the links below (click to jump!)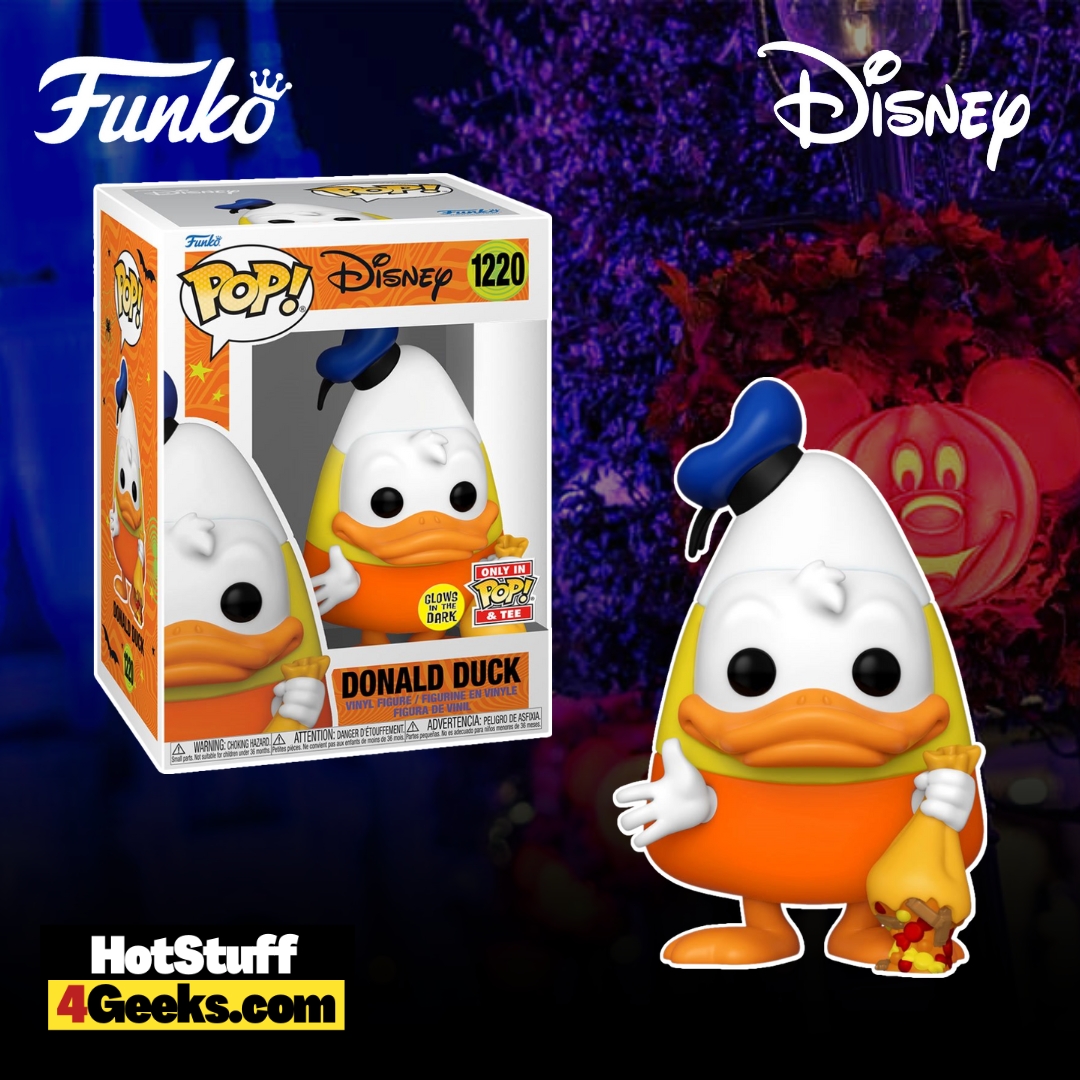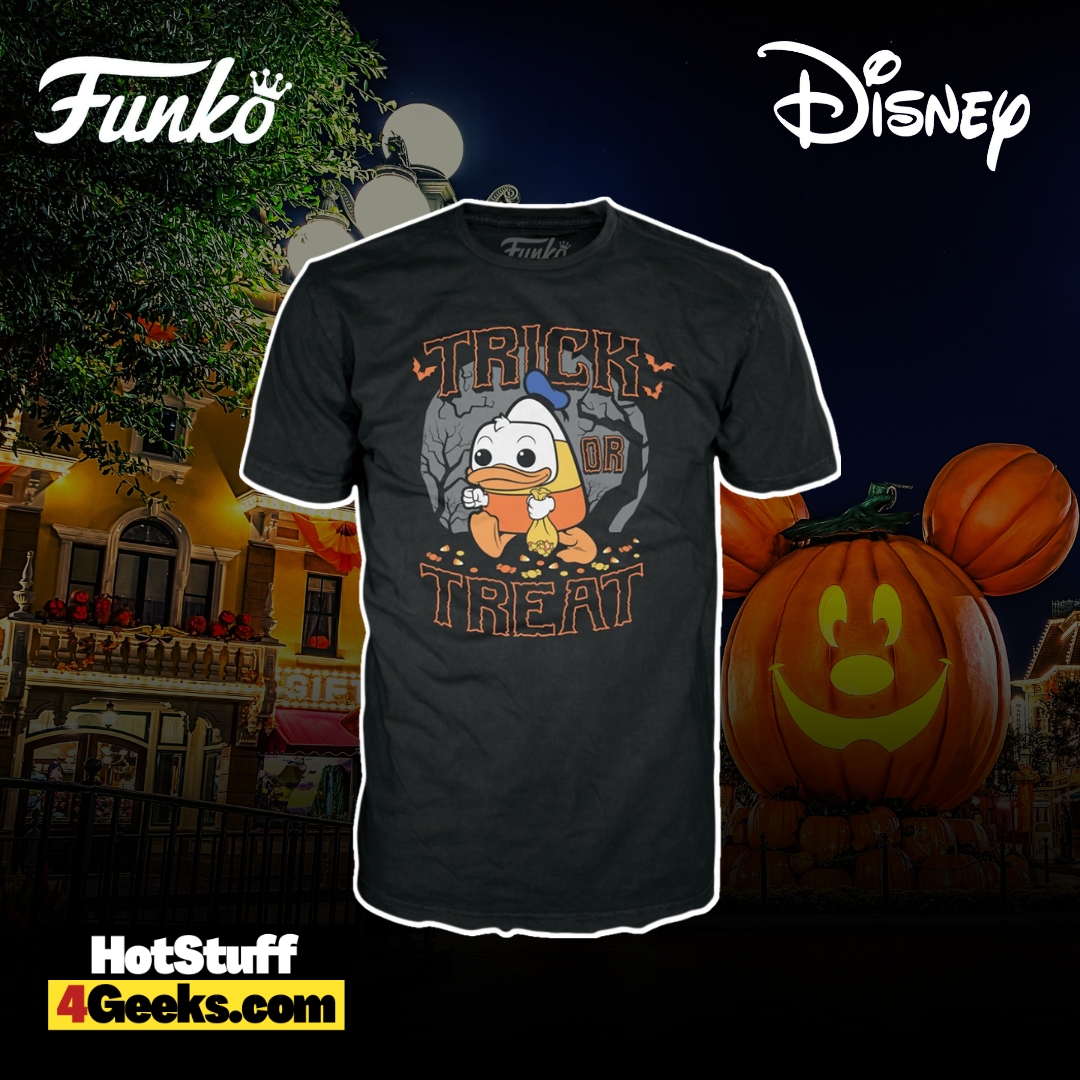 Donald Duck: The Unsung Hero of Disney Classics
Picture the realm of Disney for a moment. No, not the colossal castles or magical kingdoms, but its inhabitants: the merry band of timeless characters we've come to love over the years.
When we talk about Disney, the first image that pops into our minds is usually that of Mickey Mouse, the quintessential icon of Disney magic.
But today, we're shining the spotlight on another worthy contender who steals the show in more ways than one – Donald Duck.
A charming and lovable character, Donald Duck is perhaps most famous for his unmistakable speech pattern and, shall we say, feisty temperament.
What makes him truly special, however, lies beneath these entertaining traits.
When you look past the comedic exterior, you'll find an embodiment of resilience and empathy that's rare even among his Disney peers.
Think about the times you've felt the world is unfairly conspiring against you – be it a flat tire on a desolate road or a demanding job that pushes your buttons.
Donald Duck, with his never-ending trials and tribulations, is a beacon of empathy.
Juggling the responsibilities of raising three rambunctious nephews and managing a romantic relationship, he is relatable in a way few other characters are.
Our feathered friend is more than just a comedic figure.
He's an army veteran, a war hero who showcased his bravery during the WWII era.
Donald Duck's courage and commitment stand out, highlighting a patriotism not often associated with his buddies.
Family is another cornerstone of Donald's life. His devotion to his nephews, Huey, Dewey, and Louie, is unmatched, and his relationship with them showcases a genuine concern for their wellbeing.
The DuckTales reboot further explored this familial bond, transforming Donald from a fun-loving uncle into a de facto father figure.
Yet, amid all this, he never forgets Daisy, his eternal love interest.
Their relationship is refreshingly realistic and complex, with their fair share of squabbles.
Donald's persistent effort to keep Daisy in his life shows his unwavering commitment to those he loves.
Despite his hot-headed reputation, Donald Duck might be the most optimistic and patient on the Disney roster.
His life is a testament to the "try, try again" philosophy.
He gets knocked down, and then he dusts himself off and tries again, always with a smile on his beak.
Donald Duck's character offers an enduring message of courage, dedication, resilience, and love.
He is a testament to holding onto hope in the face of adversity and cherishing family and love despite life's many obstacles.
It's time we appreciated this stalwart symbol of perseverance for what he truly is – an unsung hero among Disney's classic characters.
Funko Pop! Disney: Donald Duck Trick or Treat Glow-in-the-Dark Funko Pop! and Tee Bundle
Available at:
Starting now, you can receive 10% off in-stock items with my special link at Entertainment Earth!
 Enjoy!
As an Amazon Associate I earn from qualifying purchases
Want more stuff like this?
Get the best viral stories straight into your inbox!
Don't worry, we don't spam