2023 NEW Dragon Ball Super – Fused Zamasu Glow Funko Pop!
Funko Pop! Animation: Dragon Ball Super – Fused Zamasu Glow-In-The-Dark (GITD) Funko Pop! Vinyl Figure – Funko Shop Exclusive (2023 release)
Available at:
The new  Funko Pop! Animation: Dragon Ball Super – Fused Zamasu Glow-In-The-Dark (GITD) Funko Pop! Vinyl Figure – Funko Shop Exclusive (2023 release) is here, and it's nothing short of spectacular. A harmonious blend of vibrant design and iconic character representation, this release offers both collectors and Dragon Ball enthusiasts a unique treasure to cherish. An exclusive that truly lights up the collection!
To get your hands on this Pop Vinyl Figure at its release, be sure to check out the links I've provided below – click to jump or scroll to continue reading!
The Radiant Mystique of Fused Zamasu in Funko Pop's 2023 Glow-In-The-Dark Exclusive
Get ready to be dazzled—or should I say, glow-struck? The 2023 Funko Shop Exclusive release of the Fused Zamasu Glow-In-The-Dark (GITD) Pop! Vinyl Figure is an intriguing concoction of mesmerizing detail and radiant whimsy.
And let's be clear: The character it encapsulates is no run-of-the-mill fusion. Fused Zamasu is the enigmatic blend of divine and diabolical, a captivating paradox in Dragon Ball Super's rich tapestry of larger-than-life entities.
The GITD feature of this exclusive vinyl figure illuminates Fused Zamasu's unique traits spectacularly. When the lights go out, this figure doesn't fade into obscurity; it shines with the same dichotomous complexity that defines its in-anime counterpart.
Illuminating, quite literally, the celestial yet tainted nature of Fused Zamasu, this Funko Pop creation becomes an artifact of the character's layered essence.
It might not regenerate or manipulate time, but the glow-in-the-dark aspect is a fantastic nod to Fused Zamasu's cosmic idiosyncrasies.
More than just a glowing gimmick, this Funko Pop! Figure captures the intricacies of a character who refuses to be confined by mere categories or labels.
Whether you're a diehard Dragon Ball fan or a casual observer, this glow-in-the-dark rendition allows Fused Zamasu to seize your attention, compelling you to contemplate the enigmatic duality it embodies.
It's an epic for your shelf, indeed!
The Funko Shop Exclusive Fused Zamasu Glow-In-The-Dark Funko Pop! from Dragon Ball Super can be found for order at the links below (click to jump!)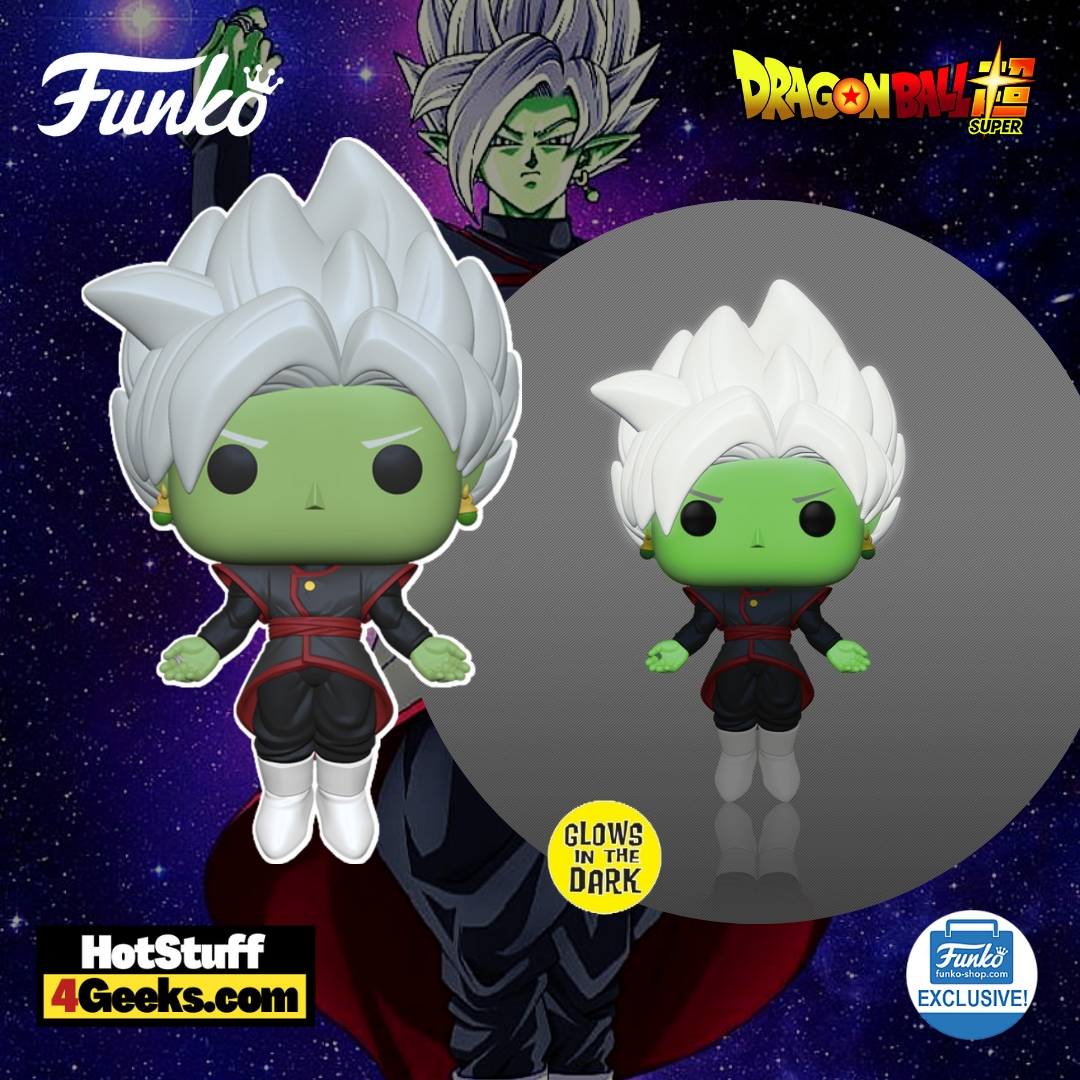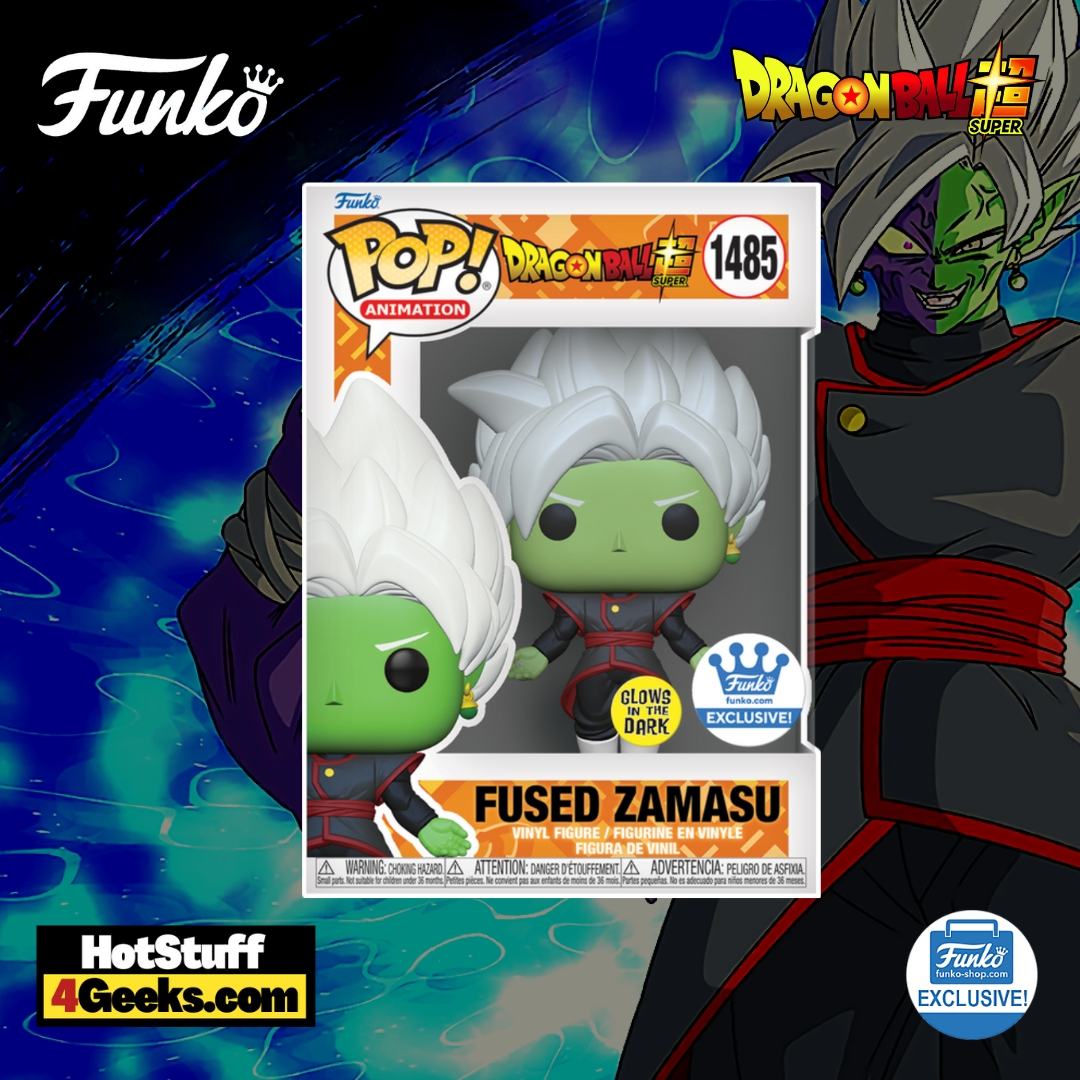 The Intricacies of Fused Zamasu: A Symphony of Power and Paradox
In the sprawling landscape of Dragon Ball's mythos, Fused Zamasu stands as a titanic embodiment of narrative complexity and power-imbued conundrum.
This character is more than a simple merger; he's an explosive amalgamation that shakes the very fabric of the universe he occupies.
Fusing together the divine Zamasu and Goku Black, this ungodly fusion creates something much darker yet paradoxically mesmerizing, leaving fans and critics alike astounded and bewildered.
This cosmic cocktail of divinity and malice challenges many of the series' foundational concepts.
Take morality, for instance. Zamasu, initially a Supreme Kai in training, carries the veneer of a cosmic referee, an embodiment of justice on a grand scale.
Goku Black, on the other hand, is the dark mirror of our beloved Saiyan protagonist, Goku
. He's an impostor with a borrowed face, a terror-wielding nihilist who redefines what it means to be villainous.
By merging, Fused Zamasu questions the boundaries between good and evil, blurring lines and offering no easy answers.
Yet the character is not just a narrative enigma; he's a technical marvel in battle.
Fighting a character who can regenerate, manipulate time, and summon weapons from thin air is no small task. However, even with these powers, Fused Zamasu isn't invincible.
The fusion has its share of limitations and drawbacks, such as the corrosive instability that increasingly warps his form.
This Achilles' heel adds layers of vulnerability to a being so ostentatiously powerful.
Indeed, Fused Zamasu is an intriguing exploration of duality: immortal yet vulnerable, divine yet corrupted, calculating yet impulsive.
He forces the other characters, and by extension, the audience, to reckon with these contradictions.
Even his eventual downfall—an event as cataclysmic as his rise—leaves a residual impact, a philosophical imprint on the series that lingers long after his disappearance.
The character thus reiterates the overarching thematic elements of the Dragon Ball series, underlining the ceaseless struggle between polarities—good and evil, strength and weakness, justice and chaos.
Given all these multifaceted traits, Fused Zamasu's enduring appeal isn't astonishing.
He's a concoction of raw energy, philosophical quandary, and narrative dissonance that enriches the franchise's tapestry.
He may not be the hero we root for, but he's undeniably a character that demands our intellectual and emotional investment.
To delve into the psyche and universe of Fused Zamasu is to engage in a ballet of existential uncertainties and cosmic stakes.
And it's this mesmerizing dance that makes him an unforgettable character in a series bursting with larger-than-life personas.
As an Amazon Associate I earn from qualifying purchases
Funko Pop! Animation: Dragon Ball Super – Fused Zamasu Glow-In-The-Dark (GITD) Funko Pop! Vinyl Figure – Funko Shop Exclusive (2023 release)
Available at:
Want more stuff like this?
Get the best viral stories straight into your inbox!
Don't worry, we don't spam