2023 NEW Elf: Buddy The Elf with Paper Snowflakes Funko Pop!
Funko Pop! Movies: Elf – Buddy The Elf with Paper Snowflakes Funko Pop! Vinyl Figure – Funko Shop Exclusive
Available at:
Just when you thought your holiday decorations were complete, a showstopper you won't want to miss comes along. Feast your eyes on the Funko Pop! Movies: Elf – Buddy The Elf with Paper Snowflakes Funko Pop! Vinyl Figure – Funko Shop Exclusive, a one-of-a-kind collectible that beautifully captures the infectious spirit and whimsical charm of everyone's favorite Christmas elf, Buddy.
UPDATE: Buddy The Elf Pop! drops today at 9:30 AM PST! To get your hands on this Pop Vinyl Figure at its release, be sure to check out the links I've provided below – click to jump or scroll to continue reading!
Capturing the Essence of Buddy: The Snowflake-Sprinkled Funko Pop! Exclusive
This season, Funko Shop has something special that'll melt the hearts of "Elf" enthusiasts—Buddy The Elf with Paper Snowflakes Funko Pop! Vinyl Figure.
Before diving into the exclusive details, let's step back and bask in the character of Buddy, the evergreen symbol of innocence, Christmas cheer, and, well, a penchant for paper snowflakes.
Firstly, Buddy, Will Ferrell's most wholesome on-screen persona, encapsulates the joy of a child experiencing snow for the first time—every single day.
The Funko Pop! Vinyl, in all its intricate glory, manages to capture this zest remarkably well. From his iconic elf attire to the handmade paper snowflakes he holds, the figure distills the quintessence of Buddy's jubilant spirit into a 3.75-inch package.
Why paper snowflakes, though? Well, for Buddy, every snowflake is a marvel, an epitome of uniqueness, just like himself navigating the world of humans.
Each paper snowflake in this Funko rendition is a miniature tribute to Buddy's own complexity—a character woven from threads of naivety, love, and an insatiable appetite for maple syrup.
The meticulous details will make you pause, and the craftsmanship will leave you pondering about the layers of Buddy's character.
Trust me, it's not your everyday Funko Pop! but an homage to Buddy's larger-than-life love for Christmas. Grab it while you can, as exclusives like this don't linger as long as holiday leftovers.
The Funko Shop Exclusive Buddy The Elf with Paper Snowflakes Funko Pop!  can be found for order at the links below (click to jump!)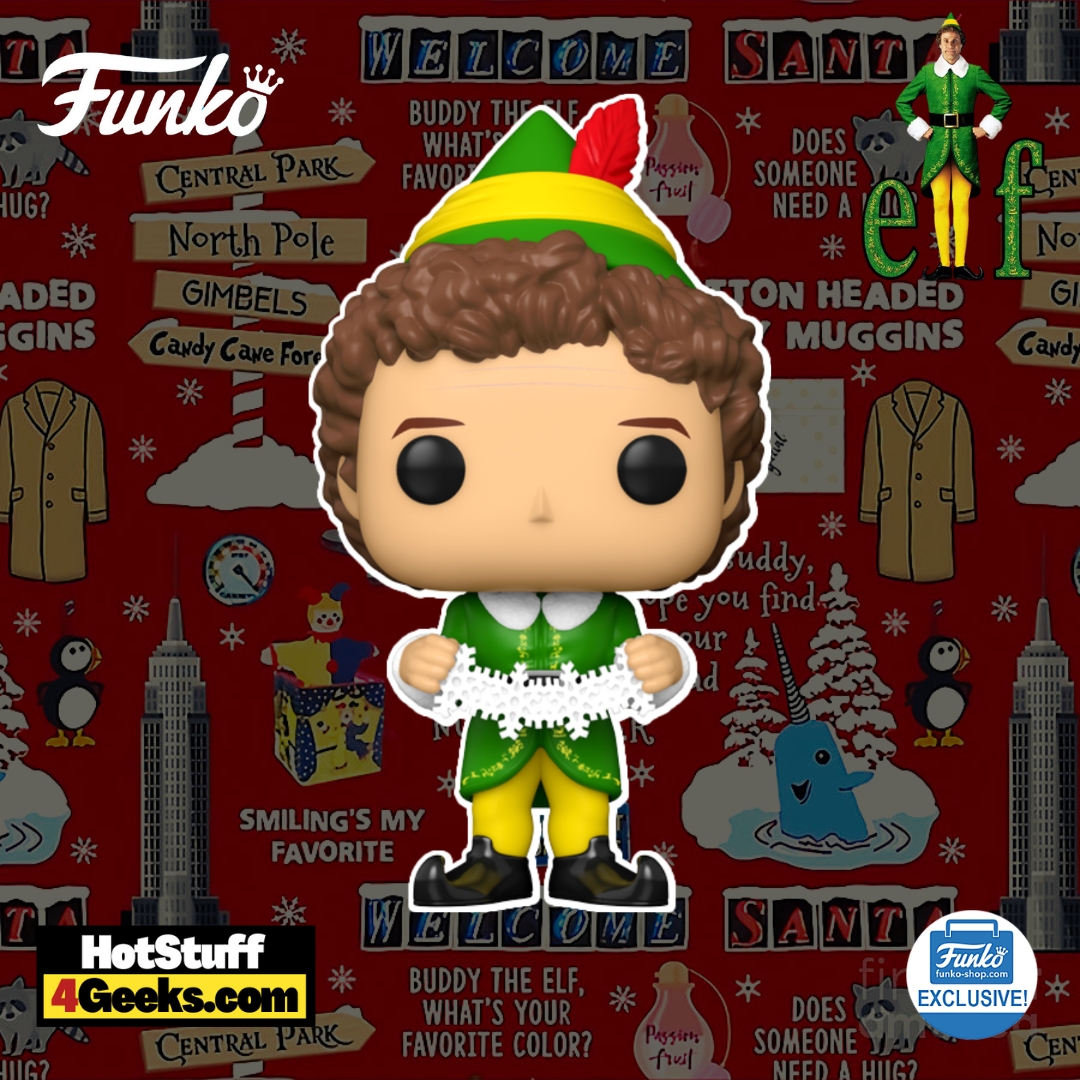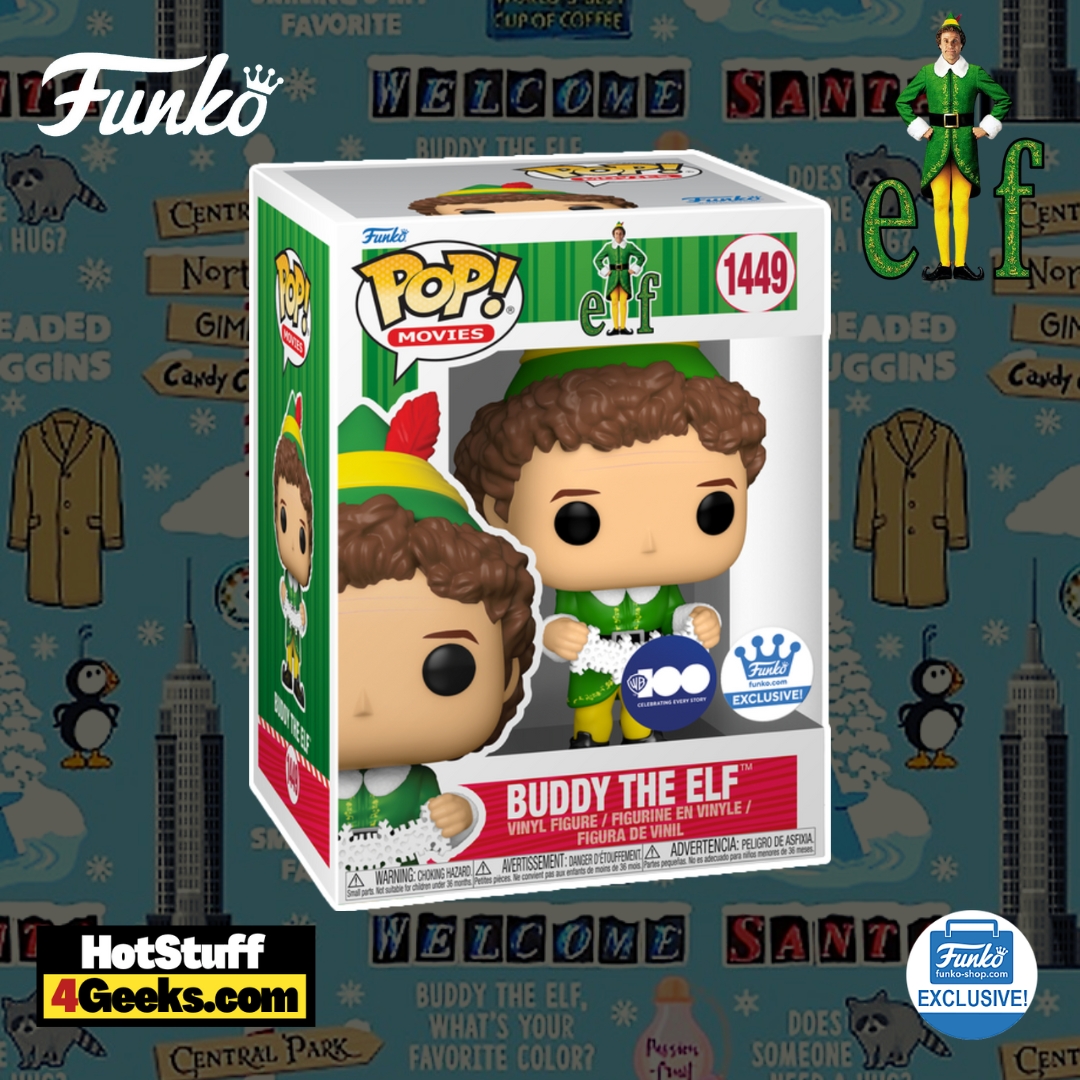 Unwrapping the Timeless Appeal of "Elf": A Film that Shines Through its Imperfections
When it comes to modern Christmas classics, "Elf," the 2003 holiday comedy starring Will Ferrell, often finds its way into seasonal marathons and onto top movie lists.
And while some critics argue it has its flaws, the film's enduring charm and positive aspects cannot be ignored.
Let me share why this movie is like a well-decorated Christmas tree: enchanting, full of layers, and bright enough to make you forget the imperfections.
First, let's address the dialogue. Now, "Elf" doesn't just serve up lines; it gives us snippets of holiday cheer we can carry in our pockets all year long.
Phrases such as "cotton-headed ninny muggins" and "you sit on a throne of lies" have been so deeply woven into the cultural fabric that they're almost like carols at this point.
The ability to create lines that not only entertain but also stand the test of time? That's an art form.
In addition, "Elf" serves up a sumptuous holiday platter of themes like family, love, and the undeniable magic of Christmas.
Buddy, the main character, embarks on a journey of self-discovery, learning not just about his human roots but also about what it means to belong.
These are sentiments that never get old, especially when told in the film's heartwarming and often hilarious style.
But what about New York City as the movie's backdrop? It's like the star on top of the Christmas tree.
The energy of the city during the holiday season is unparalleled, and "Elf" manages to capture that essence.
From the snowy streets to the iconic locales like Rockefeller Center, the setting elevates the film from being just another holiday story to an iconic one.
And yes, Buddy's childlike wonder could sometimes be perceived as overly naive.
However, isn't his innocent approach to life something we all secretly yearn for, especially in the complicated world we navigate?
His perspective is so authentic that it rekindles our childlike excitement for snowball fights and sugar-laden breakfasts.
Even the film's romantic angle adds another layer of complexity.
Buddy's romance with Jovie isn't just a subplot; it's a delightful extension of the film's core messages of love and acceptance.
It shows us that love can be both whimsical and profound, a lesson that adds a sparkle to the already bright narrative.
Indeed, if we're talking about cinematic gifts, "Elf" is one you'd happily find under your tree year after year.
It's not just a film; it's a holiday companion, a mood-lifter, and a reminder that even in a world full of cynicism, the spirit of Christmas is something to be celebrated, flaws and all.
As an Amazon Associate I earn from qualifying purchases
Funko Pop! Movies: Elf – Buddy The Elf with Paper Snowflakes Funko Pop! Vinyl Figure – Funko Shop Exclusive
Available at:
Want more stuff like this?
Get the best viral stories straight into your inbox!
Don't worry, we don't spam