2023 NEW F1: Sergio Perez with Helmet Funko Pop! Exclusive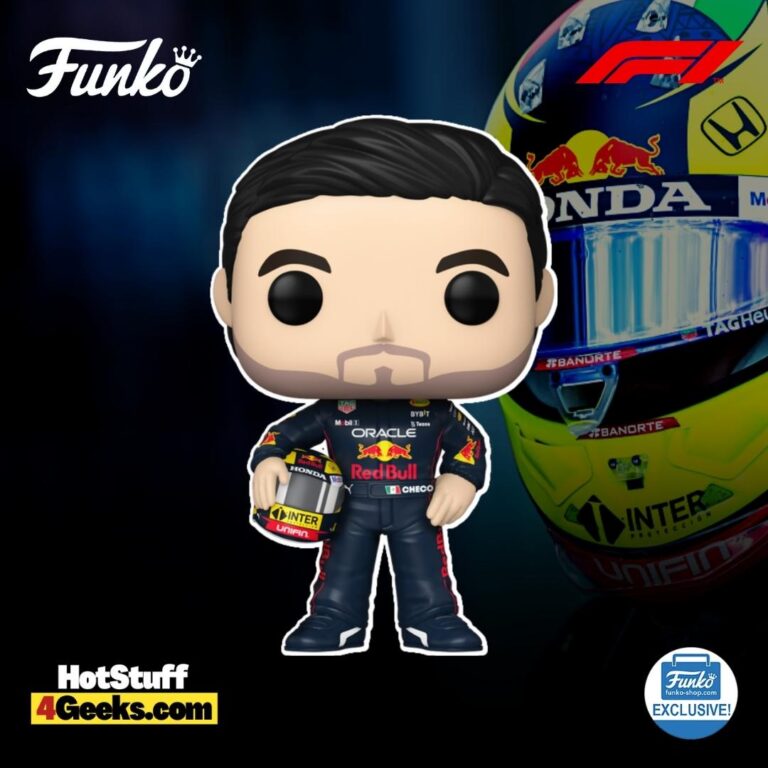 With Formula 1 fever sweeping the globe, fans are always on the lookout for unique ways to express their passion. Enter the new Funko Pop! Racing: Formula 1 – Sergio Perez with Helmet Funko Pop! Vinyl Figure – Funko Shop Exclusive. This isn't any ordinary figure. It encapsulates the spirit of one of the sport's most dynamic racers.
To get your hands on this Pop Vinyl Figure at its release, be sure to check out the links I've provided below – click to jump or scroll to continue reading!
Unveiling the Exclusive Sergio Perez with Helmet Funko Pop! Figure: A Racer's Miniature Tribute
Get ready to add some adrenaline to your collection! Funko Pop! Racing's new release, the Formula 1 – Sergio Perez with Helmet Funko Pop! Vinyl Figure is an exclusive treat for fans of this incredible racer.
Dressed in his signature racing attire and sporting that iconic helmet, this Funko figure captures the essence of Perez's fearless spirit.
The attention to detail is what makes this piece stand out.
From the sleek contours of the helmet to the authentic replication of his racing suit, it's a tribute to Sergio Perez's driving finesse.
And guess what? It's a Funko Shop Exclusive, making it a must-have for devoted enthusiasts.
This collectible isn't just an addition to a shelf; it's a small embodiment of Perez's remarkable journey in the world of Formula One.
It's a vibrant, eye-catching reminder of the thrill of racing and the indomitable character of one of the sport's most beloved figures.
If you're a fan of Perez or Formula One, it's hard to resist this high-octane miniature masterpiece!
The Funko Shop Exclusive Sergio Perez with Helmet Funko Pop! can be found for purchase at the links below (click to jump!)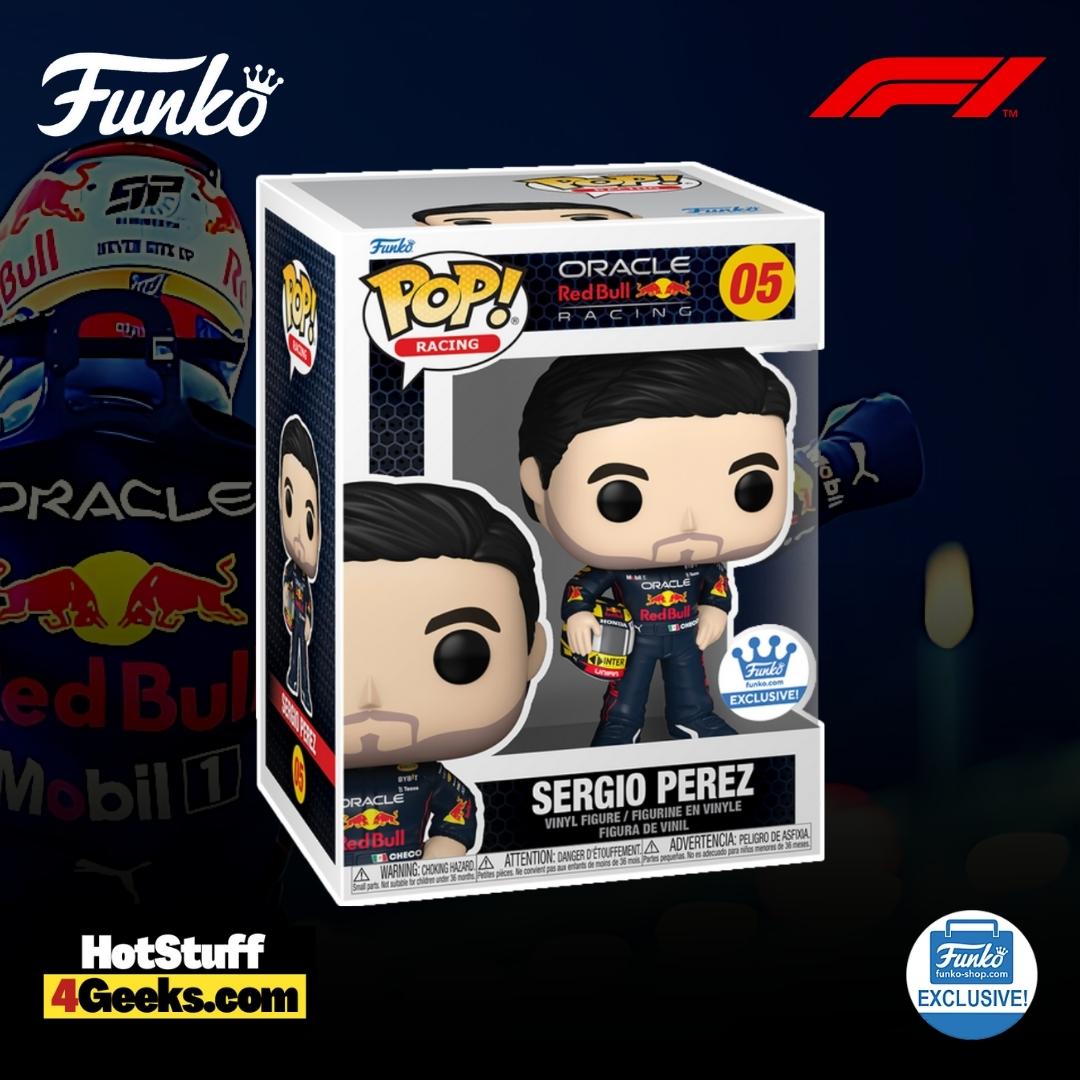 Sergio Perez: The Unexpected Force in Formula One Racing
If you're intrigued by the thundering world of Formula One racing, chances are you've heard of Sergio Perez.
The story of this audacious driver is as captivating as it is unexpected, with plot twists that would fit right into a Hollywood screenplay.
Born in Guadalajara, Mexico, Perez started his racing career in karting at an incredibly young age.
His passion for the sport, his ambition, and his uncanny ability to outperform seasoned racers was evident from the get-go.
Joining the Formula One grid in 2011, Perez made a name for himself not just as an impressive rookie but as a relentless force to be reckoned with.
During his early days, he graced the track with performances that were nothing short of spectacular. It was evident that a star was born, a star unafraid to challenge the norms of racing.
Sergio's unique driving style is something that keeps spectators on the edge of their seats.
It's not just about raw speed for Perez. He plays the long game, out-thinking his competitors and taking calculated risks that often pay off handsomely.
He's not just racing the car; he's dancing with it, creating a symphony of man and machine.
One of the defining moments in Perez's career came with his first victory at the 2020 Sakhir Grand Prix.
The race was a rollercoaster of emotions, with Perez coming from the back to secure a triumphant win. It was a testament to his talent, his resilience, and his unquenchable thirst for victory.
Off the track, Perez's warm demeanor, engaging personality, and commitment to charity have made him a beloved figure not just in Mexico but around the globe.
He has been a beacon of hope and inspiration, reminding us all that passion and hard work can overcome even the most insurmountable obstacles.
In an industry where the spotlight is often on the machines, Perez stands out as a man who's not defined by his car but by his extraordinary skill and indomitable spirit.
His story is a reminder that in a sport driven by precision, technology, and money, human determination still matters.
In the world of Formula One, Sergio Perez is a breath of fresh air.
His journey is an exhilarating ride through highs and lows, filled with moments of sheer brilliance, unexpected surprises, and relentless determination.
So, if you ever find yourself yearning for a tale of triumph and tenacity, look no further than the story of Sergio Perez.
His journey is one for the ages, a perfect blend of the grit, skill, and imagination that makes Formula One the heart-stopping spectacle that it is.
Indeed, the tale of Sergio Perez is not just a racing story; it's a human story.
And it's one that reminds us that sometimes the unexpected twists and turns make the journey all the more remarkable.
In Perez's case, the thrill of the unexpected is what makes his story an essential chapter in the exhilarating book of Formula One.
Funko Pop! Racing: Formula 1 – Sergio Perez with Helmet Funko Pop! Vinyl Figure – Funko Shop Exclusive
Available at:
Starting now, you can receive 10% off in-stock items with my special link at Entertainment Earth!
 Enjoy!
As an Amazon Associate I earn from qualifying purchases
Want more stuff like this?
Get the best viral stories straight into your inbox!
Don't worry, we don't spam