2023 NEW Fire Force Funko Pops! (Wave 2) Embrace the Flames!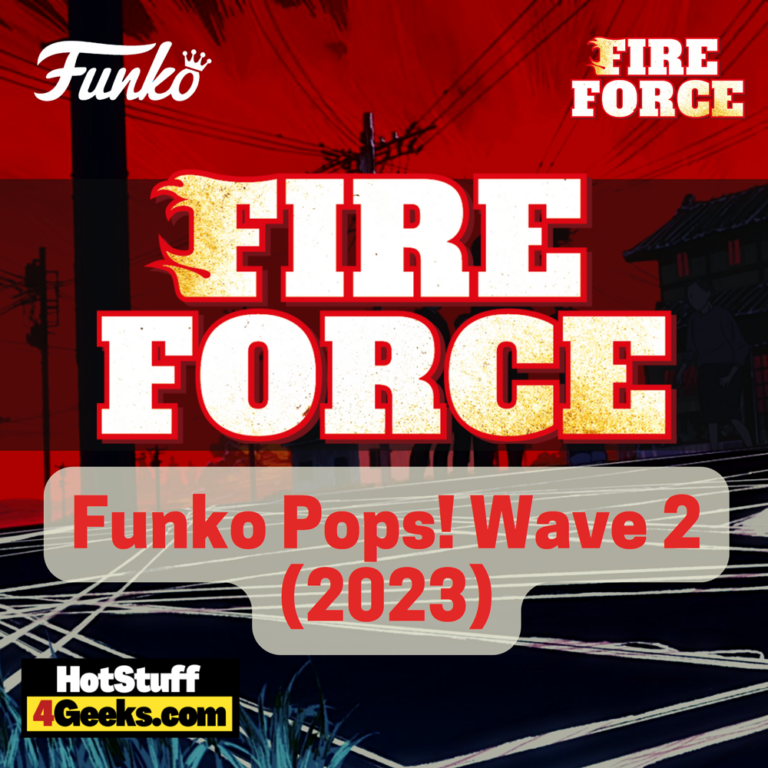 Not official until confirmed.
The anticipation has been real, and the moment has finally arrived. Yes, you've guessed it – the new Fire Force Funko Pops (Wave 2) release. Now, instead of merely watching your favorite characters battle Infernals on screen, you get to have them right there with you, making your connection with the anime world even more tangible.
To get your hands on these Pop Vinyl Figures at its launch, be sure to check out the links I've provided below – click to jump or scroll to continue reading!
While it's easy to get caught up in the minutiae of these figures, they're just the latest reminder of why we fell in love with "Fire Force" in the first place.
The complex world-building, the meticulously designed characters, the blend of high-stakes drama with bursts of comedy, and, of course, those visually stunning action scenes that leave us wanting more – it's all right there, in compact, collectible form.
In essence, Wave 2 is not just a collection but a celebration of the captivating universe that is "Fire Force."
And isn't that a cause for some fiery excitement?
Here are the Fire Force Pop! Figures for this release:
The Joker Funko Pop! Vinyl Figure
Ogun Funko Pop! Vinyl Figure
Tamaki in Orange Funko Pop! Vinyl Figure
Shinra with Corna Funko Pop! Deluxe Vinyl Figure
Captain Burns Funko Pop! Vinyl Figure – Specialty Series Exclusive
Tamaki in Orange GITD Funko Pop! Vinyl Figure – Exclusive
The Joker GITD Funko Pop! Vinyl Figure – Exclusive
Ogun GITD Funko Pop! Vinyl Figure – Exclusive
Arthur Bayle GITD Funko Pop! Vinyl Figure – Exclusive
Benimaru Funko Funko Pop! Vinyl Figure – Exclusive
Fire Force Funko Pop! Vinyl Figures  – Wave 2 (2023) is an unconfirmed release. It is only official when or if Funko announces it. I'll update more information in the long run.

As self-confessed "Fire Force" fanatics, we all know this anime's white-hot allure.
Its distinct blend of hot action, blazing visuals, and smoldering character arcs keep us returning episode after episode.
We are all aboard the "Fire Force" engine, fueled by our fascination for the unique premise – a world plagued by spontaneous human combustion, where 'Infernals' wreak havoc and our heroes are firefighters with unique abilities.
The show brilliantly flames our curiosity as we unravel the mystery behind these combustion incidents with our protagonist, Shinra Kusakabe.
His burning ambition to become a hero and solve the fiery mystery behind his family's demise has endeared him to us.
His ability to ignite his feet, wicked grin, and complex backstory—everything adds up to a protagonist we can't help but root for.
As we watch Shinra evolve, we realize that beneath the intense fights and fiery animation, there's an underlying depth, a burning desire to explore themes like sacrifice, friendship, and heroism.
Let's take a moment to fan the flames of appreciation for the stunning visuals in "Fire Force."
Remember that first scene of Shinra launching into a flurry of fire-kicked attacks?
Each fire explosion is a spectacle, a burst of color that lights up our screens.
The sizzling sound effects are the cherry on this visual feast, immersing us in every blazing encounter.
Amidst the inferno of battles, we have our delightful moments of laughter.
"Fire Force" knows when to lighten the mood with well-timed humor, and who can forget the entertaining banter among the Special Fire Force Company 8 members?
These instances act like a breath of fresh air, ensuring the plot doesn't get too heated.
As "Fire Force" fans, we've come to cherish the inferno of emotions this anime elicits.
The series contains thrilling encounters, deep character development, and captivating mysteries.
So, here's to our beloved "Fire Force," may it continue to set our anime-loving hearts ablaze!
Funko Pop! Animation: Fire Force Funko Pop! Vinyl Figures – Wave 2 (2023)
Available at:
Starting now, you can receive 10% off in-stock items with my special link at Entertainment Earth!
 Enjoy!
As an Amazon Associate I earn from qualifying purchases
Want more stuff like this?
Get the best viral stories straight into your inbox!
Don't worry, we don't spam