2023 NEW FNaF Balloon Freddy & Bonnie (Metallic) Funko Pops
The Five Nights at Freddy's franchise fans will love this latest addition to the Funko Pop collection! The Funko Pop!Games: Five Nights at Freddy's – Balloon Freddy & Balloon Bonnie 2-Pack (Metallic) Funko Pop! Vinyl Figures – Target Con 2023 Exclusive features metallic details that give these beloved characters, who burst out of the walls and entertain guests at Freddy Fazbear's Pizza, a daring and heroic new look.
The pop figure is releasing today at 2.30 AM CST at the links below – click to jump or scroll to continue reading!
Funko Pop has been bringing our favorite characters to life for years, and Five Nights at Freddy's has been a fan favorite ever since its release in 2014.
The franchise has gained a considerable following, with various merchandise available to collectors.
Wisting the original animatronic designs, these striking metallic pops feature warped characters that have been pumped full of helium – the perfect way to show your love for the cult horror game.
Whether you're a long-time fan or new to the world of Five Nights at Freddy's, you won't want to miss out on these must-have pieces.
The Target-Con 2023 exclusive Balloon Freddy & Balloon Bonnie 2-Pack (Metallic) Funko Pops! from FNaF Video Games can be found at the links below (click to jump!)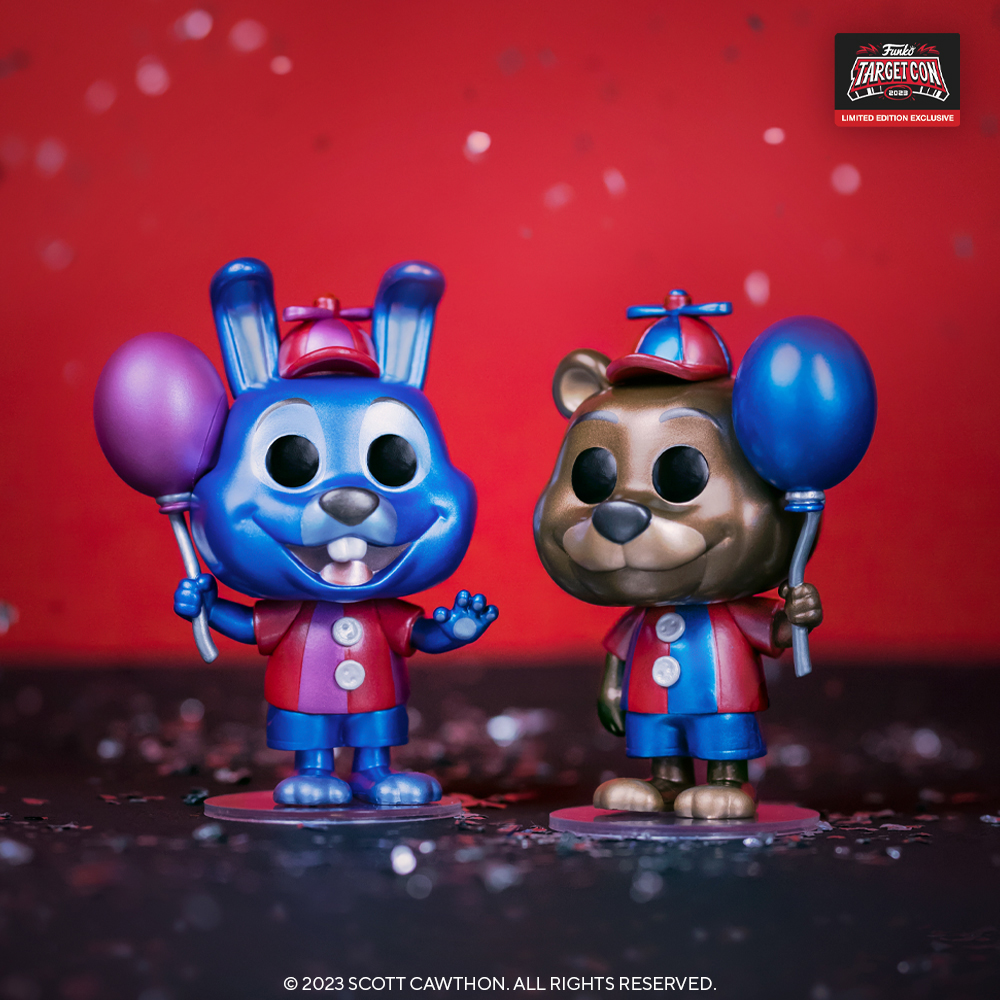 Five Nights at Freddy's is a popular video game franchise that has been scaring gamers since its release in 2014.
The game features a group of animatronic animals that come to life at night and terrorize the security guard who is supposed to be watching over the restaurant.
Among the characters in the game, two of the most iconic are Freddy Fazbear and Bonnie the Bunny.
Freddy Fazbear is the main character of the game and the leader of the group of animatronics.
He is a large, brown bear with a top hat and bowtie.
Freddy is known for his deep, robotic voice, which he uses to sing songs and deliver creepy messages to the player.
He also has a signature move where he jumps out behind a curtain and scares the player.
Bonnie the Bunny is another famous character in the game.
He is a blue bunny with a red bowtie and is often seen holding a guitar.
Bonnie is known for his aggressive behavior and will often try to attack the player.
He has a unique ability to teleport around the restaurant, making him even more challenging to avoid.
While both characters are frightening in their own right, they also have distinct personalities that have made them fan favorites.
Freddy is seen as the group's leader and is often portrayed as cunning and intelligent.
On the other hand, Bonnie is more impulsive and aggressive, often lashing out without thinking.
The Five Nights at Freddy's franchise has spawned numerous sequels, merchandise, and even a movie in the works.
Fans of the game have created their own theories and lore around the characters, adding to their popularity.
Freddy and Bonnie have become icons of the horror gaming genre, and their legacy continues to grow with each passing year.
Check out more Five Nights at Freddy's Funko Pops Here.
Starting now, you can receive 10% off in-stock items with my special link at Entertainment Earth!
 Enjoy!
As an Amazon Associate I earn from qualifying purchases
Want more stuff like this?
Get the best viral stories straight into your inbox!
Don't worry, we don't spam