2023 NEW Froot Loops: Toucan Sam Flying (Flocked) Funko Pop!
by

PopCorn Princess

August 23, 2023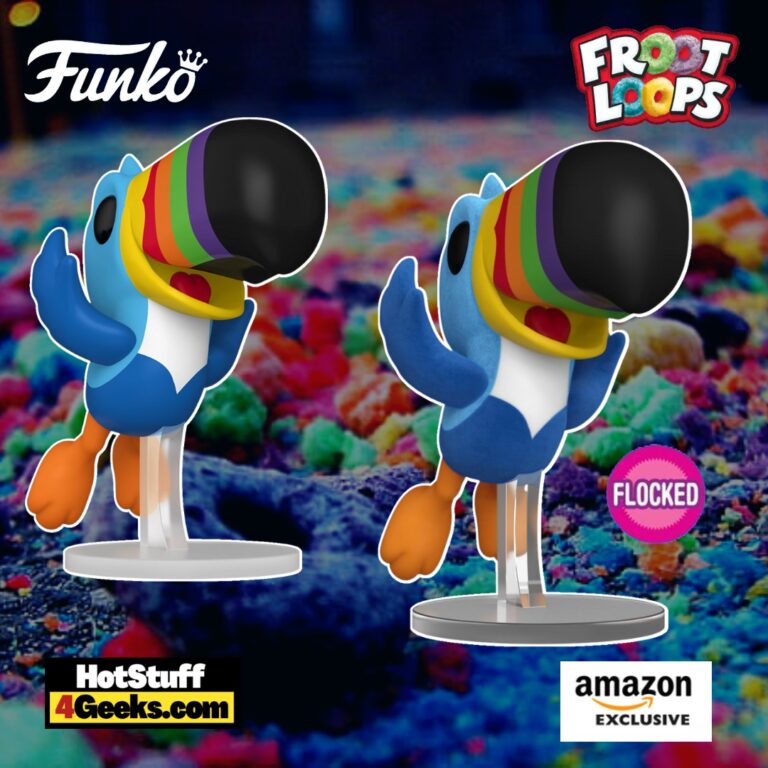 Dive into a bowl of nostalgia with the new Funko Pop! Ad Icons: Kellogg's Froot Loops –  Toucan Sam Flying (Flocked) Funko Pop! Vinyl Figure – Amazon Exclusive (2023 release). Our colorful hero, immortalized in mid-flight, becomes a tangible reminder of the delightful adventures we've embarked on with every spoonful of Froot Loops cereal. And for those who prefer a more subtle touch, there's also a non-flocked variant available.
To get your hands on this Pop Vinyl Figure, be sure to check out the links I've provided below – click to jump or scroll to continue reading!
The vinyl figure showcases Toucan Sam's characteristic multi-hued beak, a whimsical nod to the cereal's varied flavors.
Wide-spread wings embody the spirit of adventure that's been synonymous with Sam and the vibrant world of Froot Loops.
Reflecting upon the countless commercials where Sam swoops across lush landscapes, this collectible serves up a rich blend of color, cheerfulness, and a hint of nostalgia.
It's a tangible flashback to all those breakfasts when we watched Sam glide across the screen, inviting us to follow our noses to the fruity delight that awaits in every box of Froot Loops.
In essence, this vibrant flocked figure isn't just a collectible; it's a small yet powerful embodiment of the joyous adventure that Froot Loops and Toucan Sam have brought into our lives.
Let's keep the adventure alive, one bowl of cereal at a time!
The Amazon Exclusive Toucan Sam Flying (Flocked) Funko Pop! Ad Icon is now available for pre-order at the links below (click to jump!) It's expected to be released in October 2023.
Today, let's dive into the kaleidoscopic world of our beloved Froot Loops mascot, Toucan Sam, who has been accompanying us on breakfast adventures since 1963.
With his vibrant beak and enthusiastic personality, Toucan Sam is more than just a mascot.
He symbolizes joy, adventure, and the irresistible lure of a cereal that promises a flavorful journey with every spoonful.
Sam's beak, bearing the symbolic red, orange, and yellow stripes, is an endearing feature that only amplifies our collective nostalgia.
Isn't it fascinating how the evolution of Sam mirrors that of the Froot Loops cereal itself?
Initially, the stripes on Sam's beak represented the cereal's flavors: red for cherry, yellow for lemon, and orange for, well, orange.
However, as new colors joined the fruity lineup, this association could no longer hold true. Green loops entered the mix in 1991, followed by purple in 1994, and blue in 1996.
With these new hues, the cereal bowl became a vibrant palette, even as all loops maintained the same tantalizing flavor.
Despite the evolution of Sam's look, his motto remained constant: "Follow your nose; it always knows!"
This catchphrase, filled with whimsy and a dash of wisdom, had us chasing our own adventures.
Whether you remember him saying, "The flavor of fruit! Wherever it grows!" or recall his nephews adding, "For the fruity taste that shows!" – the essence remained the same: a celebration of our curiosity and imagination.
Over the years, Sam was not alone on his fruity adventures.
His trio of nephews—Puey, Susey, and Louis—brought extra fun and a dash of mischief, giving a multi-generational appeal to the Froot Loops commercials.
A pinnacle in Sam's journey came with the 2021 redesign.
The once-feathery Toucan donned a sleeker, solid look while maintaining his core, vibrant essence.
This rejuvenation allowed Sam to resonate with older fans who cherish their childhood memories and a new generation of explorers ready to take the flavor plunge.
So, as we pour our next bowl of Froot Loops, let's raise a spoon to Toucan Sam—an evergreen symbol of adventure that has been inspiring us to explore the more colorful side of life.
Follow your nose to your next adventure, and let the fun begin!
Starting now, you can receive 10% off in-stock items with my special link at Entertainment Earth!
 Enjoy!
As an Amazon Associate I earn from qualifying purchases
Want more stuff like this?
Get the best viral stories straight into your inbox!
Don't worry, we don't spam
PopCorn Princess
Hey there, I'm Princess. I'm an annual comic con attendee, Star Wars-loving, and collector freak. My mission is simple: To bring cool geeky news and content and share my passion with the rest of the world. (... I secretly wish to save the world as a superheroine...)