2023 NEW Froot Loops: Toucan Sam with Fruit Hat Funko Pop!
by

PopCorn Princess

August 25, 2023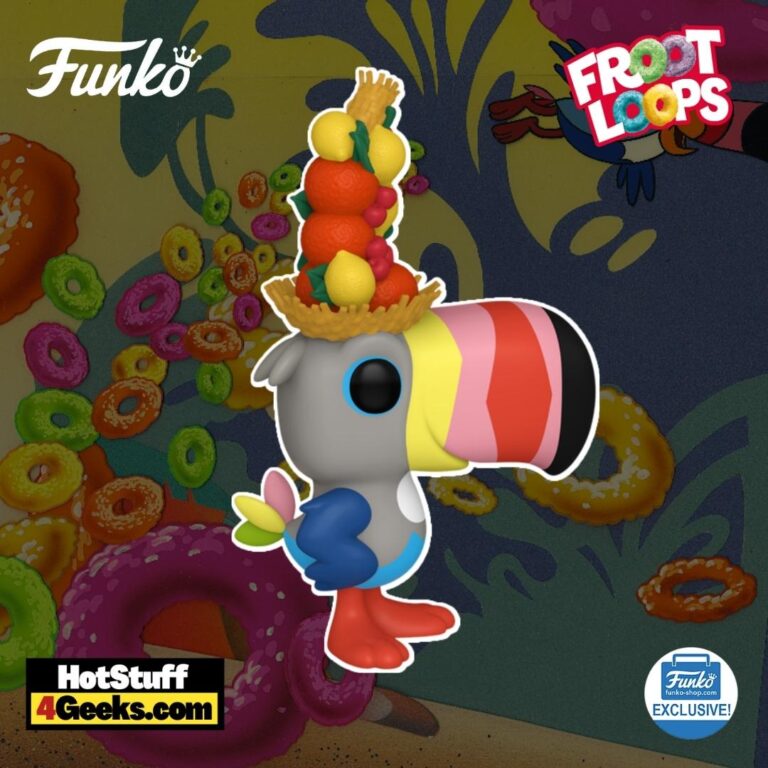 Everyone's favorite fruit-sniffing mascot has just taken a vibrant leap into the collectible world, and he's wearing a tropical fruit hat, no less! Meet the new Funko Pop! Ad Icons: Kellogg's Froot Loops – Toucan Sam with Fruit Hat Funko Pop! Vinyl Figure – Funko Shop Exclusive (2023 release). It's a fantastic reinterpretation of the beloved character, masterfully capturing his lively essence.
UPDATE: Toucan Sam drops today at 9.30 AM PST! To get your hands on this Pop Vinyl Figure at its release, be sure to check out the links I've provided below – click to jump or scroll to continue reading!
Celebrating a Breakfast Legend: Toucan Sam's Fruit Hat Funko Pop! Vinyl Figure
Step into the vibrant world of Kellogg's Froot Loops with the latest exclusive from Funko Pop!
This time, it's none other than the lively cereal ambassador, Toucan Sam, charmingly adorned with a fruit hat.
This isn't just a collectible —it's a trip down memory lane.
Drawing from the same wellspring of color and charm that make Froot Loops a breakfast favorite, this Funko Pop! figure captures Toucan Sam's delightful essence with a fun twist.
Donning a hat mirroring the array of fruity flavors he's known to follow, Sam's new look is a playful nod to his core character.
A standout addition to the Ad Icons collection, this Funko Shop Exclusive effortlessly combines nostalgia with novelty.
It invites you to reminisce about the breakfasts of your childhood while adding a vibrant touch to your collection.
Ready to follow your nose, or rather, Toucan Sam's, into this nostalgia-infused adventure?
The Funko Shop Exclusive Toucan Sam with Fruit Hat Funko Pop! can be found for purchase at the links below (click to jump!)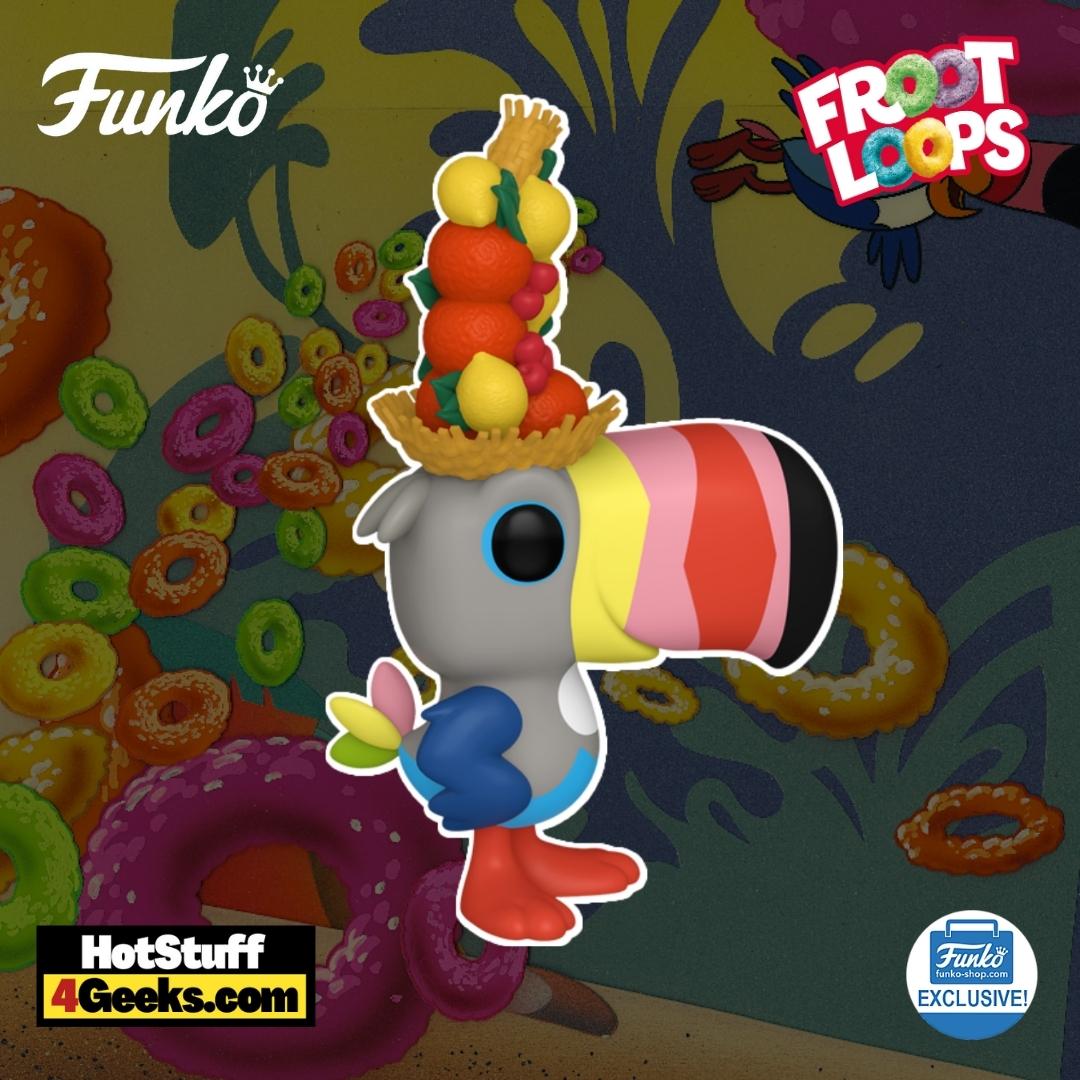 The Vibrant Journey of Toucan Sam: A Breakfast Icon
Color. Flavor. Adventure.
These aren't words you typically associate with breakfast. But in the world of Kellogg's Froot Loops, they're the cornerstones of every day.
They're also encapsulated in one delightful, fruit-obsessed character—Toucan Sam.
Think about it. For breakfast, most of us would think of monotone cereals, gently floating in a pool of milk.
But then, Froot Loops, with its vibrant hues and fruity zest, turned the tables.
And who was the guide on this revolutionary culinary journey?
The one and only Toucan Sam, a brilliant bird with a unique ability to find those delicious loops, regardless of how hidden they might be.
Born in the creative minds at Leo Burnett in 1963, Toucan Sam leaped, or should we say, flew into the limelight.
Manuel R. Vega gave form to this technicolor avian, but it was Mel Blanc, with his masterful voice work, who breathed life into the character.
His voice work was noteworthy for the use of Pig Latin, a playful touch to an already exuberant character.
As the years passed, our favorite bird changed his accent from American to British, courtesy of Paul Frees and, later, Maurice LaMarche.
Eventually, in 2021, Colin Cassidy took over the reins, casting Toucan Sam as a charming, wise, and reassuring presence.
Did you know Toucan Sam's nose was pivotal in shaping the Froot Loops universe?
Initially donning two pink stripes, it transformed into a canvas of vibrant colors over the years, each representing a flavor in the cereal.
Although new colors expanded the palette, the essence of this symbolism holds true even today.
The scent-seeking beak of our bird is a testament to the cereal's exciting mix of flavors.
Interestingly, Toucan Sam isn't the sole adventurer in this universe.
He shares his escapades with three chirpy nephews, bringing a dash of youth and energy to the Froot Loops saga.
They add a relatable element to the storyline for younger viewers and also balance out Toucan Sam's mature persona.
Their escapades, often in pursuit of the delectable cereal, create a lively narrative that goes beyond breakfast.
The evolution of Toucan Sam through the years is a testament to the ability of brands to adapt, innovate and yet, stay true to their core.
As the character underwent visual makeovers, the inherent charm and zest of Toucan Sam remained constant.
Much like the sweet, fruity crunch of Froot Loops, his essence remained timeless.
Peter Lohmeier, who joined Leo Burnett in 1974, once said that to capture a character truly, you must step into their shoes—or in this case, talons.
This philosophy has allowed Toucan Sam to maintain his place in the hearts of millions, from wide-eyed children to nostalgic adults.
From a marketing perspective, Toucan Sam is more than just a mascot—he's an enduring symbol of joy, vibrancy, and an invitation to experience the extraordinary in the ordinary.
He's a testament to the creative power of storytelling in branding, a character who has successfully straddled generations, remaining relevant, relatable, and absolutely irresistible, just like a bowl of Froot Loops.
Funko Pop! Ad Icons: Kellogg's Froot Loops – Toucan Sam with Fruit Hat Funko Pop! Vinyl Figure – Funko Shop Exclusive (2023 release)
Available at:
Starting now, you can receive 10% off in-stock items with my special link at Entertainment Earth!
 Enjoy!
As an Amazon Associate I earn from qualifying purchases
Want more stuff like this?
Get the best viral stories straight into your inbox!
Don't worry, we don't spam
PopCorn Princess
Hey there, I'm Princess. I'm an annual comic con attendee, Star Wars-loving, and collector freak. My mission is simple: To bring cool geeky news and content and share my passion with the rest of the world. (... I secretly wish to save the world as a superheroine...)