2023 NEW Funko 25th: Jack Skellington Funko Pop! Box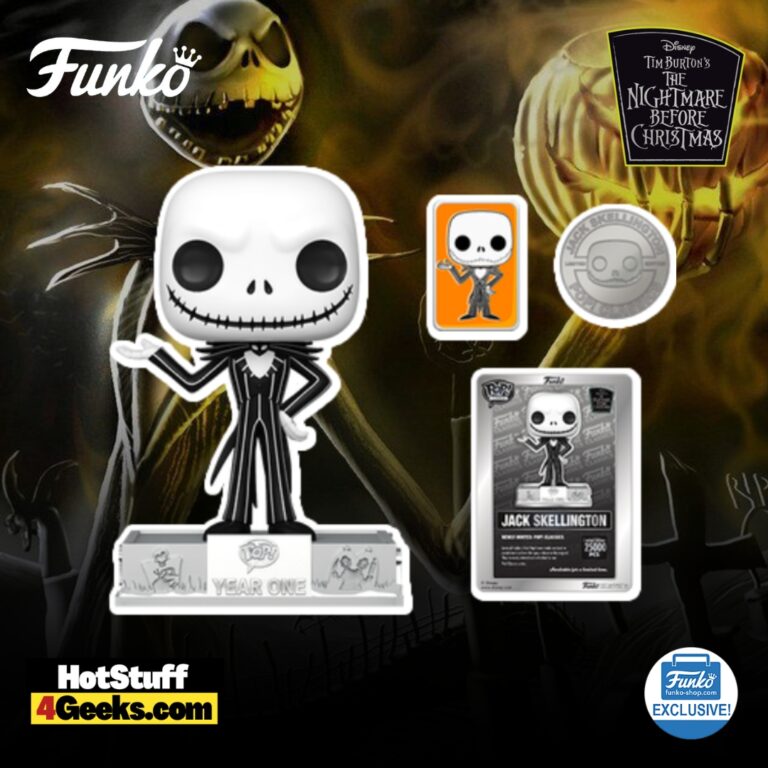 Prepare to be spellbound by a collector's dream that marries nostalgia with opulence. The new  Funko Pop! Classics: Funko 25th Anniversary – Jack Skellington (Classic) Funko Pop! Box – Funko Shop Exclusive is here, and it's turning heads faster than the Mayor of Halloween Town.
UPDATE: Jack Skellington drops today at 9:30 AM PST! To get your hands on this Pop Bundle at its release, be sure to check out the links I've provided below – click to jump or scroll to continue reading!
The Undying Allure of Jack Skellington: The 25th Anniversary Funko Pop! Unveiled
In celebrating their 25th anniversary, Funko decided to bring back one of their original show-stealers, but this time, with extra bells and whistles.
We're talking about none other than the Pumpkin King himself, Jack Skellington, in an exquisite Funko Pop! Box that's as exclusive as they come.
Now, prepare for a visual feast. This isn't your run-of-the-mill Funko Pop! figure. Jack comes with a detachable base, elevating his character—literally!
Nestled inside a silver-tone window box and encased within a tin protective chamber, Jack appears to be sealed in his own vault. Open that hinge, and, voilà, the skeletal monarch greets you in all his bony grandeur.
But wait, there's more! Inside the treasure trove is an enamel Pop! Pin and a stainless-steel Pop! Coin, both showcasing that iconic, skeletal grin we've come to adore. Plus, you'll find a foil Certificate Card with bio details that give you the rundown on this underworld royalty.
The kicker? There are only 25,000 of these gems floating around. So, if you're a "Nightmare Before Christmas" fan, you might want to act quickly.
This Jack Skellington Funko Pop! isn't just another figure; it's a pageantry of design that reflects the enigma of the character we can't help but love.
The Funko Shop Exclusive Jack Skellington (Classic) Funko Pop! Box can be found for order at the links below (click to jump!)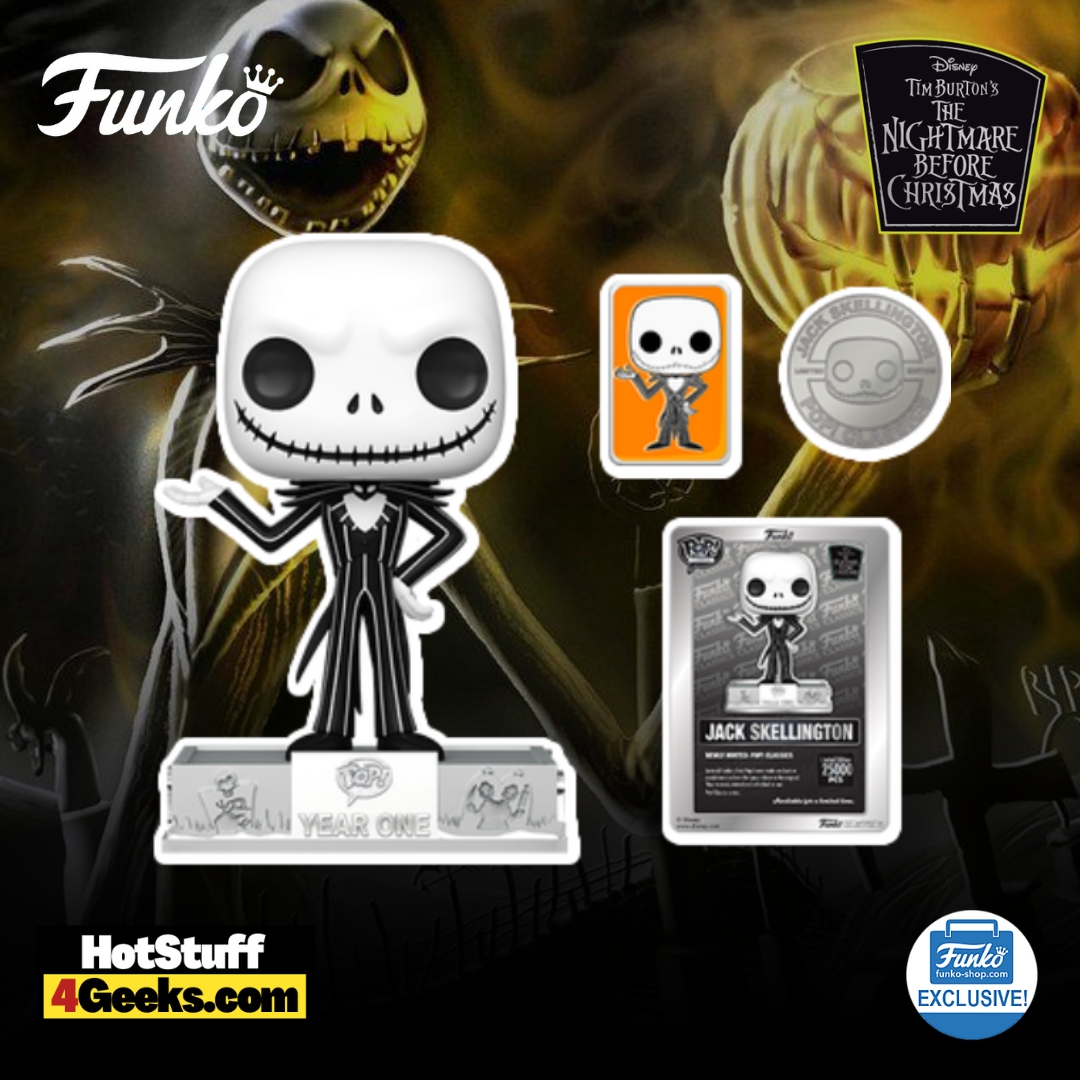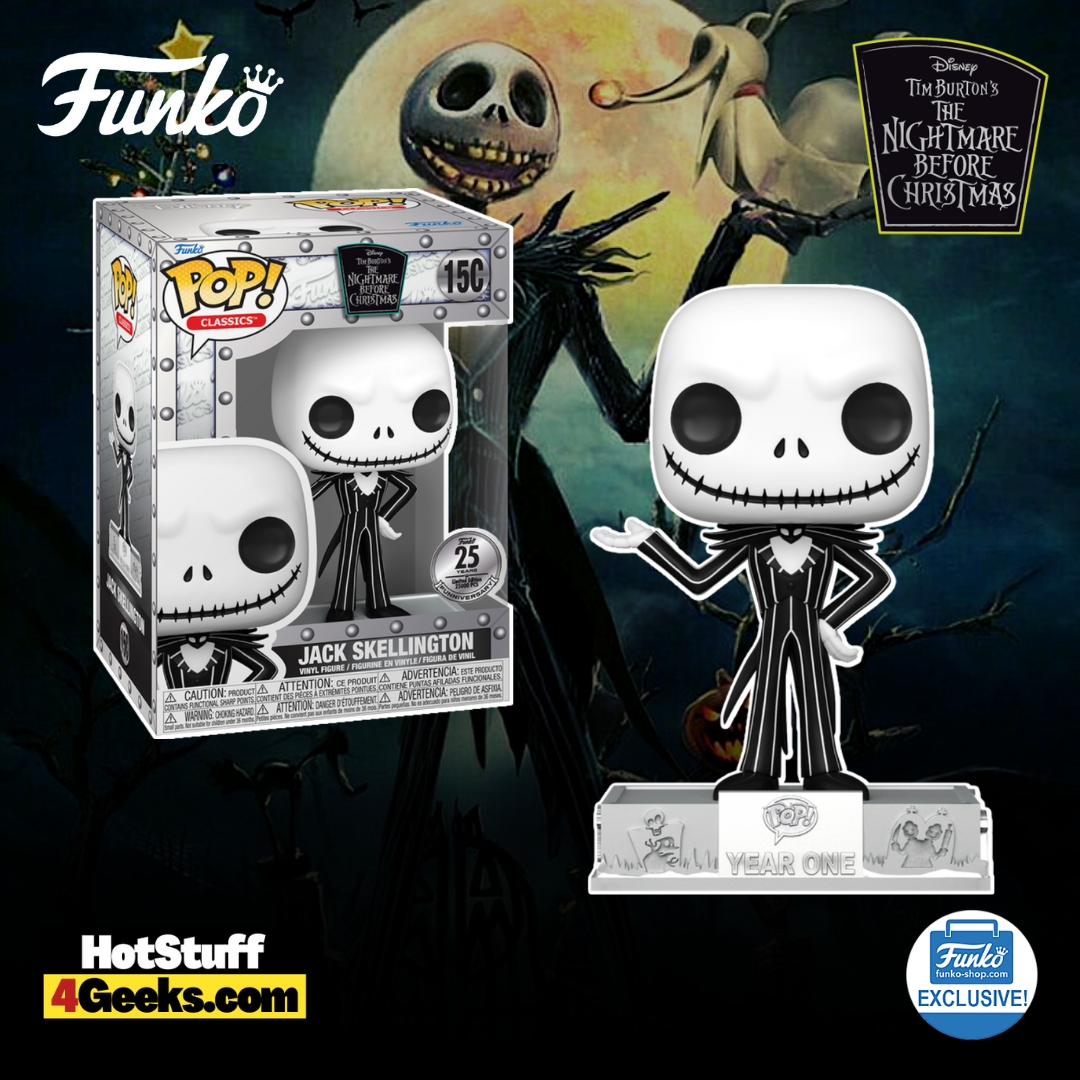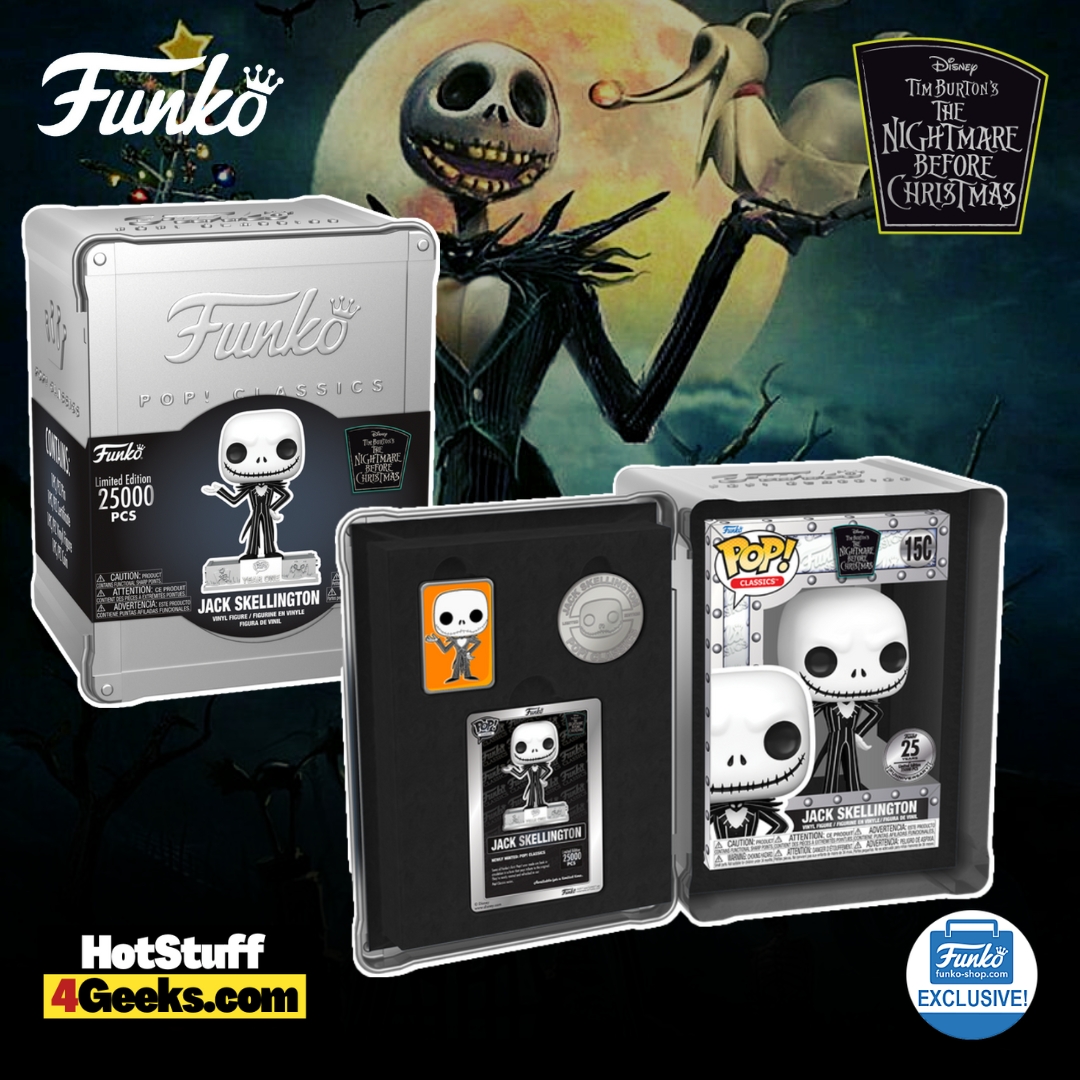 Unlocking the Hidden Shadows of "The Nightmare Before Christmas": The Theories You Didn't Know You Needed
If you're anything like me, you've spent countless Octobers (and quite possibly some Decembers) binge-watching "The Nightmare Before Christmas."
A beloved classic, this stop-motion masterpiece has more layers than Sally's patchwork dress.
Now, you may think you know the eerie landscapes of Halloween Town like the back of your hand, but the fan theories out there about this iconic film will have you questioning everything you thought you knew.
The Grinch and Jack Skellington: One and the Same?
Let's kick things off with a jaw-dropper. Could it be that Jack Skellington is actually the Grinch reincarnated? Wait, don't click away! Hear me out.
There are fans out there who suggest that when the Grinch was a baby, he was sent to Christmas Town, not Halloween Town. That's why he doesn't quite fit in with the Whos.
Over time, the Grinch embraces the Yuletide spirit, lives out his days, and eventually dies.
His soul then gets zapped to Halloween Town, memory wiped clean. Suddenly, when Jack stumbles into Christmas Town, his fascination becomes a rekindled love.
Oh, and the clincher? Both have dogs as companions. Coincidence? I think not.
The Burtonverse: A Trilogy in Disguise
What if I told you that "The Nightmare Before Christmas" is only part of a Tim Burton trifecta?
Yup, alongside "Frankenweenie" and "The Corpse Bride," it's thought that all three films occupy the same universe. Victor, the dog-loving boy in "Frankenweenie," ages into the man we meet in "The Corpse Bride."
Eventually, he dies and becomes—drumroll, please—Jack Skellington! Could these characters be merely different life stages of the same soul?
The Ghosts of Lives Past
And let's not overlook the dark theories about how each character met their mortal end. Take Jack Skellington, for instance.
Some believe he died a fiery death, explaining his tendency to combust on-screen spontaneously. Sally? Dismembered. Hence, her ability to detach and reattach body parts at will.
Oogie Boogie? Perhaps he was skinned alive, hence his bug-filled burlap form.
The Twisted Fates of the Trick-or-Treat Trio
Last but not least, let's discuss the fates of Shock, Lock, and Barrel. These young trick-or-treaters met incredibly morbid deaths—electrocution, freezing, and drowning, respectively.
Their names even nod to the manner of their deaths. Dark? Absolutely. This is a Tim Burton film. What did you expect?
In conclusion, these intricate theories reframe "The Nightmare Before Christmas" as a labyrinth of interconnected lives and fates. It's a rich tapestry that invites exploration, debate and a whole new level of fan engagement.
So, the next time you sit down to watch this cult classic, remember these theories. They might make your experience all the more intriguing.
Funko Pop! Classics: Funko 25th Anniversary – Jack Skellington (Classic) Funko Pop! Box – Funko Shop Exclusive
Available at:
Starting now, you can receive 10% off in-stock items with my special link at Entertainment Earth!
 Enjoy!
As an Amazon Associate I earn from qualifying purchases
Want more stuff like this?
Get the best viral stories straight into your inbox!
Don't worry, we don't spam