2023 NEW Funko 25th: Maleficent (Classic) Funko Pop! Box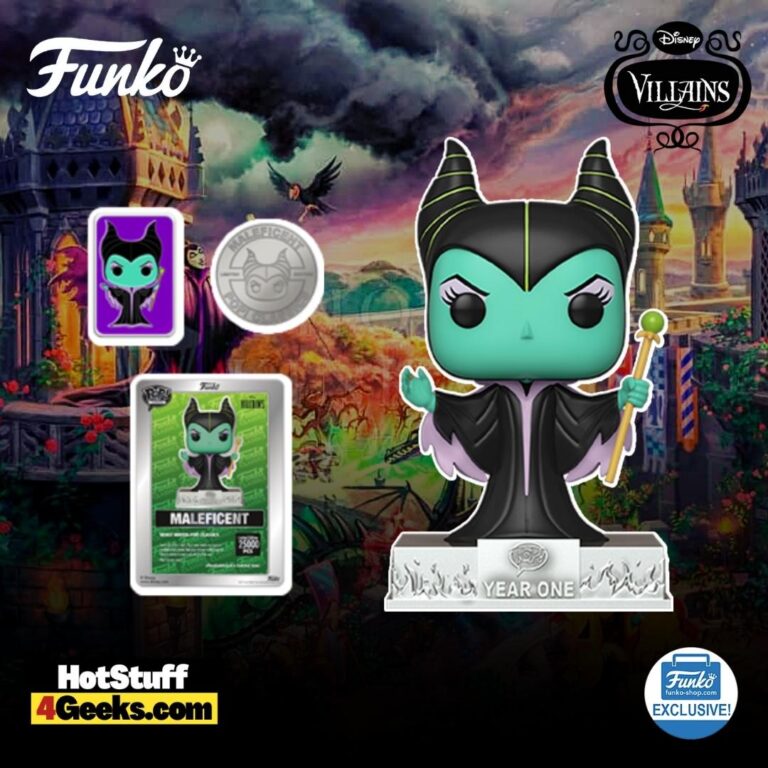 In a celebration of sinister elegance, Funko brings back the iconic Disney villain Maleficent in a stunningly detailed limited edition. Introducing the new Funko Pop! Classics: Funko 25th Anniversary – Maleficent (Classic) Funko Pop! Box – Funko Shop Exclusive, a must-have for any Sleeping Beauty fan.
Maleficent is releasing today at 9.30 AM PT! To get your hands on this Pop Bundle at its release, be sure to check out the links I've provided below – click to jump or scroll to continue reading!
The Return of the Mistress of Evil: Unveiling the Maleficent (Classic) Funko Pop!
Packed with meticulous care, Maleficent awaits within a tin protective case, embossed to look like a vault door, her wicked grace cushioned in black velvet.
On opening, the eyes are greeted by Pop! Maleficent herself, elegantly poised on a detachable base, housed within a silver-tone window box.
Accompanying her are unique collectibles, an enamel Pop! Pin and a stainless-steel Pop! Coin, both bearing the face of the Mistress of Evil.
What's more, this exclusive set comes with a foil Certificate Card detailing Maleficent's biography, a touch that adds to the mystique of this collector's item.
Limited to just 25,000, this is a grand tribute to the character who continues to enchant us with her dark allure.
If Maleficent holds a spell over your Disney collection, this Funko Pop! is an irresistible enchantment.
The Funko Shop Exclusive Maleficent (Classic) Funko Pop! Box  can be found for purchase at the links below (click to jump!)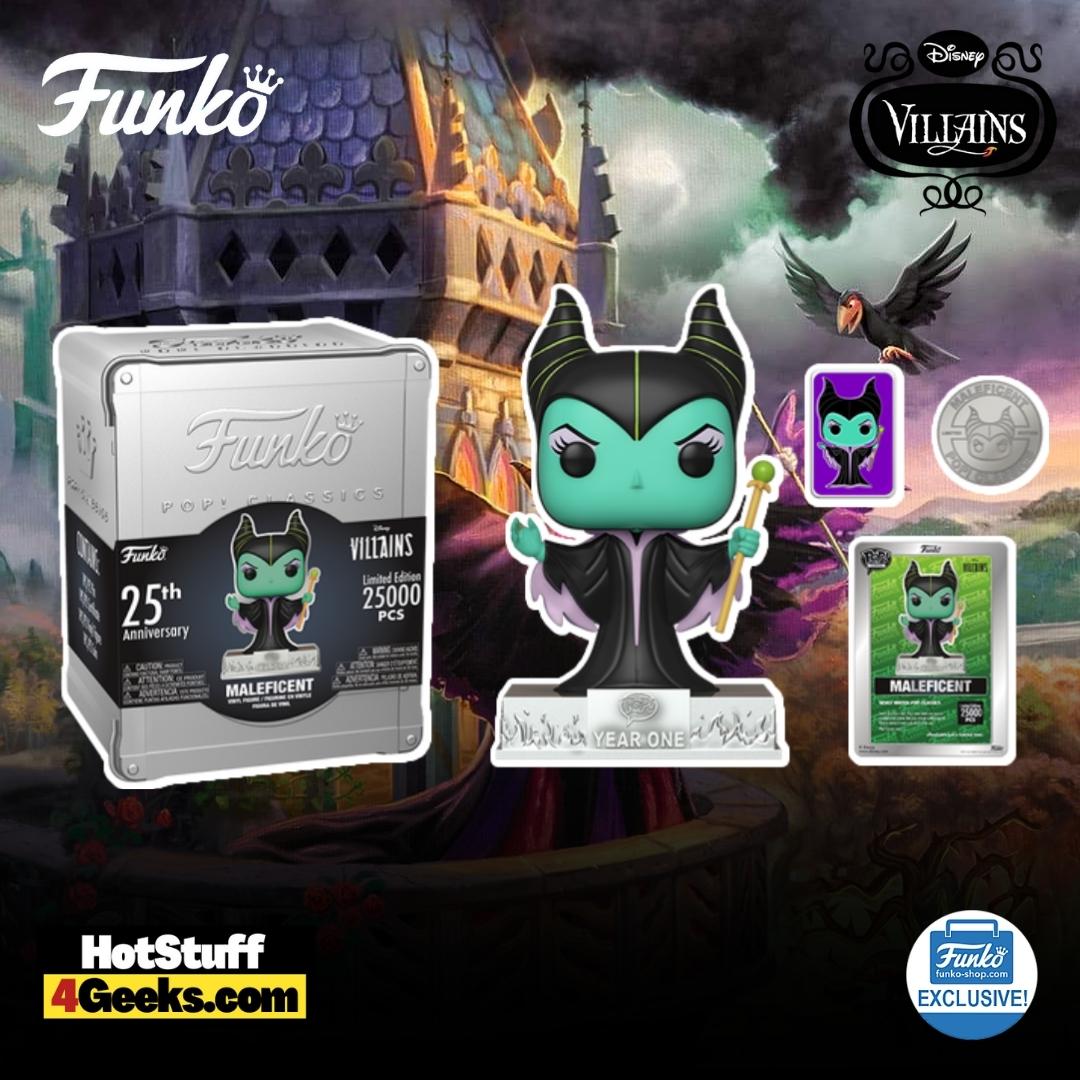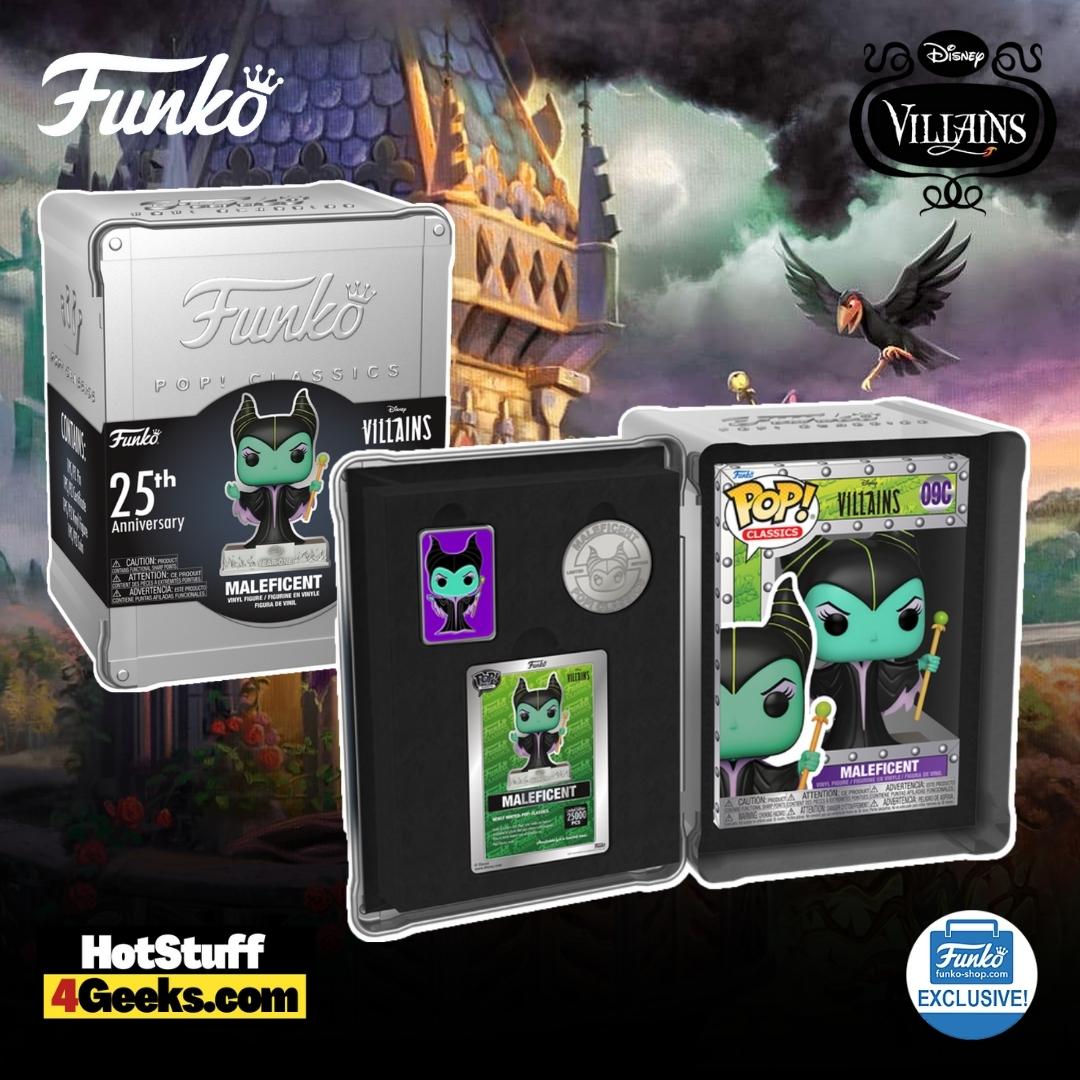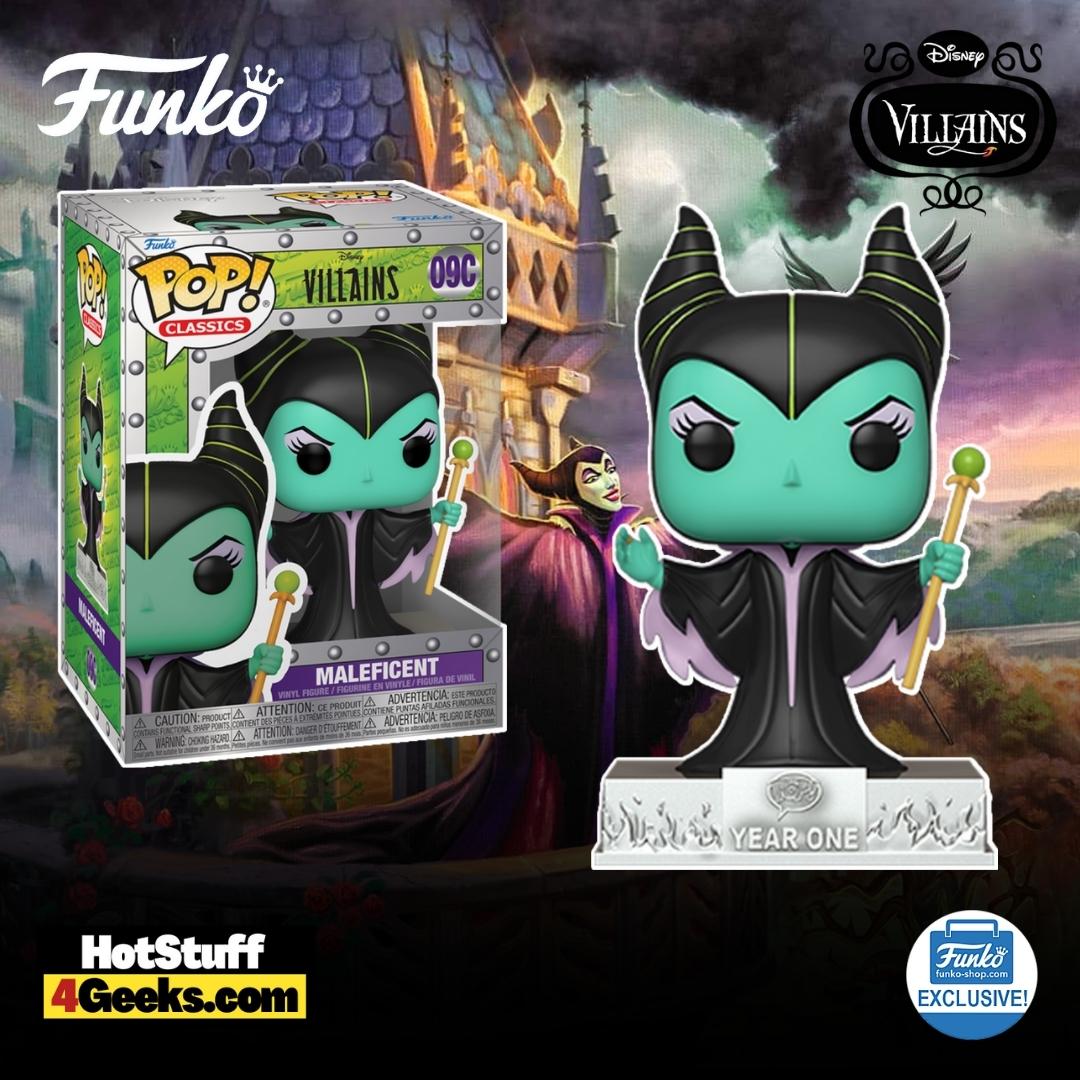 The Alluring Aura of Maleficent: Disney's Mistress of Evil
In the world of animated villains, few command the screen with as much poise and dramatic flair as Maleficent, the infamous antagonist from Disney's Sleeping Beauty.
Over the decades, she has risen to iconic status, standing tall amidst Disney's vast roster of characters and captivating audiences with her bold and undeniably intriguing persona.
From the moment Maleficent was introduced in 1959, she defied norms.
Marc Davis, the artistic genius behind her design, conceived her as an intriguing cocktail of femme fatale and vampire bat, straying far from the commonplace portrayal of witches and old hags.
Instead, she carried herself with the striking allure of an enchantress, her horned silhouette etched against the eerie backdrop of a decaying castle – a sight as fascinating as it was terrifying.
Eleanor Audley, the voice behind Maleficent, infused her with a rich timbre as potent and seductive as the character herself, making Maleficent stand out from the crowd of Disney villains.
Part of Maleficent's appeal lies in her unfettered embrace of her evil nature.
There is no pretense of a tragic backstory to justify her deeds, no shred of redemption lurking behind her evil acts.
Instead, she pursues her vendetta with glee, cursing an innocent infant to eternal sleep simply for a forgotten invitation. She is the essence of villainy, unapologetically wicked and delightfully vivid.
Her portrayal in the live-action adaptations starring Angelina Jolie offered us a more nuanced take on her character.
However, while her tragic backstory provided depth, her original, unrestrained wickedness had already captured the hearts of audiences.
Even after the live-action adaptations, she remains, in our collective consciousness, the charismatic sorceress who cursed Princess Aurora, devoid of any need for redemption or remorse.
Maleficent's dark allure also lies in her tremendous magical prowess.
She weaves curses, transforms her minions into stone, engulfs a castle in thorns, and shape-shifts into a mighty dragon – all with effortless grace.
Her seemingly boundless abilities make her an awe-inspiring figure, a sight to behold, and a villain to be reckoned with.
Since her debut, Maleficent has carved her own path, becoming a symbol of power and enigma in Disney's realm.
She has been a part of various Disney narratives, from "Once Upon A Time" to "The Descendants," asserting her presence even beyond the confines of Sleeping Beauty.
In the Disney parks, her dragon avatar features prominently, a testament to her enduring popularity.
In essence, Maleficent is a character that revels in her darkness and relishes her villainy, a stark contrast to the heroes she battles against.
Her captivating persona, unabashed love for drama, and unforgettable design make her such a beloved figure in popular culture.
As Disney's Mistress of Evil, Maleficent reigns supreme, a testament to the fact that sometimes, being bad can be quite alluring.
Funko Pop! Classics: Funko 25th Anniversary – Maleficent (Classic) Funko Pop! Box – Funko Shop Exclusive
Available at:
Starting now, you can receive 10% off in-stock items with my special link at Entertainment Earth!
 Enjoy!
As an Amazon Associate I earn from qualifying purchases
Want more stuff like this?
Get the best viral stories straight into your inbox!
Don't worry, we don't spam