2023 NEW Funko! Music Mystery Box w/ Golden Notorious B.I.G. w/ Fedora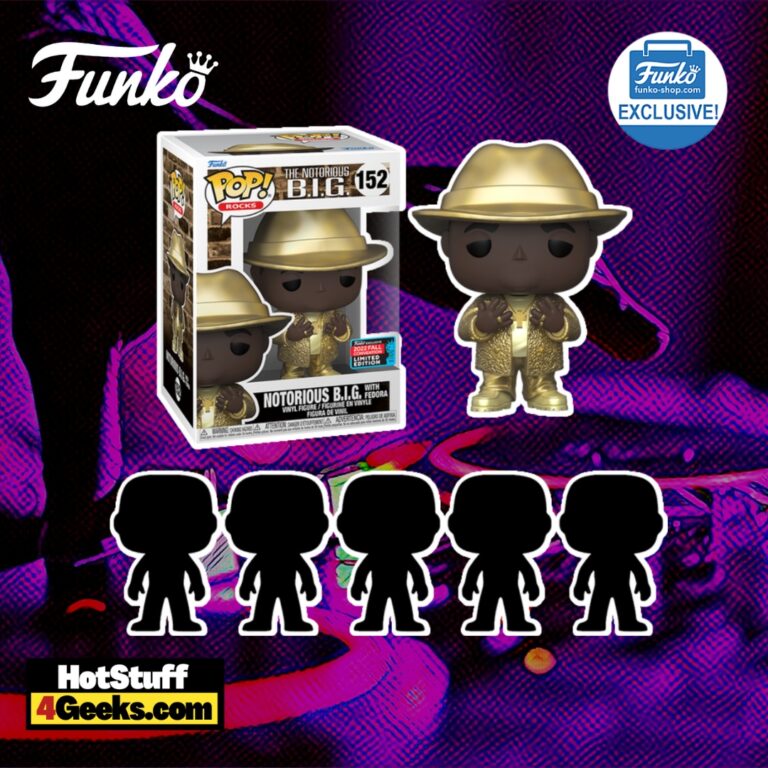 Amplify your Pop! Rocks collection with a harmonious addition that's sure to hit all the right notes – the new Pop! Rocks – Music Mystery Box – Funko Shop Exclusive, featuring the Golden Notorious B.I.G. with Fedora Funko Pop! Vinyl Figure.
The box releases today at 9.30 AM PT at the links below – click to jump or scroll to continue reading! 
This sensational ensemble includes 6 Pop! Rocks figures that will send a shockwave through your display shelf, with the main act being none other than the Golden Notorious B.I.G. with Fedora.
This exclusive Pop! is more than just a collectible; it's a tribute to one of the greatest, a lyrical genius whose influence echoes through time.
Alongside Biggie Smalls, the box features three mystery exclusives and two mainline figures waiting to be unveiled.
Who are they? Well, that's the mystery!
They could be anyone, from head-banging rockers to smooth crooners.
Whoever they are, they're ready to collaborate with the other stars in your collection.
So, get ready to orchestrate the greatest gig your display shelf has ever seen – because when B.I.G. is in the house, it's a party every day.
But remember, no "Mo Money, Mo Problems" here, only "Mo Funko, Mo Fun!"
The Funko Music Mystery Box with Notorious B.I.G. with Fedora (Golden) Funko Pop! can be found at the links below at its release (click to jump!)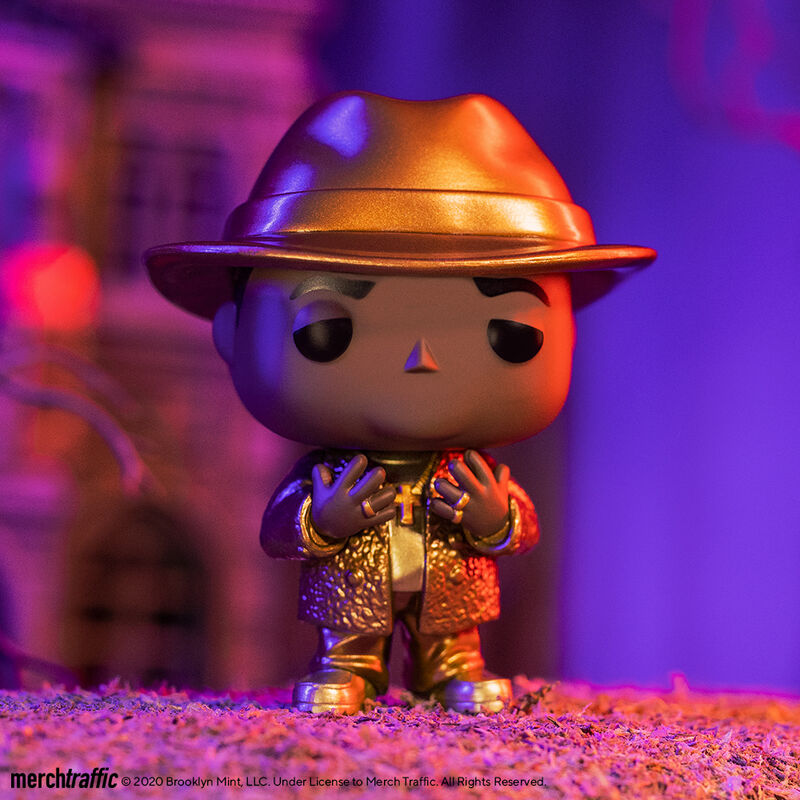 Let's take a lyrical journey into the life of a hip-hop heavyweight, a man who resonated with the boom-bap heartbeat of Brooklyn streets.
A man of many names – Biggie Smalls, Big Poppa, the Notorious B.I.G. Bursting onto the scene with a verbal agility that was as perplexing as it was captivating, Biggie was the man who rapped about the grit and the glory with the same unparalleled eloquence.
Humor me for a moment, and imagine a young Christopher Wallace, not yet known as Biggie Smalls, rapping his heart out in the corner of a Brooklyn block.
His rhymes were his shield, his stories a testament to the trials and tribulations of the streets that raised him.
As he evolved from Christopher Wallace to Biggie Smalls and then to the Notorious B.I.G., it was more than just a name change.
It was a metamorphosis, an artist embracing the magnitude of his talent and the enormity of his influence.
We chuckled when he told us that B.I.G. stood for "Business Instead of Game," but the laughter faded when it morphed into "Bullet In the Gut," a stark reminder of the turbulent times he lived through.
Yet, let's not dwell on the solemn.
For Biggie wasn't just about the struggle; he was also about the celebration.
Remember "Big Poppa," his lyrical toast to the good life?
He had a knack for making you feel like you were right there with him, popping champagne in the backroom of a club or navigating the treacherous tides of street politics.
Let's end this on a high note – a nod to the master lyricist, the storyteller, the legend.
Here's to the Notorious B.I.G., the man who taught us that the sky's the limit and that "mo' money" could indeed lead to "mo' problems," but in the same breath reminded us that it's all good, baby, baby.
Funko Pop! Rocks – Music Mystery Box with Notorious B.I.G. with Fedora (Golden) Funko Pop! Vinyl Figure  – Funko Shop Exclusive
Available at:
Starting now, you can receive 10% off in-stock items with my special link at Entertainment Earth!
 Enjoy!
As an Amazon Associate I earn from qualifying purchases
Want more stuff like this?
Get the best viral stories straight into your inbox!
Don't worry, we don't spam