2023 NEW George Clinton Parliament-Funkadelic Funko Pop!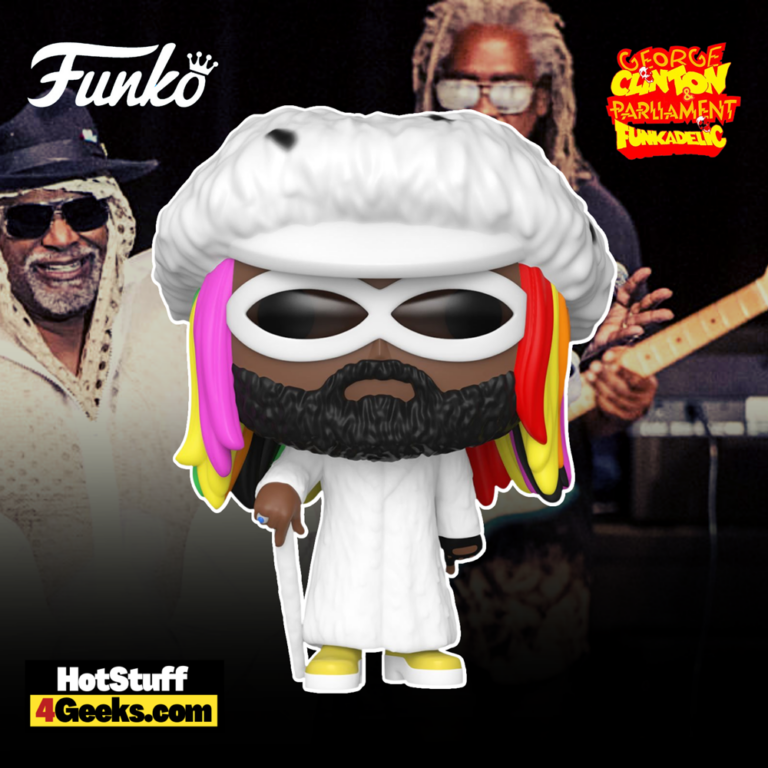 Assembling the vast and vibrant cosmos of George Clinton's Parliament-Funkadelic, the latest Funko Pop! Rocks: George Clinton Parliament-Funkadelic Funko Pop! Vinyl Figure addition has left fans spellbound. This groovy collectible pays tribute to the man who brought the intergalactic funk movement to life, Dr. Funkenstein himself, George Clinton.
The pop figure is now available for pre-order at the links below – click to jump or scroll to continue reading!
The George Clinton Parliament-Funkadelic Funko Pop! character bursts with personality and style, capturing the essence of Clinton's otherworldly stage presence.
Donning his iconic rainbow-colored hair and psychedelic ensemble, the figure encapsulates the kaleidoscopic essence of P-Funk's pioneering leader.
The intricate details of the Funko Pop! capture the imagination of both seasoned P-Funk fans and newcomers alike.
From his signature platform boots to the cosmic aura surrounding him, this collectible is a testament to the boundless creativity that characterizes George Clinton's musical legacy.
This tiny, funky maestro is a must-have addition to any collection, reminding us all to embrace the power of music and imagination.
With the George Clinton Parliament-Funkadelic Funko Pop! perched on your shelf, you'll be inspired to let your own freak flag fly.
So, gather your fellow funkateers and prepare to embark on a cosmic journey as you groove to the legendary sounds of George Clinton and his interstellar ensemble.
George Clinton Parliament-Funkadelic Funko Pop! is now available for pre-order at the links below (click to jump!) It's expected to be released in July 2023.
Step into the cosmic world of George Clinton and Parliament-Funkadelic (P-Funk), where interstellar grooves, otherworldly characters, and spellbinding performances have captivated audiences for over five decades.
As pioneers of funk music, they've inspired countless artists and transformed the sound of popular music.
Before the Mothership touched down, George Clinton was just a teenager from Plainfield, New Jersey, with a love for doo-wop harmonies.
He formed his own band, the Parliaments, and they eventually made their way to Detroit, where Clinton joined the Motown ranks as a songwriter, producer, and arranger.
However, Clinton's thirst for innovation and experimentation led to the rebranding of the Parliaments as Funkadelic, with a fresh sound blending soul, gospel, and heavy rock.
Inspired by cartoons and the power of character-driven storytelling, Clinton created a universe inhabited by a colorful cast of heroes and villains that would become the foundation of P-Funk's mythology.
Parliament and Funkadelic, while separate entities, were two sides of the same intergalactic coin.
Through elaborate costumes, fantastic album artwork, and theatrical performances, they transported fans to a world where everyone had a place on the Holy Mothership, united by a love for funk.
A defining feature of Parliament-Funkadelic's sound is the unmistakable basslines of Bootsy Collins.
Collins' masterful playing, marked by squiggly lines, sensual growls, and thumping rhythms, brought the bass to the forefront, creating a backbone for the band's timeless grooves.
From Funkadelic's 1970 album "Free Your Mind… and Your Ass Will Follow" to Parliament's infectious hits like "Flash Light" and "Give Up the Funk," these basslines became the foundation for a legacy that would inspire generations to come.
Although George Clinton and Parliament-Funkadelic experienced their share of challenges, their impact on the music world is undeniable.
Artists like Kendrick Lamar, Thundercat, and Flying Lotus have drawn from P-Funk's legacy.
At the same time, Childish Gambino's "Awaken, My Love!" is an unmistakable homage to the fluid sexuality and boundless creativity of Clinton's bands.
Even today, Parliament continues to release music, with Clinton's influence resonating through every note.
George Clinton and Parliament-Funkadelic's journey through the galaxy of funk has left an indelible mark on the music industry.
As a visionary, Clinton's unwavering commitment to creativity and unity has brought joy to millions and inspired countless artists to push the boundaries of their own musical expression.
So, as we continue to ride the cosmic waves of P-Funk, let's not forget the interstellar grooves that have propelled us on this fantastic voyage, courtesy of the inimitable George Clinton.
Funko Pop! Rocks: George Clinton Parliament-Funkadelic Funko Pop! Vinyl Figure
Available at:
Starting now, you can receive 10% off in-stock items with my special link at Entertainment Earth!
 Enjoy!
As an Amazon Associate I earn from qualifying purchases
Want more stuff like this?
Get the best viral stories straight into your inbox!
Don't worry, we don't spam