2023 NEW GotG – Star-Lord (Awesome Mix) Funko Pop! Album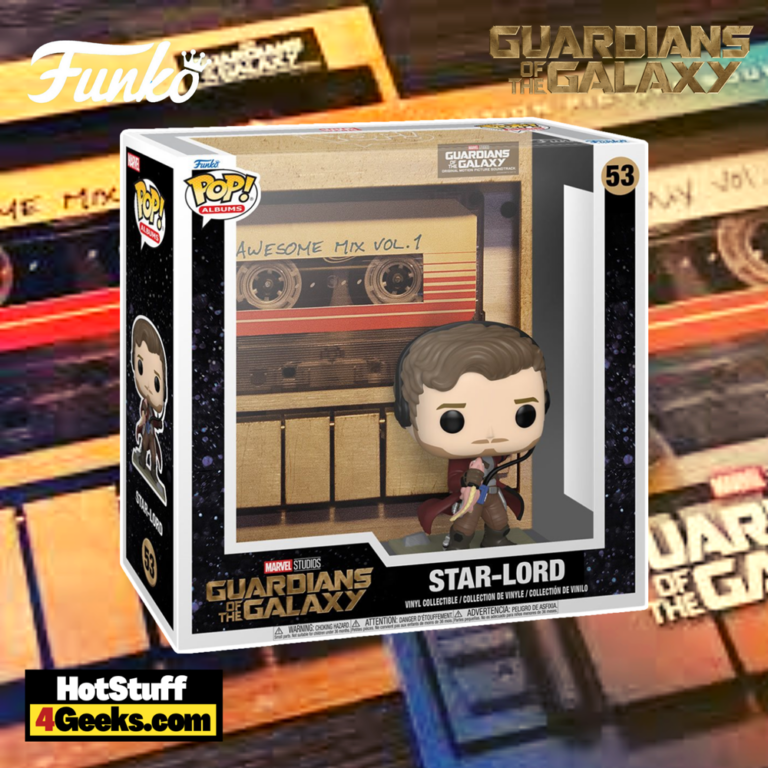 Behold the swagger and groove of Star-Lord, the intergalactic hero with an undeniably eclectic taste in music! This new Funko Pop! Albums: Guardians of the Galaxy – Star-Lord (Awesome Mix) Funko Pop! Album Vinyl Figure! pays homage to Peter Quill's colorful character and his beloved mixtape, which is at the heart of his persona. With his finger on the pulse of 70s and 80s tunes, Star-Lord blasts through the cosmos, rockin' and rollin' to the beats of his "Awesome Mix."
The pop figure is now available for pre-order at the links below – click to jump or scroll to continue reading!
As the self-proclaimed "legendary outlaw," Star-Lord, played by the charming Chris Pratt, is a sophisticated mix of roguish charm and quick wit.
His connection to Earth and its vintage tunes provides a surprisingly heartwarming element to his character, who's always ready to save the galaxy with his trusty Walkman by his side.
This Funko Pop! showcases Star-Lord in a design that screams, "I'm ready to dance my way out of trouble."
The figure's pose captures his confident, sassy demeanor. Yet, at the same time, the mini cassette player accessory serves as a nod to the iconic soundtrack that makes the Guardians of the Galaxy franchise genuinely unforgettable.
Star-Lord (Awesome Mix) Funko Pop! Album is now available for pre-order at the links below (click to jump!) It's expected to be released in July 2023.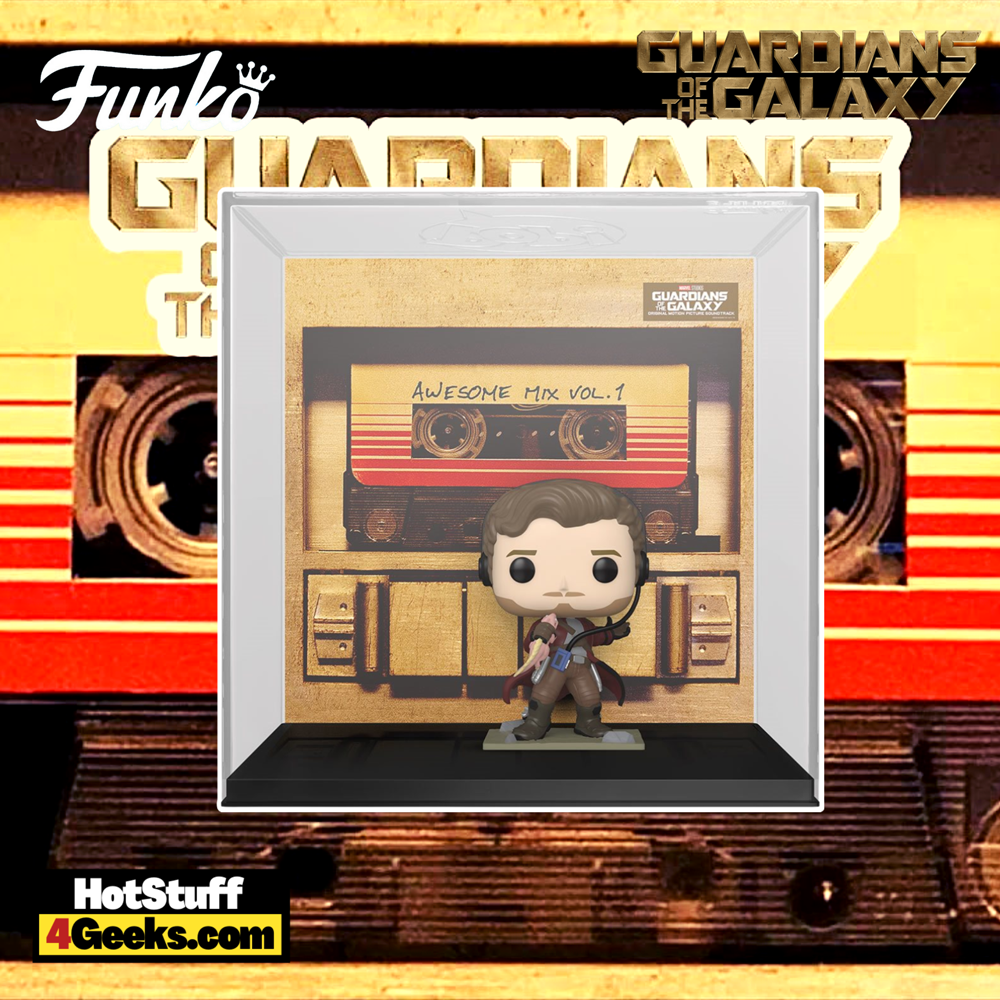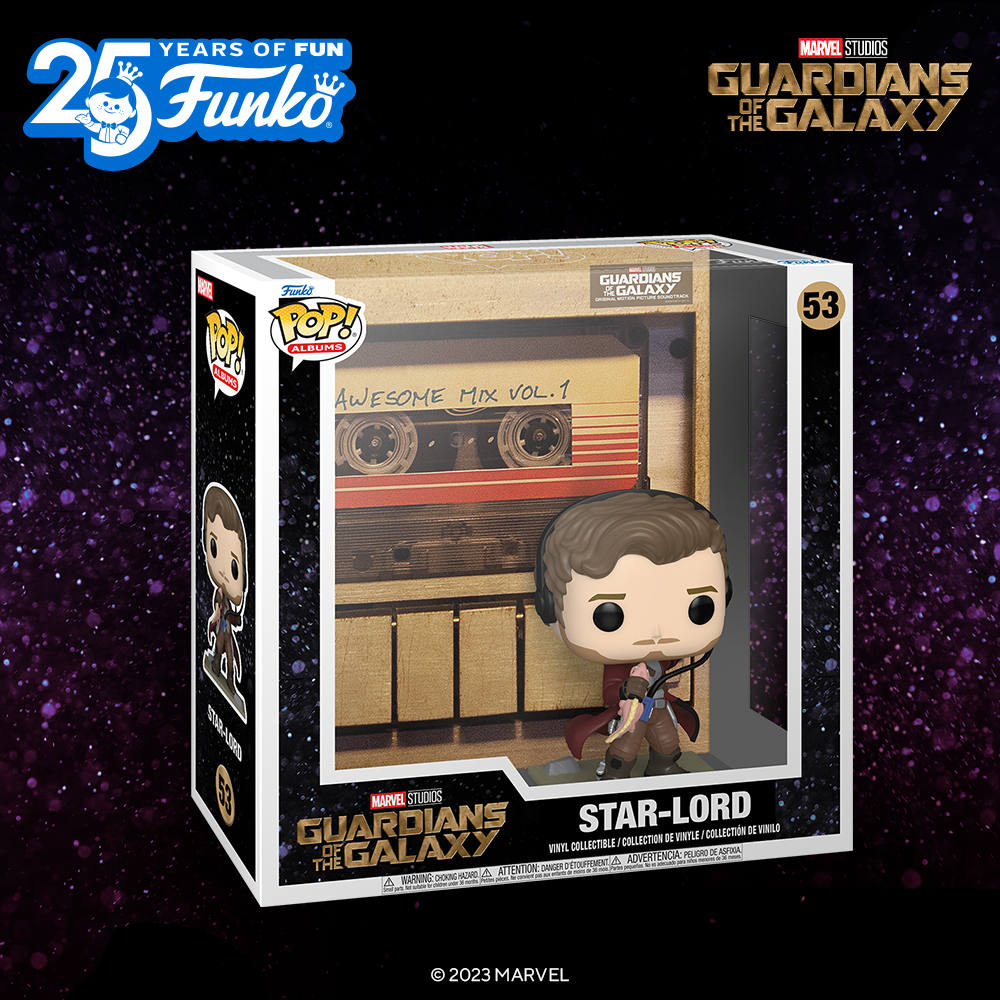 For those who've been living under an intergalactic rock, Guardians of the Galaxy is a Marvel movie franchise that follows the adventures of a ragtag team of space misfits.
Led by the charismatic and hilarious Peter Quill, aka Star-Lord (played by Chris Pratt), the Guardians are known for their wisecracking humor and action-packed escapades.
The Awesome Mix is more than just a soundtrack; it's an integral part of the Guardians' identity.
The mixtape, a collection of classic 70s and 80s tunes, is a gift from Peter Quill's late mother.
As a result, it serves as a connection to his Earth-bound past and adds emotional depth to the high-flying space opera.
Guardians of the Galaxy's Awesome Mix Vol. 1 and Vol. 2 are chock-full of chart-topping hits, like "Hooked on a Feeling" by Blue Swede, "Ain't No Mountain High Enough" by Marvin Gaye and Tammi Terrell, and "Mr. Blue Sky" by Electric Light Orchestra.
These tracks have not only become synonymous with the films, but they've also reignited a love for classic tunes among new generations of fans.
It's no secret that Guardians of the Galaxy is packed with witty banter and laugh-out-loud moments.
What makes this franchise stand out, however, is its perfect blend of humor, action, and heart, with the Awesome Mix serving as the cherry on top.
The music is masterfully interwoven into the narrative, providing a backdrop for epic space battles and quiet moments of introspection alike.
This unique blend of sound and story creates a memorable movie-going experience that keeps fans returning for more.
Plus, let's be honest, who doesn't love a good dance-off to save the universe?
Funko Pop! Albums: Guardians of the Galaxy – Star-Lord (Awesome Mix) Funko Pop! Album Vinyl Figure
Available at:
Starting now, you can receive 10% off in-stock items with my special link at Entertainment Earth!
 Enjoy!
As an Amazon Associate I earn from qualifying purchases
Want more stuff like this?
Get the best viral stories straight into your inbox!
Don't worry, we don't spam