2023 NEW Gremlins: Gizmo & Stripe Blacklight Funko Pops!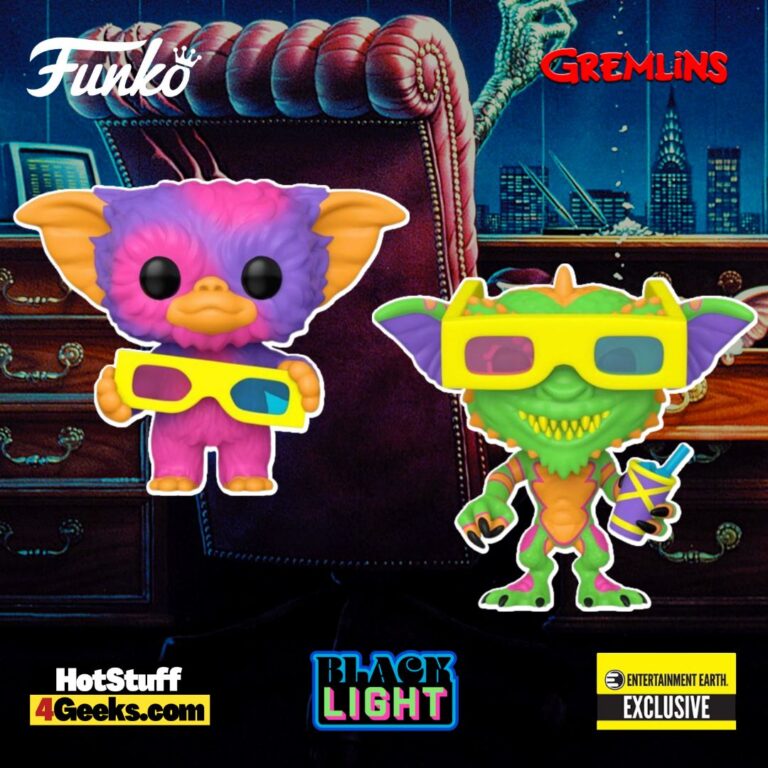 Say hello to the newest addition to your collectibles: The new Funko Pop! Movies: Gremlins: Gizmo & Stripe Blacklight Funko Pop! Vinyl Figures – Entertainment Earth Exclusives. These little fellas, though minuscule, bring the larger-than-life personalities of the lovable Gizmo and the menacing Stripe to your shelf. They might be static vinyl figures, but they truly encapsulate the spirit of these iconic characters.
The pop figures are now available for pre-order at the links below – click to jump or scroll to continue reading! 
Feast your eyes on Gizmo Blacklight Funko Pop!, the epitome of irresistible cuteness and genuine goodness. This little guy's figure is more than just an artifact.
It's an embodiment of the alien Mogwai's inquisitive spirit.
His blacklight glow adds an ethereal charm that captures his unearthly origins, making you feel like he's humming a sweet tune, ready to dive into his next TV show marathon.
On the other side of the spectrum is Stripe Blacklight Funko Pop!, the infamous mischievous Mogwai turned Gremlin.
Despite his compact vinyl form, the essence of Stripe's impishness is unmistakably present. The blacklight effect seems to reveal his cunning grin, almost making you anticipate his next prank.
Yet, he remains safely confined within the vinyl, with no chance of midnight snacks and unplanned transformations.
These Gizmo and Stripe Blacklight Funko Pop! figures are more than just visually appealing. Instead, they're a playful homage to the classic 'Gremlins' characters.
A delightful way to relive the magic, the mischief, and the mayhem, all while adding a dash of color and character to your collection.
The Entertainment Earth Exclusives Blacklight Gizmo & Stripe Funko Pops! can be found at the links below at their release (click to jump!)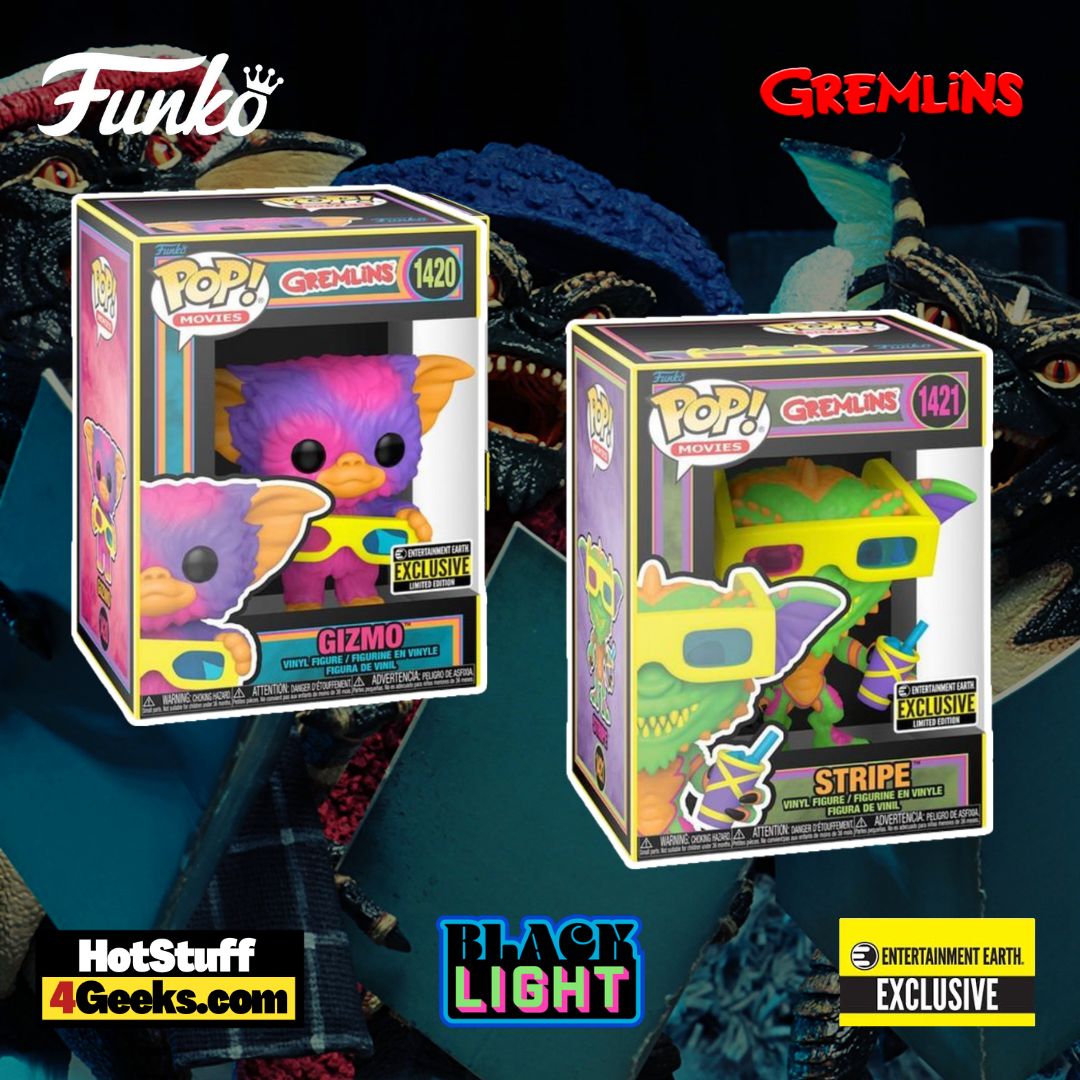 In the whimsical and bizarre universe of Joe Dante's Gremlins, two memorable characters captivate audiences: Gizmo, the loveable Mogwai with the soulful eyes, and Stripe, his evil counterpart with a grimace as sharp as his namesake.
Despite hailing from the same lineage, these two figures couldn't be more different, and therein lies the movie's most mesmerizing paradox.
The eternally endearing Gizmo is a small bundle of cuteness and innocence.
He possesses a captivating blend of curiosity and kindness that won the hearts of audiences worldwide.
With a preference for simple pleasures like singing tunes and watching TV, Gizmo is the personification of pure goodness.
Notably, he refrains from engaging in the mischief his kin delights in, making him an outlier in a species notorious for their nefarious behavior.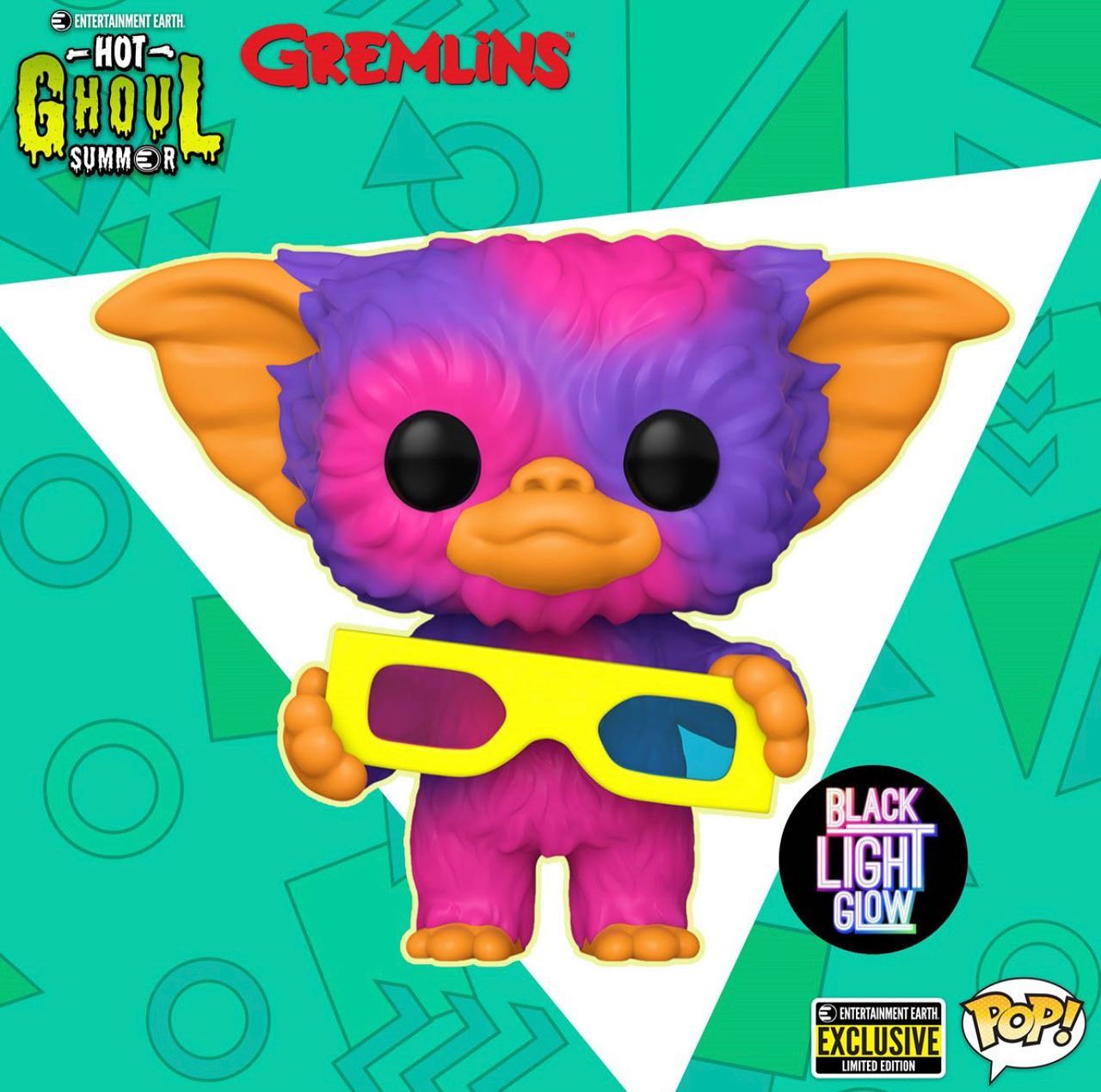 Enter Stripe, a mischievous Mogwai with an evil grin, quite the stark contrast to Gizmo.
The moment he springs from Gizmo's back, Stripe becomes the quintessential ringleader of chaos, transforming into a sharp-toothed killer when he munches after midnight. Stripe's malevolent acts highlight Gizmo's inherent good nature, framing a unique duality in the Gremlin universe.
Their relationship is fraught with tension. Stripe and his gremlin gang torment Gizmo, but intriguingly, they never attempt to kill him.
This odd dynamic creates an electrifying air of suspense, making for riveting cinema.
But why is Gizmo different? The answer lies in the Gremlins' novelization.
An intriguing spin reveals a wild backstory of Mogwai as creatures of an alien race called Mogturmen, intended to inspire peaceful living across the universe.
Unfortunately, a mutation turns most of them bad. Nevertheless, Gizmo maintains his peaceful spirit and is one of the rare, unaffected Mogwai.
The unconventional relationship between Gizmo and Stripe serves as a reminder of the dichotomy of good and evil within us all.
Their captivating tale, whether explained by alien origins or just pure cinema magic, remains a pop culture phenomenon that continues to intrigue audiences, keeping the mystery and charm of Gremlins alive.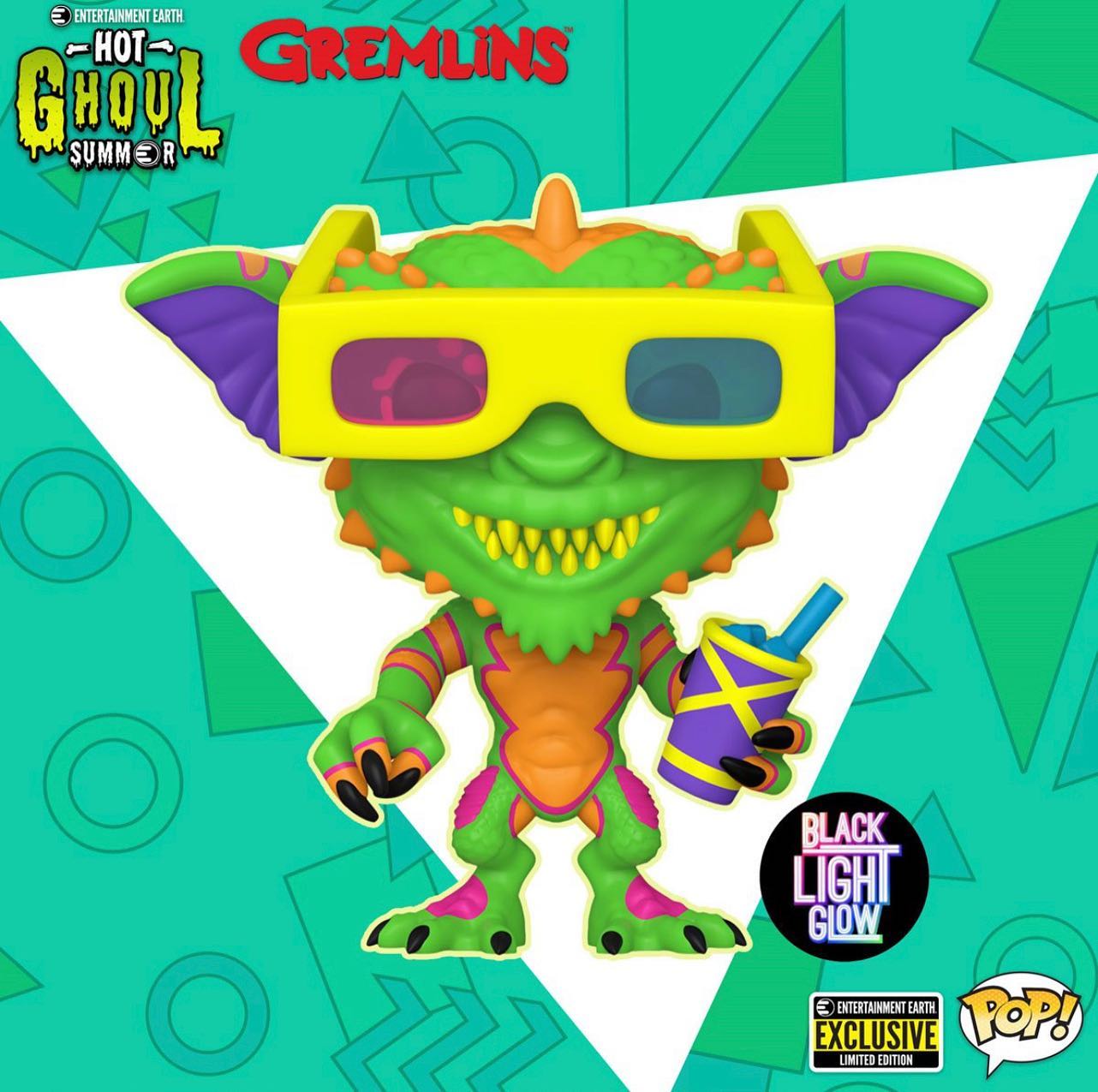 Funko Pop! Movies: Gremlins: Gizmo & Stripe Blacklight Funko Pop! Vinyl Figures – Entertainment Earth Exclusives
Available at:
Starting now, you can receive 10% off in-stock items with my special link at Entertainment Earth!
 Enjoy!
As an Amazon Associate I earn from qualifying purchases
Want more stuff like this?
Get the best viral stories straight into your inbox!
Don't worry, we don't spam