2023 NEW Gwen Stacy Funko Pop! EE Exclusive. A Classic Celebration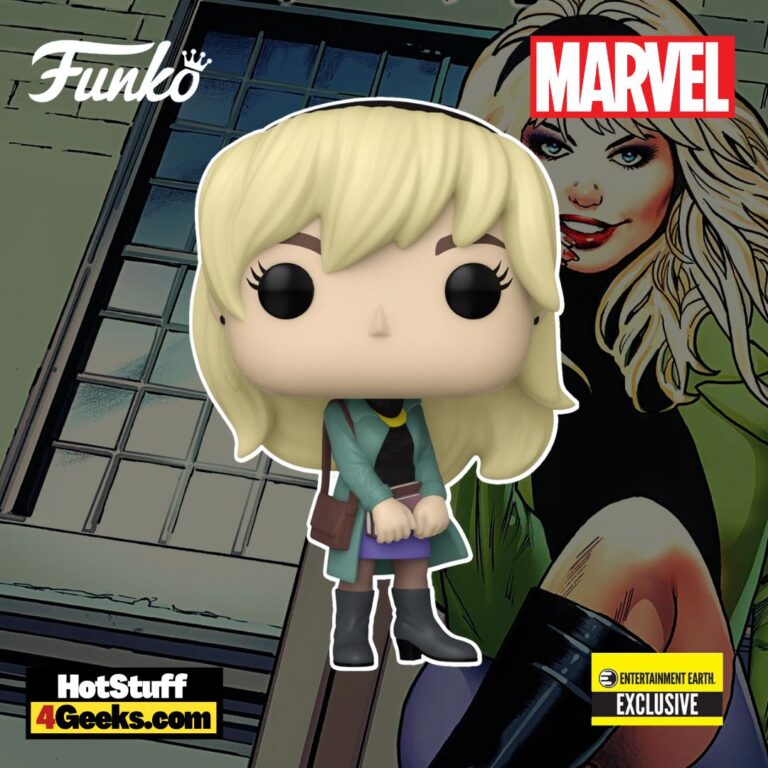 Feast your eyes on the new Funko Pop! Marvel: Gwen Stacy Funko Pop! Vinyl Figure – Entertainment Earth Exclusive. Here's a throwback to classic Gwen, cloaked in her signature long jacket and skirt. This figure celebrates Gwen Stacy, our vibrant, intellectually-driven heroine, and it's not just about the vinyl—it's about the symbol she represents.
To get your hands on this Pop Vinyl Figure, be sure to check out the links I've provided below – click to jump or scroll to continue reading!
Gwen isn't just Peter Parker's love interest. She's an emblem of strength and resilience.
The fact that she's standing here in her traditional attire embodies the essence of who Gwen Stacy was before her transformation into Spider-Gwen.
It's like a heartfelt nod to the beginning of her journey in the Spider-Man universe.
There's a palpable sense of nostalgia attached to this figure that every Spider-Man fan would appreciate.
This is the Gwen Stacy we fell in love with—the one whose strength was in her intellect, compassion, and unyielding spirit.
The figure is a loving tribute to the enduring legacy of Gwen Stacy's character in comics, a testament to her journey from the bookish college student to the hero she ultimately becomes.
The Entertainment Earth Exclusive Gwen Stacy (Classic Outfit) Funko Pop! is now available for pre-order and can be found at the links below (click to jump!)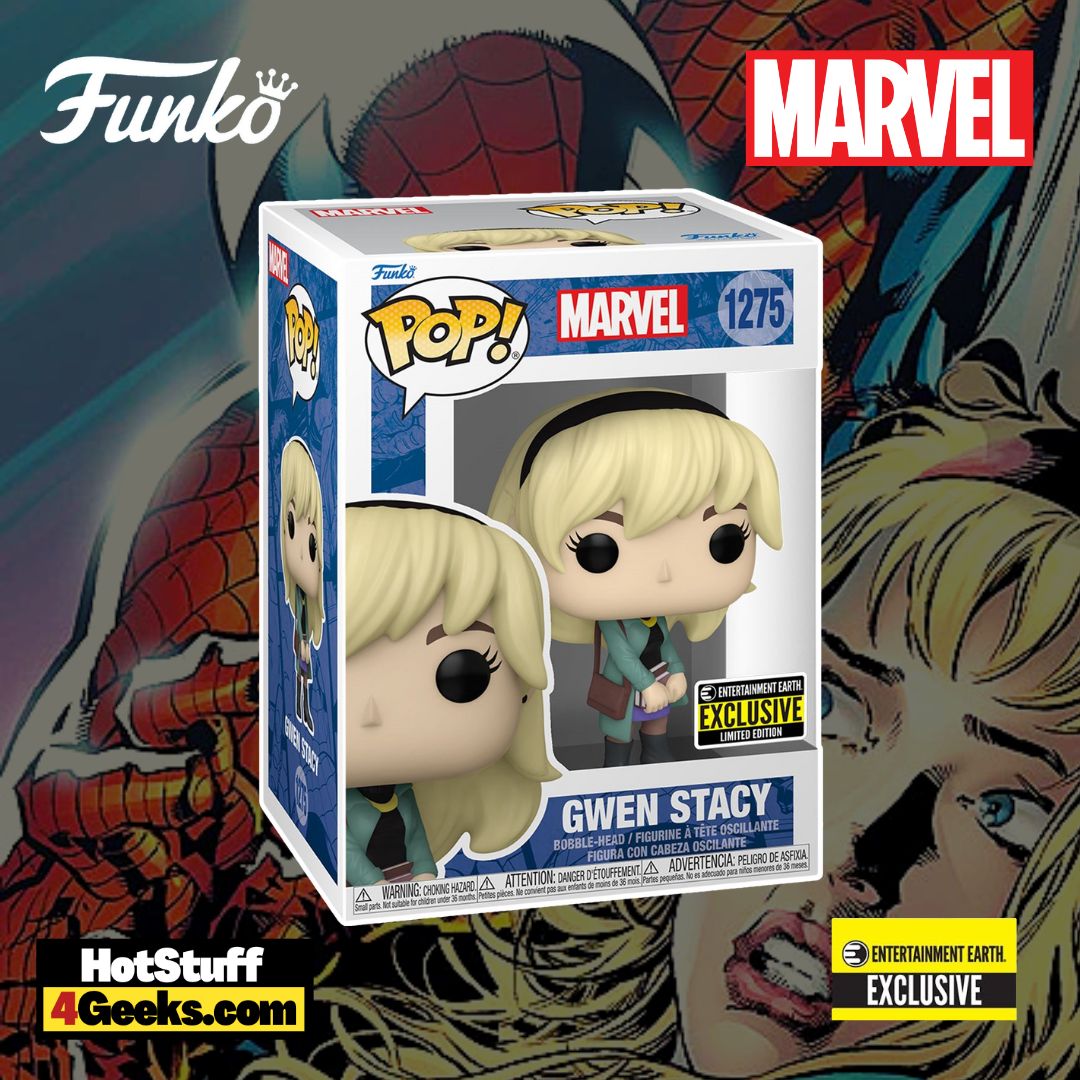 A silver-screen starlet, an intriguing character arc, and a heart-wrenching tale of love and loss—Gwen Stacy from the Spider-Man universe has captivated our hearts.
This intelligent, vivacious blonde was more than just a love interest to our friendly neighborhood Spider-Man.
She also represented a shift in the way comic book heroines were perceived.
Gwen Stacy first entered our lives in 1965, debuting in The Amazing Spider-Man #31.
It was college where she first crossed paths with Peter Parker.
Unlike previous love interests, Gwen's appreciation for Peter's intellect created a deeper bond, showcasing her as an intelligent and empathetic character.
However, Gwen's journey took a tragic turn. Known as one of the most significant plot twists in comic book history, Gwen's death in Amazing Spider-Man #121 shook fans and changed the Spider-Man universe forever.
The storyline pushed boundaries, illustrating that even heroes can't always protect their loved ones.
Though this tragic event painted Gwen as a victim, it indelibly impacted the Spider-Man mythos and comic history.
Yet, that wasn't the end for Gwen. Comics have a way of giving characters new life, and that's precisely what happened to Gwen.
The idea of her being more than just a plot device led to a powerful rebirth.
An alternate universe was created where Gwen Stacy was bitten by the radioactive spider, leading to the emergence of Spider-Woman, better known as Spider-Gwen.
Spider-Gwen's popularity surged.
Her unique story flipped perceptions of Gwen Stacy from being just a tragic love interest to a superhero in her own right.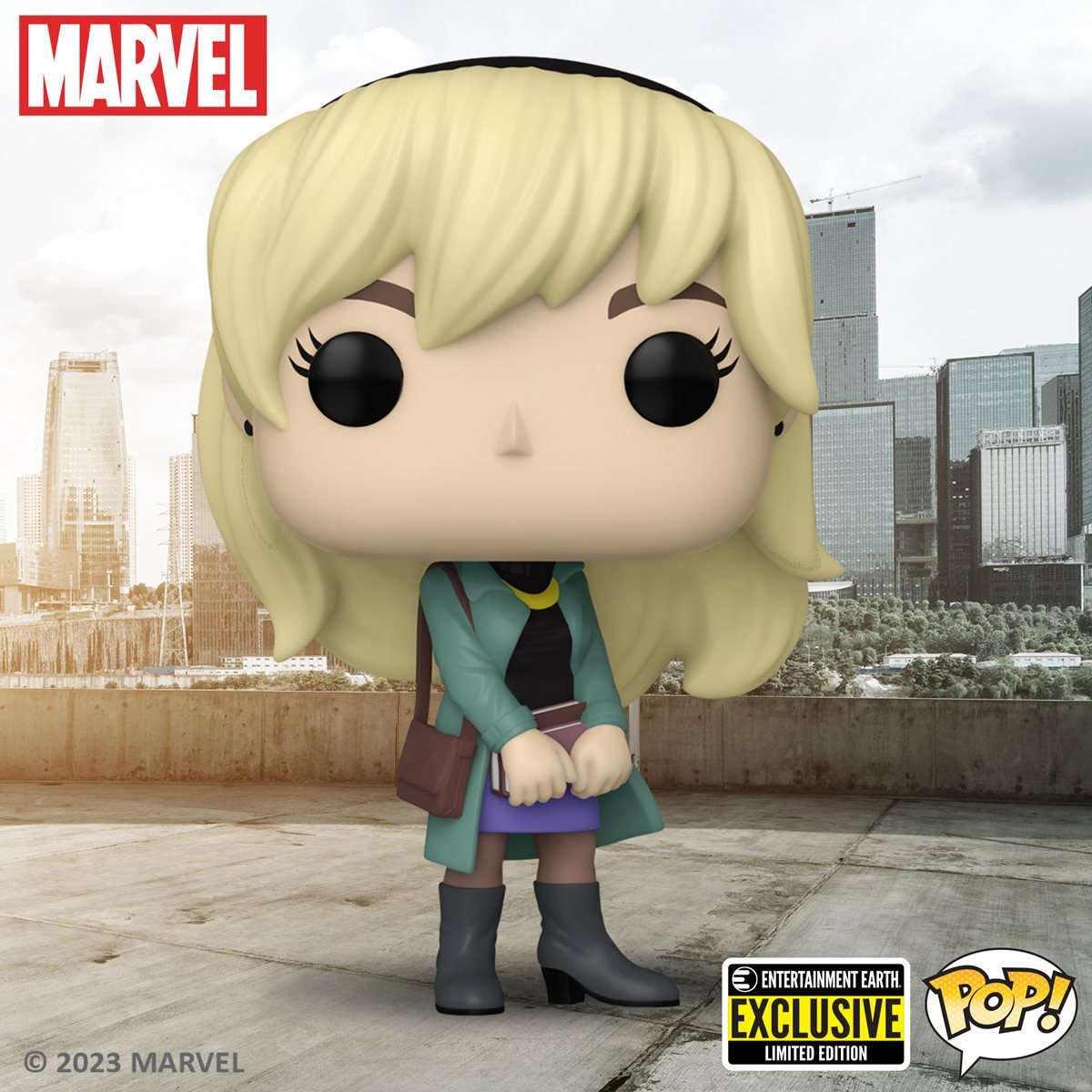 This transformation resonated with fans, making her one of the most popular characters in modern comic history.
As for Gwen's cinematic portrayals, Bryce Dallas Howard and Emma Stone brought nuanced interpretations of her character, adding to her complex nature.
Gwen Stacy's narrative continues to evolve, providing comic fans with a fascinating character to follow.
Through all the highs and lows, Gwen Stacy has remained a central figure in the Spider-Man universe.
Her journey from tragic love interest to a fierce superhero is a testament to the depth of her character, painting her as a dynamic, resilient, and beloved figure in the comic world.
This blonde bombshell has indeed come a long way, forever etching her mark in the annals of comic book history.
Funko Pop! Marvel: Gwen Stacy Funko Pop! Vinyl Figure – Entertainment Earth Exclusive
Available at:
Starting now, you can receive 10% off in-stock items with my special link at Entertainment Earth!
 Enjoy!
As an Amazon Associate I earn from qualifying purchases
Want more stuff like this?
Get the best viral stories straight into your inbox!
Don't worry, we don't spam