2023 NEW Harleen Quinzel Funko POP! Comic Cover. A Tribute to a Classic
If you've ever desired to possess a miniature Harleen Quinzel, your wish has come true with the new Funko Pop! Comic Covers: Harleen Quinzel Funko POP! Comic Cover Vinyl Figure. Inspired by the beautifully detailed "Harleen" graphic novel by Stjepan Sejic, this Funko POP! embodies Harleen Quinzel's character in her rawest form.
UPDATE: Now available for pre-order! To get your hands on this Pop Comic Cover, be sure to check out the links I've provided below – click to jump or scroll to continue reading!
The Charm and Detail of Harleen Quinzel Funko POP! Cover Figure
In the world of Funko POP! collectibles, where whimsy and pop culture collides, this Harleen Quinzel figure stands apart.
A far cry from her flamboyant alter ego Harley Quinn, this figure represents Harleen in her prime as a psychologist, with her ambition and optimism captured in her posture and expression.
With an uncanny attention to detail that mirrors the artistry of Sejic's graphic novel, Funko POP! ensures that Harleen's character essence is not lost.
From her professional attire to the thoughtful glint in her eyes, every element is a nod to the intense narrative we witness in the "Harleen" series pages.
This Harleen Quinzel figure is a standout piece, a fitting tribute to a profoundly complex character.
For those immersed in the nuanced tale of "Harleen," this figure isn't just a collectible – it's a symbol of a story that left an impact.
Harleen Quinzel Funko POP! Comic Cover can be found to purchase at the links below (click to jump!)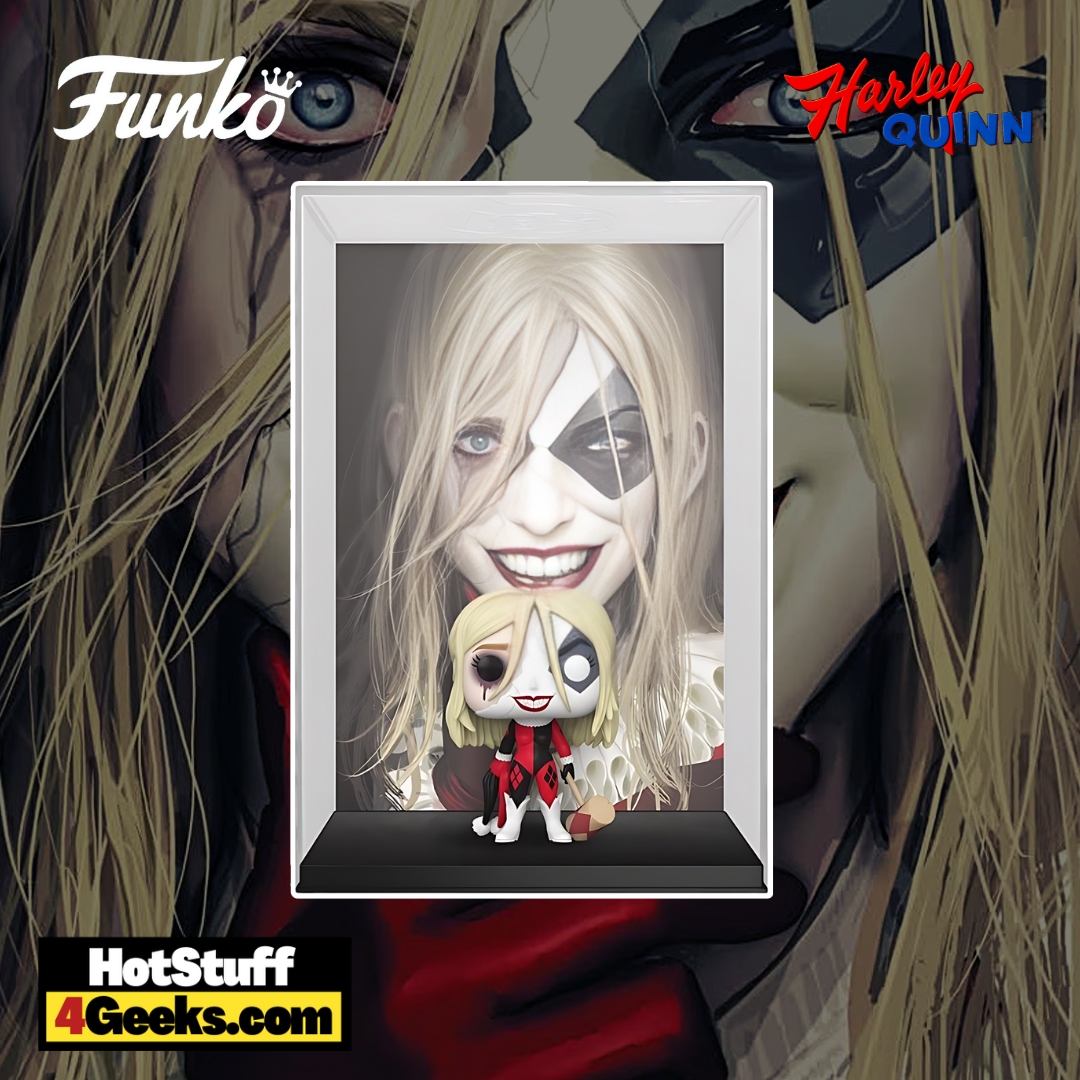 Decoding the Madness and Majesty of 'Harleen
DC Black Label, a niche imprint by DC Comics, has often been the gateway for bringing maturity and depth to beloved characters from our childhood.
The release of "Harleen," a three-part graphic novel series by Stjepan Sejic, is no exception, offering an immersive plunge into the twisted yet captivating origin of Harley Quinn.
Remember the delightful yet somewhat deranged Harley Quinn from Batman: The Animated Series?
"Harleen" retains that essence while bringing a profound narrative complexity to her character, crafting an origin story that explains her transformation and makes us rethink the villain we thought we knew.
The series begins in the grey halls of Arkham Asylum, introducing us to a younger, ambitious, and optimistic Harleen Quinzel.
A psychologist on a mission to understand and heal Gotham's hardened criminals, she believes their ruthlessness is a symptom of deteriorating empathy.
It's this perspective that lands her an interview with the infamous Joker. And so unfolds the intriguing narrative that weaves together the tragic strands of Harley's descent into madness and infatuation.
"Harleen" brilliantly juxtaposes the dark allure of the Joker with Harleen's desperate need to save him.
As readers, we're invited into this labyrinth of manipulation, witnessing Harleen's gradual and heartbreaking unraveling.
It's not just a tale of a woman's manipulation by an arch-criminal but also an exploration of societal pressures, the echo of past mistakes, and the price of ambition in a world quick to judge.
But the story doesn't lose its edge to the heavy themes.
Amid the darkness, there are glimpses of light, a dash of humor, and the promise of redemption.
Moments like Harley's camaraderie with Poison Ivy offer an emotional breather and hint at future alliances.
What sets '"Harleen" apart is its courage to tell a gritty tale about a character often masked by humor and chaos.
It goes beyond the usual superhero-villain dynamic, painting a psychological portrait that is unflinchingly honest and hauntingly human.
It also raises intriguing questions about the parallels between Harley's futile attempts to redeem the Joker and Batman's dogged persistence.
To sum up, "Harleen" by Stjepan Sejic is more than an origin story.
It's a character study—a nuanced exploration of the journey of Dr. Harleen Quinzel, the woman behind the jester mask.
It peels back the layers of a too-often glamorized and simplified character, making us question our perception of Harley Quinn and all those trapped in the complex web of power and manipulation.
So if you're up for an emotional rollercoaster that shakes the foundations of what you thought you knew about Harley Quinn, give "Harleen" a read.
Trust me.
It's one heck of a ride.
Funko Pop! Comic Covers: Harleen Quinzel Funko POP! Comic Cover Vinyl Figure
Available at:
Starting now, you can receive 10% off in-stock items with my special link at Entertainment Earth!
 Enjoy!
As an Amazon Associate I earn from qualifying purchases
Want more stuff like this?
Get the best viral stories straight into your inbox!
Don't worry, we don't spam