2023 NEW Harry Potter: Ravenclaw House Funko Pop! Art Cover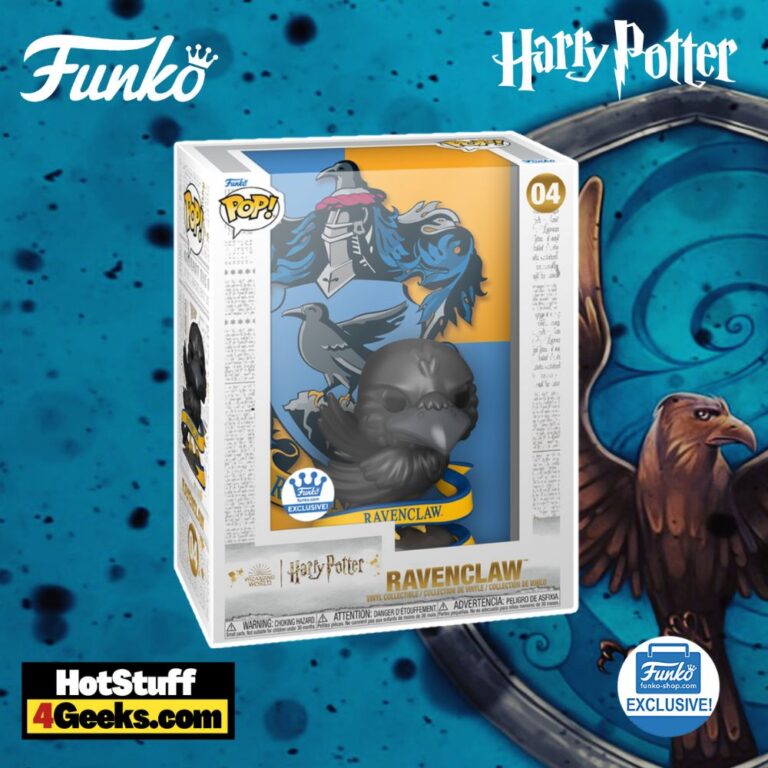 Unveil the magic in your everyday space with the exclusive Funko Pop! Art Covers: Harry Potter – Ravenclaw House with Ravenclaw Raven Funko Pop! Art Cover Vinyl Figure – Funko Shop Exclusive featuring the enigmatic Ravenclaw Raven. This exquisite figure, drenched in regal blues and bronzes, perfectly encapsulates the ethos of the Ravenclaw house.
To get your hands on this Pop Vinyl Figure at its launch, be sure to check out the links I've provided below – click to jump or scroll to continue reading!
A symbol of wisdom and wit, the Ravenclaw Raven Pop! figure is a splendid nod to the noble house.
The vividly detailed figure seems almost alive, as if ready to take a flight straight from your shelf. Its captivating gaze is a constant reminder of the house's unending quest for knowledge.
Framed against the vibrant house crest, it is more than just a figure – it's a tribute to the spirit of Ravenclaw, a piece of Hogwarts brought to life in your very own room.
Intricately designed and firmly affixed to its base, this figure is not just a collectible but a keepsake, offering unwavering display integrity.
Express your Ravenclaw pride and add a spark of enchantment to your collection with this exclusive Pop! Art Cover.
Celebrate the wisdom, individuality, and creativity of Ravenclaw with this majestic Pop! figure.
A perfect piece for Potterheads and Funko collectors alike, this is truly a slice of magic you can hold!
The Funko Shop Exclusive Ravenclaw House Funko Pop! Art Cover can be found at the links below (click to jump!)
Welcome to the intriguing universe of Ravenclaw, the Hogwarts house synonymous with intellectual curiosity and scholarly pursuits.
This distinguished house, one of the renowned quartets, stands as a beacon for minds driven by the thirst for knowledge and understanding.
Yet, being a Ravenclaw goes beyond academic excellence. Let's dive in and discover the unique characteristics that define a true Ravenclaw.
Imagine a haven where intellect isn't just admired but deeply revered.
That's the essence of Ravenclaw. Established by the legendary Rowena Ravenclaw, this house represents the endless quest for knowledge.
But don't be fooled. There's more to Ravenclaw than scholarly dedication.
Qualities such as wit, originality, wisdom, and individuality are also deeply ingrained in its identity.
Luna Lovegood, one of Ravenclaw's most emblematic figures, truly reflects the soul of this house.
Luna's unique outlook, openness, and fearlessness highlight the quintessence of a true Ravenclaw.
Also, Professor Flitwick's sharp intellect and magical mastery are other splendid Ravenclaw exemplars.
However, every silver lining has a cloud.
Ravenclaws, with their intense focus on academia, can sometimes appear distant or detached, absorbed in a book while life swirls around them.
They may be seen as perfectionists, their relentless pursuit of excellence sometimes crossing the boundary into obsession.
And yes, Ravenclaws, too, have their Achilles' heel: arrogance.
A byproduct of great intellectual prowess, Ravenclaw's awareness of their intellect can occasionally morph into a superiority complex.
Just take a look at Gilderoy Lockhart, a grim reminder of how intelligence, twisted by vanity, can breed deceit and manipulation.
Nonetheless, it's important not to leap to conclusions.
While they might seem aloof or even egotistic, remember, Ravenclaws are typically the thinkers, problem solvers, and pioneers of any group.
In their minds, they unravel a world teeming with enigmas and mysteries. Their distinct perspective, fueled by curiosity and creativity, often leads to some of the most remarkable discoveries in the magical realm.
In its totality, the Ravenclaw house offers an invaluable lesson – the marriage of intellect, creativity, intuition, and wisdom distinguishes a truly extraordinary individual.
So, let's raise a toast to our Ravenclaw companions – the visionaries, the pioneers, and those bold enough to delve into the mysteries of the cosmos!
Funko Pop! Art Covers: Harry Potter – Ravenclaw House with Ravenclaw Raven Funko Pop! Art Cover Vinyl Figure – Funko Shop Exclusive
Available at:
Starting now, you can receive 10% off in-stock items with my special link at Entertainment Earth!
 Enjoy!
As an Amazon Associate I earn from qualifying purchases
Want more stuff like this?
Get the best viral stories straight into your inbox!
Don't worry, we don't spam