2023 NEW Hocus Pocus: Winifred Sanderson (Stone) Funko Pop!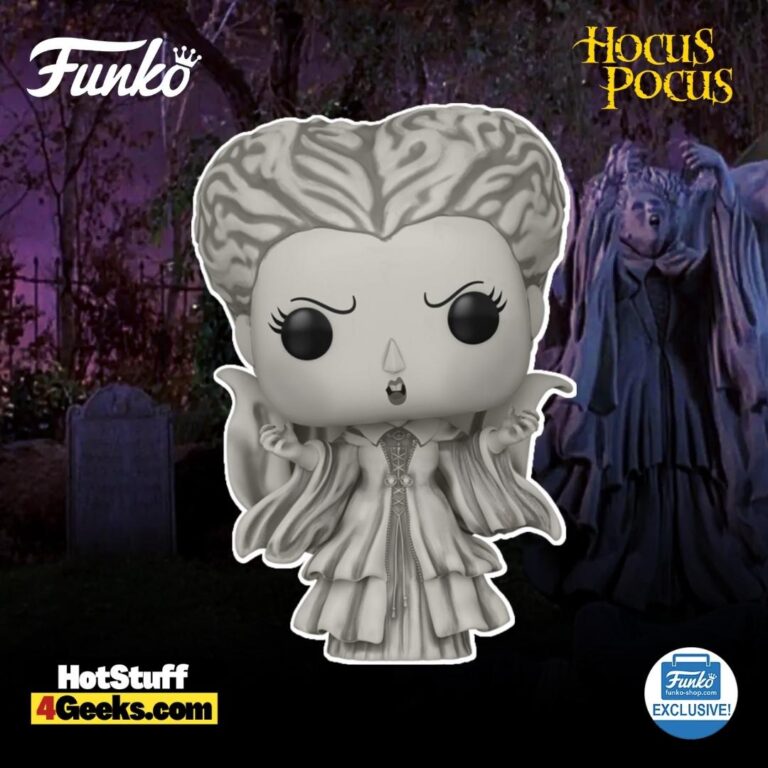 The nostalgia! If you've ever yearned to have a piece of that unforgettable scene from "Hocus Pocus" where Winifred Sanderson is transmuted into a statue, here's your chance. The sun rises, the spell takes effect, and Pop! Winifred Sanderson is eternally preserved in her stony state. That striking image is now masterfully captured in the new Funko Pop! Movies: Hocus Pocus – Winifred Sanderson (Stone) Funko Pop! Vinyl Figure – Funko Shop Exclusive (2023 release).
To get your hands on this Pop Vinyl Figure at its release, be sure to check out the links I've provided below – click to jump or scroll to continue reading!
The Petrified Witch: Winifred Sanderson's Stone Transformation Immortalized as a Funko Pop!
Remember the chilling moment when the wicked Winifred Sanderson met her stony demise? That unforgettable scene, charged with magical energy, fear, and triumph, has now found its way into the world of Funko Pop!
But hold on. We're not talking about the usual Winifred here; this is Winifred turned to stone, forever frozen in her moment of defeat.
The Funko Shop Exclusive captures the sun-kissed Winifred in her entombed state, a vision that's both haunting and enchanting.
With meticulous detail reflecting her petrified expression, this unique Pop! Vinyl Figure is a must-have for those entranced by Disney's "Hocus Pocus."
It's not merely a collectible; it's a conversation starter, a piece of cinematic history, and a reminder of a grave consequence that befell a legendary witch.
Catch it if you dare! It's bound to be the mystical highlight of your collection.
The Funko Shop Exclusive Winifred Sanderson (Stone) Funko Pop! can be found for purchase at the links below (click to jump!)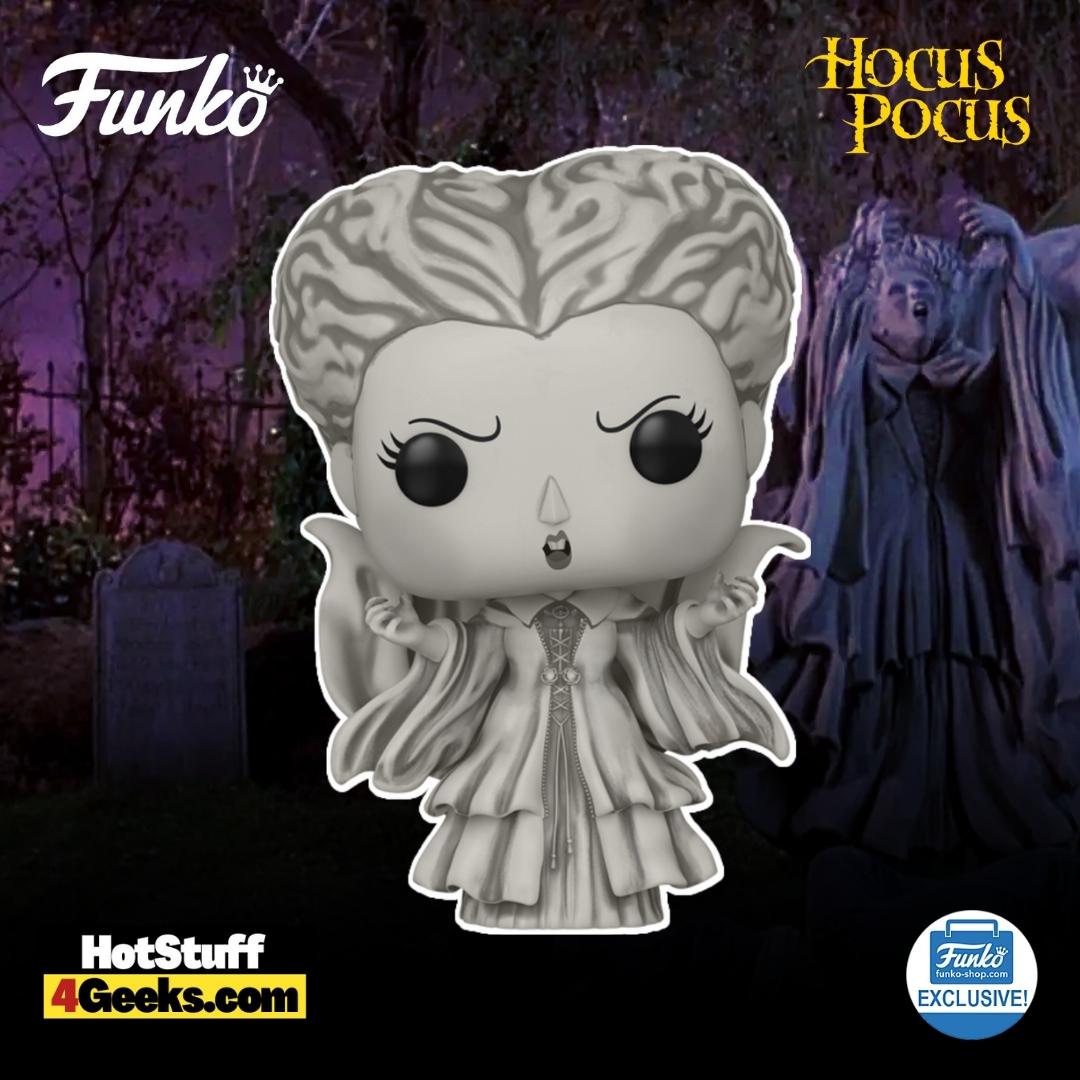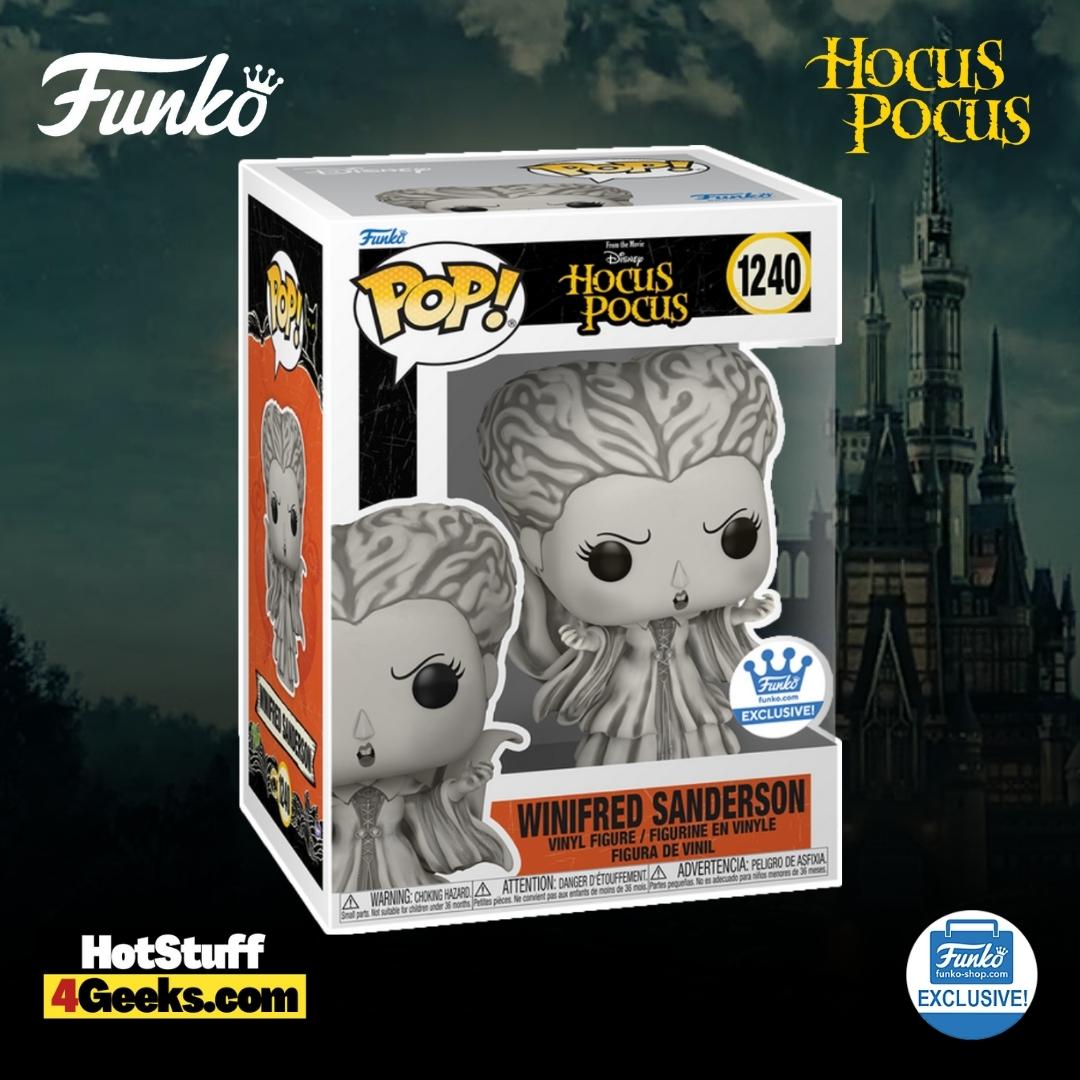 The Stony Fate of Winifred Sanderson: A Witch's Demise in "Hocus Pocus
Halloween. That magical time of year when the line between the realms of the living and the dead blur and when Winifred Sanderson, a name synonymous with wicked sorcery, glides through the night sky on a broomstick.
Or, at least, she did until a fateful moment turned her into stone.
Allow me to take you on a journey into this captivating scene from the cult classic, "Hocus Pocus."
Winifred Sanderson is no ordinary witch.
As the elder sister in a trio of Salem's most feared spellcasters, her legacy is rich with betrayal, obsession, and a dash of dark humor.
Whether she's singing to bewitch the adults of Salem or pursuing eternal youth at the expense of innocent children, Winifred's theatrical flair and cunning mind always set her apart.
But let's focus on the moment that defines her downfall, shall we?
In the climactic scene of "Hocus Pocus," our protagonists find themselves in a graveyard, that quintessential backdrop for supernatural showdowns.
With the dawn approaching and a potion in hand, young Max risks everything to protect his little sister, Dani, from Winifred's clutches.
As Winifred attempts to suck the life force from Max, a battle ensues that's charged with the very essence of Halloween magic. What follows is nothing short of cinematic artistry.
The tension escalates, the music crescendos, and the first rays of sunlight suddenly creep over the horizon.
What happens next is, quite literally, petrifying.
Caught in her act of dark magic and touched by the light of the new day, Winifred's visage freezes. Her body stiffens.
The once vibrant and animated witch metamorphoses into a lifeless statue. It's a transformation that's both visually stunning and deeply symbolic.
At that moment, the essence of her wickedness solidifies, and she becomes a monument to her dark desires and obsessions.
The explosion that follows scattering green light and stone fragments, marks a victorious conclusion for our heroes.
But it's more than that.
Winifred's transformation into stone and subsequent shattering serve as a poetic end to a character defined by her relentless pursuit of power.
It's a cautionary tale about the dangers of obsession, cunning, and vanity, wrapped in a spellbinding visual metaphor.
So, there it is, dear reader.
The tale of Winifred Sanderson's stony fate is a cinematic moment worth revisiting, not only for its visual splendor but for the lessons it teaches.
It's a testament to the character's complexity and the filmmakers' creativity and a key reason why "Hocus Pocus" continues to enchant audiences to this day.
The wicked may fly and cackle, but they can't escape their fate, especially when it's carved in stone.
Funko Pop! Movies: Hocus Pocus – Winifred Sanderson (Stone) Funko Pop! Vinyl Figure – Funko Shop Exclusive (2023 release)
Available at:
Starting now, you can receive 10% off in-stock items with my special link at Entertainment Earth!
 Enjoy!
As an Amazon Associate I earn from qualifying purchases
Want more stuff like this?
Get the best viral stories straight into your inbox!
Don't worry, we don't spam