2023 NEW Hostess Funko Pop! Foodies: Snack on These Sweet Collectibles
by

PopCorn Princess

March 15, 2023
Who needs a boring old vinyl figure when you can get one with your favorite childhood treats included? So get ready to say goodbye to boring collectibles and hello to the ultimate snack-lovers' collection – the new Hostess Funko Pop! Foodies Vinyl Figures.
The pop figure is now available for pre-order at the links below – click to jump or scroll to continue reading!
Who said snacking couldn't be yummy and adorable?
Hostess has reinvented the art of snacking by introducing their newest collection—Funko Pop! Foodies Vinyl Figures.
Perfect for snackers everywhere, these Funko-style figures are just as delicious-looking as the real thing.
Whether you prefer Twinkies or Ho Hos, Ding Dongs or Fruit Pies, they've got a figure to suit your every craving.
Not only will they make great additions to any Funko Pop! collection, but they'll also be sure to add a bit of bright and fun flavor to your day!
And who knows, maybe one day, these figures will become as iconic as the snacks themselves.
Here's the breakdown for this release:
Hostess: Cupcakes Funko Pop! Foodies Vinyl Figure #213
Hostess: Twinkies Funko Pop! Foodies Vinyl Figure #216
Hostess: Ding Dongs Funko Pop! Foodies Vinyl Figure #214
Hostess:  HoHos Funko Pop! Foodies Vinyl Figure #215
So grab some snacks and get ready to have a good time with Hostess Funko Pop! Foodies Vinyl Figures.
The new Hostess Funko Pop! Foodies are now available for pre-order at the links below (click to jump!)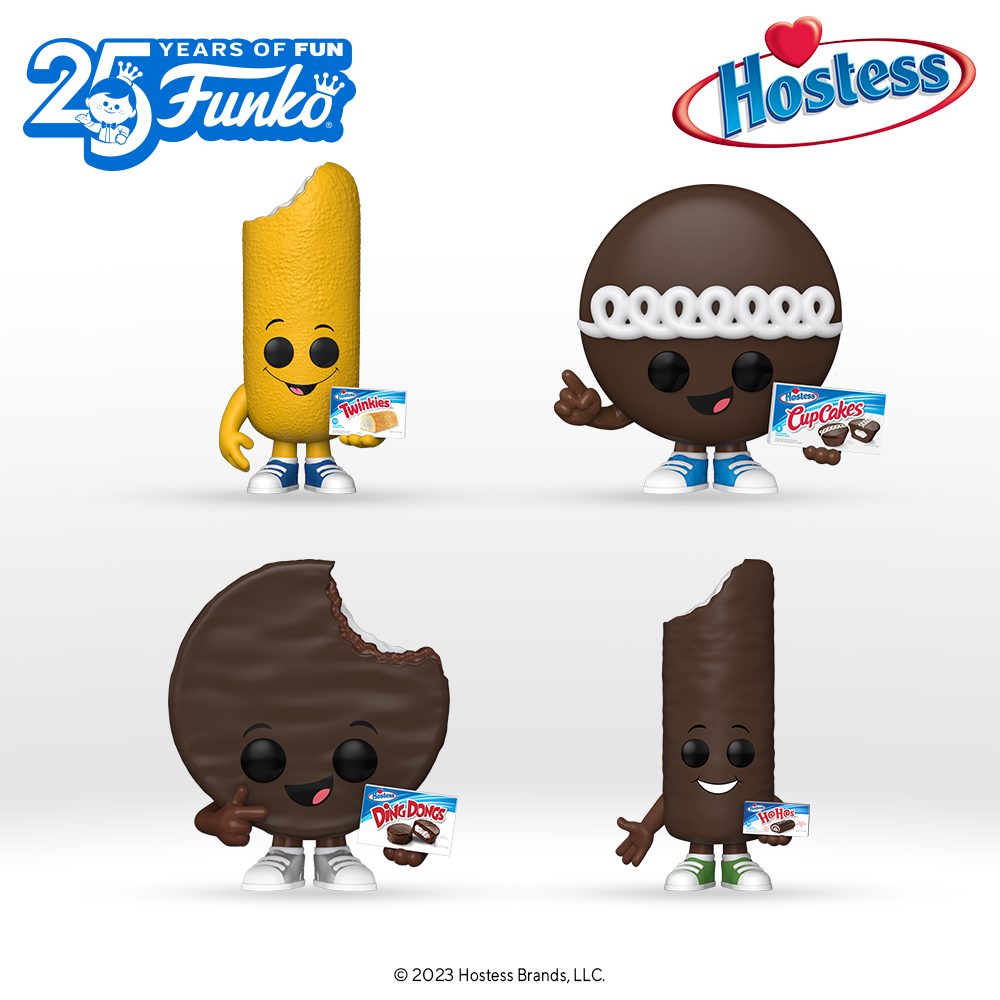 Are you a fan of indulging in sugary snacks and treats?
If so, then you've probably come across Hostess, one of the most beloved brands in the snack industry.
From Twinkies to Ding Dongs, Hostess has been satisfying sweet cravings for nearly a century.
Hostess was founded in 1919 in Kansas City, Missouri, by a team of two baking company executives looking to expand their business.
Originally known as the Continental Baking Company, the brand's flagship product was the Hostess CupCake, quickly became a hit among consumers.
Over the next few decades, Hostess continued introducing new products, including the famous Twinkie in 1930 and the Ho Hos in 1967.
These sweet treats quickly became staples in lunch boxes and grocery store shelves nationwide.
But Hostess faced its fair share of challenges over the years. In the 1980s, the brand was acquired by a conglomerate called the Interstate Bakeries Corporation, which struggled with financial issues and even filed for bankruptcy in 2004.
However, Hostess came back in 2009 when it was purchased by a private equity firm and restructured under the name Hostess Brands, LLC. The brand underwent a rebranding effort and introduced new products, such as the Deep Fried Twinkie and the Birthday CupCake.
Today, Hostess remains a beloved brand among snack enthusiasts.
Whether you prefer the classic Twinkie or the more recent Pumpkin Spice Cupcakes, there's no denying the brand's place in American pop culture.
So, the next time you indulge in a Hostess treat, take a moment to appreciate the brand's rich history and the countless people who have contributed to its success.
After all, Hostess isn't just a snack brand – it's a cultural icon.
Starting now, you can receive 10% off in-stock items with my special link at Entertainment Earth!
 Enjoy!
As an Amazon Associate I earn from qualifying purchases
Want more stuff like this?
Get the best viral stories straight into your inbox!
Don't worry, we don't spam
PopCorn Princess
Hey there, I'm Princess. I'm an annual comic con attendee, Star Wars-loving, and collector freak. My mission is simple: To bring cool geeky news and content and share my passion with the rest of the world. (... I secretly wish to save the world as a superheroine...)