2023 NEW Hunter x Hunter: Killua Zoldyck Glow Funko Pop!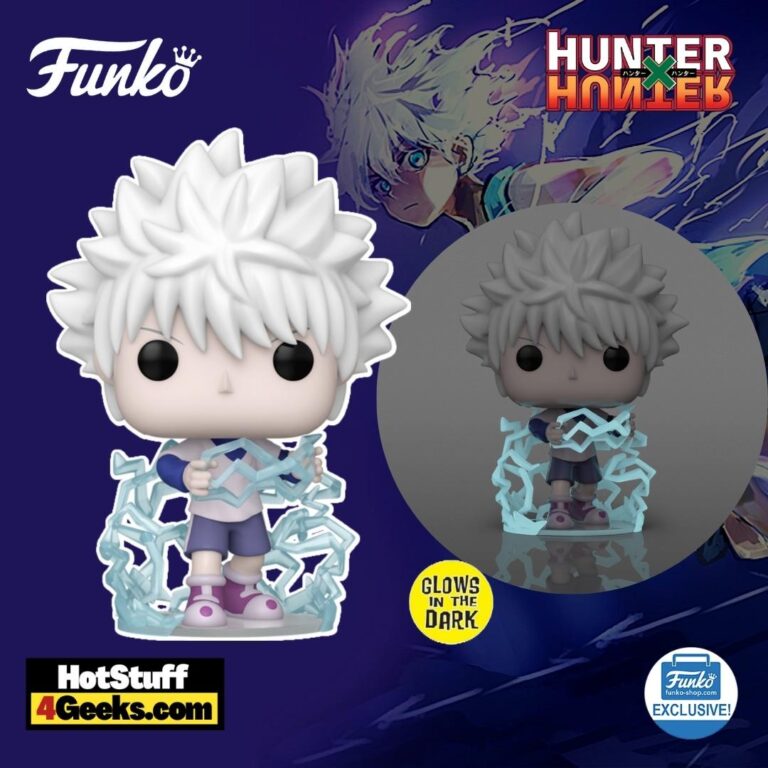 For fans who the mysterious yet charismatic Killua Zoldyck has entranced, there's something electrifying on the horizon. The new Funko Pop! Animation: Hunter X Hunter – Killua Zoldyck Glow-In-The-Dark (GITD) Funko Pop! Vinyl Figure – Funko Shop Exclusive (2023 release). But let's take a moment to connect this exclusive figure to the story of Killua himself.
UPDATE: Killua releases today at 9:30 PST! To get your hands on this Pop Vinyl Figure at its release, be sure to check out the links I've provided below – click to jump or scroll to continue reading!
Lightning Strikes the Collectibles World: Exclusive Killua Zoldyck Glow-In-The-Dark Funko Pop!
Now, if you're a Hunter x Hunter enthusiast, you're in for a treat.
A brand-new Funko Pop! Vinyl Figure of our favorite silver-haired prodigy, Killua Zoldyck, is lighting up the scene!
This Funko Shop Exclusive features Killua in all his electrifying glory, literally – he glows in the dark! Talk about capturing the essence of a character.
Remember Killua's journey, don't you? Born into a fearsome family of assassins, our young hero ditches that dreary path to tread his own road to become a hunter.
We see his radiant determination embodied in his signature lightning abilities – which, by the way, this Funko Pop! replicates brilliantly.
In true Killua fashion, it's not just about his deadly skills but also the glow of his free spirit.
This figure encapsulates the dual nature of his character: the deadly assassin-in-training with the heart of an adventurous boy.
If your Hunter X Hunter collection was waiting for a spark, this Funko Pop! is a lightning bolt!
A tangible ode to Killua's spirit and power, it's more than just a memento of a beloved character.
This glow-in-the-dark figure is a testament to Killua's journey, struggles, and unwavering resolve.
Killua's character is a complex weave of adventure, danger, and compassion.
This Funko Pop! figure, with its electrifying charm, mirrors that complexity.
It's a striking tribute to one of anime's most beloved characters and a must-have for any serious Hunter X Hunter collector.
The Funko Shop Exclusive Killua Zoldyck Glow Funko Pop! (2023 release) can be found for purchase at the links below (click to jump!)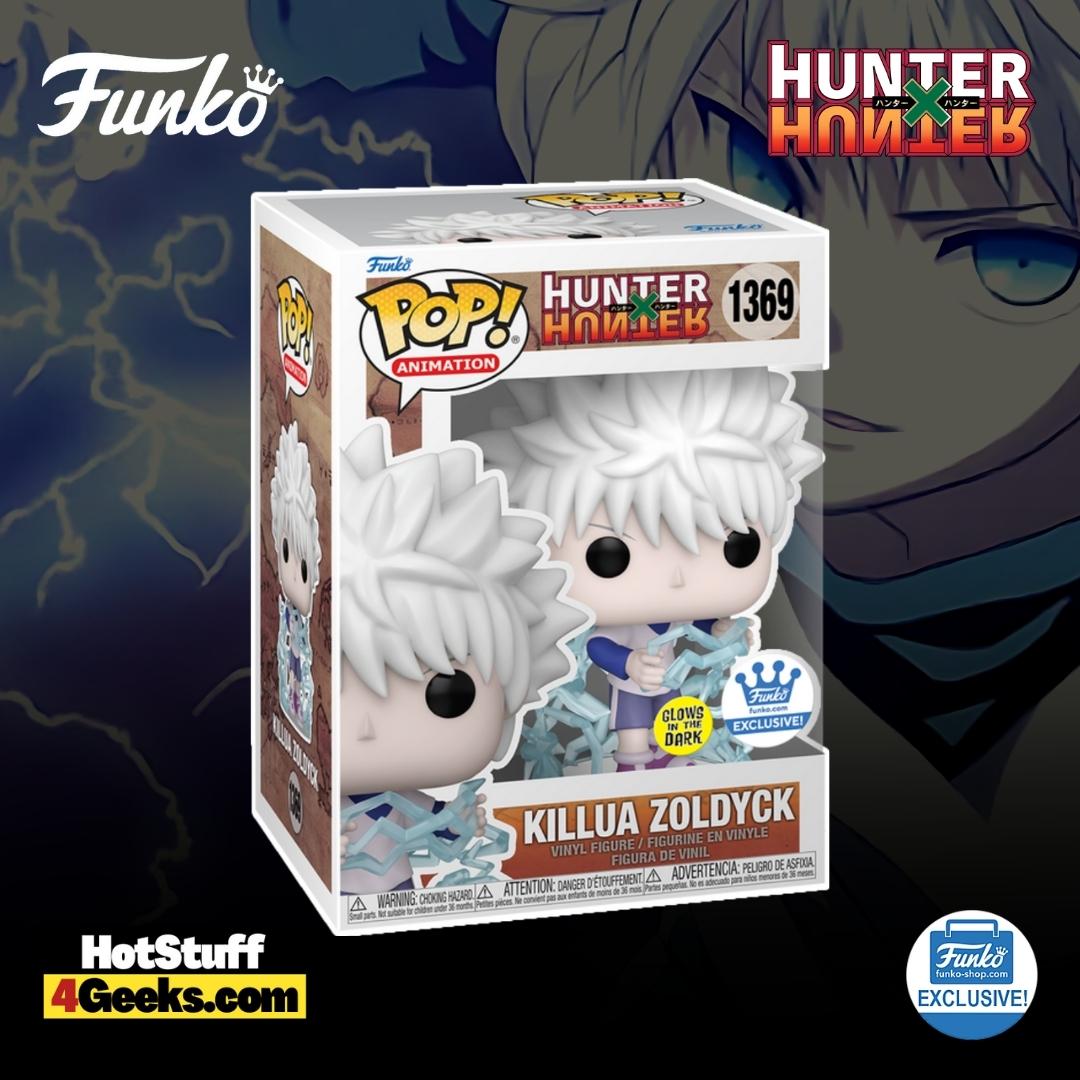 The Enigmatic Prodigy: Unraveling the Mysteries of Hunter x Hunter's Killua Zoldyck
Hunter x Hunter, a name synonymous with intense action and character depth, offers fans an array of intriguing personalities.
Among them, one stands out as particularly enigmatic: Killua Zoldyck.
A prodigy born into the ominous Zoldyck family, Killua's mystique is both an allure and an enigma. Let's delve into what makes this character so unique and captivating.
Imagine a barely 11 boy trained as a cold-blooded assassin, honing skills to kill without remorse. This is Killua's reality, his inheritance as a Zoldyck.
While most children his age worry about school and friends, he grapples with poisons, electric shocks, and deadly techniques.
Killua's upbringing is a complex weave of emotional pain and physical prowess, making him one of the series' most layered characters.
Don't let Killua's age or 'rookie' Hunter status fool you.
His skill set towers over average rookies.
It's not just about his assassin training.
Killua's Transmutation Nen abilities set him apart from others.
He can mimic different elements with his aura, particularly electricity.
This grants him techniques like Godspeed, enhancing his combat speed to the level of a lightning bolt. It's no wonder that even seasoned Hunters fear him.
The Zoldyck family's influence on Killua cannot be understated.
They're a dynasty of feared assassins led by Silva Zoldyck, the patriarch.
But despite the deadly legacy, Killua's bond with his younger sister Alluka is heartwarming.
He's protective and compassionate and shows an innate desire to shield her from their family's dark world.
This humane connection amidst his cold upbringing gives fans a glimpse into his soul's brighter facets.
Killua's transformation from a heartless killer to a compassionate friend is a mesmerizing journey.
Meeting Gon, his first and best friend, changes everything. Killua's protective instincts extend beyond family, encapsulating friends like Gon and Zushi.
His growth, and his refusal to partake in his family's deadly enterprise, is a testament to his intrinsic goodness.
He's a character constantly in flux, torn between his birthright and moral calling.
What's next for Killua? His potential is boundless.
Experts in Hunter x Hunter's universe see in him a future that could rival the likes of Netero and Ging.
His Nen control, his innate talent, and his relentless drive place him in a category all his own.
Whether it's his amazing older brother persona, his electrifying abilities, or his goosebump-inducing assassin mode, Killua is an endless reservoir of intrigue.
Killua Zoldyck isn't just a character; he's an experience.
From the gloomy shadows of the Zoldyck estate to the vibrant friendship with Gon, his story is a rollercoaster ride of emotions and action.
It's not just about his abilities or his lineage.
It's about his humanity, courage, and unwavering pursuit of personal growth.
As fans, we can't help but eagerly await what's next for this remarkable young man.
Killua continues to be a source of fascination, perplexity, and inspiration.
His enigma isn't a wall keeping us out; it's an invitation to explore a character as deep and turbulent as the world of Hunter x Hunter itself.
Funko Pop! Animation: Hunter X Hunter – Killua Zoldyck Glow-In-The-Dark (GITD) Funko Pop! Vinyl Figure – Funko Shop Exclusive (2023 release)
Available at:
Starting now, you can receive 10% off in-stock items with my special link at Entertainment Earth!
 Enjoy!
As an Amazon Associate I earn from qualifying purchases
Want more stuff like this?
Get the best viral stories straight into your inbox!
Don't worry, we don't spam