2023 NEW I am Groot– Groot 3 Liter Funko Soda w/ Iwua Chase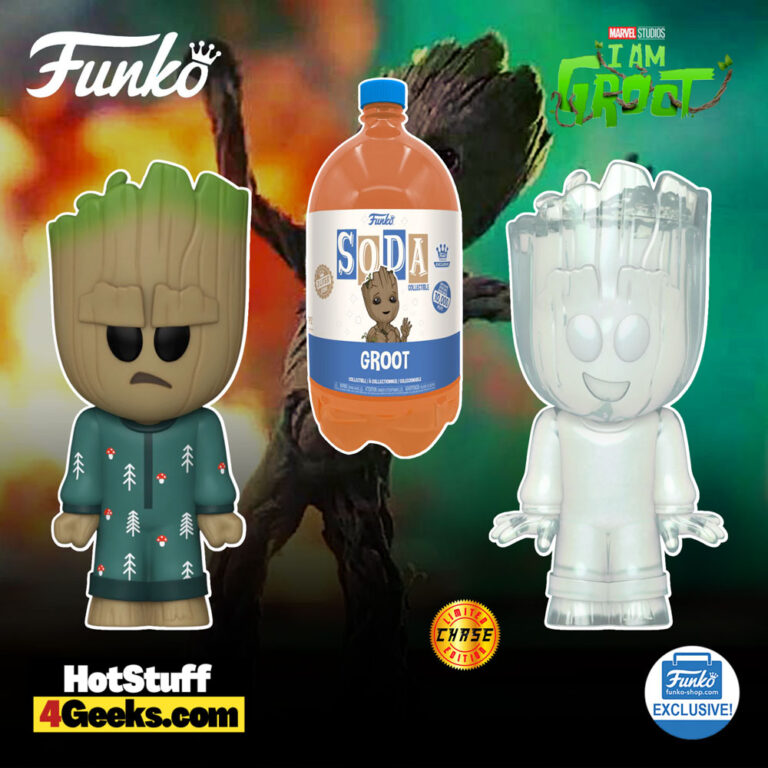 Step aboard the Quadrant and into the world of Groot with this unique new  Funko Pop! Soda: Marvel Studios: I am Groot– Groot 3 Liter Funko Soda Figure with Iwua Chase Variant – Funko Shop Exclusive.
The pop 3 Liter soda is releasing today at 9.30 AM PT and can be found at the links below – click to jump or scroll to continue reading!
If you're a big fan of Groot, you won't want to miss out on this Funko exclusive! You can add the 3-Liter SODA Groot in Pajamas to your I Am Groot collection and help Groot track down his doppelganger aboard the Quadrant.
What's more, only 10,000 of this collectible were ever made, giving you a unique chance to own a piece of intergalactic history.
And if luck is on your side, you may even find a translucent chase of Iwua in Groot form – with a 1 in 6 chance of finding one. So it's definitely worth a try!
As seen in Groot's Pursuit episode, Iwua is a shape-shifting alien who disguised himself as Groot. With his exceptional dance moves, Baby Groot challenged Iwua to a dance-off and ultimately got rid of him by launching him into space.
Was Baby Groot being cold and heartless, or was he simply getting rid of a dangerous alien?
We may never know, but we do know that the translucent Iwua chase variant is a rare and exciting addition to this Funko release.
This Funko exclusive is even more remarkable because Groot is wearing his pajamas, giving us a glimpse of his adorable and cozy side.
This figure is not only a fantastic addition to any collection but also a reminder of Groot's lovable and quirky personality.
Groot 3 Liter with Iwua Chase Funko Soda can be found at the links below (click to jump!)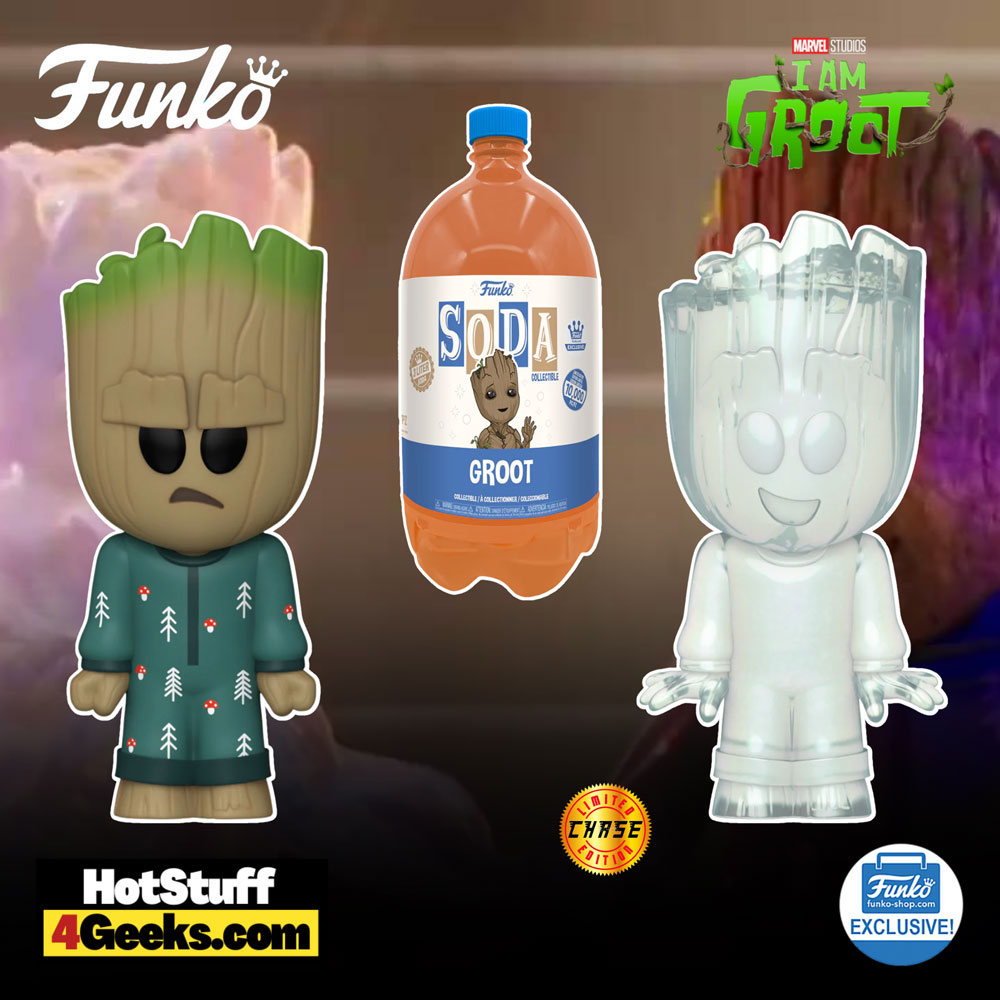 The Marvel Cinematic Universe (MCU) has taken the world by storm with its larger-than-life superheroes and epic storylines.
But with the recent recalibration of the franchise post-Avengers: Endgame, it's become increasingly difficult for the studio to please audiences with the same old formula.
That's where the I am Groot series comes in.
Featuring a baby version of the beloved character Groot, voiced by Vin Diesel, the series of animated shorts on Disney+ provides a refreshing break from the weighty narrative of the MCU.
Each episode lasts only five minutes, but they pack a punch with their irreverent and inconsequential storytelling.
The first season of I am Groot follows the adventures of the adorable sapling as he learns to walk, encounters a tiny alien civilization, engages in a dance battle, takes an unusual bath, and shares a sweet moment with a fellow Guardian of the Galaxy.
These brief glimpses into Groot's world are a welcome change from the high-stakes battles and world-ending threats we've grown accustomed to.
The beauty of the I am Groot series lies in its ability to showcase supporting characters in a way free from the weight of interconnectivity.
In the MCU, every character is linked in some way, shape, or form to the larger narrative.
But in I am Groot, we see characters shine in their own right without the burden of being tied to a grander scheme.
If Marvel continues to produce series like I am Groot, it could be the perfect palate cleanser for fans in a time of inevitable changes.
The series reminds us of the joy and whimsy that made us fall in love with the MCU in the first place, and it does so in a way that's accessible to viewers of all ages.
In conclusion, the I am Groot series is a refreshing take on the MCU that showcases the studio's ability to pivot and adapt to changing times.
It's a reminder that not every story needs to be a world-ending event and that there's room in the franchise for smaller, more intimate stories.
Here's hoping that Marvel continues to explore this side of the universe and gives more characters a chance to shine in their own right.
Check out more I am Groot Funko Pops here.
Funko Pop! Soda: Marvel Studios: I am Groot– Groot 3 Liter Funko Soda Figure with Iwua Chase Variant – Funko Shop Exclusive
Available at:
Starting now, you can receive 10% off in-stock items with my special link at Entertainment Earth!
 Enjoy!
As an Amazon Associate I earn from qualifying purchases
Want more stuff like this?
Get the best viral stories straight into your inbox!
Don't worry, we don't spam