2023 NEW I Am Groot: Groot w/ Marie Hair (Flocked) Funko Pop!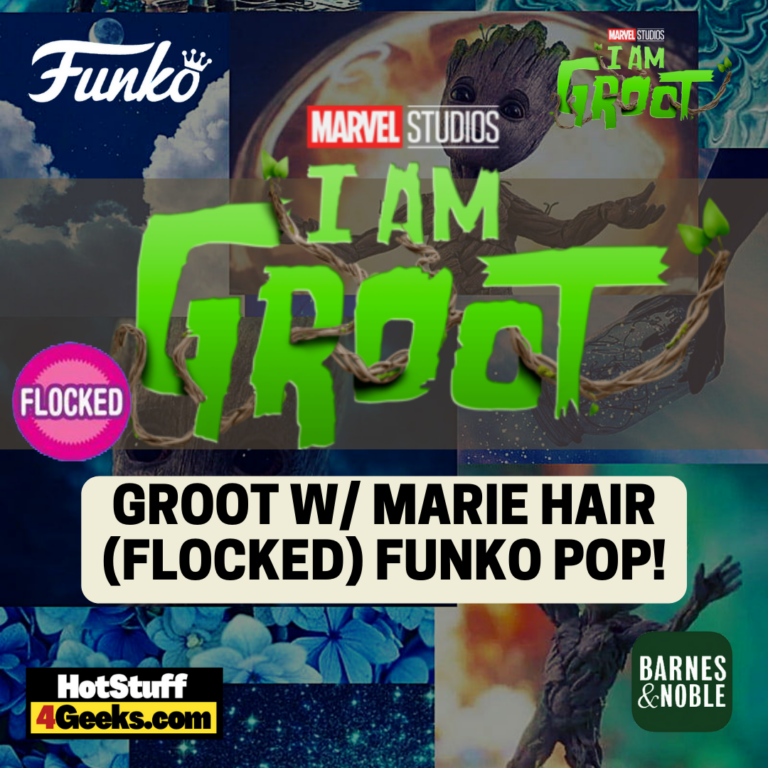 Not official until confirmed.
Meet the newest addition to the Funko Pop family, the Funko Pop! Marvel Studios: I Am Groot: Groot with Marie Hair (Flocked) Funko Pop! Vinyl Figure – Barnes & Noble Exclusive. This huggable little guy embodies all the charm and whimsy we've come to expect from our favorite sentient tree.
This adorable figure captures Groot's precious personality with a new floral twist.
Who knew our favorite sentient tree had such a green thumb?
The bright flowers on this Funko Pop add a magical touch that will make you want to sing "I Want You Back," just like the Guardians of the Galaxy.
Don't wait too long to add this charming collectible to your collection, or you might end up feeling like Rocket when he lost his friend Groot.
So, whether you're a Marvel fan or just love a good floral display, the new  Groot with Flowers (Flocked) Funko Pop is a must-have for any collector.
The Barnes & Noble Exclusive Groot with Marie Hair (Flocked) Funko Pop! from the I Am Groot Marvel Studios series is coming soon. There's no release date yet, but stay tuned because I'll update more information in the long run.

Disney Plus has been a treasure trove of animated shorts for those willing to dig beneath the surface of their impressive Marvel and Star Wars series lineup.
One such hidden gem is the I Am Groot series, which offers a lighthearted take on everyone's favorite tree-like character from the Marvel Cinematic Universe.
At first glance, the I Am Groot series might seem like just another cash grab from the entertainment giant, but the shorts are surprisingly endearing and engaging.
Clocking in at just a few minutes each, the entire series can be enjoyed in about 20 minutes, making it the perfect bite-sized treat for fans of the Guardians of the Galaxy's lovable, albeit limited-vocabulary, sidekick.
What sets I Am Groot apart from other animated shorts on Disney Plus is its willingness to embrace the inherent silliness of its premise.
From sci-fi horror stories to bonsai tree brawls, the series offers a delightful variety of situations and settings.
Groot's charmingly misguided decision-making and his propensity to be easily frustrated by minor inconveniences serve as the backbone for the slapstick humor that permeates the series.
While I Am, Groot is certainly no reason to subscribe to Disney Plus on its own.
The series is a testament to the potential of streaming platforms to explore offbeat ideas and take risks in their content.
This spirit of experimentation has produced gems like the What If…? series, pushing the boundaries of the MCU's established canon.
As Disney Plus continues to expand its roster of animated Marvel series, one can only hope that the platform continues to invest in projects that push the envelope and deviate from the traditional superhero narrative.
With an ever-growing universe of characters and stories to draw from, there's no shortage of opportunities for innovative storytelling.
Check out more I am Groot Funko Pops here.
Starting now, you can receive 10% off in-stock items with my special link at Entertainment Earth!
 Enjoy!
As an Amazon Associate I earn from qualifying purchases
Want more stuff like this?
Get the best viral stories straight into your inbox!
Don't worry, we don't spam