2023 NEW I Am Groot: Iwua as Groot (Translucent) Funko Pop!
Finding an impersonator of himself must have been a shock to Groot! This new special edition Funko Pop! Marvel Studios: I Am Groot – Iwua as Groot (Translucent) Funko Pop! Vinyl Figure – Funko Shop Exclusive features a mysterious interloper from the Quadrant who bears an uncanny resemblance to Groot.
The pop figure drops today at 9:30 AM PT and can be found at the links below – click to jump or scroll to continue reading!
When it comes to causing mischief, the alien known as Iwua is no exception.
In the I Am Groot third episode of the series, Iwua decides to turn into Groot to cause some chaos in his beloved Quadrant.
As a shapeshifting alien, it doesn't take much effort for him to duplicate Groot's appearance.
Things get even crazier when both Groot and Iwua look precisely alike, causing no one to know who is really who.
When deciding who the real Groot is, instead of taking more 'shot-in-the-dark' guesses, they decide it would be best to settle this with a dance-off!
In true Groot fashion, he pulls off some impressive moves.
Ultimately, he still finds a way to outsmart Iwua by luring him into an airlock and sending him spiraling into space!
A lesson learned for any future imitators of Groot!
With unique details, this exclusive figure makes for a perfect addition to any collector's setup.
Furthermore, the translucent material adds an extra level of flair to this already fantastic design.
Fans won't want to miss out on this incredible Funko Pop of one of Marvel's most beloved movie stars!
The Funko Shop Exclusive Iwua as Groot (Translucent) Funko Pop! from the I Am Groot series can be found at the links below (click to jump!)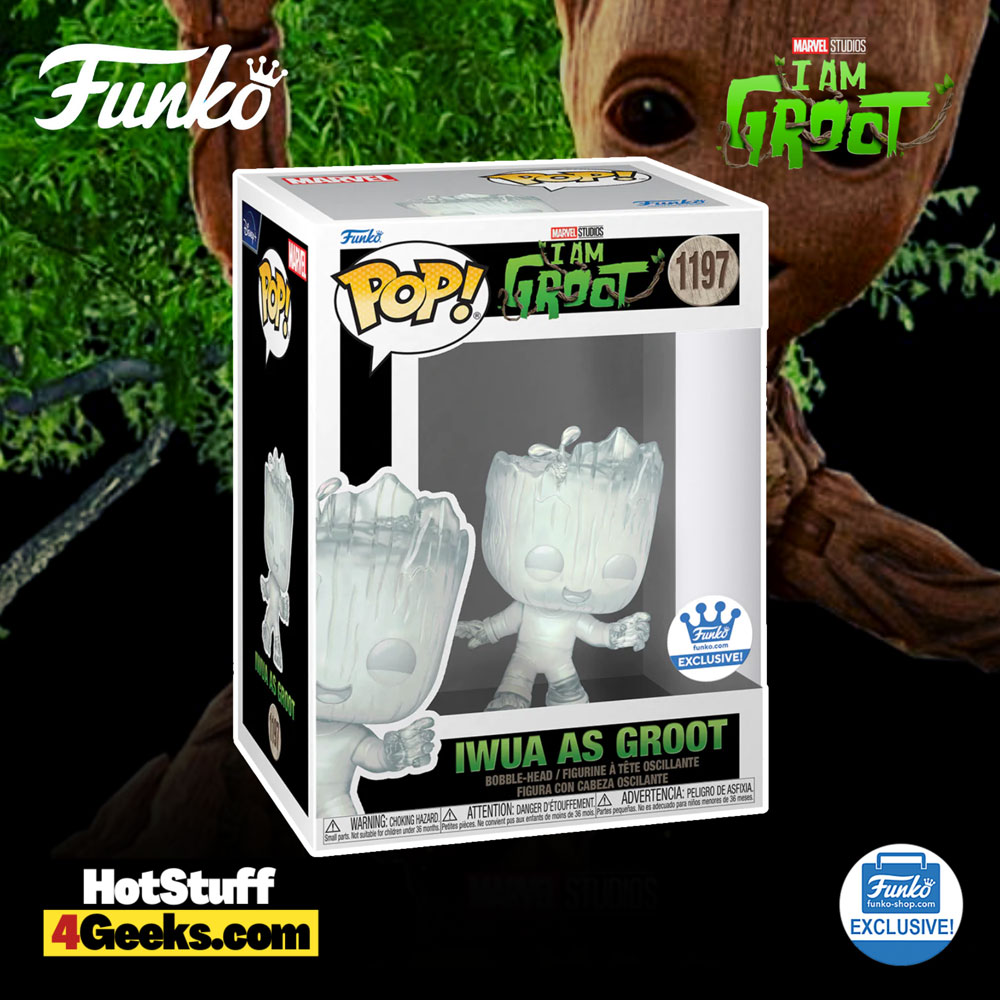 I Am Groot, the animated production from Marvel Studios, features five original shorts starring Baby Groot, the lovable little tree adored by fans.
It's no wonder fans went crazy when the series trailer was released, with so much cuteness.
In addition to Groot, the series also features the introduction of new and unusual characters that will further enrich the experiences of the protagonist character throughout the galaxy.
Vin Diesel, the original voice English of Groot in the "Guardians of the Galaxy" franchise, voices Baby Groot.
Kirsten Lepore is the writer and director, with Kevin Feige, Louis D'Esposito, Victoria Alonso, Brad Winderbaum, and James Gunn as executive producers.
Check out some reasons below to watch I Am Groot and fall in love (even more) with the character.
1- Ideal shorts to relax
Less than 30 minutes of your time is all Baby Groot needs.
The series features five independent shorts that can be watched in any order and are only 5 minutes each.
2- For all audiences
We can't deny that Groot has a legion of fans. Baby Groot, in particular, makes anyone fall in love.
The series appeal to adults, young people, and children with short episodes and a fun plot.
3- Explosion of cuteness
The series trailer already shows too cute scenes, and this cuteness remains in all series episodes.
Baby Groot's version is already charming, but the production adds elements, new characters, and scenes that make I Am Groot an explosion of good feelings.
4- Dance steps? We have them!
One thing Baby Groot has is groove! In "Guardians of the Galaxy Vol. 2" (2017), the famous tree shows off some of his dance moves, and in the new Disney+ exclusive series, fans can expect more moves.
In addition to his bold dance moves, his tiny size moving around makes the heart skip a beat.
5- Importance of self-care
The character emphasizes how important it is to take care of oneself.
After taking his first steps, facing danger, and exploring outside his comfort zone, Groot decides to relax.
In  "Groot Takes a Bath," the audience will enjoy the character's attempts to adopt a new style, complete with an unforgettable natural spa day full of cuteness.
6- Groot's first steps
We already knew that Groot's strength potential was enormous!
But seeing Baby Groot doing so well is a lovely surprise.
In  "Groot's First Steps," it's possible to follow the character's attempts as he begins to take his first steps still in the plant pot.
In addition, the other episodes also focus on the character's entire infant phase.
Check out more I am Groot Funko Pops here.
Funko Pop! Marvel Studios: I Am Groot – Iwua as Groot (Translucent) Funko Pop! Vinyl Figure – Funko Shop Exclusive
Available at:
Starting now, you can receive 10% off in-stock items with my special link at Entertainment Earth!
 Enjoy!
As an Amazon Associate I earn from qualifying purchases
Want more stuff like this?
Get the best viral stories straight into your inbox!
Don't worry, we don't spam