2023 NEW I Am Groot – Poodle Groot (Earth Day) Funko Pop!
The new Funko Pop! Marvel: I Am Groot – Poodle Groot (Earth Day) Funko Pop! Vinyl Figure – BoxLunch Exclusive inspired by the fabulous "Groot Takes a Bath" episode from the "I Am Groot" series. It's a delightful and quirky addition to any Funko collection that captures the essence of Groot's misadventures in foliage fashion.
The pop figure is now available for order at the links below – click to jump or scroll to continue reading.
I can't help but chuckle every time I look at Poodle Groot, a quirky testament to our beloved hero's brief stint as a fashion icon.
It's as if Groot has been plucked straight from the screen and miniaturized into this charming collectible, ready to remind us of the fun and laughter he brings to our lives.
I'm sure fellow "I Am Groot" fans will agree that this Earth Day edition of Poodle Groot is a delightful homage to the character's unique sense of style and humor.
It's a must-have for any collector or enthusiast looking to brighten up their shelf with a touch of whimsy, and it never fails to spark conversations and laughter when friends drop by.
In a world filled with doom and gloom, this Poodle Groot (Earth Day) Funko Pop! serves as a reminder that there's always room for a little lighthearted fun.
So, why not add this adorable, leafy hero to your collection, and let him work his tree magic to bring a smile to your face?
The BoxLunch Exclusive Poodle Groot (Earth Day) Funko Pop! is now available for order at the links below (click to jump!)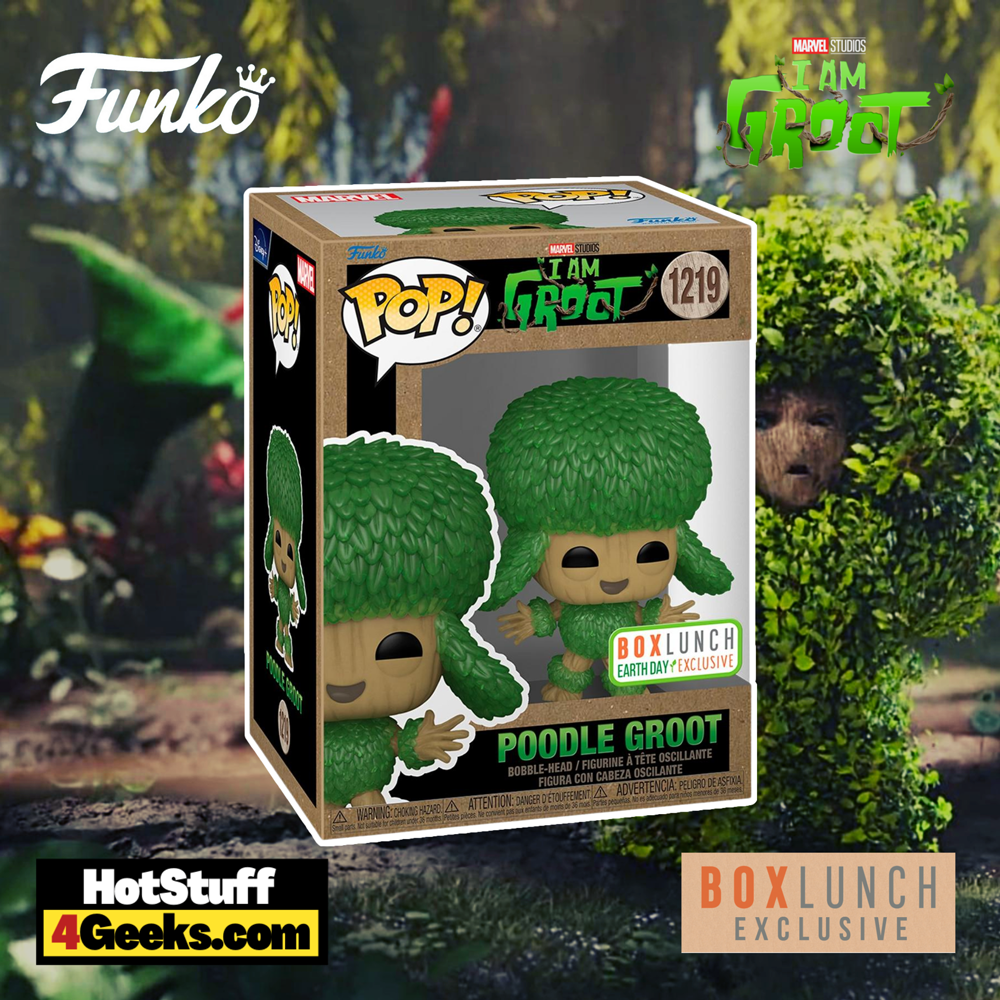 As I settled in to watch one of the latest adventures of our beloved arboreal hero, Baby Groot, in the "I Am Groot" series, I couldn't help but feel a flutter of excitement.
I mean, who doesn't adore the pint-sized Guardian of the Galaxy with a vocabulary limited to "I am Groot"?
In the delightfully whimsical episode "Groot Takes a Bath," we're treated to a visual feast of vibrant foliage, laugh-out-loud moments, and a surprisingly stylish Baby Groot.
Our journey begins on a lush, verdant planet, where our twiggy protagonist stumbles upon a muddy hot spring. Without missing a beat, Baby Groot dives right in.
The real magic begins when Groot encounters a firefly-like bug and, in a stroke of pure childlike curiosity, squeezes its colorful innards into the mud.
The hot spring explodes with color, and Groot proceeds to indulge in a mud bath like a tiny tree version of Cleopatra.
It's not long before we discover the surprising side effect of this buggy encounter.
Groot emerges from the mud bath transformed, covered in an extravagant display of leaves that would put even the most dedicated topiary artist to shame.
It's clear from the sparkle in his beady little eyes that Groot is loving his new leafy look.
But, oh no!
Groot doesn't stop there. Our little hero decides to have some fun with his newfound foliage, turning his tiny tree fingers into scissors and styling his leaves into various looks.
With each new hairstyle or outfit, Groot's confidence soars to astronomical heights. It's a fashion-forward Groot extravaganza!
However, our fun-loving tree is not without its adversaries.
A disgruntled bird, tired of Groot's shenanigans, has been watching from the sidelines, and it's ready to put an end to the leafy fashion show.
In a hilarious turn of events, the bird swoops in for an attack, ruining Groot's day and ending his muddy makeover antics.
The real kicker comes when Groot, in a masterful display of sass and resourcefulness, shaves the pesky bird and turns its colorful feathers into a stunning scarf.
Groot saunters away from the scene, leaving the once-proud bird cold, naked, and humbled.
"Groot Takes a Bath" delivers a dose of hilarity and whimsy that leaves viewers grinning from ear to ear.
With dazzling visuals, zany antics, and a sassy, stylish Groot, this episode has undoubtedly cemented itself as a fan favorite.
It's a charming romp through the world of our favorite tree hero that offers a lighthearted respite from the high-stakes drama of the Marvel Cinematic Universe.
Check out more I am Groot Funko Pops here.
As an Amazon Associate I earn from qualifying purchases
Want more stuff like this?
Get the best viral stories straight into your inbox!
Don't worry, we don't spam