2023 NEW Indiana Jones Die-Cast Funko Pop! From Temple to Shelf
Funko Pop! Movies: Indiana Jones Die-Cast with Chase Funko Pop! Vinyl Figure – Funko Shop Exclusive
Available at:
Ladies and gentlemen, fasten your fedoras and crack those whips as we present to you the pinnacle of Pop! perfection: the new Funko Pop! Movies: Indiana Jones Die-Cast with Chase Funko Pop! Vinyl Figure – Funko Shop Exclusive! This magnificent creation celebrates the one and only Indy, our dashing and daring archeologist who's never met a treasure he couldn't hunt or a snake he couldn't shudder at.
UPDATE Indiana Jones Die Cast drops today at 9:30 AM PT! To get your hands on this Pop Vinyl Figure at its release, be sure to check out the links I've provided below – click to jump or scroll to continue reading!
Crack the Code: The Exclusive Indiana Jones Die-Cast Funko Pop!
Now, this isn't your run-of-the-mill Funko Pop! figure, oh no! This masterpiece is the crème de la crème of collectibles, with its die-cast acrylic case, etched to perfection, and base fastening that'll make you feel like you've discovered the Holy Grail of fandom.
While the case can be opened and the figure detached, you'll find yourself entranced by the 360-degree view of Indy's charm, wondering why you'd ever need to unbox it.
As you bask in the presence of this witty, whip-cracking wonder, you'll be transported to the thrilling world of Indiana Jones, filled with relics, riddles, and a healthy dose of adventure.
With its delightful blend of nostalgia and craftsmanship, this collectible captures the essence of our beloved hero, proving that good ol' Indy is truly timeless.
So, fellow adventurers, embark on your own quest to acquire this astonishing Indiana Jones Die-Cast with Chase Funko Pop! figure and let the spirit of exploration and excitement live on, right there on your top shelf, where it rightfully belongs.
The Funko Shop Exclusive Die-Cast Indiana Jones Funko Pop! can be found at the links below (click to jump!)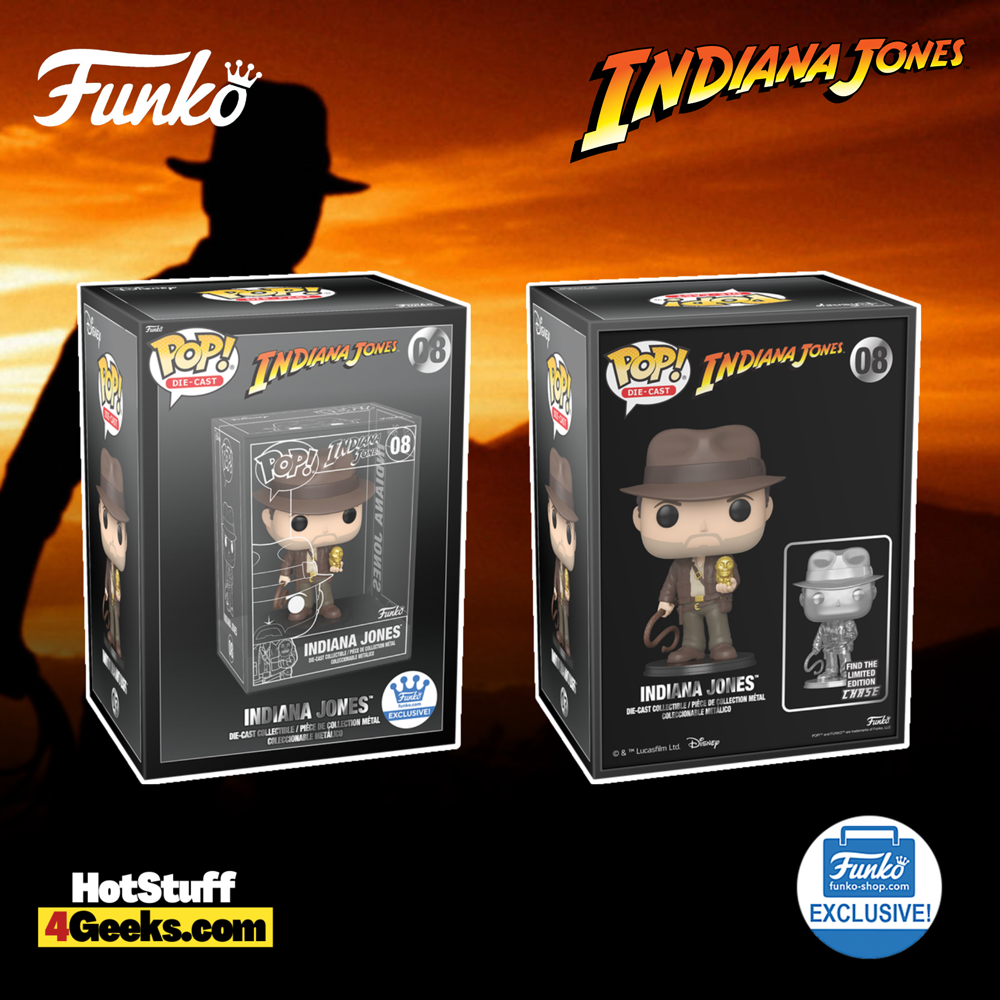 Beyond the Fedora: Harrison Ford's Timeless Impact as Indiana Jones
With a fedora atop his head and a trusty whip in hand, Indiana Jones has been capturing the hearts and imaginations of audiences for generations.
As the quintessential archeologist-turned-adventurer, this iconic character, brought to life by the incomparable Harrison Ford, continues to leave an indelible mark on the world of cinema.
But what is it about Indy that makes him such an endearing figure in the world of cinema?
Indiana Jones isn't your typical movie hero. He's a relatable figure who's prone to making mistakes and fleeing from danger when necessary.
This down-to-earth charm is central to his appeal, as it's easy for audiences to see themselves in his dusty boots.
Plus, who can't relate to his classic fear of snakes?
While many movie protagonists embark on their journeys to mend a broken heart or seek vengeance, Indy's motivation is refreshingly simple: he loves adventure.
The unapologetic joy he brings to his thrilling escapades allows fans to lose themselves in the excitement and cheer him on every step of the way.
Harrison Ford's magnetic charm is a crucial ingredient in Indiana Jones' enduring success.
Ford infuses the character with a childlike wonder that resonates with fans of all ages.
His undeniable charisma has transcended roles, from the roguish Han Solo in Star Wars to the enigmatic Rick Deckard in Blade Runner.
Indiana Jones encapsulates the essence of adventure, balancing nail-biting tension with well-timed humor to keep audiences engaged.
This mix of high-stakes action and lighthearted fun makes Indy's cinematic exploits a thrilling and unforgettable experience.
As a university professor, Indiana Jones defies expectations of what an adventure hero should be.
His intelligence and resourcefulness make him an inspiring figure, proving that anyone can step up and be a hero, regardless of their background.
Indy's passion for learning and his genuine respect for knowledge further contribute to his relatability and enduring appeal.
Indiana Jones combines elements of various heroic archetypes, from the Western cowboy to the clever Yankee.
This blend of influences, filtered through the combined genius of Harrison Ford and filmmakers Steven Spielberg and George Lucas, gives Indy a unique and captivating presence that sets him apart from other movie heroes.
The recent release of the Indiana Jones Die-Cast Funko Pop! offers enthusiasts a unique collectible that pays tribute to the iconic hero.
As the legacy of Indiana Jones endures, it's clear that the appeal of this adventurous archeologist transcends time, etching his name among the most cherished characters in film history.
Check out more Indiana Funko Pops! here.
As an Amazon Associate I earn from qualifying purchases
Funko Pop! Movies: Indiana Jones Die-Cast with Chase Funko Pop! Vinyl Figure – Funko Shop Exclusive
Available at:
Want more stuff like this?
Get the best viral stories straight into your inbox!
Don't worry, we don't spam