2023 NEW Indiana Jones in White Suit Funko Pop! Temple of Doom
Funko Pop! Movies – Indiana Jones and the Temple of Doom – Indiana Jones in White Suit Funko Pop! Vinyl Figure – Funko Shop Exclusive
Available at:
Introducing the new Funko Pop! Movies – Indiana Jones and the Temple of Doom – Indiana Jones in White Suit Funko Pop! Vinyl Figure – Funko Shop Exclusive! This delightful collectible showcases our beloved archaeologist's dashing white suit, paying homage to the memorable Shanghai encounter with the cunning Lao Che.
The pop figure will be released today at 9.30 AM PT at the links below – click to jump or scroll to continue reading!
In this unforgettable scene, our intrepid hero, Dr. Henry "Indiana" Jones Jr., trades his signature fedora and leather jacket for a sophisticated white suit reminiscent of the golden age of Hollywood adventure heroes.
This sartorial choice highlights both the film's homage to classic cinema and the tongue-in-cheek humor that makes the Indiana Jones series so endearing.
The white suit ensemble, complete with a black bow tie and pocket square, accentuates Indy's dapper side while simultaneously contrasting with the action-packed chaos that unfolds during his fateful encounter with the scheming Lao Che in a glitzy Shanghai nightclub.
This iconic attire is visually striking and a reminder that even daring adventurers like Indiana Jones can exhibit a touch of elegance and sophistication.
As fans of the franchise, we treasure this rare glimpse of our beloved archaeologist stepping out of his comfort zone, both in terms of fashion and the challenges he faces against a cunning antagonist.
This Funko Pop captures the essence of this memorable scene, paying tribute to the wit, charm, and excitement that define Indiana Jones' cinematic legacy.
The Funko Shop Exclusive Indiana Jones in White Suit Funko Pop! inspired by the Raiders of the Lost Ark movie can be found at the links below (click to jump!)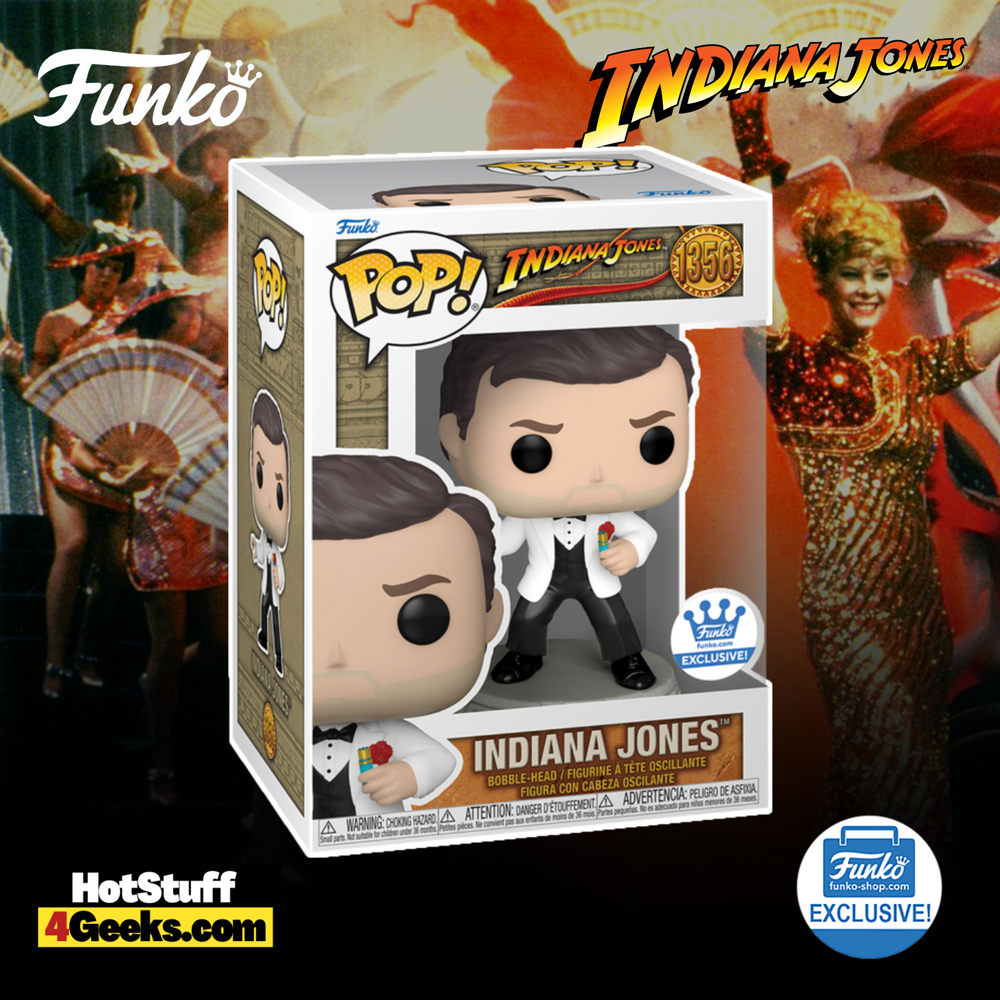 Ah, the 80s. A decade of big hair, shoulder pads, and the birth of one of the most iconic archaeologists to ever grace the silver screen – Dr. Henry Walton Jones Jr., or as you may know him, Indiana Jones.
While the whip-cracking, fedora-wearing adventurer had etched himself into our hearts with his daring exploits, one particularly entertaining encounter stands out – when Indy met Lao Che in Shanghai.
It's hard to forget that classic scene in Indiana Jones and the Temple of Doom, where our protagonist swaps his trademark fedora for a dashing white tuxedo.
In a setting that could be straight out of a film noir, our fearless hero finds himself in the heart of Shanghai's criminal underworld.
Club Obi-Wan: a swanky, smoke-filled nightclub filled with glittering chandeliers and suspicious characters.
Enter Indiana Jones, looking like he just waltzed off a James Bond set, ready to negotiate with Lao Che, a notorious Shanghai crime lord.
Indy tries to exchange Nurhaci's ashes for the Peacock's Eye, a valuable diamond.
It's a delightful mix of absurdity and wit, with Lao Che's goons in the background, providing comic relief.
Here, we see the insidious crime boss in all his glory – cunning, ruthless, and ready to outwit Indiana Jones at every turn.
However, our hero is no stranger to deception.
Ever the quick thinker, Indy slyly conceals the antidote for the poison he knows Lao Che will slip him.
But let's not forget that iconic moment when, with a straight face, Indy tells Lao Che, "You keep the diamond.
The girl goes with me." And thus, Willie Scott, the not-so-helpful damsel in distress, enters the picture.
As Indy and Willie make their hasty exit, the audience is treated to a comedic game of cat and mouse.
The white-suited archaeologist and his newfound companion navigate an obstacle course of deception, gunfire, and airborne ice buckets.
The cherry on top?
Willie's high-pitched screams could give even the most hardened crime bosses a headache.
In true Indiana Jones fashion, our hero manages to outsmart Lao Che's goons, survive the poisoning, and escape with the girl, all while looking dashing in his white suit.
This scene is a testament to Indy's wit, resilience, and ability to make us laugh even in the face of danger.
And now, to immortalize this classic moment even further, you can get your hands on the all-new Indiana Jones in White Suit Funko Pop!
This charming collectible perfectly captures the essence of our dashing, white-suited hero as he outwits the insidious Lao Che and his goons.
Check out more Indiana Funko Pops! here.
As an Amazon Associate I earn from qualifying purchases
Funko Pop! Movies – Indiana Jones and the Temple of Doom – Indiana Jones in White Suit Funko Pop! Vinyl Figure – Funko Shop Exclusive
Available at:
Want more stuff like this?
Get the best viral stories straight into your inbox!
Don't worry, we don't spam