2023 NEW Iron Maiden The Trooper Funko Pop! Album
Funko Pop! Albums: Iron Maiden The Trooper Funko Pop! Album Vinyl Figure #57
Available at:
In a harmonious blend of classic rock and contemporary collectibles, the new Funko Pop! Albums: Iron Maiden The Trooper Funko Pop! Album Vinyl Figure #57 emerges as a masterpiece. This captivating creation captures the spirit of iconic rock while paying homage to one of the most legendary bands in history.
Update: This Pop Vinyl Figure is now available for pre-order! To get your hands on one, be sure to check out the links I've provided below – click to jump or keep scrolling for more details!
Unveiling Iron Maiden's Trooper: A Fresh Funko Pop! Album Vinyl Spin
Iron Maiden enthusiasts and Funko collectors, there's thrilling news on the horizon! Introducing the Funko Pop! Albums: Iron Maiden The Trooper Vinyl Figure #57, a fresh spin on collectibles that'll have every fan buzzing.
This design features the iconic Eddie, Iron Maiden's infamous mascot. His mummy-like visage, complete with a glaring red eye and detailed wrinkles, captures the essence of the classic "The Trooper" album art.
With a determined stance, Eddie proudly waves the Union Jack while his other skeletal hand clutches a saber – a nod to the historic theme of the track.
Set against the original album backdrop, depicting a chaotic battlefield, this Funko Pop blends nostalgia with novelty in a neat vinyl package.
It's a testament to the timeless appeal of Iron Maiden and the quirky charm of Funko designs. This is a must-have addition to any rock memorabilia collection.
Don't miss out!
Iron Maiden The Trooper Funko Pop! Album can be pre-ordered at the links below (click to jump!) It's expected to ship in January 2024.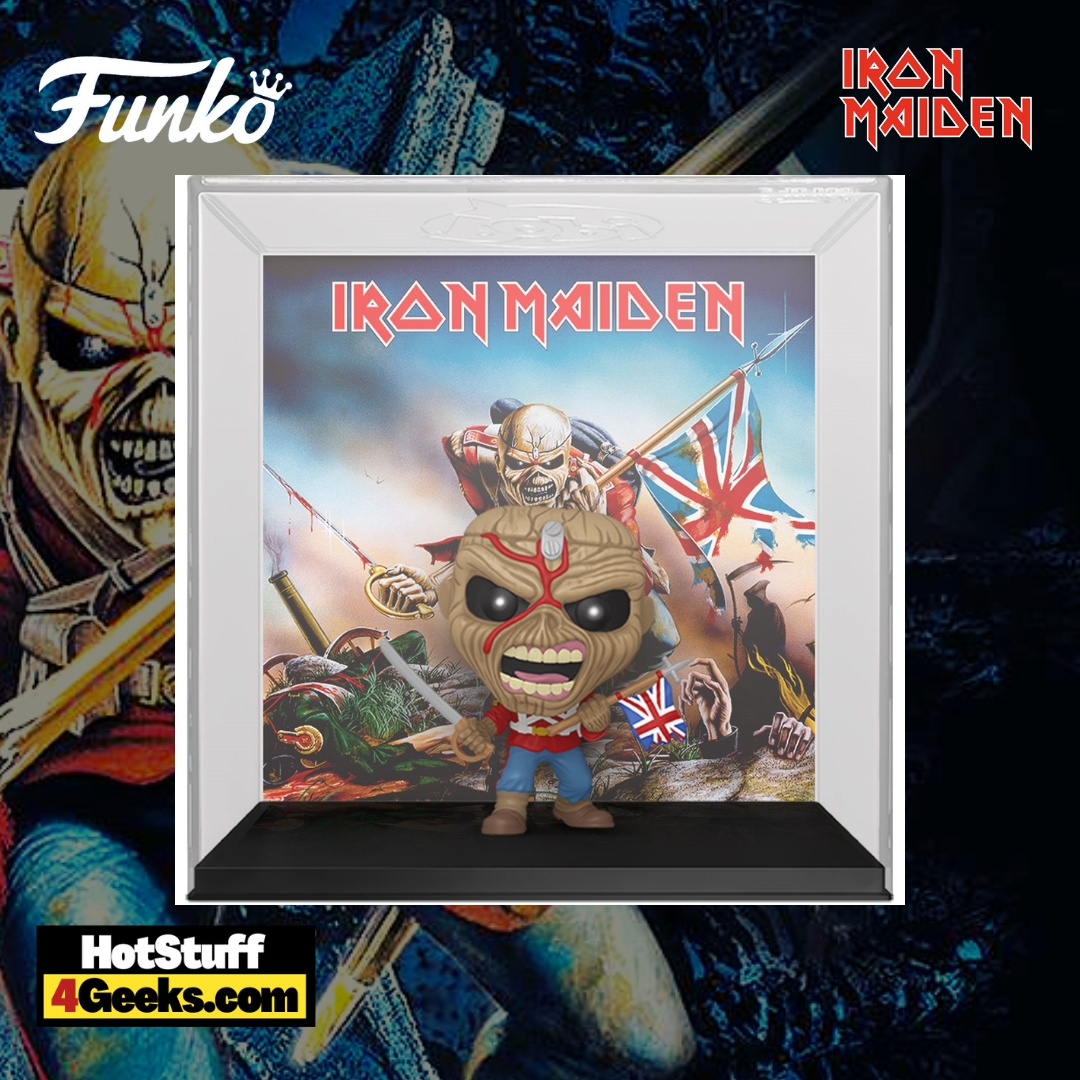 Unleashing the Beast: Iron Maiden's 'The Trooper' Riff Mastery
There's an electric aura around some rock anthems. Iron Maiden's "The Trooper," hailing from the 1983 "Piece Of Mind" album, is a definitive specimen.
This track not only ascended the charts but also carved its niche as a centerpiece of heavy metal's cultural lexicon.
Iron Maiden was already renowned for their mastery in blending melodic undertones with jaw-dropping guitar technicality.
In this metal landscape, "The Trooper" wasn't just another song—it was a declaration, a statement. And the testament? That monumental opening riff.
With a quick snare crash, Dave Murray and Adrian Smith launch into an electrifying, syncopated guitar dance, instantly transporting listeners to a battlefield, setting the stage even before Bruce Dickinson utters the first lyric.
Given the backdrop of their previous album, "The Number Of The Beast," the expectations were skyscraper-high. After delivering such a seminal album packed with iconic tracks, the looming question was, can they match or surpass it?
Iron Maiden responded in kind, not with words, but with an artillery of anthems in their subsequent album. "The Trooper" stood out, echoing the sentiments of its name, leading the charge and standing tall amidst a storied discography.
It's not merely about the riff, though. Bruce Dickinson's live performances are unforgettable, often marked by his charismatic flag-waving fervor.
Yet, at its heart, "The Trooper" is about that magnetic, domineering guitar presence. As soon as that riff hits the eardrums, there's a certain inevitability to it: you are about to experience something iconic.
Beyond its commercial success, the song's cultural footprints are undeniable. It wasn't just another track; it was an experience.
Its dynamism resonates in every note, resulting in many a spilled drink at metal concerts worldwide. It's an anthem that boldly proclaims its metal heritage without mincing any words.
"The Trooper" is Iron Maiden distilled into a few minutes of powerful, unadulterated metal. It's audacious and bold, encapsulating the spirit of a band that's never shied away from pushing boundaries.
This track remains a testament to Iron Maiden's prowess, capturing their essence in the amber of rock history. It's not just a song—it's a legacy.
As an Amazon Associate I earn from qualifying purchases
Funko Pop! Albums: Iron Maiden The Trooper Funko Pop! Album Vinyl Figure #57
Available at:
Want more stuff like this?
Get the best viral stories straight into your inbox!
Don't worry, we don't spam